A Week Spent Snowboarding in Saalbach-Hinterglemm, Austria
Hey there!
This post may contain affiliate links, meaning I may be compensated if you click on one of my links, at no cost to you. As an Amazon Associate, I earn from qualifying purchases. Read my disclosure policy for more information.
We had our first big vacation together last week in Austria. Since we moved to Europe, all I've wanted to do is experience the Alps. For this trip, I researched many ski resorts, and after looking through hundreds of options we (well I because I plan everything) narrowed our search down to Saalbach-Hinsterglemm.
Did you know there are hundreds (maybe thousands) of ski resorts in the Alps? Compared to the US, it's just crazy how many options there are. I've lived in Colorado and Alaska, and have never seen anything like it. In Austria alone, there are 435 ski resorts. Wow!
If you're planning your next winter trip to Europe and trying to decide where to go, read on to see why I recommend staying here.
About Saalbach-Hinterglemm
Saalbach-Hinterglemm is comprised of two villages – Saalbach and Hinterglemm. Hinterglemm is smaller and less lively. Saalbach has a pedestrian walking area, many hotel options, plenty of bars and restaurants, and overall a bit more charm and the Austrian ambiance you think of. We wanted to experience an Austrian resort and the world-famous Apres scene, so for us, the choice was easy.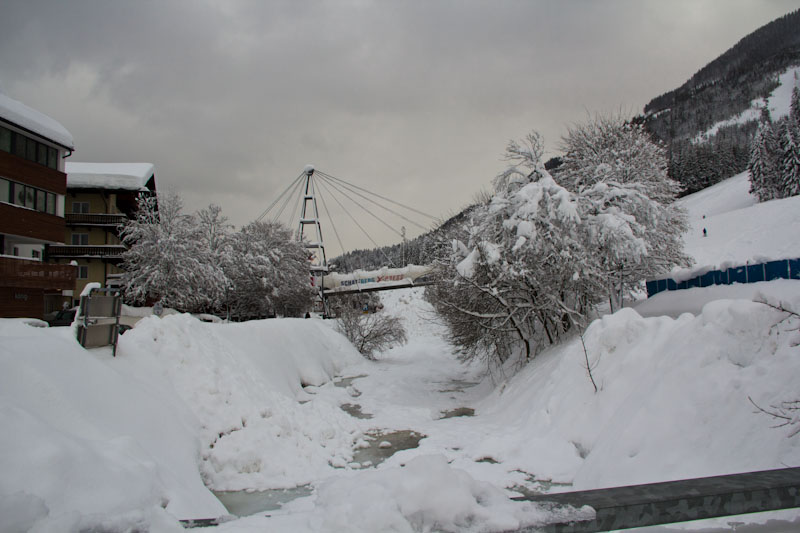 Reasons we chose Saalbach
We wanted a place that had nightlife and things to do. Saalbach hit all those marks.
Snow reliability needed to be good – this area consistently ranks #1 for snow reliability. This was a big deciding factor for us.
Costs needed to be reasonable. I found this area to be incredibly reasonable (more below on prices) and we spent far less than we would at any comparable resort in the US.
A lot of lift options and more blues/blacks. I found the snowboarding enjoyable here, although many pistes were more in the blues. Luckily there weren't many in the green, which typically puts my snowboard to a standstill.
A large ski area. Similar to above, I wanted options. Saalbach-Hinterglemm, along with Leogang Fieberbrunn, has over 270km of ski slopes combined and is one of the largest in Austria.
Bus transport around the ski area. There's a bus that takes you from Saalbach to Hinterglemm and runs regularly. Most resorts offer this, but it was a must for me.
Ski-to-door access. I wanted to stay somewhere I could easily snowboard to without having to walk a long distance.
Our Hotel
When I vacation, I like to park my car and leave it. I much prefer walking everywhere or taking public transportation. So I kept my search concentrated in the main 'downtown' area.
I found this hotel which was walking distance to everything. It had a balcony with a view overlooking the mountain and river! It was magical. The hotel has a sauna, steam bath, infrared cabin, and a sun bed. There's also a bar and at the time was pet friendly (it appears it's no longer that way). There are a lot of hotel options, but this one was reasonably priced and close to everything. It was just outside the main pedestrian and hotel row, which I found made it quieter at night.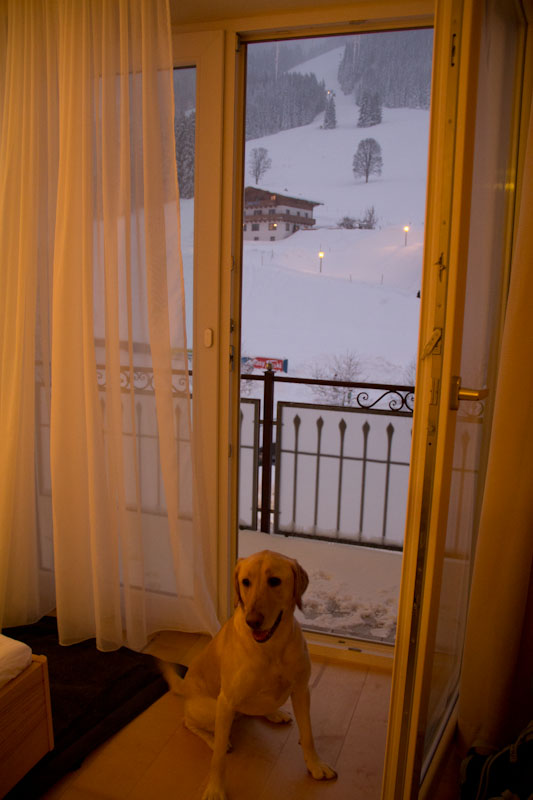 Fun Facts About Austria
The official language is German
The food is German
The currency is Euro
My point being….we really didn't feel like we left Germany. There were of course small differences, but as an outsider I didn't notice much of a change.
Our Visit
Getting There and Snowboarding
We drove down from Stuttgart, Germany and overall the drive took about 5 hours. It was fairly snowy so we took it easy with our all-weather tires. Over the 5 days we were there, it snowed about 2 feet. The snow plow plowed right through our parking area and made a huge snow berm. We had to manually dig through all the snow surrounding our car along with this even larger snow berm to get out when we left!
We went boarding the first day, and while visibility was low, the skiing was so much fun. I enjoyed feeling my way through the snow rather than relying on my eyesight.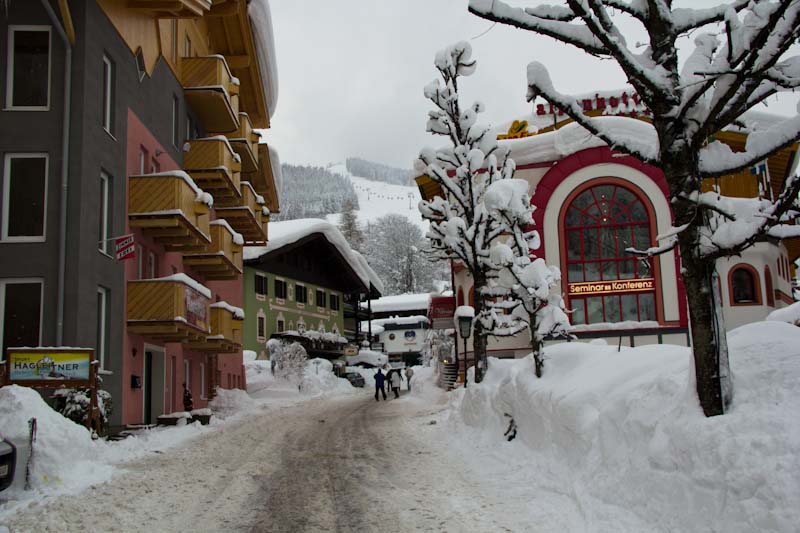 Apres Ski
The apres skiing lived up to its hype! I've skiied Vail, Breckenridge, Copper, Keystone, Alyeska (Alaska), and nothing compares to the apres ski scene in Europe. NOTHING. People would start drinking at 10am and party all day. Those getting out and actually skiing would be done by 3-4 (when the lifts close), and then everyone would congregate in an apres ski bar. I really enjoyed Apresski Tanzhimmel.
If you've never been, these bars all have a few things in common; traditional Austrian folk songs, people dancing on tables, people drinking wayyy more than they should, and pretty much everyone having a great time.
Popular drinks to try:
Flying Hirsch (on the left)
Glühwein
Weissbier
Schnapps
A Few Differences Skiing in Austria
– Saalbach has a lot of cable cars for their lifts. This was very different for me. In Colorado and Alaska the lifts are usually that, just regular ski lifts. Here to get to the high points you take the cable cars. I was happily surprised by this as it's nice not freezing on the way up.
– The are a lot of Russians that like to vacation at Saalbach, which I found interesting. I think I heard more Russian than German when I was there.
– Drinking is viewed quite differently at ski resorts. Well, let's be honest, drinking is viewed very differently in Europe than in the U.S. In the states, they fine you for drinking too much while skiing. While I agree you shouldn't be getting completely inebriated while on the slopes, what's wrong with a beer or two (or three)?
In Saalbach and Hinterglemm they actually promoted having some drinks on the mountain. There were bars and restaurants everywhere through the runs. Basically every time the run would split there would be a bar/restaurant.
The last day we were boarding we stopped in at one to warm up and have a beer. This place had a ball cap for whoever could drink 9 drinks of anything. I told the bartender that would be illegal in the U.S.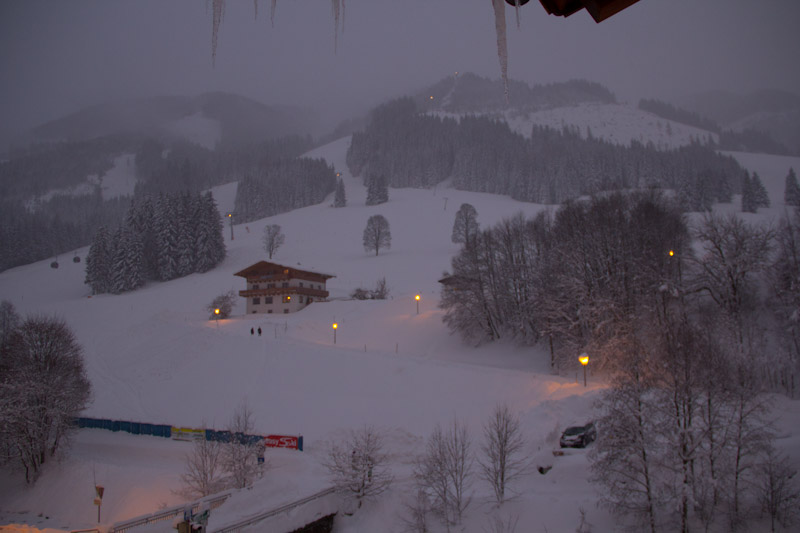 Costs
Lift tickets range from EUR22.00 – 53 per day in high season. Purchasing multi-day tickets or off-season tickets will save you money.
Food: You can get a pizza for under 10 Euro. Main dishes range from 10-25 Euro. There are many traditional Austrian restaurants and Italian restaurants. Some restaurants are more modern and provide a more international menu. There are even a few pubs to grab some grub.
Hotels: Many hotels at ski resorts require a minimum night stay of 3 nights. This is not an absolute rule, but you'll find this is pretty common. Our hotel was 110 Euro per person for 3 nights. Many hotels charge by the person and not by room.
Some hotels provide either half board or full board for your stay. Half board consists of breakfast and lunch or breakfast and dinner. Full board is breakfast, lunch, and dinner. When looking for hotels, be sure to see if they offer half or full board. I'd recommend booking a place with free breakfast as that can be hard to find in the morning (there's no Starbucks nearby).
Costs will vary based on amenities and location. I always prefer to book through Booking.com since I can cancel nearly any booking. If I know things are booking up fast, I might reserve more than one hotel, then check them out in more detail and go with the one I prefer.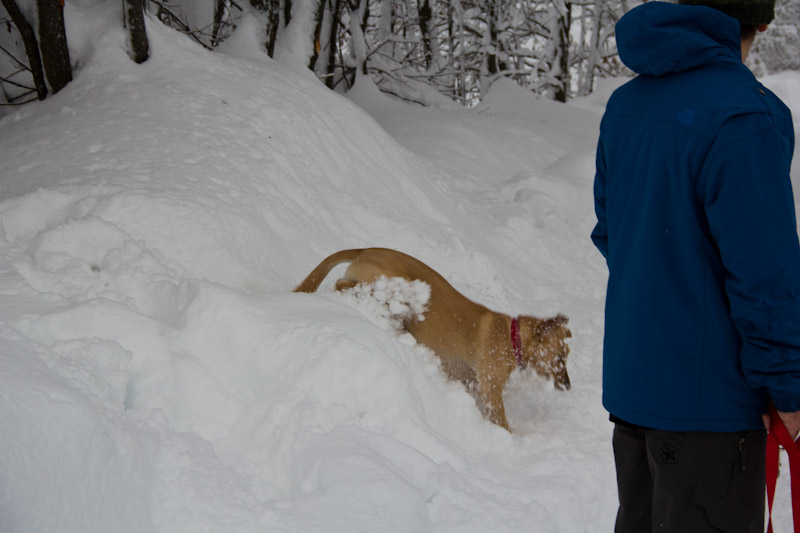 Overall Thoughts
I couldn't have asked for a better trip for one of our first European vacations. My husband and I (and yellow lab) had a blast and I would be happy to go again! If you are trying to decide where to ski for your next trip, you won't be disappointed with Saalbach-Hinterglemm.