The Stuttgart Christmas Market Guide: Everything You Need to Know
Hey there!
This post may contain affiliate links, meaning I may be compensated if you click on one of my links, at no cost to you. As an Amazon Associate, I earn from qualifying purchases. Read my disclosure policy for more information.
I lived in Stuttgart for six years and visited this market at least twenty times. So, I consider myself somewhat of a bit of an expert when it comes to the Stuttgart Christmas Market.
In this article, I'll outline every single thing you need to know about the Stuttgart Christmas market.
Why Visit a German Christmas Market?
Christmas markets in Germany encompass a feeling of magic. Sounds corny, but it's true.
They're not just full of shopping and food (although there's plenty of that), it's an immersive experience.
German pedestrian areas in every city and many towns turn into real-life Christmas snow globes.
The vendor stalls are ornately decorated, the smell of mulled wine fills the air, and you can feel the magic. In some ways it feels like you get to be a little kid again, but with mulled wine.
When is the Stuttgart Christmas Market?
In 2023 the Stuttgart Christmas Market will run from November 29 – December 23.
The Stuttgart Christmas Market is unique because it has a mini-market that opens in late November. Most Christmas markets don't open until December, so you get an additional few weeks in Stuttgart.
The markets run daily from 10am – 9pm (sometimes open until 10pm on weekends). Be sure to check the official website because this can change from year to year.
This market (like most in Germany) ends before Christmas, usually on the 22nd or 23rd.
If you're planning a visit, however, I recommend waiting until the full market opens. But if you happen to be traveling in late November and want to catch a glimpse of a market, head to Stuttgart!
The mini-market is set up at Schlossplatz. There are some food vendors, a decorated ice rink, and drinks available as well.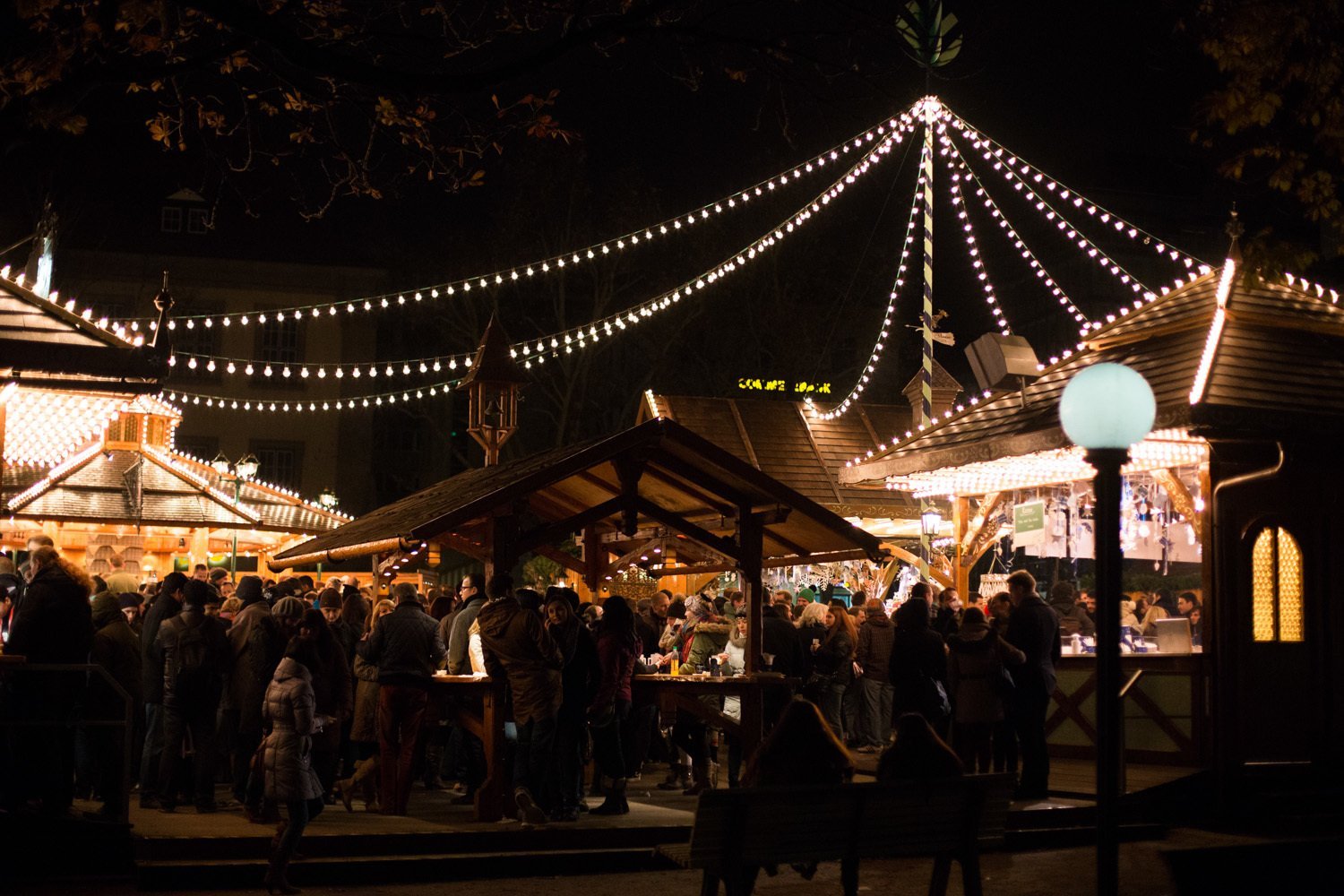 About the Stuttgart Christmas Market
Is the Stuttgart Christmas Market Worth Visiting?
A common question I get is whether it's worth it to visit the Stuttgart Christmas Market. My answer is a resounding YES, and here's why.
The Stuttgart market is unique for many reasons.
First of all, it's one of the largest and oldest Christmas markets in Europe.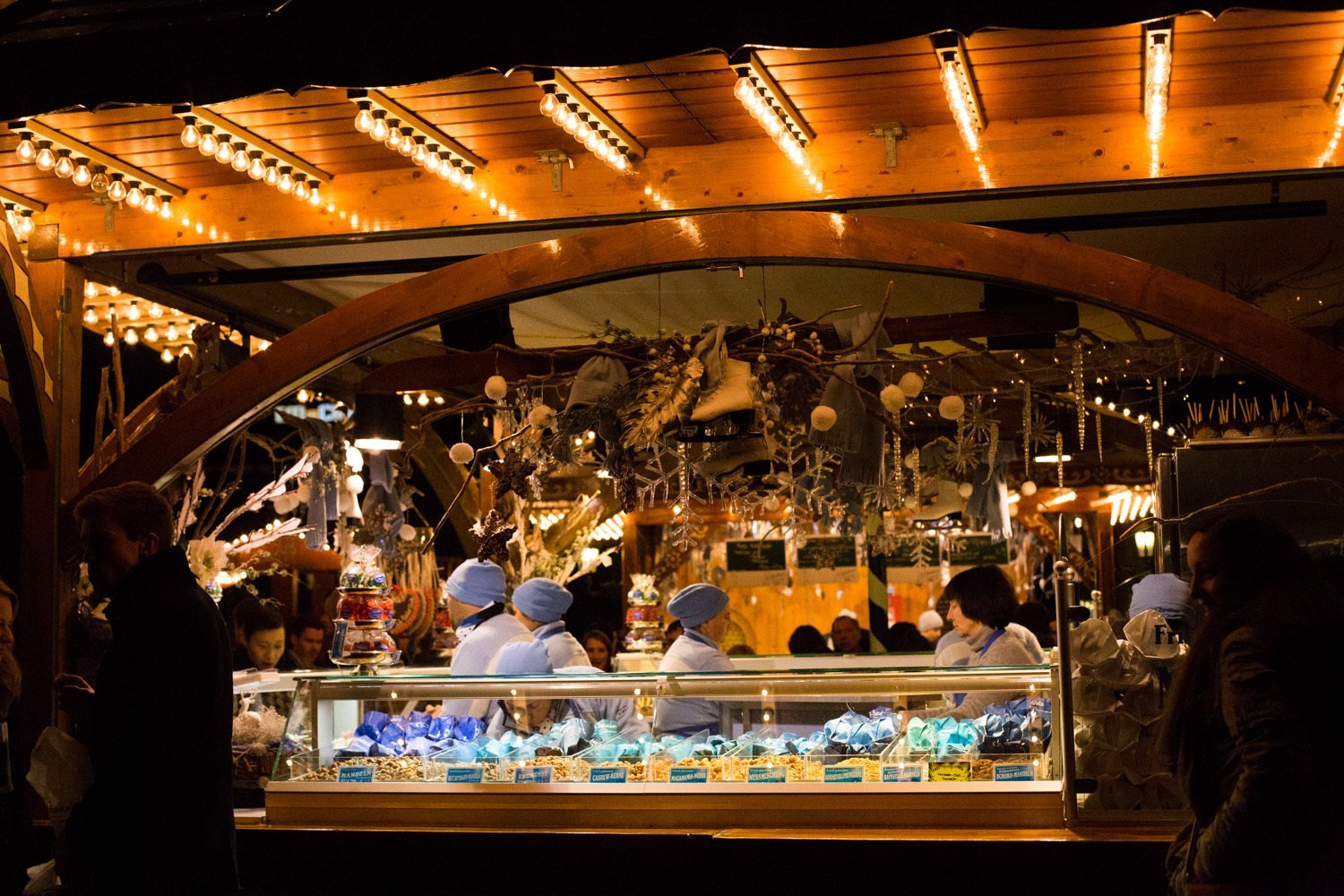 There are nearly 300 stands sprawled throughout the large pedestrian downtown area. You could easily spend a day wandering to the different Platz's (squares) and winding streets just checking out the vendors.
In 2022, over 3 million visitors attended the market.
The market is also unique because there's a competition each year for the best-decorated rooftops.
They take it quite seriously too. Some even have animated reindeer and other characters on their rooftop.
I've been to some markets that are only set up in the main squares. But the Stuttgart market winds through the streets and into many different squares.
The Stuttgart market also has additional things you won't find elsewhere, like their Finnish Christmas Market and flea market (Flohmarkt).
And if you're worried you won't have enough to keep you busy for a weekend trip, there are some other spectacular markets nearby that I'll highlight below!
How Much Time Do You Need at the Stuttgart Christmas Market?
You can easily see everything in one afternoon.
If you're visiting after 4pm on pretty much any day, expect long lines and crowds. But you could still see it all in one night.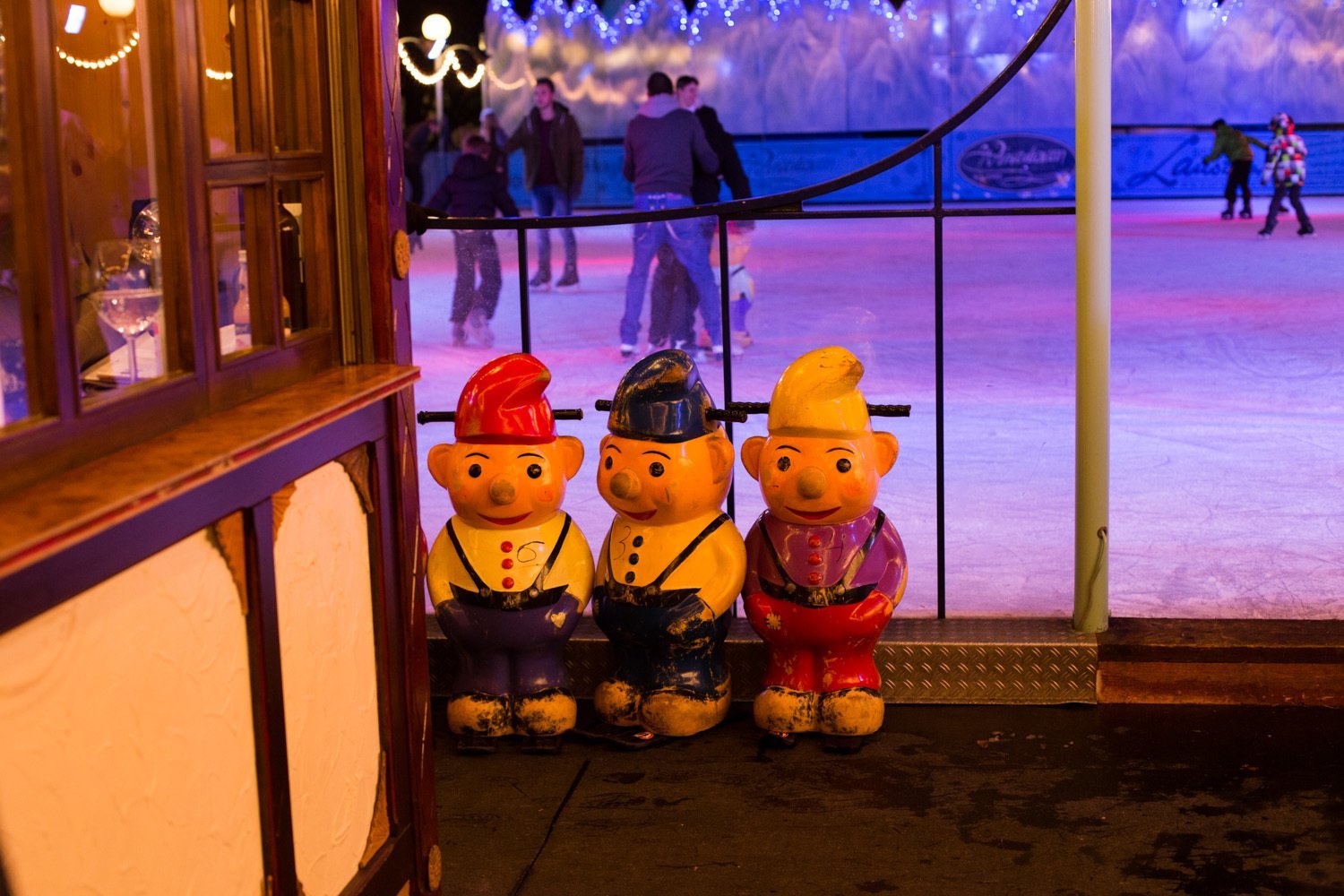 Where is the Stuttgart Christmas Market Located?
The Stuttgart Christmas Market is spread out throughout the pedestrian zone downtown.
It starts (or ends, depending on which side you're starting from) at Schlossplatz. From there, it heads down Schillerstr. to Schillerplatz (square). Then the market mostly heads down Kirchstr. to Marktplatz and Hirschstr.
The Finnish Market and Flea Market are located in Karlsplatz which is easily accessed from Schlossplatz or a side street.
Things to See and Do
Filling up the entire downtown area, this market is spread out among the old town squares (platz) and winding streets (Altstadt).
Stuttgart Ice Rink
At the main square, Schlossplatz, there is an ice skating rink and plenty of Glühwein to keep you warm.
Explore the Finnish Market
Just beyond the square is a Finnish Christmas Market. Here they serve their version of Glühwein called Glögli. This mulled wine is made of wild and meadow berries and has a fruity taste.
They also have their popular Flammlachs or flamed salmon. These salmon are cooked whole over a fire on a wooden board.
Be sure to look for Finnish Santa Claus and the Finnish log cabin.
Here is where you'll also find the Flomarkt (flea market) with many vendors.
Check out the Christmas Pyramid
Don't miss the tall Christmas Pyramid (Weihnachtspyramide), a staple at all Christmas Markets. It stands roughly 87 feet high and is the tallest of its kind! There is a rotating nativity with 24 large figurines.
Hear Live Music at Alte Schloss
If you have time, I recommend visiting the Altes Schloss. During the Christmas season, there are concerts and shows almost daily from the end of November through December 22nd. The organ plays between 1:15pm – 1:45pm and can be heard for a small fee.
Pet Animals at the Live Manger
A live manger is set up on Sporerstr. next to Markthalle. There are some lambs, sheep, and a donkey and also a mini-ferris wheel here too.
Take a Ride on the Mini-Train
For children, there's a mini train that's usually set up at Schlossplatz each year.
Go Up the Large Ferris Wheel
A few years ago Stuttgart erected a 190ft tall Ferris wheel. It is a permanent fixture at Schlossplatz, in front of the New Palace. I recommend taking a chilly ride up for amazing views of the markets below!
Walk Around and Explore
The best thing to do at any Christmas market is to grab a mug of Glühwein and wander around for hours, taking it all in. Be sure to check out the large nutcracker on Schulstrasse and Marktplatz.
Food & Drink at the Stuttgart Christmas Market
Glühwein
By far the most popular drink is glühwein (pronounced gloo-vine). This is a hot mulled wine typically made with red wine, cinnamon, star anise, and oranges. You can also add a shot of rum to your drink (just say 'mit rum').
Locals recommend drinking it quickly before it cools, as a cold glühwein does not taste as good (I can verify this is accurate). And typically, the colder it is, the more you drink.
You can find glühwein being served up at every other stand around the market. In many cases it's served from a massive pot.
Feuerzangenbowle
Literally translated as 'Fire Tongs Punch', this little drinkable fire bowl is made up of mostly red wine, rum, and a lot of the same spices used in glühwein. It's topped with a rum-soaked sugar loaf on the top that is lit on fire.
I recommend stopping at 'Conny's' to try one!
Eierpunsch
This egg punch is made with an egg-based liquor that some say resembles eggnog (I don't think it does). Many locals consider it to be a drink reserved for an older crowd, but if you're visiting, I recommend trying out all the local specialties!
If you prefer a non-alcoholic drink, there are also plenty of options to keep you warm!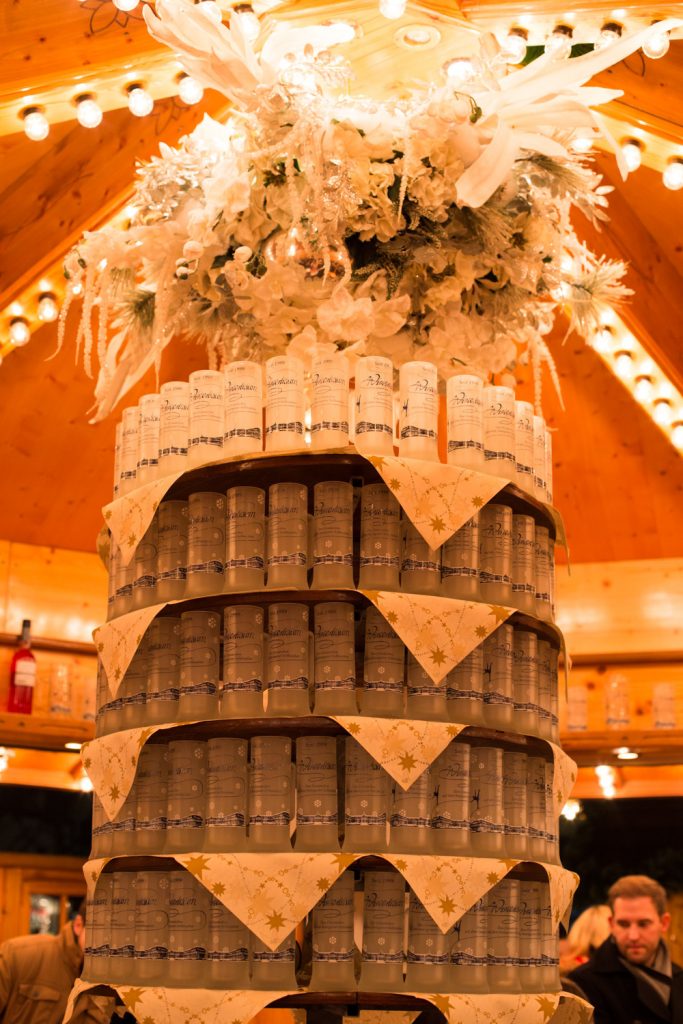 Pfand: If you order a drink at any market, they charge a 2 euro (or more) deposit (pfand) for the mug. When you return the glass you get your deposit back. Over the years the prices have increased, I assume because people keep these ornately decorated mugs for themselves (who would do that?!).
Food Options
There are tons of food options. You will find the normal assortment of bratwurst, pommes (fries), and bakery items such as brezel (pretzel). There are delicious soups and many other warm items to try.
For those with a sweet tooth, there are MANY options. Stroll by a few stalls and you'll quickly see many chocolates and desserts available. I recommend trying Lebkuchen (ginger bread), Gebrannte Mandeln (roasted almonds), or Stollen. There are also many stalls with roasted mixed nuts if almonds aren't your favorite.
If you are new to this area, I recommend trying Currywurst, Flammkuchen, and Käsespätzle. You will not be disappointed!
Getting There
There are many ways to get here. I prefer and recommend taking the train to avoid traffic and parking. Stuttgart is known for its traffic on a normal day, so during the Christmas Market, it is much worse.
Take the S-Bahn (S1, S4, S5, S6, or S60) and stop at either Stadtmitte or Hauptbahnhof (these stops are not far from each other).
Here is a link to the S-Bahn map which is also available on the train. I recommend downloading the VVS app. Ticket prices are cheaper when purchased directly with the app and you can do it on the walk to the station.
If driving, you can always try to snag a free spot around the city. This will typically require some driving. Otherwise, there are plenty of parking garages in the downtown area. The ones closer to the Hauptbahnhof tend to cost more, so I'd look for one a little further away.
There are Frauen parking areas in the German parking garages. If you see this, it means it's parking only for women. So if you have a car with only women, then you can park here! It's a nice safety feature in place that I always appreciate.
Common Questions About the Stuttgart Christmas Market
Do I need cash? While more and more places are accepting cards, it's best to have cash for these markets.
Are there bathrooms available? Yes, there are a few spread out over the market, but I think they are a little sparse considering how many people visit. Usually there's a line which tends to get longer as the night goes on. They're also not free, about .50-1EUR. There are also some fixed bathrooms along Koenigstrasse (the main pedestrian steet). They are small circular structures. We will often stop somewhere for a snack or dinner and use the restaurant toilets.
Is there anywhere to sit? These markets are set up to stand. And typically, it's quite cold so sitting isn't that fun. If you need a break, there are plenty of restaurants and cafes around downtown to warm up and give your feet a break.
Costs at the Stuttgart Christmas Market
This market is a bit more expensive than others around Germany. City markets tend to cost more, and Stuttgart is more expensive than many other areas in Germany. Energy cost increases and inflation have also added to the cost increases in recent years.
There is no entry fee to the Stuttgart Christmas market.
Glühwein: Expect to spend 4-5EUR before pfand (deposit). The pfand runs a few Euro, but you get it back when you return your mug.
Food: Food will vary greatly. You can spend 5-8EUR for some snacks and up to 24EUR for a meal. There's a lot of variation in between.
Bathrooms: Expect to spend at least 50 cents (EUR) each time you use the restroom. Look for the WC sign (water closet).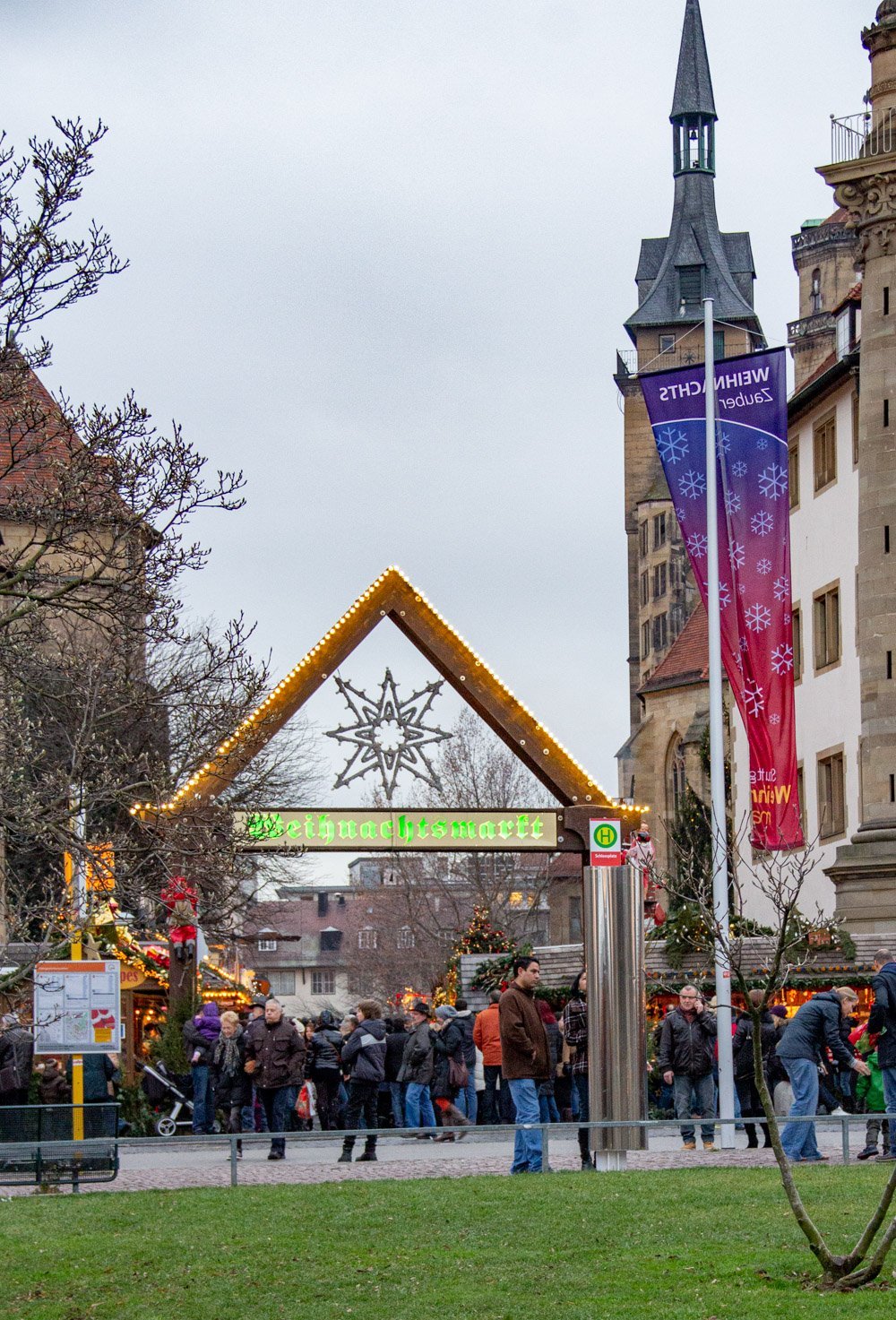 When is the Best Time to Visit?
This market is almost always packed.
The busiest times are at night (after 5pm) and on weekends.
If you want the experience without the crowds, I recommend a weekday in the morning or early afternoon.
Christmas Markets Near Stuttgart
If you've had your fill of the Stuttgart Christmas Market, be sure to check out some amazing markets nearby!
Esslingen am Neckar Medieval Christmas Market
This market is possibly the most impressive in all of Germany.
It's my favorite. It's most people's favorite. There's really nothing like it.
Esslingen am Neckar is only a few stops from the main train station (Hauptbahnhof) in Stuttgart, so it's an easy addition to your trip.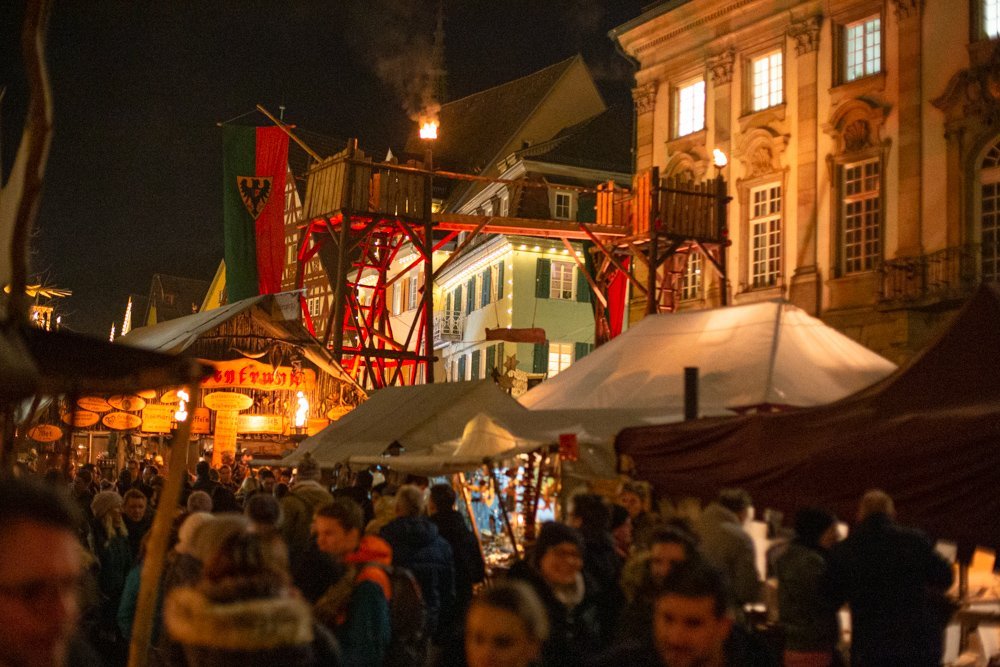 Hohenzollern Christmas Market
Only open a few weekends in December, this market quickly became a favorite of mine, mostly because it's a Christmas Market at a castle.
Hohenzollern Castle sits high above the valley floor below, so you also can get nice views of the town lights at night. I visited a few times and have an article with everything you need to know here.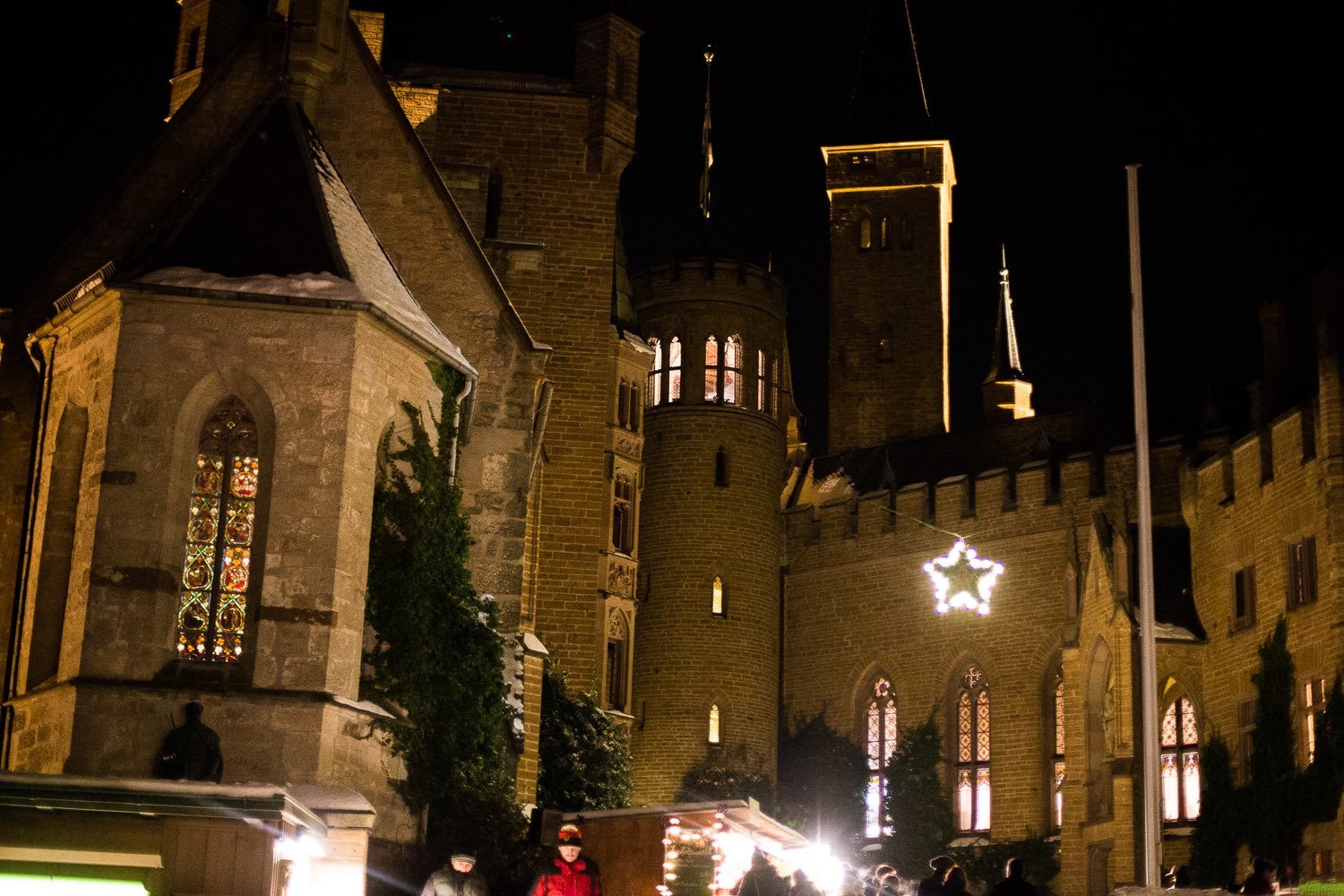 Ludwigsburg Christmas Market
Admittedly I only visited this baroque market once in the six years I lived in Stuttgart, it's also worth a visit. The market is held at Marktplatz between two baroque churches. There are over 180 stalls and a lot of activities for children.
Other Markets Further Out
There are many others a bit further out. If you love Christmas markets as much as I do, I recommend visiting Göppingen Forest Christmas Market (which runs to December 28), the Heidelberg Christmas Market (take the train, it's faster), and the markets in the Alsace region of France (my favorites are Colmar and Eguisheim).
Also, the Christmas market in Strasbourg, France is one of the only markets to run through Christmas and past the New Year.
More Stuttgart Articles