The Only 4 Day Maui Itinerary You'll Ever Need
Hey there!
This post may contain affiliate links, meaning I may be compensated if you click on one of my links, at no cost to you. As an Amazon Associate, I earn from qualifying purchases. Read my disclosure policy for more information.
Just how much can you see with only four days in Maui? As it turns out, a lot! I've created the perfect itinerary that takes you all over the island. From volcanoes at 10,000 feet, snorkeling with sea turtles, and driving the windy road of Hana, you'll get a taste of it all AND have downtime to relax too.
Packing List for Maui
This isn't an exhaustive list, but there are a few things I wish I had before our trip. Many home/condo rentals provide beach chairs and umbrellas (and I recommend only booking places that provide these extras). Here are some things I recommend buying before your trip:
Water Shoes – I LOVE these inexpensive shoes. They take up almost zero room and are handy on hot sand and rocky areas.
Insulated Cooler – It's so nice to have a cooler in the trunk for those long days driving around. And it's also almost a must to have a cooler for beach time. I like this one because it folds up small and keeps everything cool (and looks nice too!). I recommend buying this before you go as I was unable to find any good options locally on my first trip.
Beach toys – You could pick up a kit at Target or bring some that you already have at home. For a small bucket and sand castle toys, it's only about $5 at Target.
Compression Cubes – Pack everything you need with compression cubes. They're the one packing item I never knew I needed. I love these packing cubes in particular, and the creators behind them have some awesome content on YouTube. The laundry bag also comes in handy!
A Day Bag – This lightweight compact backpack takes up virtually no room in your suitcase
A hat – Don't underestimate the power of a good ball cap or hat to protect you from the sun!
Where to Stay
If it's your first time visiting the island and you're looking at a map, it can be hard to tell where exactly to stay.
To break it down, the main towns on the water are south in the Kihei / Wailea area, and west in the Ka'anapali / Lahaina area. You could also stay up near Pa'ia as there are some great beaches up north near the airport. Note it is more industrial in this area.
I prefer the more laidback areas of Kihei & Ka'anapali. The waves around Pa'ia can get pretty big and I found there were more varied beach options near Kihei and Ka'anapali.
Ka'anapali and Wailea are where you'll find the massive resorts. What I found interesting about these resorts is that many condos are privately owned and rented on VRBO and similar sites. So when you're shopping for places to stay, I'd recommend checking both VRBO and the resort website to compare prices.
I have an article all about Kihei that you can find here, as well as an ultimate guide to Maui with more information. These are loaded with information to help you plan your Maui trip.
We've stayed at a few places and honestly I loved them all. In Kihei, we stayed at these condos across the street from a large family beach and park. We would walk to the beach each day, enjoy the pool in the afternoon, and sit out on our lanai in the evening.
In Ka'anapali, we booked this 1-bedroom condo at the beautiful Honua Kai Resort & Spa. This resort has three large pools, a waterslide, many kid areas, Duke's Beach Restaurant, and is right on the beach as well. It was definitely our favorite pool area of all our stays.
We've also stayed at these beautiful condos further north of Ka'anapali. Our condo was beachfront and had a massive wrap around lanai. We would watch whales breach and sea turtles swim in the water every day.
Day 1 | Beach Time, Snorkeling, & Boat Tours
Welcome to beautiful Maui! Since this is day 1 you've likely stepped off from a long flight to get here, so let's spend the day moving around and in the car as little as possible. I recommend heading to a store to grab your essentials so you can get it out of the way. We typically book apartments (we stayed here in Kihei and here in Ka'anapali on our last trip) so we grab breakfast items and snacks for the road.
Visit the Beach
This morning let's hit the beach. You're in Maui after all, and there are amazing beaches everywhere. I've included some popular beaches around the island below, but there are sooo many more.
On roughly 1/4 of the island's shore you'll find beaches. If you just drive along the main roads you'll see so many places to stop for a swim. So feel free to plug in some options in Google Maps and check out all your options nearby!
Before you go, be sure to pack some essentials. Hopefully, your place has some beach gear including the famous Tommy Bahama beach chairs (they have so much storage and can be worn as a backpack), beach towels, and a beach umbrella. I also recommend bringing along snorkeling gear, SPF (reef friendly!), binoculars during whale season, polarized sunglasses, a hat, and a cooler.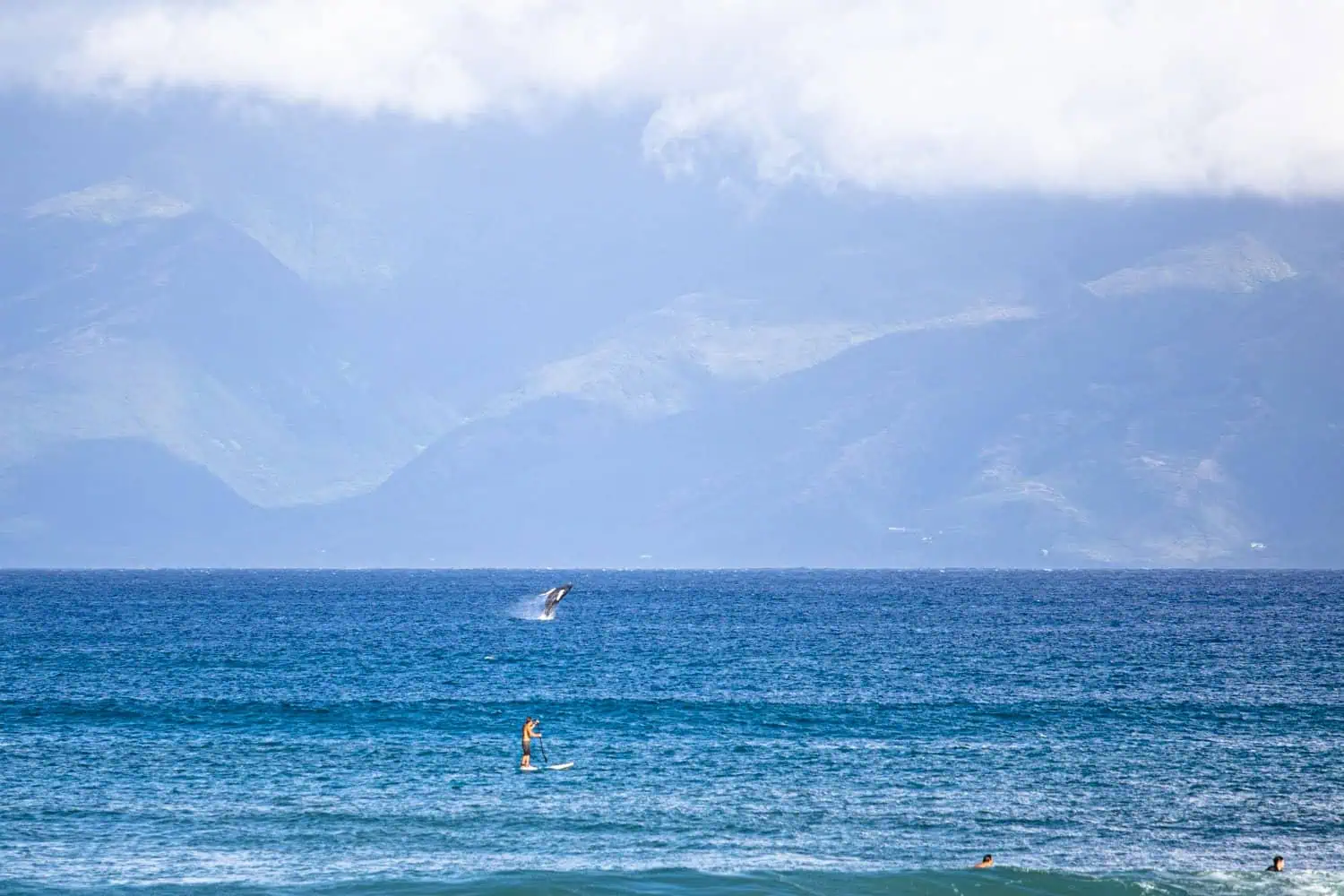 Best beaches near Kihei/Wailea
Kamaole Beach III – Great for kids and there's a large parking lot (there are more further down the road if it's full). The parking lot usually doesn't fill until midday.
Maluaka Beach – Also known as Turtle Town, this is a great beach for families and snorkeling (and spotting sea turtles!)
Wailea Beach – This large beach is along the larger resorts so you will find that it gets more crowded. But if the waves are calm, it's a great beach for sunbathing and snorkeling. There's plenty of free parking and public parking specifically for Wailea Beach. Many consider this one of the best beaches on the island
Best Beaches near Ka'anapali/Lahaina
Ka'anapali Beach – This is a large stretch of beach along resort row. Ka'anapali is where you will find the large resorts, and there are a lot of them! What's nice about the beach is there is a long boardwalk where you can check out the resorts, grab lunch at one of the many spots along the way, or stop at Whaler's Village for some grub and shopping. Speaking of, the best (and really only) place to park is at Whaler's Village. There's a large carpark but it fills up in the morning by around 12:00pm.
Baby Beach – This little tucked away area actually has a long stretch of beach that's perfect for small children (and…babies!). It's actually a nice beach for lots of other things, including snorkeling where I saw about 8 turtles swimming around. Snorkeling here is super cool because the water doesn't get more than 6 feet deep. So, you can see all sorts of things up close (but don't get close to the turtles as it's against the law!).
Grab Lunch
Kihei Area: If you're near Wailea, stop at either Bistro Molokini or Monkeypod Kitchen. For Kihei, grab some fish tacos at Pa'ia Fish Market or stop at one of the many other restaurants at Kalama Village.
Ka'anapali Area: Whaler's Village has tons of great options for your first day. If you're doing an afternoon Whale Watching Tour, the tour I highly recommend (so much that I've done it twice) docks at Whaler's Village, so you may want to grab lunch here then head to your meeting point.
Whale Watching, Snorkeling, or Sunset Tour
If you visit from December to April, be sure to book a whale watching tour. I mentioned this above, but I love this 2-hour whale watching tour. If you'd rather do a sunset tour, I'd book either this one (Lahaina) or this one (Ma'alaea Harbor).
If you prefer a snorkeling tour, I'd check out a Molokini Snorkeling Tour. We went on this one and really liked it. It's a larger boat and has some cool extra features such as an underwater glass bottom viewing room, a waterslide, and lots of extras such as boogie boards and seaboards.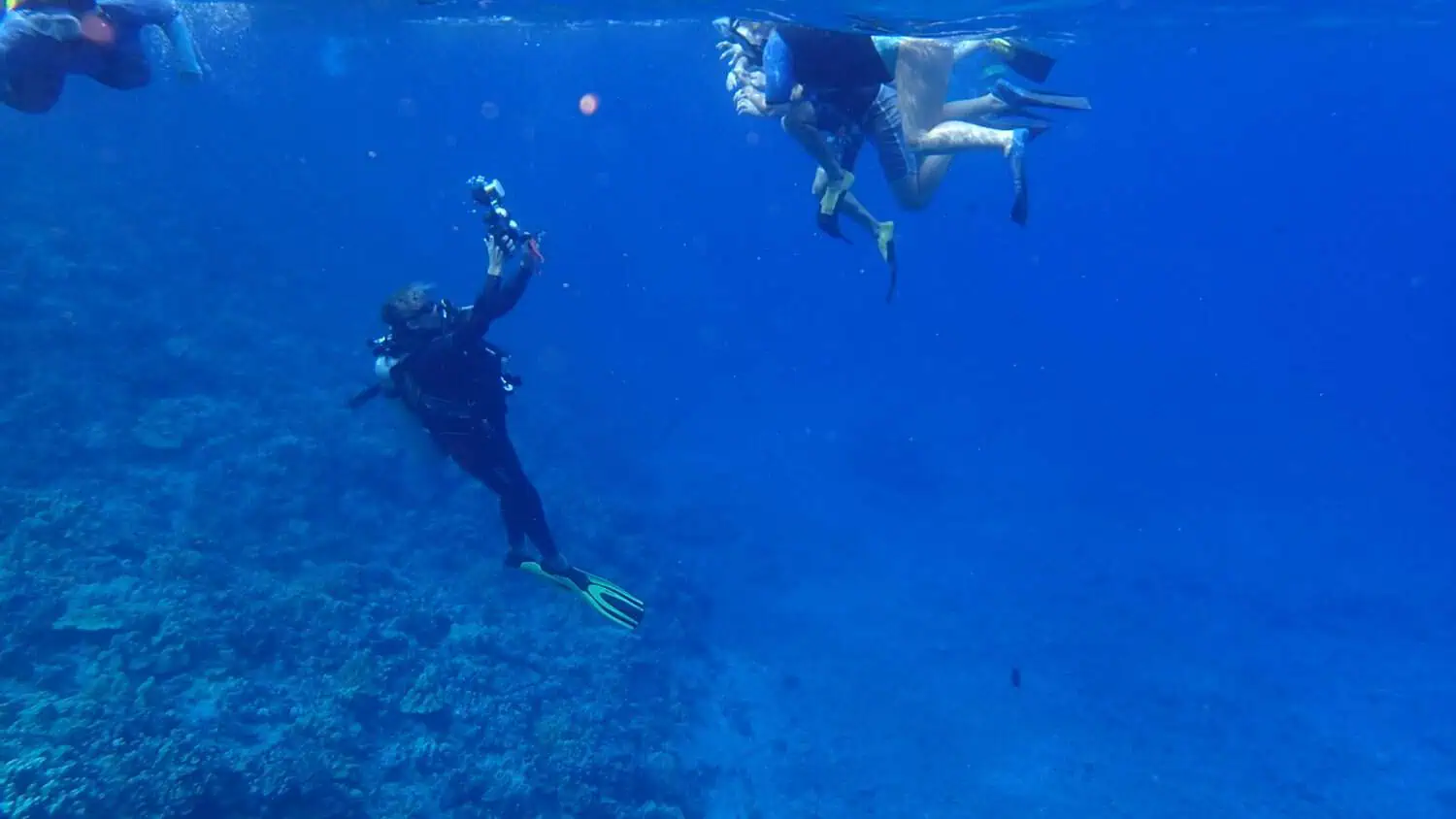 Day 2 | Road to Hana, Ho'okipa Lookout, & Pa'ia
Today is going to be a BIG day as you will be doing the Road to Hana. If you know nothing about this drive, it's a super windy road with 59 bridges (most one-way), 600 turns, 15 waterfalls, and a lot of very narrow roadways. So, depending on your love for windy car rides, this can either be an exciting day (my husband) or an anxiety inducing day (me). But, it's well worth it.
There's some planning required for this trip. You will need to be sure to purchase tickets for Waianapanapa State Park at least one day before you visit. It's not possible to book same day reservations and I highly recommend stopping here on your trip.
Tickets can be booked for a 2 1/2 – 3hr timeframe during the day. From Pa'ia it takes about 2 hours to get there, so for the 10:00am reservation, you'll want to be leaving Pa'ia by 8:00am (although I recommend heading out earlier if possible).
Before you head out, be sure to have your handy GyPSy Guide app ready to go (there's no cell reception once you're on the road), cash on hand, plenty of snacks, water, B6 & ginger (for nausea…heh, but seriously), camera gear and batteries/SD cards, a swimsuit, beach gear, and excitement for the drive!
I recommend heading out early as it takes about 10-12 hours to see the highlights along the road. If you can be on the road between 7-8am that's ideal.
Also, keep in mind that you are not likely doing the full circle unless you have a vehicle that's approved for the bottom south portion of the road (past the Seven Sacred Pools). There's about a 5-mile stretch of gravel road that's prone to rockslides, potholes, and just generally poor road conditions. In fact, rental car companies do not allow you to drive this stretch of road.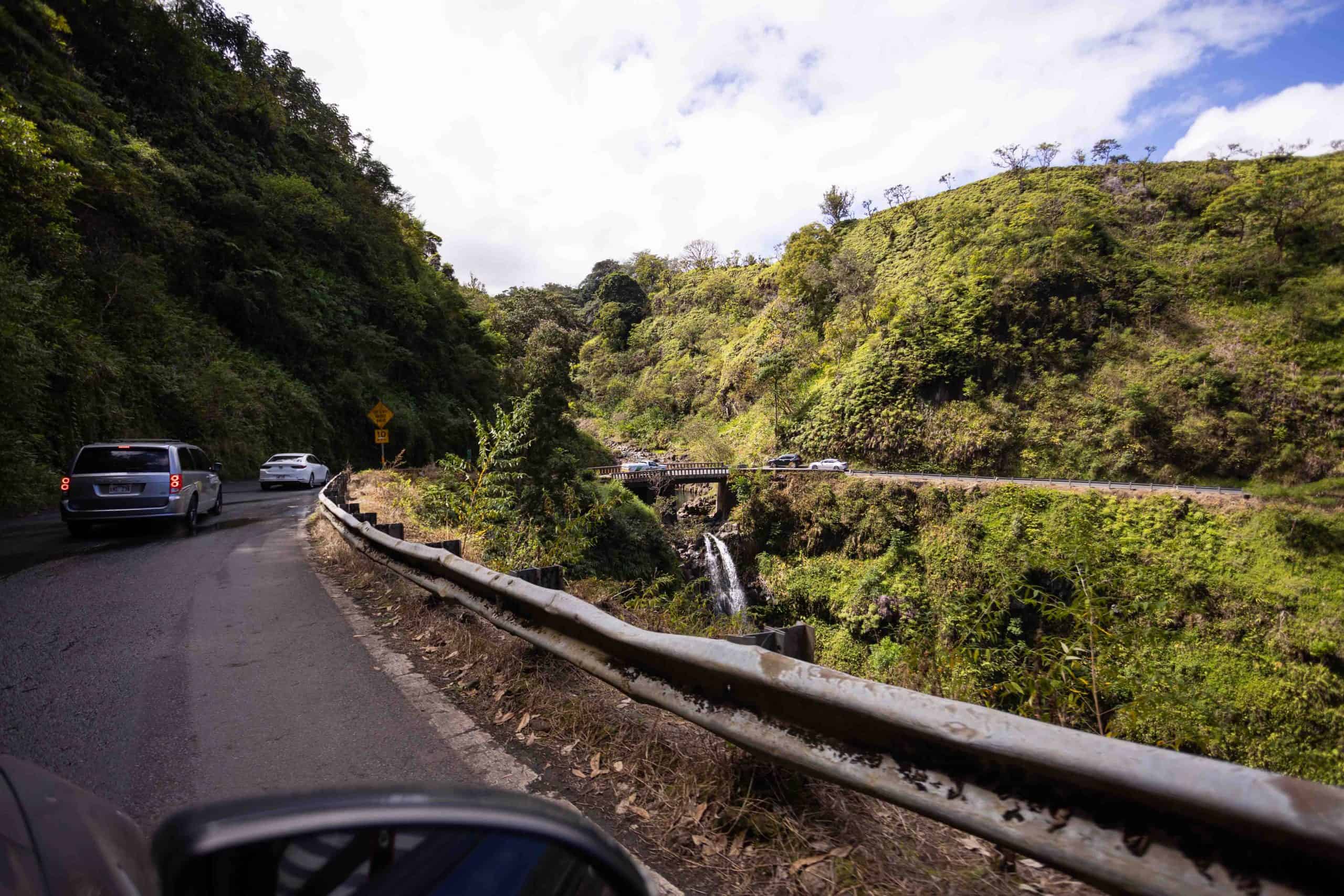 For today, here's how I'd structure my day:
Head out around 7am-ish
Grab breakfast and cash in Pa'ia (most breakfast places don't open until 7-7:30am, so plan accordingly)
Start your GyPSy Guide app, which will guide you through the entire route using GPS. This is great because it adjusts to your location no matter how often you stop or if you decide to turn around.
Stop at Ho'okipa Lookout (or wait and do it on the way back if you'd rather get on the road).
Follow GyPSy Guide and his recommendations. Seriously, this app saved my life on our trip and I can't recommend it enough! I particularly loved exploring the bamboo trees, swimming under the waterfall at marker 11.5, the blowholes and black sand beach at Waianapanapa State Park, and the pizza and shops at Hana Farm.
At Waianapanapa State Park, if you walk past the beach there is a trail that takes you up to these large blowholes. I highly recommend walking along the trail to check it out!
Pa'ia
Once you return back to civilization, you will likely be hungry. I'd recommend stopping in Pa'ia for dinner. There are tons of food options. We particularly loved Cafe des Amis and Malagro's, and there are many other options as well.
Day 3 | Honolua Bay Trail, Slaughterhouse Beach, & Lahaina
After a long day of driving, let's take a break today and do more walking. Today we will head to West Maui and explore the area.
Visit Honolua Bay Trail & Slaughterhouse Beach
The first stop is northwest Maui at Honolua Bay Trail. I recommend heading out before 9am as the parking lot fills quite easily, and it is possible you'll need to wait a minute to find a parking spot.
Once here, you can walk the short trail through a truly beautiful forest full of lush moss-covered trees. It looks like a dense jungle with these immensely tall trees and signs warning of unmarked graves off the trail. It's a quick stop but well worth it.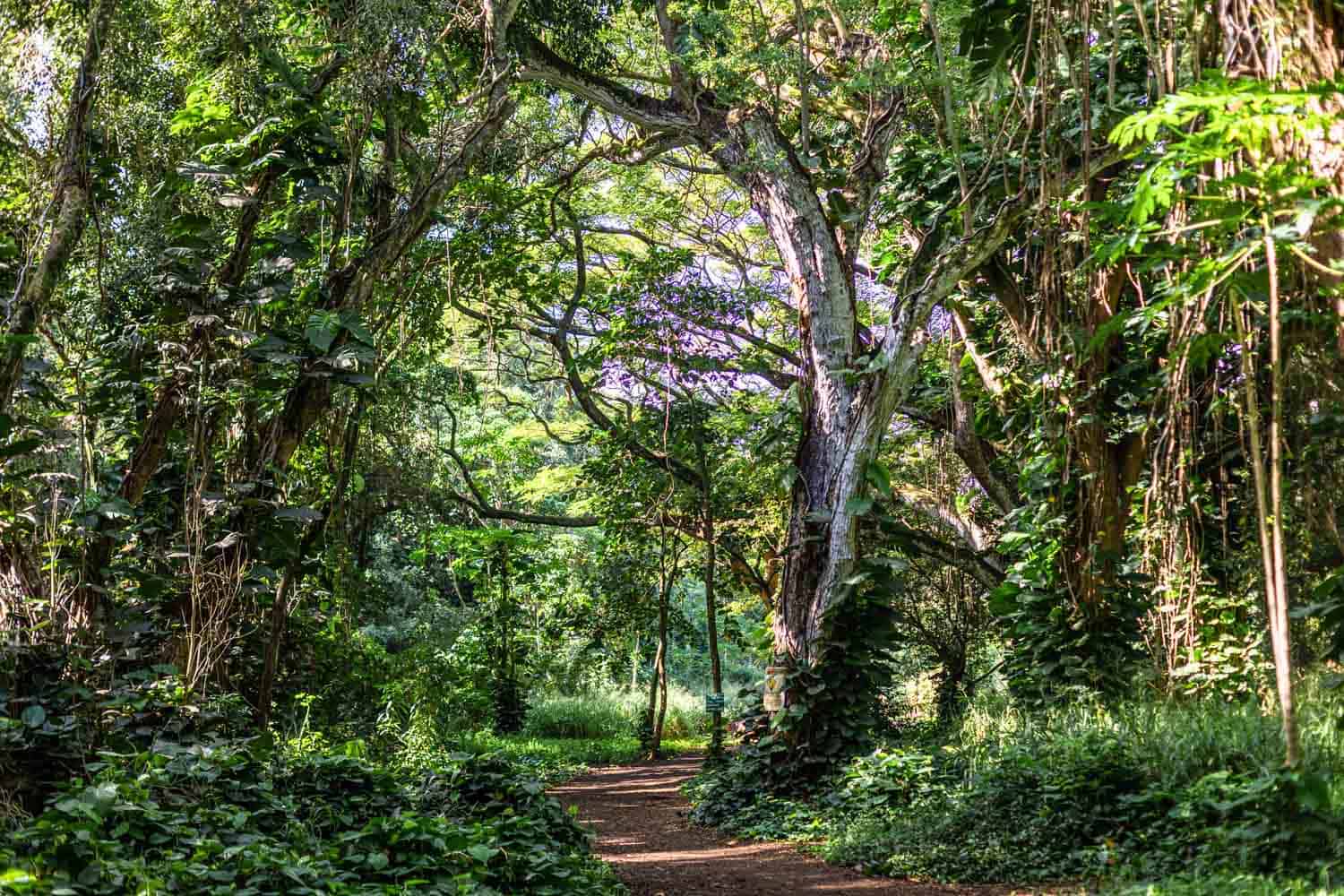 At the end of the trail you'll reach the ocean with a large rocky beach. It's a popular snorkel spot, but with the large rocks and no sandy beach, it's not great for sitting down and relaxing.
Here's a screenshot showing where to park. The parking lot is at the U-turn with the arrow.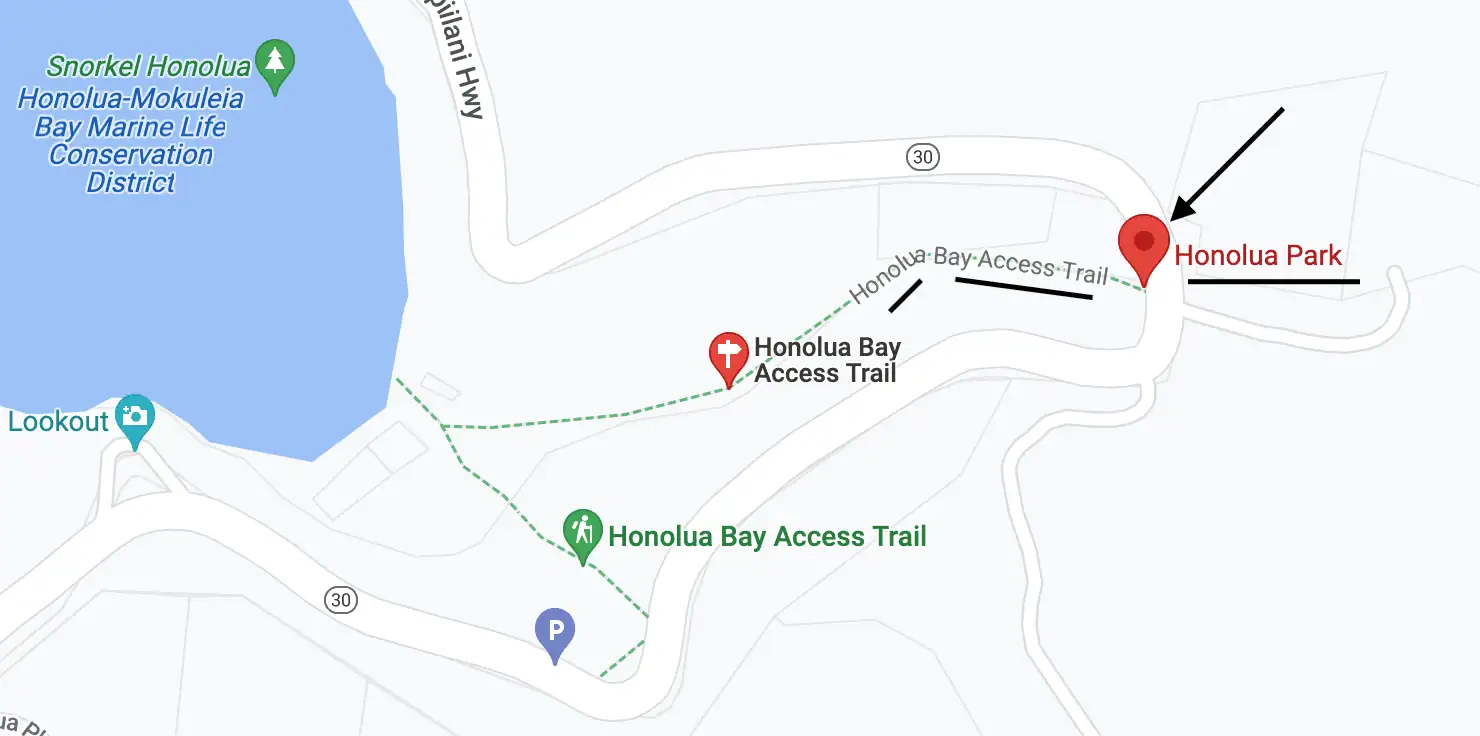 After this stop, you can continue up the road. Once you approach the top there's a dirt road to the left you can take to a large parking area. This is a popular spot for surfers and locals, but there are usually enough spots to park and walk around. Here you're up on a cliff so you won't have beach access at this location either.
Once you're ready to leave, make your way back to Slaughterhouse Beach. This is a really cool beach that requires quite a few stairs to get to. Unfortunately, there's not much parking so you'll need to find a spot on the side of the road. You'll see other cars parked here so find something off the road and then make your way to the railing and stairs.
Explore Front Street in Lahaina
Front Street is the only real walkable town in Maui. It's less than a mile long but chock full of restaurants, shops, and over 40 fine art galleries. There are a lot of great food options here and many are right on the water.
The famous Fleetwood's on Front Street is here and owned by none other than Mick Fleetwood. Reservations book up weeks in advance so be sure to secure your spot before your trip.
If you prefer something less fancy for dinner, I recommend Down the Hatch or Waikiki Brewing Company.
Here you'll also find the largest Banyan Tree in the US. It's so big that it fills an entire block…definitely worth checking out! Just across the street is some delicious Dole Soft Serve.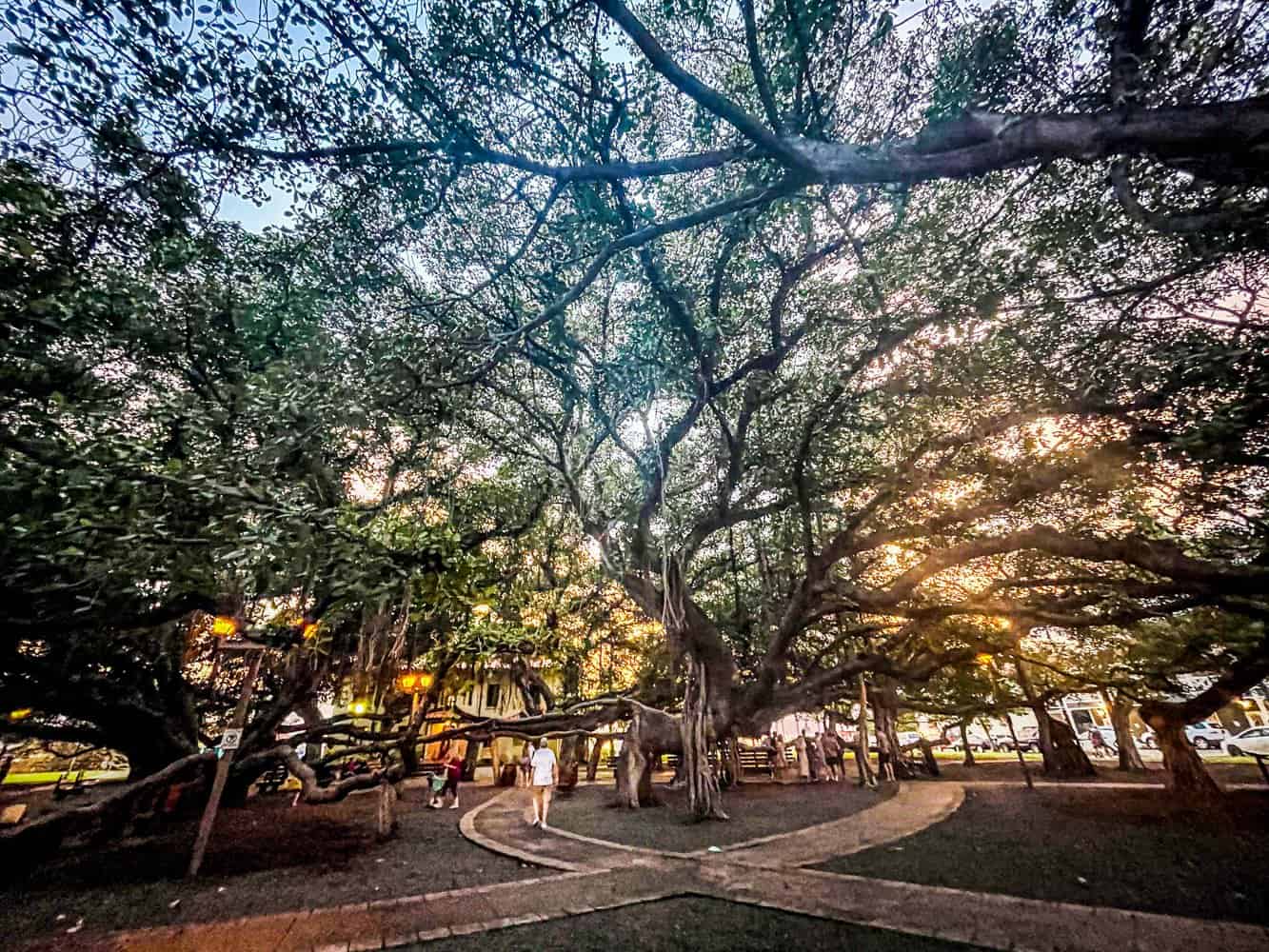 Day 4 | Haleakala Volcano, Makawao, & Kihei
Haleakala
Sitting at over 10,000ft above sea level, Haleakala Volcano looks almost like you've entered Mars. The drive up the mountain changes from lush Upcountry Maui landscapes to a more arid landscape and then to the volcanic reds and oranges of Haleakala.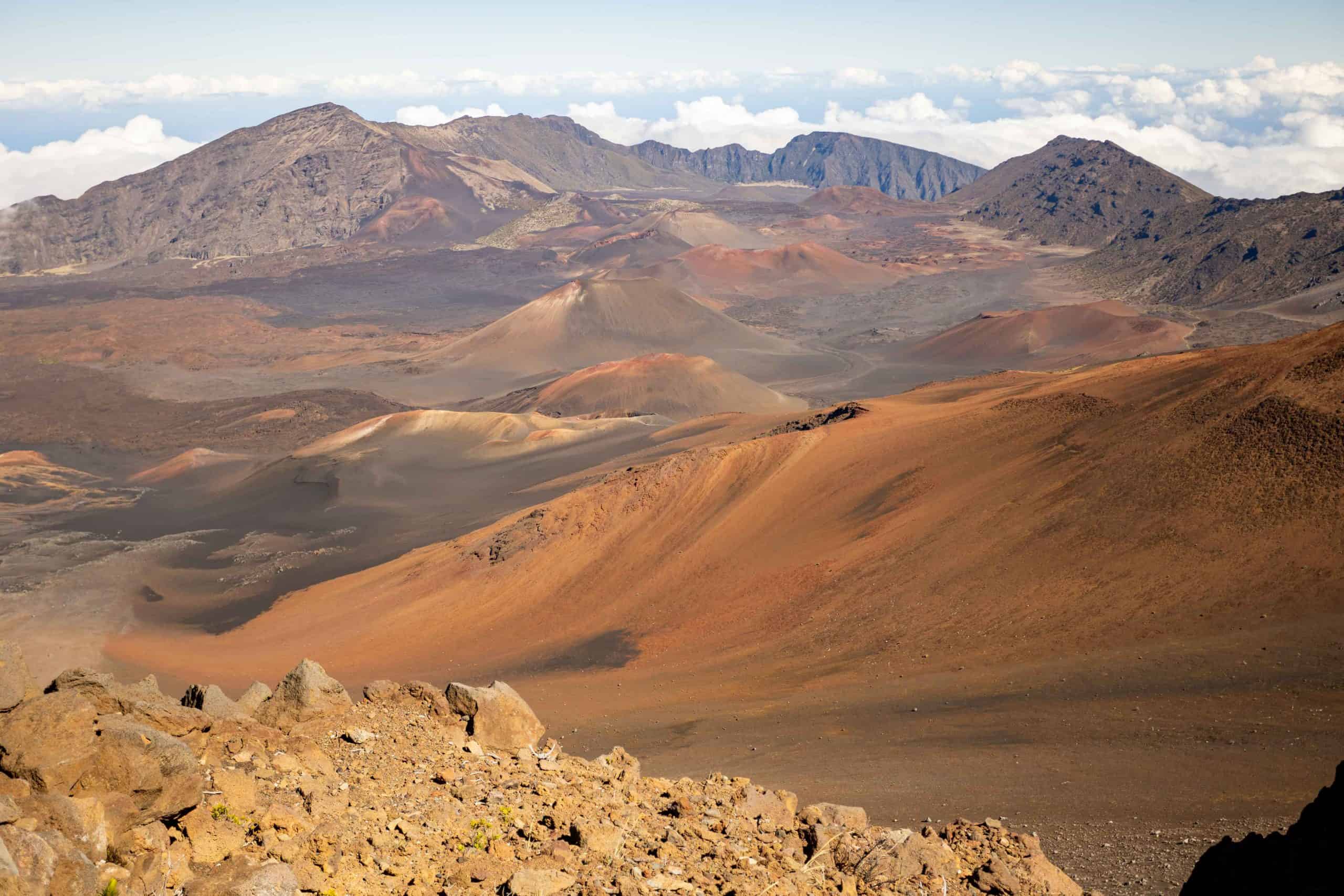 Sunrise at Haleakala is considered one of the most spectacular sunrises on Earth. Haleakala itself means house of the sun.
If you want to witness this yourself you'll need to book a reservation on the official website (you can book up to 60 days in advance). Note that it can take around 2 hours to drive to the top of Haleakala, so you'll need to get an early start for that 5-6am-ish sunrise.
There are other ways to see the sunrise as well. My husband booked a self-guided bike tour and said it was his favorite activity of our trip. They drove him to the top of the mountain, then led him 23 miles down the mountain.
If getting up at 3am doesn't sound appealing, you can still drive up Haleakala during the day (you don't need a reservation after 7am). We did that on our last trip to Maui and the views were amazing at 1pm.
Good to Know
It's cold and windy up here! Bring the warmest clothes you have. It was 87F at the beach and 52F by the time we reached the top. Dress accordingly.
There's no food or gas stations at the top, so fill up and bring snacks or lunch.
There are lots of trails and hikes in the volcano. Bring workout shoes or at least close toed shoes so you can hike around and explore. If you want to do a longer hike, be sure to plan food, clothes, and time accordingly.
There's an entry fee to the park (free for military/veterans). They take cards.
Makawao
Once you're done at Haleakala, make your way back down to explore the small town of Makawao. Makawao is famous for its artists including glassblowers and painters. Often you can catch them working right in their shops. The town is set in Maui's lush upcountry and is a great add-on to Haleakala. Depending on when you arrive, you can either grab lunch here or make your way to Kihei (about a 15-20 minute drive from Makawao).
Kihei & Wailea
I recommend spending your afternoon in Kihei and Wailea.
First you can explore Kihei, walking around Kalama Village and some of the beaches such as Kamaole Beach III, Keawakapu, and Maluaka.
The Shops at Wailea are a great place to walk around and grab a bite to eat. These are upscale shops and there's a large parking lot with plenty of parking.
From the shops, you can walk down to the Grand Wailea, the most renowned resort on the island. It's worth walking around and exploring the resort. There are also many great restaurant options available for non-guests (some require reservations, and it's worth checking their website before you go).
There's also a beautiful and large beach, Wailea Beach, right in front of the resort. It's considered one of the best beaches on the island. There's public parking and public access to the beach. Since it's in front of a few resorts, it can get quite busy compared to other beaches in the area.
More Maui Travel Ideas