The Perfect 2 or 3 Day Homer, Alaska Itinerary [from an Alaskan]
Hey there!
This post may contain affiliate links, meaning I may be compensated if you click on one of my links, at no cost to you. As an Amazon Associate, I earn from qualifying purchases. Read my disclosure policy for more information.
"A Quaint Little Drinking Town with a Fishing Problem"
Homer is a special little place at the end of the road. It's at the southern tip of the Kenai Peninsula and is proudly known as the halibut fishing capital of the world.
When asked about where to go in Alaska, Homer is always listed as one of my top recommendations.
So what makes it so special?
Homer is surrounded by the ocean and mountains, with plenty of opportunities to explore the great outdoors and take in stunning views of Kachemak Bay.
It's larger than Seward (not sure which to visit? Check out my Homer vs Seward comparison) in population and size. There are plenty of restaurant options and many opportunities to get out on the water.
But it's also a feeling.
Waking up to a cool morning dew in the summer.
The endless sun (thanks to the town facing south on a hill with plenty of open water).
Everything feels slower. There's a bit of a hippy artsy feel to the town evident by local artists and delicious fare.
The air is a bit salty from the bay. You can sometimes see whales swimming around and you can often spot sea otters and sea lions.
Across the bay are views of mountains and glaciers.
And it has that down-to-earth, small-town Alaska feel.
How Do You Get to Homer, Alaska
While you can fly to Homer, by and far most people drive down to Homer from Anchorage.
Between Anchorage and Homer, other popular spots include Seward, Cooper Landing, Kenai, and Ninilchik.
By air: The Homer Airport (HOM) has daily flights from Anchorage. The airport is located about 3 miles from the center of town and there are a few taxi and shuttle services available. There are also private charters available, mostly from Anchorage.
By car: Homer is located about 220 miles south of Anchorage along a scenic drive that takes about 5.5-6 hours (don't let Google Maps fool you – it will take longer than 4.5 hours). The road is well-maintained. It takes you along Cook Inlet, up into Summit Pass, past Cooper Landing and Kenai, then skirts the coast and ends in Homer. It's a beautiful drive.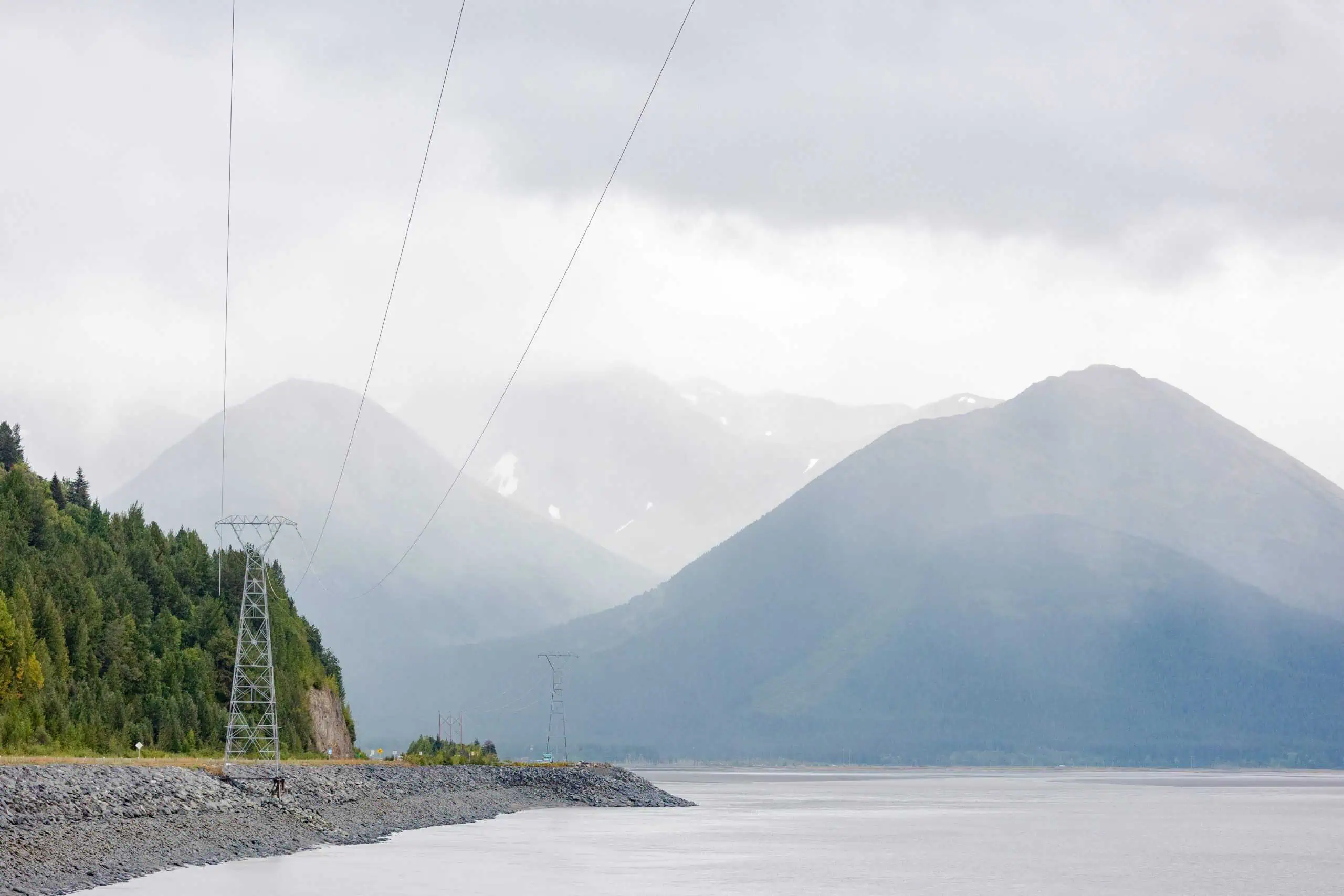 What is there to do in Homer?
Homer has a population of about 5,700 residents and that grows to around 15,000 in the summer. It's most popular for world-class fishing, but there's a lot more to this charming town.
Although small, there's a large art scene and a bit of a hippy feel. There are some fantastic food options and it's home to the quirky 'Homer Spit', a long thin stretch of land that juts out onto the water. There are a few museums in town that are worth visiting (see below itinerary for more information).
It's a great place for wildlife viewing. If you like to get out on the water, you won't see any large day cruise ships here, but there's a ferry and smaller operations. And as stated above, it's all quite beautiful.
Many people enjoy biking along the spit trail, and there are some fun hiking options in town. Beachcombing is a popular pastime as well. It's a great place to relax and enjoy a slower pace of life.
Two or Three Day Itinerary
Here is a suggested itinerary for spending two or three days in Homer. For the two-day itinerary, pick from two of the days. I do recommend spending some time in Homer, but you could do a half day in Homer, then an afternoon boat tour to Gull Island or another wildlife viewing.
This itinerary can easily be adapted as there's a lot of additional ideas included below the itinerary.
Day 1: Explore Homer
Bishop's Beach | Homer Spit | Homer Brewing Company
Start your day at Wild Honey Bistro located in a historic building just off Main Street. Here you'll find a variety of crepes made from many locally sourced ingredients. Their hours change throughout the year so be sure to check their website before you go (i.e. in the winter they're open Wed-Sun).
There are also soups and pastries. And, if you are gluten-free, they make gluten-free crepes as well! I personally love the Cinnamon Roll Crepe.
Another fantastic option is the River Cafe (I loved their Reindeer Skillet) and they have lunch options too. It's a small cafe with a down-to-earth feel and some outdoor seating with views of Kachemak Bay.
Once your belly is full, make your way to Bishop's Beach, just down the street from breakfast. Bishop's Beach has a large sandy beach area that stretches for miles. Often there is a small stream just before the beach, so you may need to walk a bit to find a good crossing area.
Next to Bishop's Beach is Beluga Slough Trail, a 1.2-mile loop trail that winds its way through the slough. This is a great spot for spotting a variety of birds.
If you have kids, they'll love running and playing on the sandy beach. We usually bring some beach toys such as a bucket and a small shovel. If you don't have these things, tide-pooling and finding sticks to use as a shovel works just as well!
After spending an hour or so here, make your way to the famous Homer Spit. I saved this one for lunchtime so you can grab a bite to eat while you're here, and many shops don't open until 10am-12pm.
The Spit is a nearly 5-mile narrow stretch of land that juts out of the water. It's iconic to Homer and a popular tourist spot. This is where you'll find many shops and restaurants as well as the boat harbor. There are some rocky beach areas to explore, and you'll find many people fishing here.
Once you start driving down the spit you'll see some old abandoned boats and a few that have been converted to homes. In the harbor, you might spot one of the boats on Discovery's Deadliest Catch.
There are a few prominent shopping areas (with a few sitting on stilts) along here. I recommend parking toward the end and walking around.
There are many restaurant options. If you're looking for a quick bite, there are many options for that as well.
While it's a touristy area, it's a fun way to spend a few hours and you can get spectacular views of Kachemak Bay.
Overall, here are my favorite things to do on the spit:
Walk along the Homer Spit Trail. It runs the length of the Homer Spit, so it's not necessarily a nature trail as it parallels the road. If you don't want to walk the complete 8-ish miles, you can park anywhere and walk along parts of the trail. Parking is available at the intersection of Kachemak Drive.
Visit Salty Dawg Saloon. Built in the 1890's, this bar is iconic to Homer. The building may look like an old lighthouse, but really the top portion was added to cover a water storage tank (I know, not as exciting as being a real lighthouse!). Once inside you'll see the walls and ceilings covered in thousands of dollar bills and other memorabilia left by visitors from all over the world. There's a small outdoor patio that's fenced in and sometimes they have live music.
Visit the Shops. If you're wanting some local art and handmade items, there are many great shops to explore on the spit.
Grab a bite to eat. There are many restaurants along the Spit. Popular spots are Captain Pattie's Fish House, Boardwalk Fish and Chips, and Swell Tacos.
Head to the Beach. It's fun to walk around and explore the beach area. It's mostly rocky so a good pair of shoes is a must, but you can look for wildlife and beach comb too.
Afternoon
There are a few ways to spend your afternoon. Here are my top recommendations:
Tour Gull Island. If you want to see wildlife and get out on the water, I recommend a tour of Gull Island. This island is a popular bird nesting location where you can spot all sorts of birds. My favorite was the puffins, but there are many many others to see as well. I recommend Mako's Water Taxi. They operate on demand meaning there isn't a set schedule, so you can just give them a call to set something up.
Explore the Alaska Islands and Ocean Visitor Center. This is a nice facility that discusses the history of Alaska including some exhibits on WWII and Alaska. You can learn about the marine life and ecosystems of the surrounding area through interactive exhibits and ranger-led programs.
Hike at Wynn Nature Center. The nature center is located in Homer up on the hillside with dramatic views as you approach the center.
There are 5 miles of trails with all sorts of informational signs about the local vegetation, flora, and fauna. Many of the trails are wooded, but you can see some nice views up here. In the summer months, there are daily programs and guided walks. You can find more information here.
Explore the local drinks. Homer has a few breweries including Homer Brewing Company and Grace Ridge Brewing.. There is also a local meadery that also makes a fantastic cider (just know it attracts quite a lot of bees!).
Do a Wine Tasting. In the same theme, you can also head to Bear Creek Winery and do a wine tasting. It's open daily, and they make many fruity wines and some dry ones as well. They're open 11-6 daily and also offer lodging as well.
Visit the Pratt Museum. This museum has exhibits on the history and culture of the Kachemak Bay region, including exhibits on local artists and native cultures.
Dinner
For dinner, I recommend Fat Olives, AJ's Steakhouse, Wasabi's, The Kannery, or the Chartroom at Land's End (at the end of the Homer Spit). For more information on these restaurants, scroll further down this article to find more recommendations and details.
Day 2: Seldovia Day Trip
Seldovia | Otterbahn Hike | Ferry & Wildlife Viewing
Book Ahead: Ferry to Seldovia
Today you'll take the ferry to Seldovia, a small fishing village off the road system. It's a cute and unique town across the bay and a great excuse to get out on the water.
Grab breakfast at one of the places listed on Day One, then make your way to the docks.
To get here, you'll board the ferry down at the Homer Spit and make your way across the bay. The ride takes about 45 minutes each way. Note it can get choppy if the weather isn't ideal.
You are likely to spot wildlife such as sea otters, seals, a variety of birds, and even whales.
Book your tickets ahead of time on their website and be sure to arrive early.
Once here, explore the old boardwalk area, stop in at some shops, and grab lunch. Seldovia is extremely small with only 238 full-time residents. Even so, it's a unique little town and a pretty area.
There's also a trail you can access from town called the Otterbahn Trail. The trail starts behind Susan B. English School and makes its way through the tall forest. Once you reach the end, you'll cross a few boardwalks and end up at Outside Beach.
The trail is 1.9-miles out and back, and while hilly, isn't too challenging. There are a lot of roots and uneven surfaces, so be sure to watch the ground as you walk.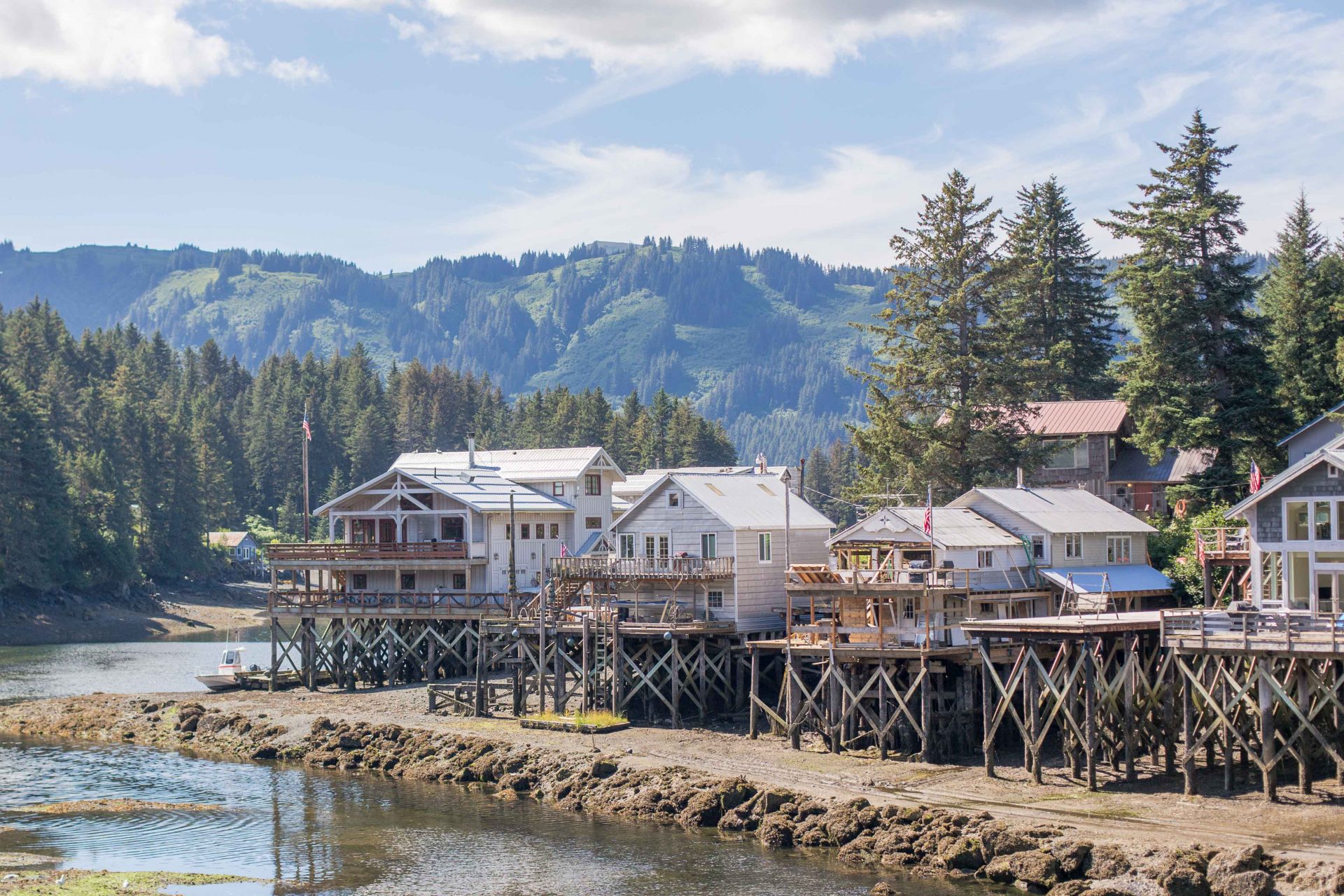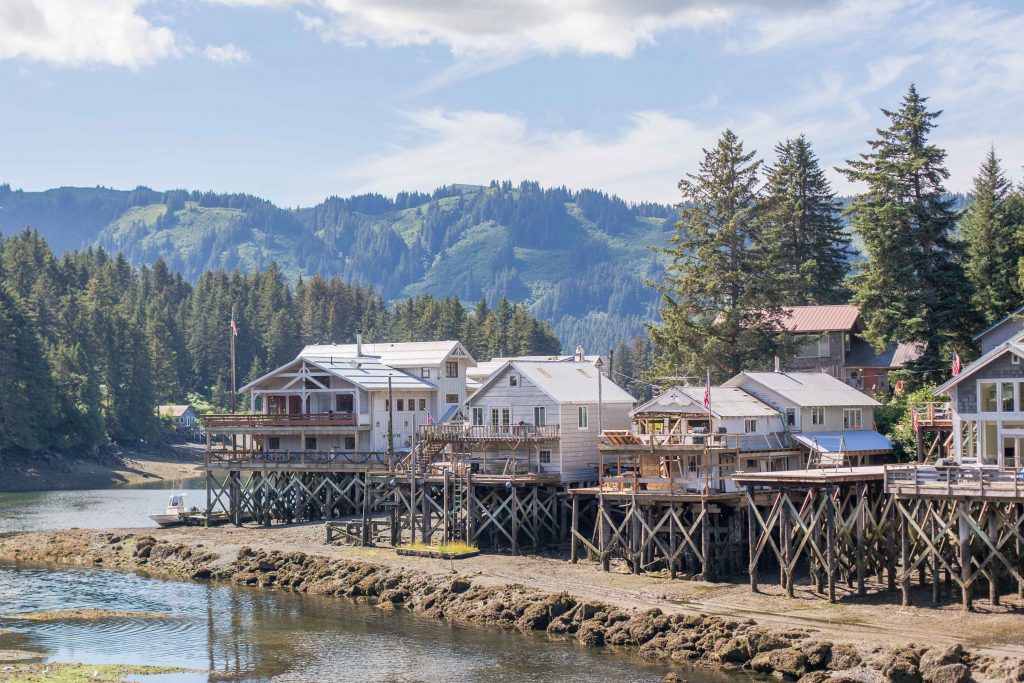 If you're having trouble finding the trail, just ask a local. It's a short walk past the town and is marked on Google Maps.
There's one ferry to Seldovia and back each day, so you can head out at 11:00am and return from Seldovia at 4:30pm.
If this isn't enough time for you, consider staying overnight at one of the inns or hotels (there are only a few). If you want to do this and also do the day 3 items, then I'd recommend switching days one and two. This way, you can catch the ferry back to Homer on day two and be ready for your charter the next day.
Day 3: Fishing Charter or Flightseeing Tour
Fishing Charter | Flightseeing Tour
Book Ahead: Fishing Charter or Flightseeing Tour
Today I recommend going on either a fishing charter or a flightseeing tour, depending on your preference.
There are many many fishing charter options. Some leave from Homer, and others are 45 minutes up the road in Ninilchik or Deep Creek.
With Ninilchik, you are doing a boat launch from the beach. There are large tractors that back up into the water and launch. It's definitely exciting or can be fairly scary depending on your comfort level. Since it's a beach launch, you can only go out when the tides are right.
However, in Ninilchik, you don't have to go out as far on the boat. With Homer, the distance to reach the open water is longer and you likely will pass near Ninilchik.
With Homer or Ninilchik, you are out in large open water so there's always the chance of getting seasick. If you want to mitigate seasickness as much as possible, be sure to choose a larger catamaran.
Other ways to mitigate seasickness are using bracelets, patches, OTC medication like Dremamine (I recommend non-drowsy), and staying hydrated.
Here are some fishing charters I recommend: O'Fish'ial Charters, Big Dan's, Bob's Trophy, Maverick, North Country, Homer Ocean Charters, Red Door Charters, and Homer Ocean Pros.
From Ninilchik: Ninilchik Charters, Afishhunt Charters, Keyo's Guide Service, and Gotta Fish Charters.
Flightseeing Tour and Bear Watching
If fishing isn't your thing, another great day trip is to take a flightseeing tour to see bears. This is a day trip and ranges anywhere from 4-6 hours. From Homer, there are world-class locations to view brown bears and black bears. The most popular spot is Katmai, but there are many tours that will take you to lesser-visited islands and beaches.
Some tours will take you via floatplane to Katmai. Others have wheeled planes and land on beaches or flat areas.
Some companies like Smokey Bay Air will even give you a 50% refund if you don't see bears.
I recommend booking with Smokey Bay Air, Beluga Air, or Alaska Bear Adventures (there are many other great options too).
Best Places to Stay in Homer
Homer, Alaska has a variety of accommodations to choose from, ranging from hotels and motels to bed and breakfasts and vacation rentals.
Here are some of my favorite accommodations. I've stayed at many of the ones listed, and a few are on my wish list.
---
Resort at the end of the Homer Spit
This waterfront resort offers rooms and suites with stunning views of Kachemak Bay, as well as on-site dining, a fitness center, and a spa. The hotel is a bit dated but you can't beat the location and views. I love it with kids as they can play on the rocky beach while we enjoy a glass of wine on the patio.
---
Beautiful townhouse with oceanfront views and access!
There's a beautiful row of townhouses toward the end of the spit that faces Kachemak Bay, and this one is available for rent! It's been immaculately maintained and you have direct beach access from your own private back deck. It doesn't get much better than this!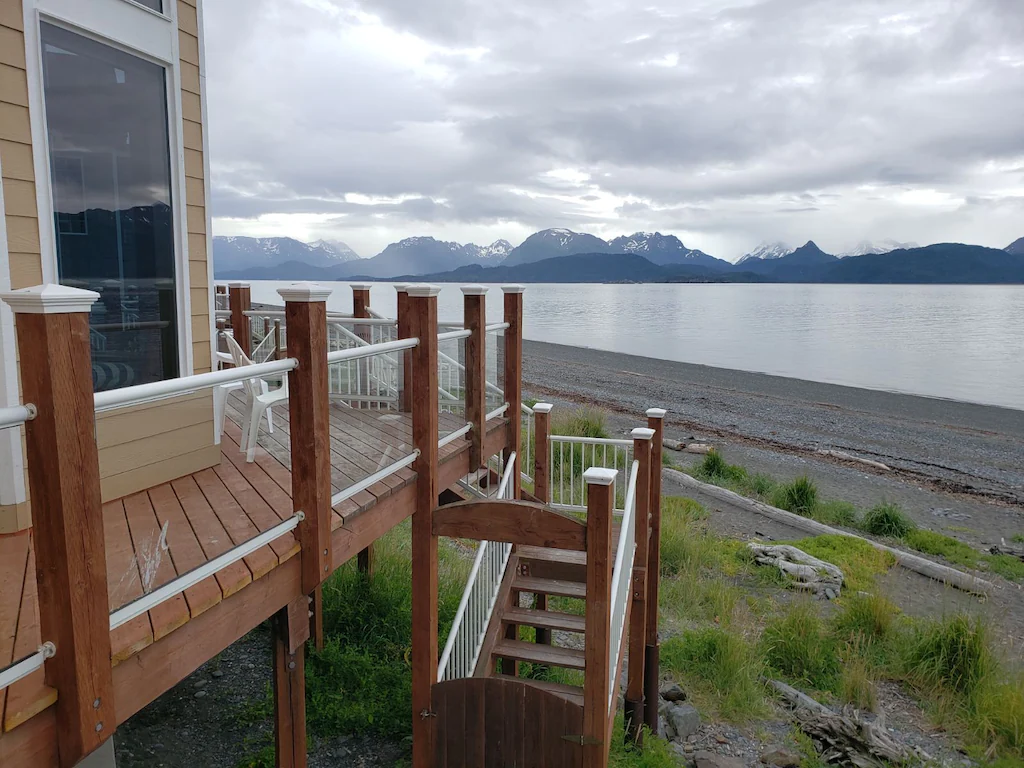 ---
I am in love with this home design and the large floor-to-ceiling windows. It's located on the bluff and about 15 minutes from Homer and the Spit.
---
This new and beautiful cabin has one bedroom and is just 3 minutes from downtown Homer. Guests rave about how beautiful this cabin is and complete with everything needed for a great stay.
Overall, there are many great places to stay in Homer, depending on your budget and preferences. As with most places around Alaska, the best places book early, often over a year in advance.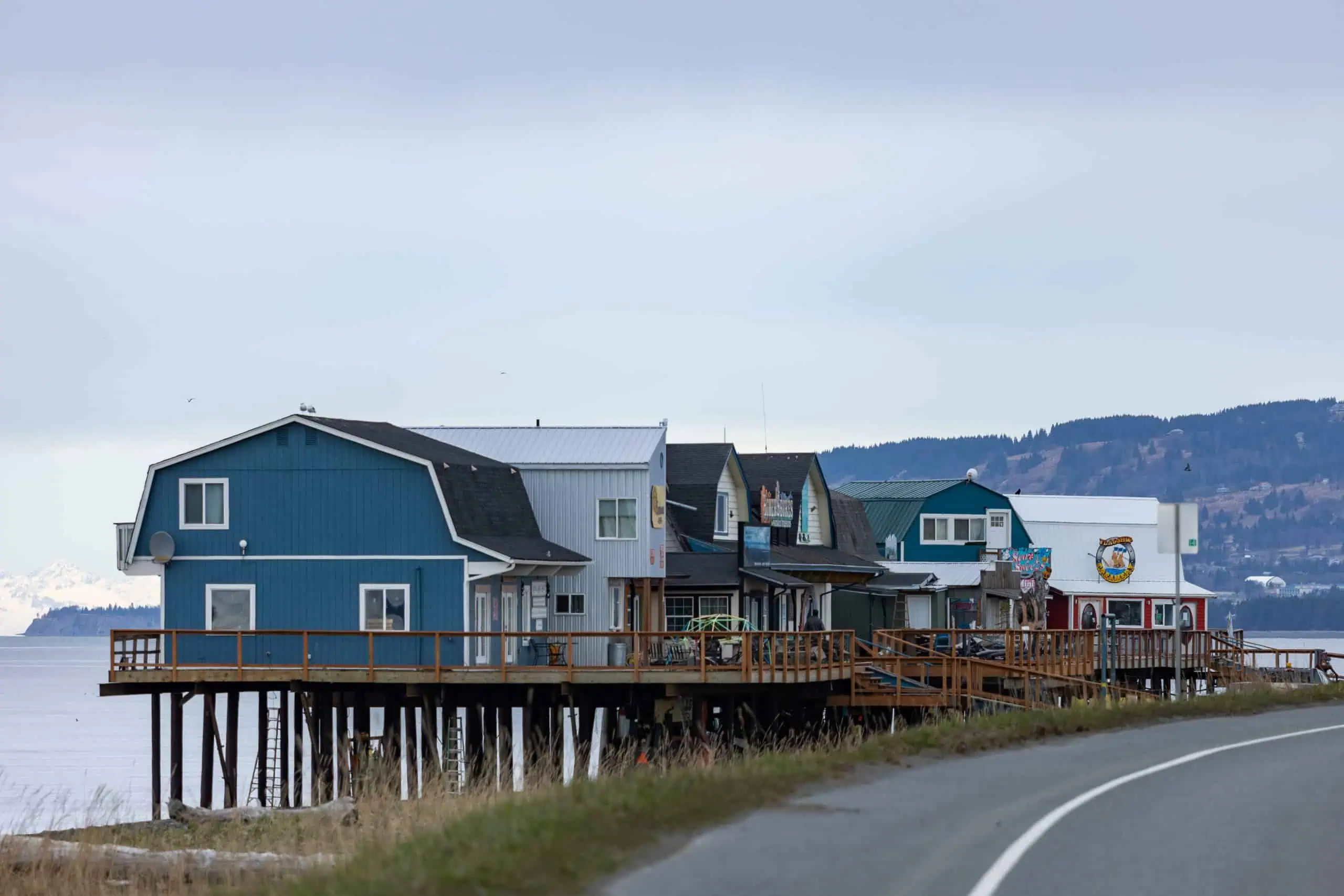 Wildlife in Homer, Alaska
Homer, Alaska is a great place for wildlife viewing, thanks to its location on the shores of Kachemak Bay and proximity to the Kenai Fjords National Park. In my itinerary, I include at least one day on the water, which will greatly increase your chances of seeing wildlife.
Here are some of the wildlife species you may encounter in Homer:
Bald Eagles – I typically see a few eagles every time I'm in Homer. You can often see them soaring overhead or perched in trees along the coast.
Bears – Bear sightings in town aren't too common, but there's always the chance they're nearby. Homer is also a popular launch point for flightseeing tours of bears.
Whales – Kachemak Bay is a popular feeding ground for whales, which can sometimes be seen breaching and diving in the bay.
Sea Otters – Sea otters are abundant in Kachemak Bay and can often be seen floating on their backs or cracking open shellfish with rocks.
Harbor Seals – Harbor seals are also common in Kachemak Bay and can often be seen lounging on rocks near the shore.
Orcas – Orcas, or killer whales, are occasionally spotted in Kachemak Bay, particularly during the summer months.
Porpoise – It's common to spot porpoises in the bay. They may look like dolphins, but they actually belong to a different family. They are much larger, have shorter noses, triangular dorsal fins, and even different spade-shaped teeth. Even so, it's hard not to yell dolphin when you spot one (or maybe that's just me!).
Puffins – Puffins are a popular bird species in the area and can often be seen diving for fish in the bay. Many are concentrated on Gull Island nearby, and there are many tours that go here daily in the summer.
Best Restaurants in Homer
I am always surprised by the restaurant scene across Alaska, and Homer is no exception.
Things to note: Many restaurants are closed on Sunday, Monday, and even Tuesday. Be sure to check the times before you go. Not all places require reservations but many of the nicer establishments (i.e. Wasabi's, Chartroom, AJ's) tend to book up in the busy summer months, so a reservation is highly recommended.
Two Sisters Bakery – This bakery and cafe is a local favorite, offering delicious baked goods (including gluten free), sandwiches, and coffee.
Wild Honey Bistro – There are a variety of crepe breakfast options including savory and sweet. You can also choose from various soups and pastries. I love that they have gluten free crepe options too. If you try their cinnamon roll crepe you won't be disappointed!
Fat Olives – This local pizzeria sits at the entrance to town and is one of my favorite spots (especially with kids). It has a laidback feel and some of the best gluten-free pizza I've ever had. The restaurant also has a great wine and beer selection and a cozy atmosphere with a fireplace. It's one of our go-to places when we visit.
The Kannery – As you first enter the town there's a large restaurant on your right called the Kannery. We stopped in one afternoon and were pleasantly surprised. They have a fantastic cocktail menu with many unique options and delicious food.
Wasabi's – Wasabi's is a popular Japanese restaurant in Homer with a great bar area where you can enjoy sushi and other Japanese dishes along with a variety of beers and sake.
The Chart Room – Located in the Land's End Resort, The Chart Room offers fine dining with stunning views of the ocean and mountains. The menu features fresh seafood and local ingredients. I would pick AJ's or The Kannery over Chart Room, but it's still a solid option.
Captain Patties Fish House – This casual seafood restaurant is a must-visit for fish and chips lovers. The portions are generous, the batter is crispy, and the fish is always fresh. They also have a great selection of local beers on tap.
AJ's OldTown Steakhouse & Tavern – This steakhouse serves up high-quality, perfectly cooked steaks and other classic American dishes in a warm and welcoming atmosphere. The restaurant also has a great selection of wines and cocktails.
Broken Oar Oyster Bar – For the best oysters in town you have to make a stop here.
Swell Tacos – Get your taco fix right here on the Homer Spit.
Boardwalk Fish and Chips – The best halibut and chips in Homer.
Best Hikes in Homer
Homer doesn't have large mountains in town. If you want longer, bigger hikes with mountain views, you'll need to head across the bay.
From town, there are still options in the hilly areas extending away from the bay. There are also some nice maintained trails in town with boardwalks and trails.
When hiking in Alaska, be sure to bring mosquito repellant. Sometimes you luck out and don't need it, but when you need it, you really need it! There's a lot of bear activity (especially across the bay via water taxi), so be bear aware and bring bear spray if you feel you need it. Watch out for moose and stay far out of their way.
Many people are surprised to learn that most hiking trails are muddy or still snowy in May and even early June. Expect mud and loose debris and don't get too worried about your shoes getting dirty because it will happen.
Beluga Slough Trail – This is a short, easy trail that's accessed from Bishop's Beach. A short portion has a metal boardwalk where you can walk or bike. The other areas of the trail are a bit more narrow and mostly made of hardened dirt. It's a great area to stroll and watch many species of birds.
Wynn Nature Center – Also in Homer, this is a large trail network that can be accessed from Skyline Road. The address on Google Maps and the one listed on the website is wrong, but I found the address digging a bit on Google Maps (Mile 1.5 E Skyline Dr, Homer, AK 99603). You can also get the written out directions on their site directly.
Grace Ridge Trail – The Grace Ridge Trail is a challenging 8.4-mile rt hike (although some say it's closer to 10) that offers stunning views of Kachemak Bay and the surrounding mountains. You'll need a water taxi to get out and back. The trail is typically recommended from south to north. You need to traverse a few ridgelines and expect about 5 false summits. If you love a good and challenging hike, this is worth it!
Diamond Creek Trail – The Diamond Creek Trail is a 4.2-mile rt hike that takes you through a beautiful river valley and offers views of glaciers and waterfalls. The trail is easy to moderate and begins a few miles back from town along the Sterling Highway.
Grewingk Glacier Trail – The Grewingk Glacier Lake Trail is a moderate 8.9-mile rt hike that takes you to Grewingk Glacier Lake, one of the most popular attractions in the area. Please note this hike doesn't go directly to the glacier but to the lake in front of it. The hike to the glacier is much more challenging and can be found on AllTrails.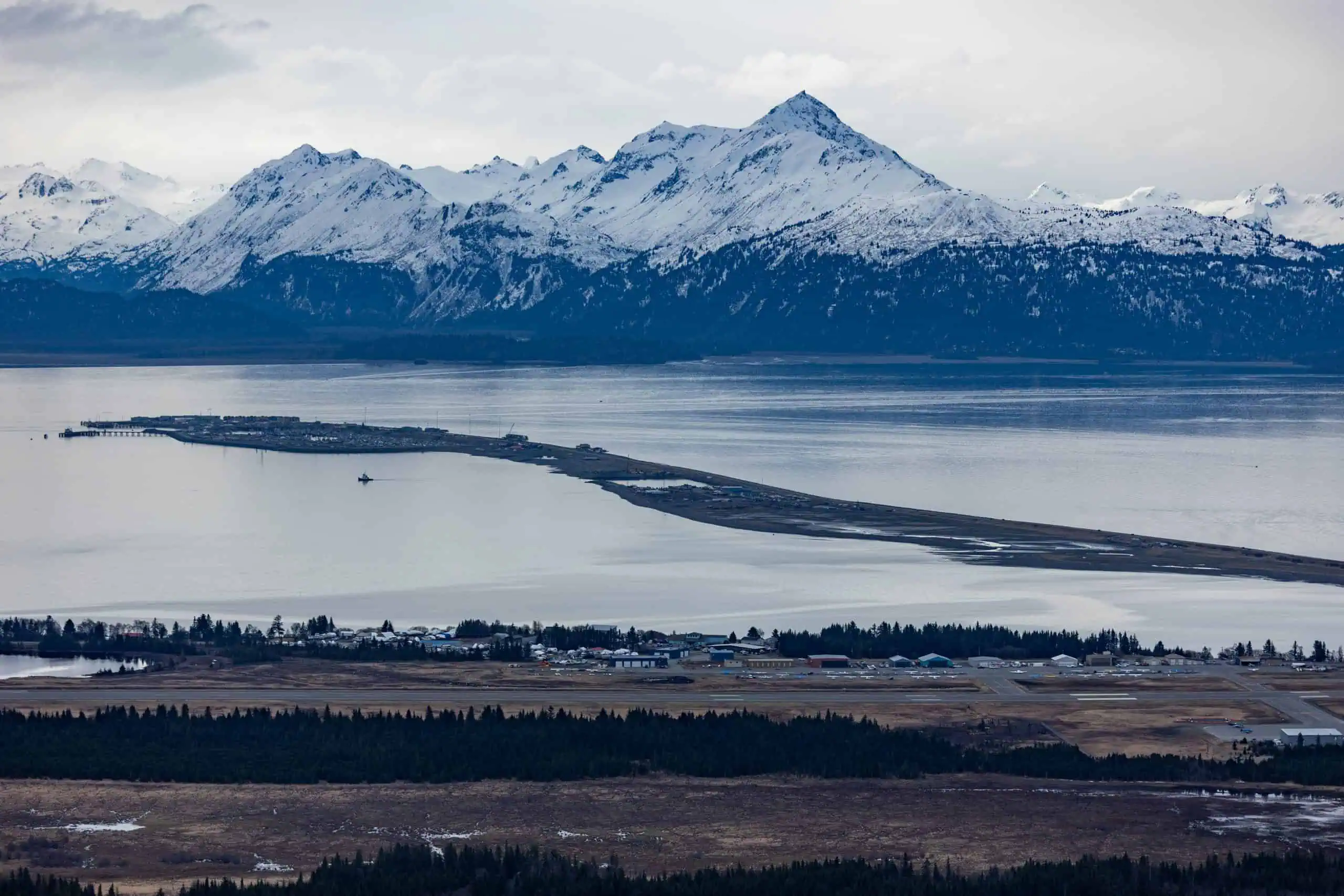 Overall, there are many great hikes to choose from near Homer, and these are just a few of the top options. When choosing a hike in Homer, be sure to consider the length and difficulty of the trail, and whether you'll need a water taxi.
What to Pack for Homer
If you're planning a trip to Homer, it's important to pack appropriately for the weather and outdoor activities. I have an entire summer packing guide to help you pack for Alaska that you can find here.
In general, here are some items to consider packing:
Layers – Any Alaska packing list will preach layers layers layers! And there's a reason for it. The weather can go from rainy to sunny (and hot!) to windy to buggy. In my packing list I have many layer recommendations.
Waterproof Gear – Homer is a coastal town with lots of rain and mist, so it's important to pack waterproof gear such as a rain jacket, rain pants, and waterproof boots. A waterproof backpack or dry bag can also come in handy.
Hiking Gear – If you plan on hiking or exploring the outdoors, bring sturdy hiking boots (workout shoes work fine too), hiking socks, and a daypack for carrying essentials such as water, snacks, and mosquito repellant.
Sun Protection – Even on cloudy days, the sun in Alaska can be strong, so pack sunscreen, sunglasses, and a hat with a brim to protect your face and eyes. If you don't have a hat, you can easily find one at a local shop or brewery here.
Camera – Homer is a beautiful place with stunning views, so don't forget to bring a camera to capture all the sights.
Binoculars – Homer is a great place for wildlife watching, so bring binoculars to get a closer look at birds, whales, and other animals. Here's my favorite inexpensive pair.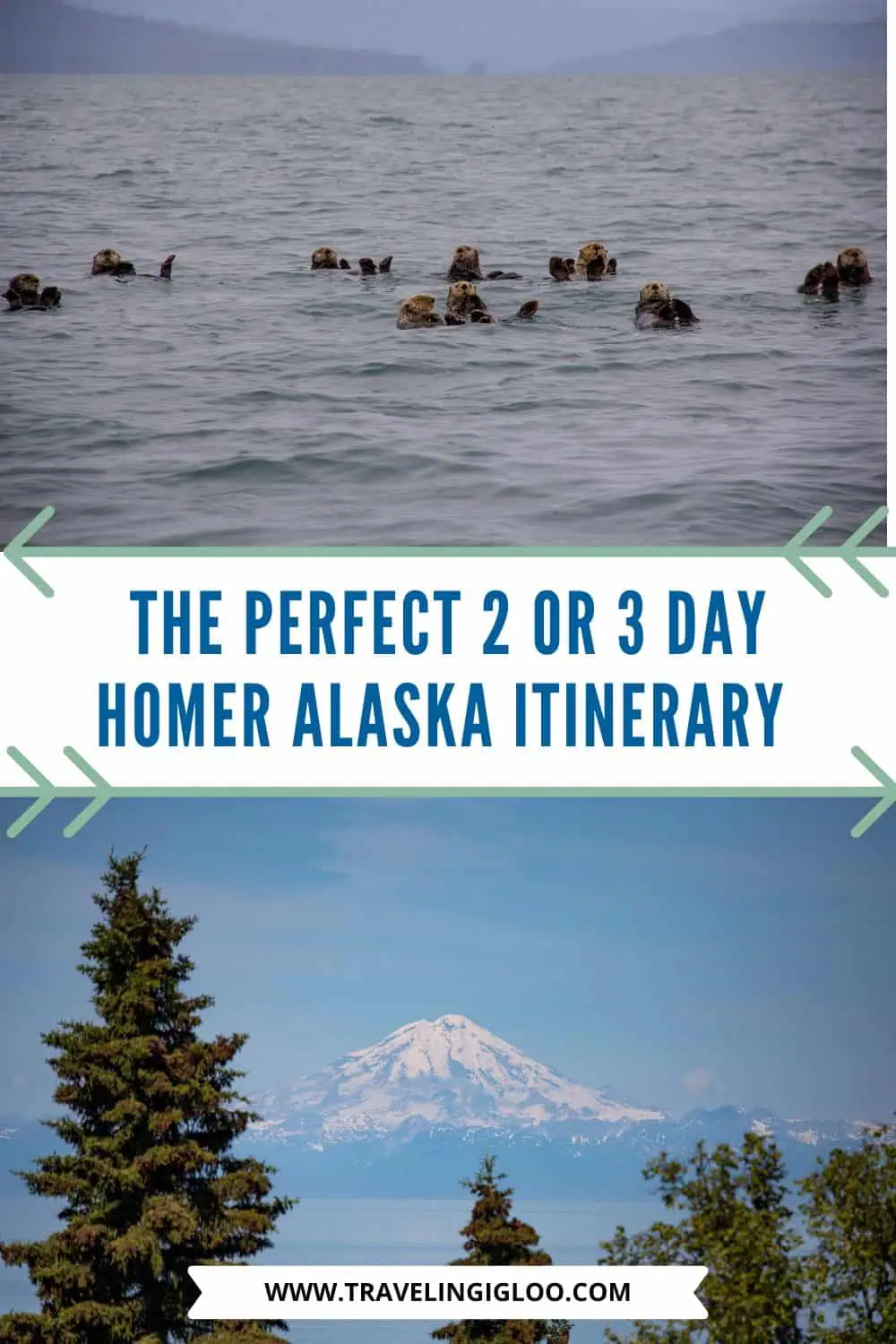 More Alaska Articles