Things to Consider When Building a Home in Alaska
Hey there!
This post may contain affiliate links, meaning I may be compensated if you click on one of my links, at no cost to you. As an Amazon Associate, I earn from qualifying purchases. Read my disclosure policy for more information.
We're building a house….in 2022. It's definitely been a wild ride building a home this year. Just building a home in general is a process, but when you add supply chain issues, inflation, and rising interest rates to the mix, the stress level is much higher.
At this point we're about halfway through our build and have learned a lot. Growing up in Alaska and now owning a home, I knew some of the quirks and things to consider. And with a brief stint in real estate, I also have some additional knowledge about general homebuilding in Alaska.
There are some unique things to think about with a home in Alaska. I live in a town called Eagle River, about 10 miles north of Anchorage. This area will have different considerations than, say, Fairbanks.
But there are some main factors to consider no matter where you live in this state, so this information holds true all over.
1. Wildlife in Your Backyard
I thought I'd start with a fun one. Do you want to have wildlife roaming around in your backyard? While it could happen anywhere, there are some locations where you're more likely to encounter moose and bears.
And while it sounds cool, it can get old having to keep your kids inside because the moose won't leave the yard or that pesky bear keeps coming back.
In general, if you want to build near or on a mountain, you will see more wildlife. If you want to be off-grid in the middle of nowhere, you'll almost definitely have more wildlife in your backyard.
There are trails known as 'game trails' that wildlife frequent. Often these run along power lines, creeks, and streams. In addition to moose and bears, you can also encounter lynx, fox, and wolves.
If you plan to live in any of these areas and want some safety, you'll want to build a fence. This is also true if you plan to have a garden – moose especially love to nibble at all your hard work. My parents use an electric fence and it helps keep them away.
2. Mosquitos Mosquitos Mosquitos
Alaska has a LOT of mosquitos. Aggressive, fast mosquitos that only have a few months to suck all the blood they can.
There are over 3 million lakes in Alaska. Living on a lake is a dream for most people and is definitely more of a possibility up here. Just keep in mind that wherever there's a body of fresh water, you will have more mosquitoes.
Many people do something called fogging to kill mosquitoes. It's a fine insecticide that's sprayed outside the home and reduces the bloodsuckers by a lot. Some companies use a spray that also kills horseflies and yellow jackets.
If you're not excited about spraying your yard, you can get a mosquito magnet which also greatly reduces mosquitos in your vicinity.
3. How much sunlight will you get in the winter?
Although I grew up here, this is something I naively didn't think of when we moved back and bought our house. We live in a gorgeous mountain valley. We are a little bit lower in the valley and have a beautiful view of the mountains across from us.
We bought our place in April, when there's plenty of daylight, and didn't think about where that sun might be in the winter.
If you're not familiar with the sun in the arctic, here's a brief overview. From winter solstice (December 21st) you gradually gain daylight until you reach summer solstice (June 21st). Then you gradually lose daylight until you again hit winter solstice.
The way this happens is the sun will lower in the sky between summer and winter solstice due to the rotation and angle of Earth. So by November that sun is sitting much lower on the horizon. Add mountains to the mix, and it can completely disappear.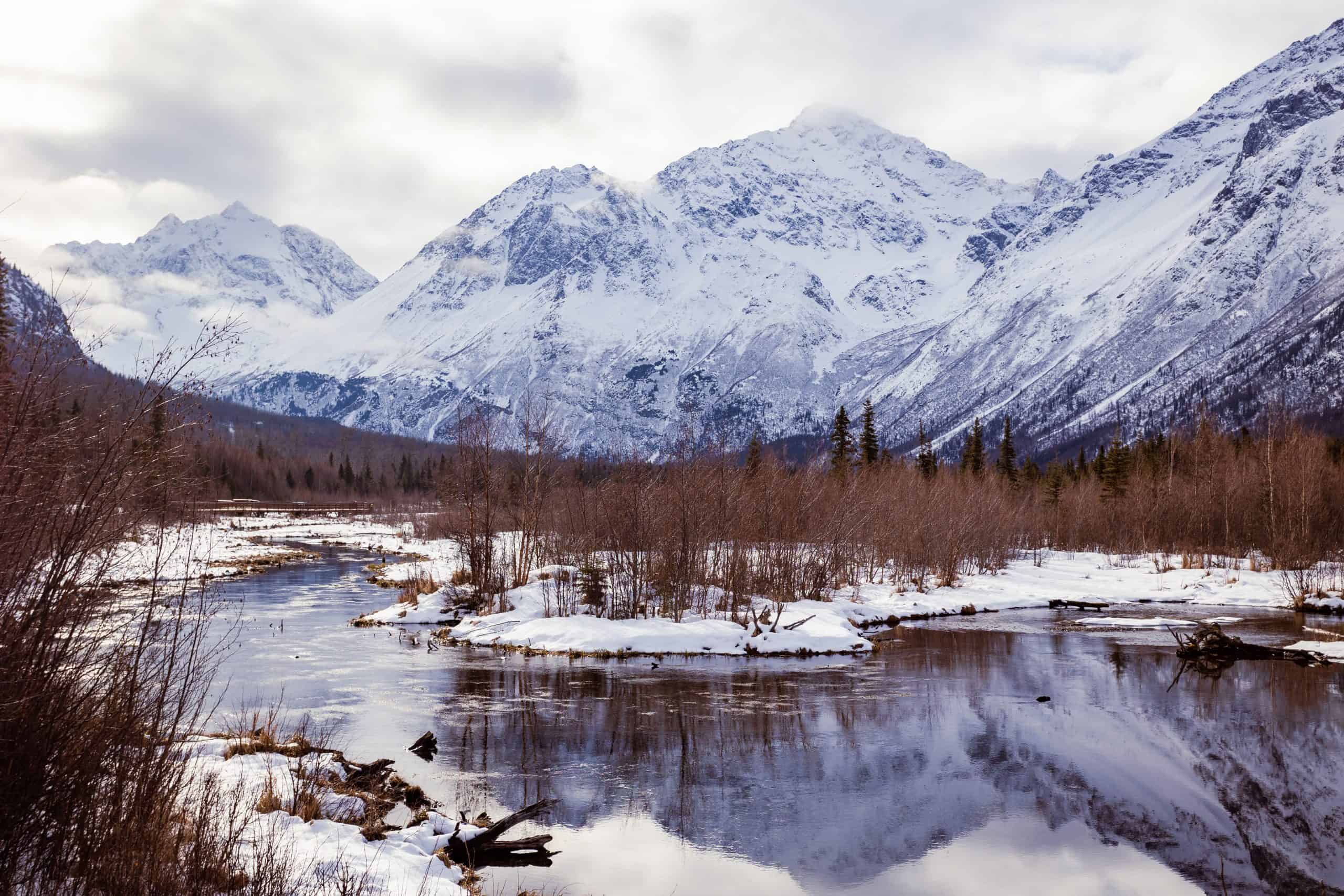 This is what happens where we live. Around mid-November, we lose all sunlight on our home and it doesn't return until mid-February. Less than a mile up the road, they get sunlight hitting their homes even on December 21st.
It's actually one of the reasons we are moving. That's how big of a deal it is for us!
Some people aren't affected by sunlight. But for most people, a few months without having direct sunlight hit your skin (even through a window) gets old!
Also, anywhere where there isn't direct sunlight, it's colder. Our neighborhood is much colder than a mile up the road.
4. Wind and Other Weather
Alaska is known for its extreme weather, but most people tend to only think about snow. We have another big weather factor; wind.
Wind can top 100mph in the winter when we get huge storm systems. It's not uncommon to have gale force winds throughout the winter.
Most of the extreme wind happens in the winter which makes it colder. This is called the wind chill factor.
Areas such as valleys and higher up on mountainsides can get considerably more wind. In Anchorage, the 'hillside' or the hilly mountain areas above the city below get much more wind. There are many homes in this area, and while the views are great, getting battered with wind can take away from those inlet views.
Winter is much worse. You're getting these huge pressure systems from the Bering Sea and Pacific Ocean. When you add in mountains and glaciers, weather systems can get a bit crazy.
Near Anchorage is an area called the Matanuska Susitna Valley (Mat-Su for short). Palmer is one town here in particular that is known for wind.
If you're unsure whether an area you're looking at will be unusually windy, ask your realtor or a local.
In the valley we live in, just 10 miles north of Anchorage, we are protected from the wind. So it can vary a lot even in a small area.
5. Driveway Considerations
Speaking of weather, Alaska has long winters. This varies depending on where you live, but around Anchorage, expect snowfall between October and April.
What happens when it snows? Well, you need to plow your driveway. That nice, long driveway with privacy means you'll have a lot more plowing to do in the winter.
If your driveway is at a steep slope (like ours), there's a good chance your vehicle will slide down it when things ice over. We've had our cars slide down the driveway multiple times. Now we put down a ton of gravel for traction. With our new house will have a nice, flat and not too long driveway.
For us, it's more of an annoyance than a deal breaker, but it's something to consider. I would never have a long driveway personally because then I'd need a 4-wheeler or truck with a snowplow.
In Anchorage, the 10-year snowfall average is 21 days (the 30-year is 47 days) and over 71 inches of snow. That's almost a month of pushing around heavy white stuff! It doesn't sound all that bad, but coming home after a long day of work only to spend an hour or more clearing your driveway gets old.
In our experience, our driveway is at such a steep angle that we can't park a camper, trailer, or motorhome. So think about the length of your driveway (not too short that you can't park your motorhome) but also the grade it will be.
6. Property Taxes in Alaska
We owned a home in Colorado where property taxes are really low. Here in Alaska, the amount you pay will vary greatly depending on where you live.
Since most people move to the Anchorage area, I'll stick to this example. Anchorage has the highest property taxes in the state. The good thing is that Alaskans don't pay income tax or sales tax (except for a few boroughs and towns), so property tax is your main tax liability.
Alaska is made up of boroughs and municipalities, not counties. Anchorage is part of the Municipality of Anchorage. This comprises an area that runs from Girdwood to Chugiak. Here the property tax rate is above the national average at 1.32%. For a $400,000 home (assessed value), that's $5,280 a year.
There are some exemptions that can save you money. For your primary home, you can take an exemption of 20% off the assessed value of your home (up to $50,000). This is called the Residential Exemption. So that $400,000 home will now get taxed at $350,000.
If you are a senior or a qualified disabled veteran, you can take an additional $150,000 off the value of the home. This can be added onto the the Residential Exemption. Now that same house will be taxed at $200,000.
If you're moving to the Anchorage area and want lower taxes, head to the Mat-Su Valley where the property tax rate is 1.17%. If you commute to Anchorage, you'd need to weigh if the price of gas will offset the lower property tax rate.
7. How will your home be heated?
In some areas of Alaska, like Seward and Fairbanks, homes are heated with oil. These homes have large tanks on the side of the house that needs to be filled every few months.
Otherwise, most homes are heated using natural gas.
8. How will you get water?
Many people prefer a well over city water. Whether this is possible will completely depend on where you want to build.
A well can save you a lot of money, but you'll want to make sure everything is checked beforehand. The biggest thing to consider is the well flow rate and the drinkability of the water.
If the water has a low flow rate, you'll also need water tanks, which require more costs and maintenance. You'll also need to do well maintenance such as annual bacterial checks.
Don't assume you'll have water just because there are water sources nearby. Do your due diligence.
9. Septic System or City Sewer
Often when a person has a well, they also have a septic system. Septics are really common in Alaska.
There are pros and cons to a septic just like a well.
There's more maintenance such as pumping your septic every other year and being more careful about what you flush down the drain.
But the cost savings can be fantastic compared to paying the city. Initial installation is expensive, but after that, your main cost is pumping your septic. Keep in mind that they can fail and the average lifespan is about 20 years. This is another area where you'll want to do some research to see if it's a good idea for your household.
Most septics are located in backyards and have plumbing sticking out of the ground.
10. Are you in a flood zone?
Alaska is full of rivers, lakes, streams, marshes, oceans, inlets, and everything in-between. Because of this, there are a lot of places that are in flood zones. For some areas, it's not a big deal, but you should always check the flood zone mapping and ask questions if your land will be in a flood zone.
There are some rivers that are continuously changing and carving new paths. While a rare occurrence, flooding and movement of a river can have a huge impact if your home is too close to the water.
The Matanuska River, also known as the Might Matanuska, continues to change the landscape even without flooding. Some homes that used to be out of eyesight of the river have been swallowed up. Here's an older news article discussing the issues of this particular river.
11. Earthquakes
Alaska has an earthquake about every 10 minutes. Sounds unbelievable, but it's true. Earthquakes happen when tectonic plates shift, and Alaska experiences many earthquakes due to the Pacific Plate pushing on the North American Plate.
When it comes to home building, there are a few things to consider. Not every area in Alaska has strict building requirements to withstand earthquakes. Anchorage is in a Safety Service Area with many additional building codes for earthquakes. Outside of Anchorage, those don't exist.
So you'll want to ask your builder about earthquake safety. Tie-downs are one example of how to make a home better equipped to handle earthquakes (it quite literally holds the house down).
12. Is there a fire hydrant nearby?
Not every area has fire hydrants. This means your homeowner's insurance could be higher. This isn't a deal breaker, just something to keep in mind.
How to find a builder
Honestly, it can be a crap chute finding a builder in Alaska. Not all builders have websites, or good websites, and many people still utilize the yellow pages. I'd recommend starting with a Google Search and also searching yellowpages.com. The Better Business Bureau, Angie's List, and even Houzz will also have ideas and reviews.
From personal experience living here, I know the biggest builders around Anchorage are Spinell, Hultquist Homes, Brick & Birch Homes, Hall, Visser, Sumner Homes (mostly in the Matsu-Valley), and Wurtanin. There are also many more small home builders. This is another area where there are pros and cons to a large vs smaller home builder.
We went with a smaller builder, Michael Quinn Construction, and have been very happy with them. Everything has gone according to the timeline (faster, actually) and because they know how long the lead times are, they have had zero supply issues.
Final Thoughts
I hope this was helpful if you're planning to build a home in Alaska. This is the first in my series of posts about building our home in Alaska. What topics do you want covered? Let me know in the comments below.
Read More Alaska Articles