Things to do in Girdwood [Alaska] + Itinerary
Hey there!
This post may contain affiliate links, meaning I may be compensated if you click on one of my links, at no cost to you. As an Amazon Associate, I earn from qualifying purchases. Read my disclosure policy for more information.
Girdwood is located 39 miles south of Anchorage along the beautiful Turnagain Arm. This stretch of highway is one of the most beautiful in the state and the drive alone is a fun part of the trip.
Girdwood used to remind me of the movie Out Cold. It was truly a locals ski resort and had a hippie town feel. Over the years that has changed as Girdwood and the Alyeska ski resort have become more popular.
Today you can still get that local vibe at some of the restaurants and even the newer brewery. There still isn't a big grocery store and there are no stoplights, but the town has changed quite a bit over the years. Real estate prices are sky-high (that is if anything is ever available) and prices seem to be going up everywhere.
There are more upscale restaurants than there were 15 years ago. And just like everywhere else in the US, lift ticket prices are much higher than they used to be, but still much more reasonable than the more famous ski towns in the lower 48.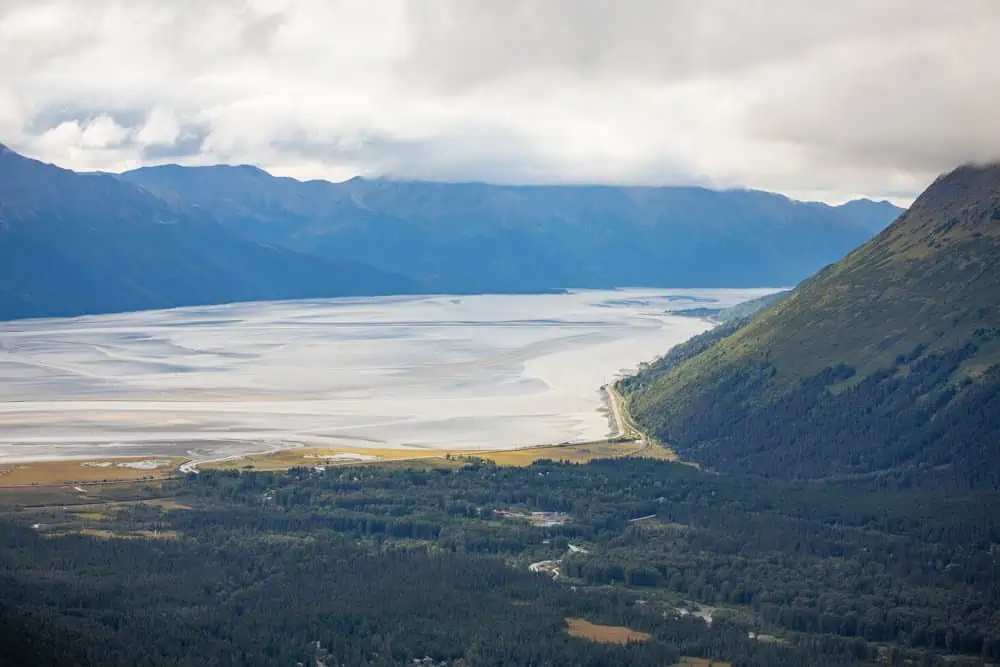 Even with changes over the years, I love that Girdwood is still this cute ski town that's tucked away and protected from the winds and extreme cold. I'm always surprised that it can be so windy along Turnagain Arm (the large inlet), yet once you turn down the road to Girdwood, nearly all wind dissipates.
The town is spectacularly set in a mountain valley that gets record snowfalls each year. And even though I live about 25 miles away as the crow flies, it is quite different. The trees are taller, it's warmer, and did I mention there's more snow?!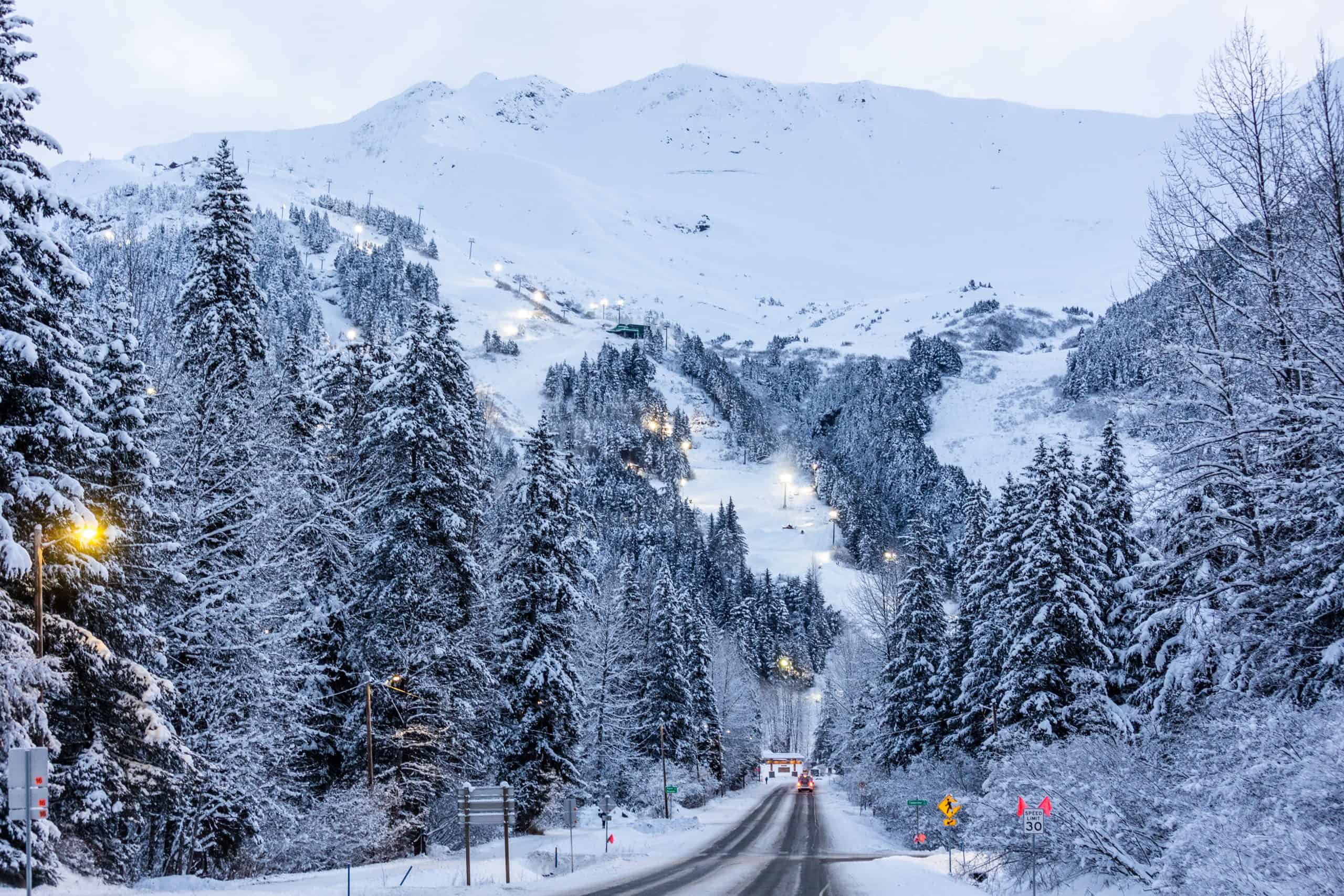 Why Visit Girdwood
Girdwood is a really popular spot in both the summer and winter months. If you love the outdoors, then this is your paradise; mountain & fat tire biking, hiking trails, skiing/snowboarding, and more are all at your doorstep.
With Alyeska Resort and their brand new Nordic Spa, it's also a great place to unwind and have a relaxing weekend. The Alyeska Tram will take you 2,300ft up Mt Alyeska and provide soaring views of the mountain valley, inlet, and glaciers nearby.
In the summer months, Girdwood is a popular stopping point on the drive south to Seward, Kenai, and Homer. We often stop for lunch at the brewery or Chair 5.
Restaurants & Dining Out
Note for 2022: Like many small towns in Alaska that are very touristy, there is a large ongoing staff shortage. Many restaurants have shortened their hours and are closed a few days a week due to this. Please be patient and open to other options if your first choice isn't available. Check their Facebook pages for updates and changes to hours. There are no restaurants in Girdwood that take reservations, everything is first-come, first-served.
Girdwood Brewery – This is my favorite stop in Girdwood. Not only is their beer some of my favorite in the state (Alaska makes some really good beer!), the brewery itself is such a fun place to hang out. The inside has tall ceilings with large artwork and even an old ski lift hanging from the ceiling. Outside, there are some large firepits that can be enjoyed year round. Breweries in most of Alaska are not allowed to serve food, but food trucks are okay. This brewery has a food truck 7 days a week throughout the year, and often there's more than one option. It's kid friendly and dog friendly too!
Chair 5 – This is the locals pub and definitely has that feel as soon as you walk in. While many places shut down in the summer, you can always count on Chair 5 to be open for a bite to eat. They serve mostly American food and I really like their pizza's and nachos.
The Bake Shop – Cooking up homemade options for breakfast, lunch, and dinner, this spot is sure to be a winner! A lot of the food is made from scratch and there are many options to choose from.
Jack Sprat – This is a popular dinner spot serving up a range of upscale courses.
Spoonline Bistro – This is one of the only places in Girdwood that caters to gluten free allergies. They also specialize in Paleo dishes as well. Here you'll find international options along with a large wine list.
Double Musky – This upscale dinner spot serves New Orleans style cuisine. Order your steak to your liking or try the jambalaya. There are lots of yummy options served up in large portions here!
Sitzmark Bar & Grill – Open for ski season, this place is located at the base of the mountain and serves up hearty American style dishes. It's a popular spot after a day on the mountain.
Sadie Romo's – Here you can find the only Mexican spot in town. While the menu may be small, the food is delicious!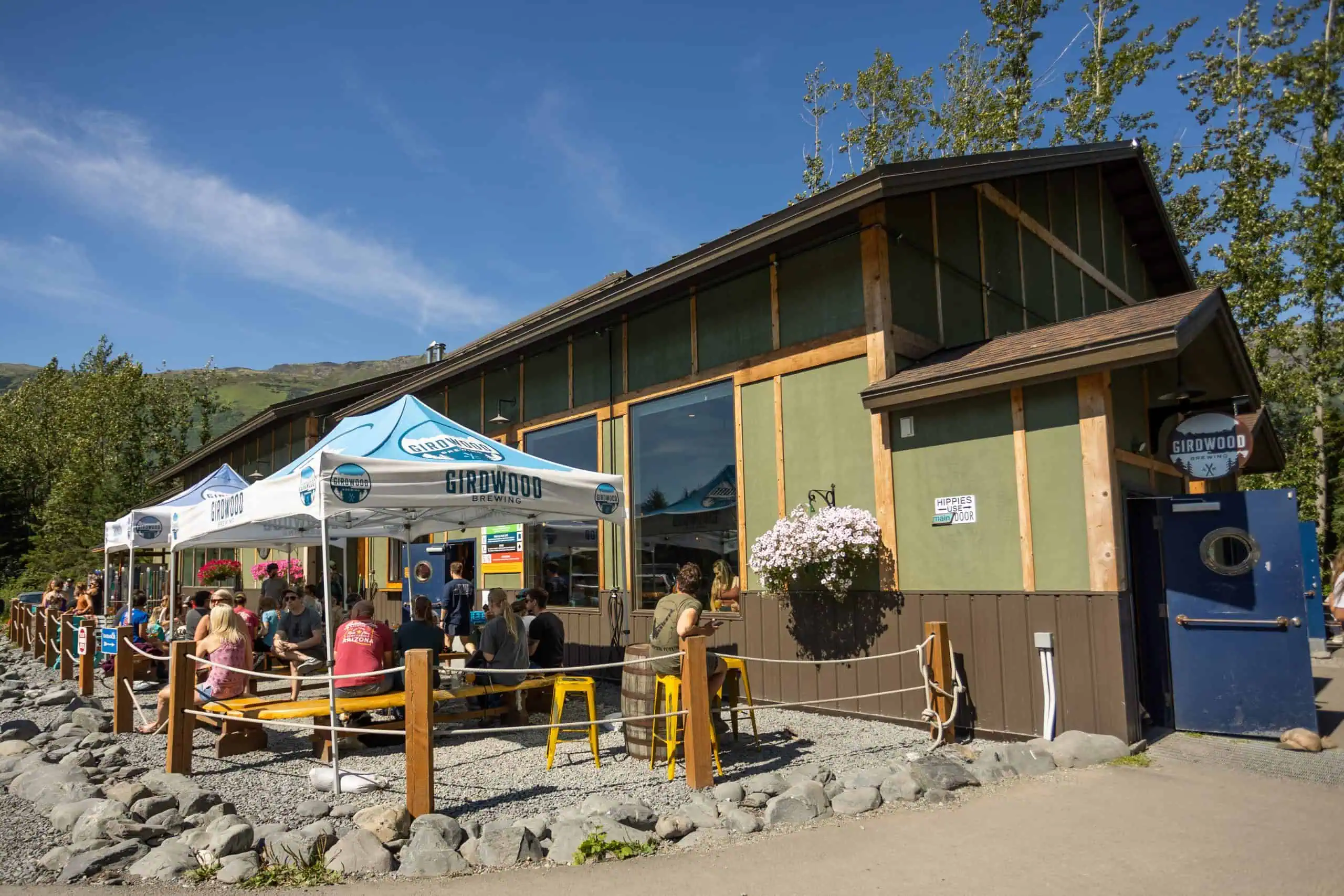 Things to Do
Alyeska Tram
At the main resort, The Hotel Alyeska, there's a tram that takes you 2,300ft up to the top of Mt Alyeska. Once at the top, you can walk around, watch hikers and mountain bikers, and even grab a bite to eat. The Boretide Deli & Bar serves up a small menu of appetizers and sandwiches and the bar area has beautiful views of the mountains and inlet below.
There is a fee to go up the tram. However, if you hike to the top of Mt Alyeska, you can take the tram down for free. The tram runs daily year-round (except late April through May) and opens at 10:45am.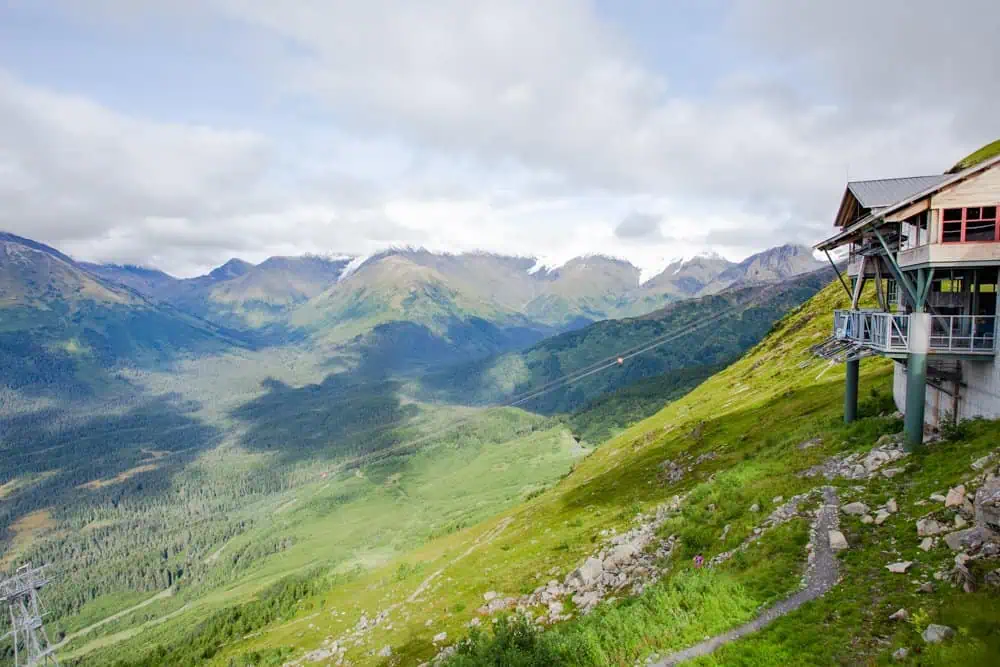 Nordic Spa
The Nordic Spa at Alyeska is a brand new spa opening in 2022. It's the first of its kind in Alaska with 50,000 square feet of indoor and outdoor spaces. There will be massage, barrel saunas, steam & exfoliation rooms, and both hot and cold plunge pools for the full Nordic experience.
Top Summer Activities in Girdwood
Best Hikes
Virgin Creek Falls [Easy] – This is a very short .5 mile trail through the woods to a beautiful waterfall. To get here, you'll drive through a residential neighborhood, so be sure to be respectful and park accordingly. The trail can get quite muddy after rainfall and in the spring, but the end views are worth it.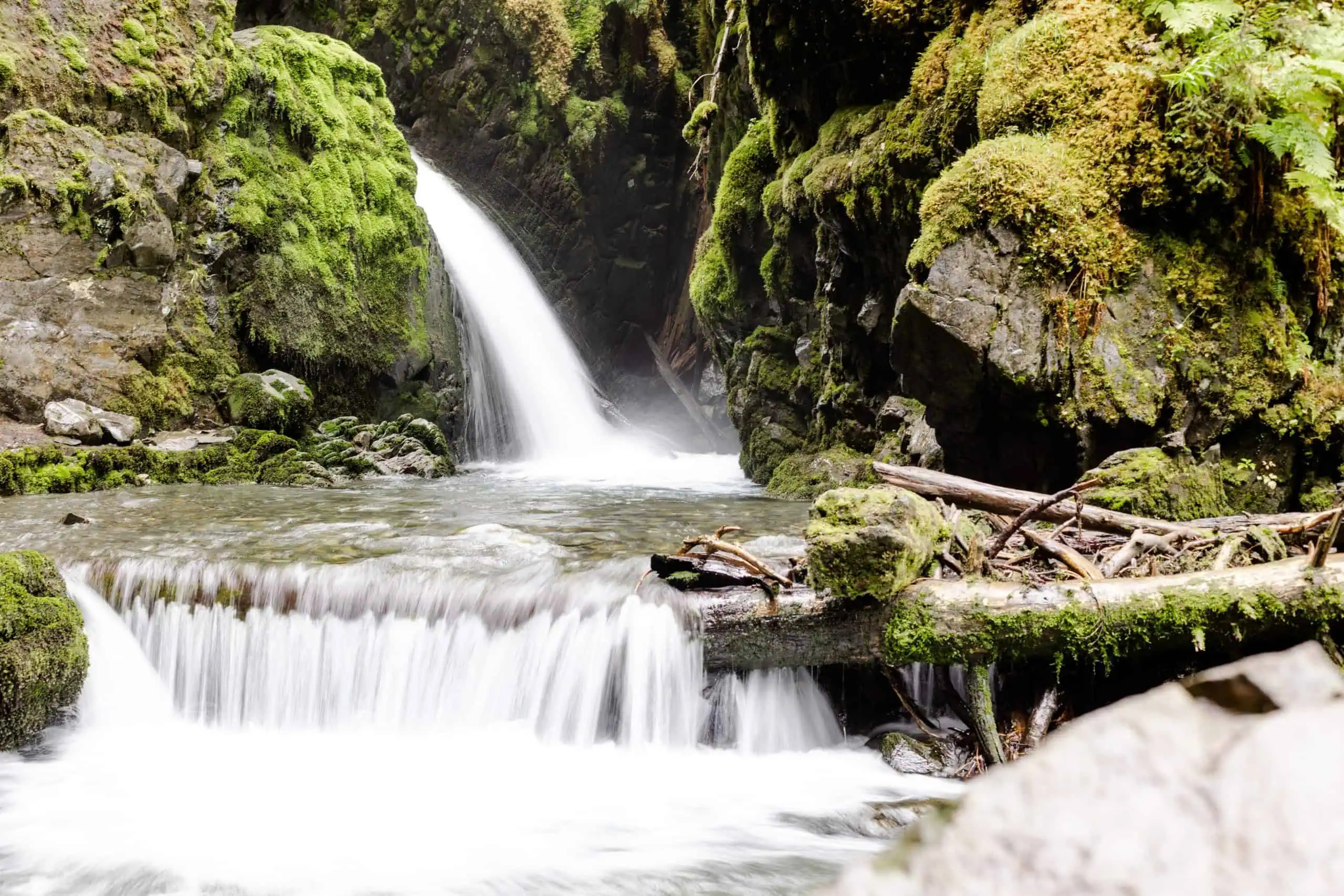 Winner Creek [Easy] – Starting at Hotel Alyeska, this is a fun 3-mile hiking trail that's popular with runners, hikers, and mountain bikers. This trail goes through America's northernmost rainforest (yes, in Alaska!) and is full of boardwalks and creeks throughout. At the end you are rewarded with a beautiful gorge. The trail has recently been extended so it's possible to continue higher. There used to be a hand tram across the gorge but it's been closed in recent years.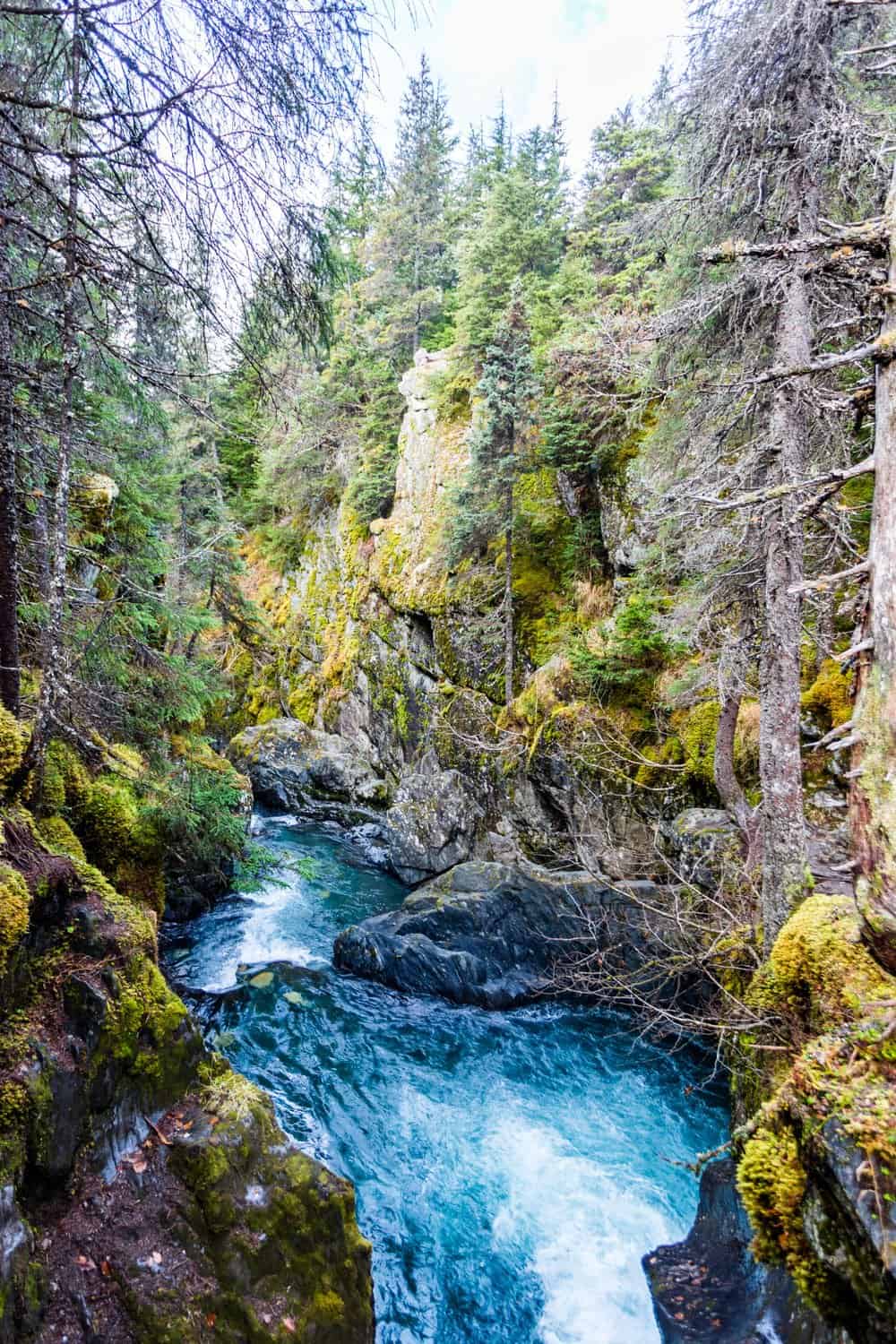 Mt Alyeska [Moderate] – Also starting at the base of Hotel Alyeska, this trail takes you 2,000 ft up the mountain to the tram at the top. There are further trails once you're up here and it's possible to hike the ridgeline. The trail gets a bit steep but isn't a problem for regular hikers. Toward the top there are switchbacks until you end at the tram.
Crow Pass Trail [Moderate to Difficult] – The end of Crow Pass Road marks the beginning of the Crow Pass Trail. This is a 21-mile trail that takes you through the mountains and ends in the town of Eagle River (at the Nature Center). If you don't want to embark on a 21-mile hike, you could either hike 1.5 miles to Monarch Mine or 3 miles to Crystal Lake. At about 3.5 miles in, you get to Raven Glacier, the highest point of the hike. Parking is limited and can fill quickly, especially on the weekends.
Parks & Playgrounds
Girdwood Playground and Skate Park – As you are driving into Girdwood, there's a large playground on the righthand side. It's just across from the main street. It's a large playground with areas for kids of all ages with an adjacent skate park.
Mountain Biking
The ski trails become mountain biking trails in the summer months. Winner Creek is a popular spot for mountain biking as well. Alyeska and Powder Hound both have mountain bike rentals
Helicopter & Glacier Landing Tours
Girdwood is a great home base for flight tours. We went on a flightseeing and glacier landing tour and honestly it has been one of my favorite Alaska experiences to date (and I grew up here!). It was also the first time I went on a helicopter which was an experience in itself. These tours, while expensive, are worth the hype. If you want to save some money you could skip the glacier landing and still have a fantastic time.
Top Winter Activities in Girdwood
Alyeska Ski Resort
Since Girdwood is a ski town, skiing and snowboarding are the top winter activities. While Alyeska does not compare in size to the larger and more popular resorts (think Vail, Aspen, etc), it's a fun mountain with reasonable lift ticket rates. There are 7 lifts and the mountain gets over 669 inches of snowfall a year. There's also night skiing from 4-8pm and lift prices are much less than a day pass (less than half). Alyeska is also unique in that it has the longest-continuous double black diamond ski run in North America.
Winter Hikes
Winner Creek is a popular winter hiking, fat tire biking, and cross-country ski trail. It's located at Alyeska Hotel and near Chair 7. Virgin Creek Falls is a a popular year-round hiking spot. It's a short .5-mile hike and in the winter you get a completely different view of the waterfall than you would in the summer.
Fat Tire Biking
This is a very popular winter sport across Alaska and has really sprung up in popularity over the past few years. Moose Meadows and Winner Creek are popular trails, and you'll also see many people biking on the trails along the road. Rentals are available at the Hotel Alyeska and Powder Hound.
Cross Country Skiing
As with fat tire biking, cross-country skiing is also widely popular and shares most of the same trails as fat tire biking. Around Alyeska there are extended cross-country ski trails that connect to Moose Meadows.
Parks
Moose Meadows – Moose Meadows is a great spot for winter activities. Cross-country skiing and fat tire biking are hugely popular here. It's not a great summer spot as it's quite marshy, but can be a good place to spot some moose!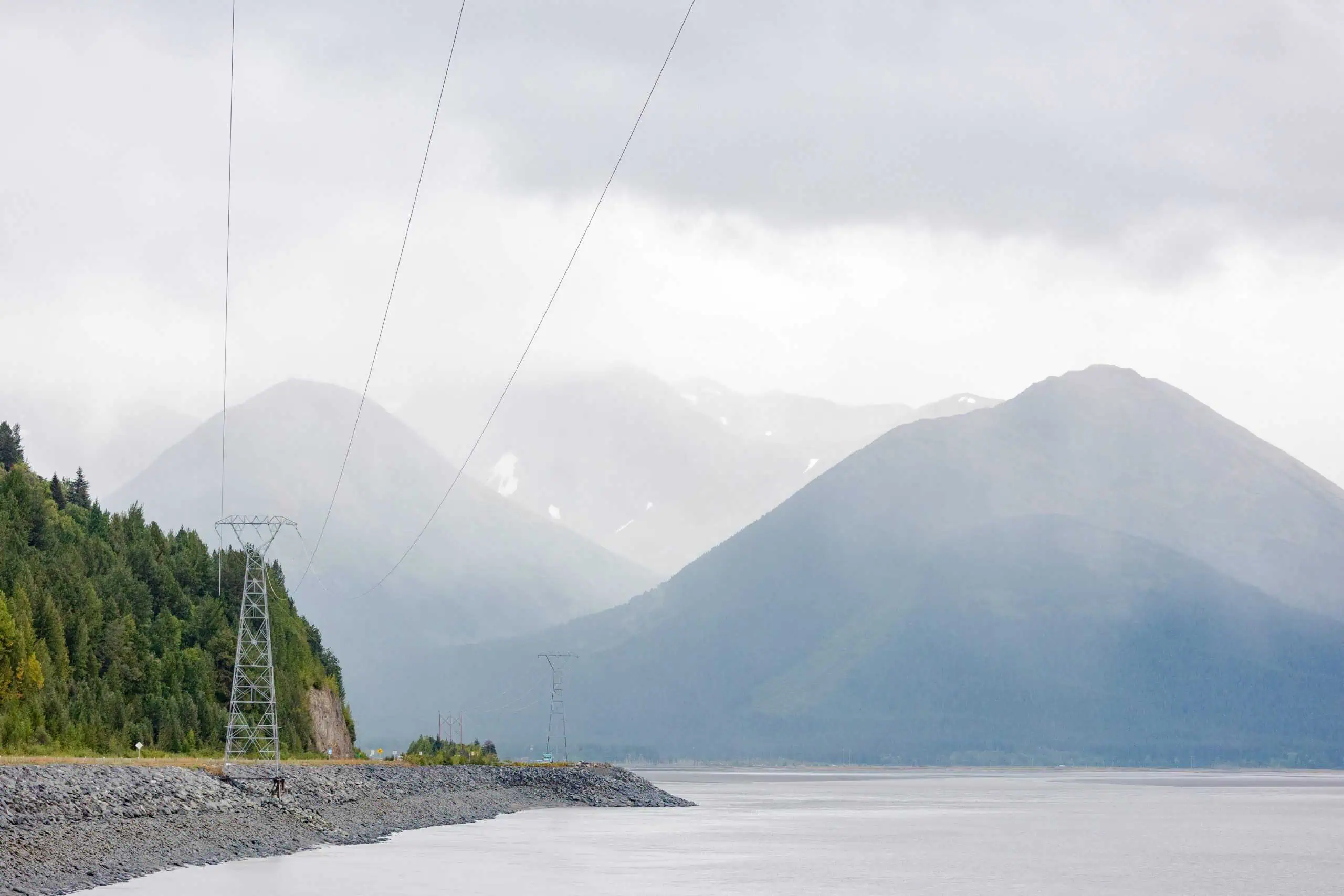 Festivals and Events
Forest Fair
The forest fair is largely known as a hippie festival and takes place annually on the Fourth of July weekend. Their slogan is no dogs, no politics, no religious orders. The festival brings in artists, entertainment, and live music from all over Alaska. If you are in the area this weekend, it's fun to walk through the forest visiting the vendor booths and trying some of the many food options.
Slush Cup
The annual Alyeska Slush Cup is possibly my favorite event in all of Alaska. It's held on the second week of April each year. The main event consists of people dressing up in crazy and ridiculous costumes and bombing down the mountain trying to cross the large pool of ice cold water. There are also other events such as the Idiot Swim where people swim across these ice cold waters before the main event.
The party starts at 4pm but I recommend arriving early. There's no seating so bring your own camping chairs if you want a place to sit.
Blueberry Festival
The Blueberry Festival takes place toward the end of August each year. The festival is exactly what it sounds like; all things blueberry! Alaska has wild blueberries that are known for having higher antioxidant properties than blueberries elsewhere. They are also in abundance in Girdwood.
There are pie-eating contests, chef demos, booths with Alaskan arts & crafts, and a variety of food vendors as well. Once you're done, head up Chair 7 (it's free) and pick some of your own wild Alaskan blueberries.
Girdwood Fungus Fair
The fungus fair is the first weekend in September and focuses on all things in the field of mycology. Mushrooms and other fungi are known to have healing properties and are in abundance in Alaska.
Top Activities Near Girdwood
I have a post with 12 Day Trip Ideas from Anchorage that include a lot of activities around Girdwood. Here are the main things to do nearby.
Alaska Wildlife Conservation Center – For guaranteed wildlife in a beautiful setting, visit the Alaska Wildlife Conservation Center. It's about a 15 minute drive south from Girdwood (heading toward Whittier and Seward). There are daily free educations programs, a large gift shop, a few food trucks with things like reindeer sausage, and many exhibits. You can either park and walk or drive the entire center yourself. We visit a few times a year and always enjoy seeing the wildlife.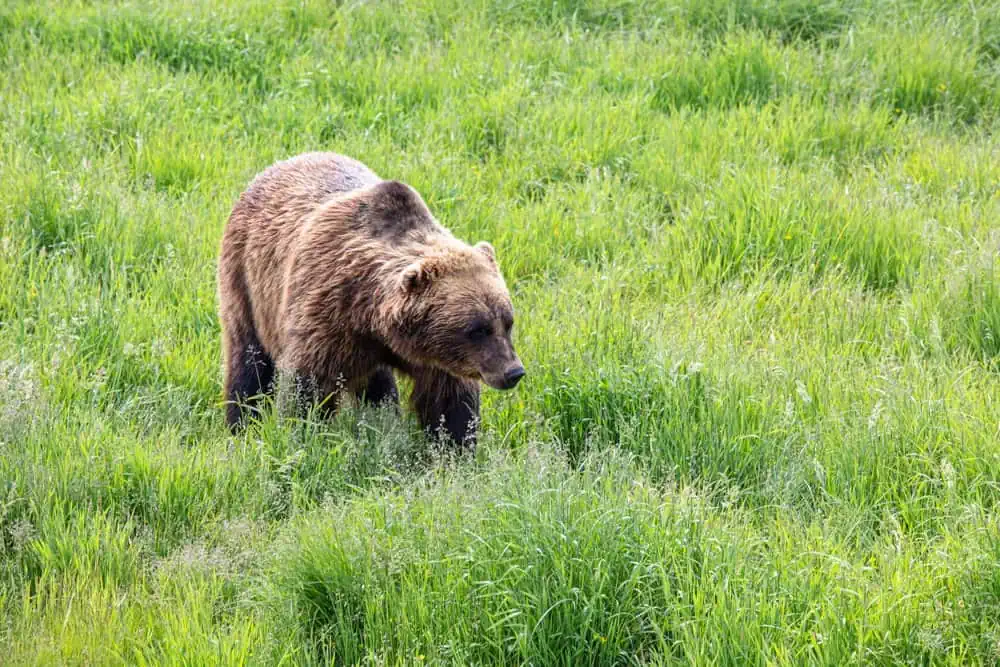 Alaska Bore tide – A bore tide is a naturally occurring phenomenon where a large amount of water returns quickly to a narrow shallow area. This occurs around new and full moons. There are only about 60 in the world and the one in Turnagain Arm is one of the largest in the world (running about 40-50 miles). It's also the only bore tide that occurs this far north and is surrounded by mountains. When there's a bore tide, surfers head out on the freezing water to ride the waves for hours on end. To see if you can catch this phenomenon, check out the bore tide table for the best viewing dates.
Portage Glacier – This is an easily accessible glacier about 20 minutes south of Girdwood, heading toward Whittier. Portage Glacier has a large lake that's formed in front of it over the last 80 years, and there's a boat cruise to the glacier that runs multiple times a day. Bookings must be made online in advance.
Often you can see glacier ice floating around from shore. There is also a nice 5-mile trail called the Trail of Blue Ice. It's a mostly flat valley trail with views of the mountains and glaciers.
Byron Glacier trailhead starts at the end of Byron Glacier Rd. This is an easily accessible glacier via a short hike. Byron Glacier is one of the only glaciers where you can walk inside ice caves (depending on the year). Although the photos are cool, these ice caves collapse and can be quite dangerous, so enter at your own risk.
Suggested Itinerary
Girdwood can be done in a few hours or over a few days. If you are visiting in the summer, one night is usually enough to enjoy the area. Many people use Girdwood as a stopping point on the drive from Anchorage down to Seward.
Lunch Stop: If you're making a quick stop on the way down to Seward, I'd highly recommend stopping at Girdwood Brewery for a beer and some local food. Food trucks usually serve up delicious options.
A Few Hours: If you have some extra time, I'd recommend heading up the Alyeska Tram to get beautiful views at the top. Once there you can grab a bite to eat or head back down and grab something at the Girdwood Brewery. Virgin Creek Falls is about a mile from the Girdwood Brewery (off of the main road) and is an easy .5-mile uphill walk to a beautiful lush waterfall.
Overnight Trip: I would do all of the things above, then add dinner at Double Musky or Jack Sprat. Wake up the next day and hike Winner Creek to the gorge.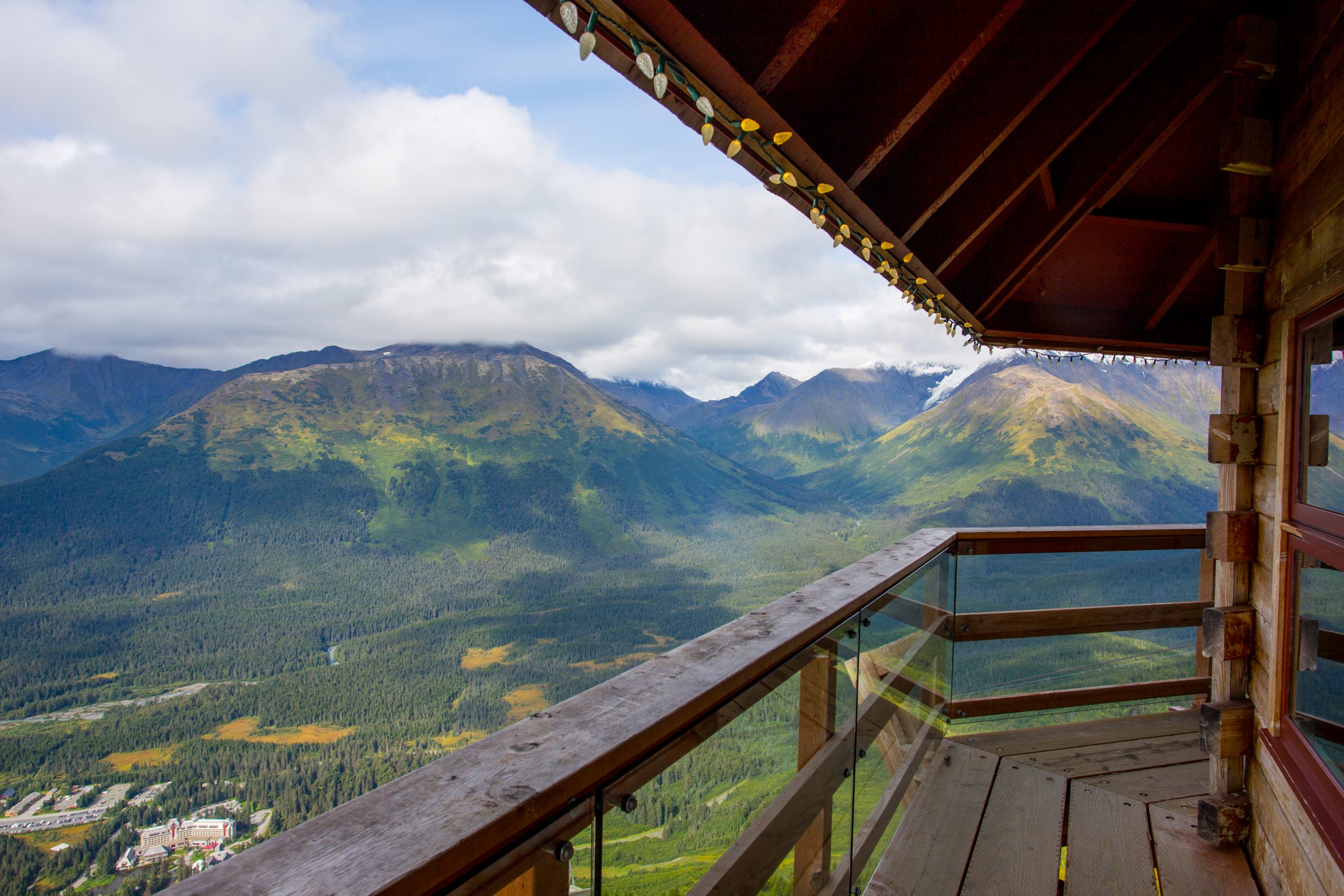 Read Next: