Things to do in Kihei, Maui [and everything else you need to know!]
Hey there!
This post may contain affiliate links, meaning I may be compensated if you click on one of my links, at no cost to you. As an Amazon Associate, I earn from qualifying purchases. Read my disclosure policy for more information.
Kihei is a laid-back beach town on the southwest shores of Maui. It's rather large in that there are plenty of restaurants, parks, and beaches, but it also retains a small-town feel.
I've stayed in Kihei on three occasions but have also spent time around other parts of the island. I've been surprised at the differences between the two locations, even though they're only about 45 minutes from each other.
If you're considering staying in Kihei, this article will cover everything you need to know! And if you want a more comprehensive guide, I have a complete Maui Guide you can find here.
Stay in Kihei or Kaanapali?
Northwest in Kaanapali you'll find rows of large resorts and the typical Maui resort experience. Last time, we booked an Airbnb just north of the resort row on Honoapiilani Rd. I found a few differences to consider when deciding where to stay:
Rainy vs Dry – Kihei is the drier, more arid side of the island. The entire time we were in Kihei it didn't rain once and there were rarely clouds. In Kaanapali we were happy to escape the sun in the afternoon with the cloud breaks.
Touristy – Kihei felt more local compared to Kaanapali, most likely because there are less large resorts here. Kihei had many large condo areas and also some resorts, but they weren't large high rise buildings like in Kaanapali.
Walkability – In the Kaanapali resort area, there's a long boardwalk along the beach that takes you to Whaler's Village and many of the resort restaurants and bars. In Kihei, there is a long street (N. Kihei) you can walk to get to all the shops, restaurants, and bars. There isn't a beach trail or boardwalk, unless you head down to Wailea. However in Kaanapali if you stay north of the resort area in a VRBO or similar, you will have less places you can walk to.
Rainbows – Since Kihei is dry with little rain, we didn't see any rainbows while there. Up on the northwestern shores, we saw rainbows everyday.
Whales – During whale season (December – April), you can see whales in both Kihei and the Kaanapali area.
Which did we like better? Honestly, they were both great for different reasons. Weather-wise, we much preferred Kaanapali's sporadic clouds and occasional rain over the hotter Kihei weather (Alaskans here!).
I liked a lot of the restaurants and food trucks in Kihei (there seemed to be more food truck options than in Kaanapali). But there are equally as many good places in Kaanapali, so it's a toss-up.
Prices seemed lower in Kihei, and I would guess that's because you're not dining at and around expensive resorts.
Kaanapali's boardwalk is really nice and if you like bigger waves, the beach at Black Rock is great and within walking distance.
A lot of the larger whale tours start in Lahaina or Whaler's Village. There are some tours that start at Maalaea Harbor and a lot of SUP/kayak tours start around the Kihei area (with many at Makena Beach Park). The two towns are only about 30 minutes apart, so it's not a deal-breaker if you stay in Kihei but book a tour in Lahaina.
Kihei is closer to the airport which means it's also closer to Paia, Haleakala National Park , Makawao, and Hana. To get to Kaanapali or Lahaina from the airport you have to head south then west and north along the coast (there are mountains that separate them).
Overall, I thought there were more beach options close to Kihei and they were less crowded. If you prefer a local feel and want to be more central, I'd consider Kihei over Kaanapali. Around Kaanapali, there is definitely a lot to explore though (Lahaina, Napili, Kapalua, etc), so if you are going for 7 days you could split your time between the two areas.
Dining Out
We like to eat out and eat well. Most restaurants close between 8-10pm which was really surprising to us the first time we visited. It's definitely important to keep in mind if you are coming back late from a long day driving Hana or out doing excursions.
Many places that don't serve alcohol are BYOB, which can save quite a bit of money (and is fun if you live somewhere like Alaska where this is very illegal). This list includes our favorites from the trip.
Three's Bar and Grill – This bar has two large outdoor patios and a large indoor area with big screens and a vaulted wooden ceiling. They have a great happy hour (best on the island, according to them) with deals on both drinks and food. The food was fantastic and drinks were also really good.
Fat Daddy's Smokehouse – I saw this place on Diners, Dives, and Drive-Ins and it didn't disappoint! Their brisket was fantastic and I had the best cornbread of my life. If you love BBQ, be sure to stop in here! We honestly go at least once on every trip.
Paia Fish Market – I loved the fresh fish tacos here. And the prices are great. You can order tacos ala carte for under $5 each, or get a lunch plate with coleslaw and a side for around $11. The coleslaw, while typically a boring side dish, was surprisingly delicious with a great homemade dressing. It stood out on its own.
Da Kitchen – This is a place we missed but it has great reviews and even a few local YouTubers recommended a stop here. All their plates look fantastic – sadly I only found out about it the day before we were leaving and we already had plans.
Southshore Grindz – Located in a small strip mall along S. Kihei Rd, we decided to try this place since it had great reviews. And we were not disappointed! I ordered the Mahi Mahi with rice and broccoli, and my husband tried the cubano. The place felt quite local and it's a BYOB establishment (there's a liquor/beer store next door).
I'm not a food photographer but I promise the dishes below were delicious, haha.
Waikiki Brewing Company – This brewery has a two locations in Maui. We've eaten at the Lahaina location a few times, so we thought we'd stop in when we visited the Shops at Wailea. I was surprised that the menu had many different options than the other location. While I don't think they have the best food on the island, it's a good solid spot for lunch and a fun atmosphere.
Maui Gelato – For savory Belgian waffles topped with your favorite ice cream, look no further. When you walk into this place it smells like heaven. We grabbed some gelato one hot afternoon and found the ice cream to be delicious.
Maui Bread Company – Located in the same strip mall as Maui Gelato, I wanted to mention this bread company because they have a lot of gluten-free options that cater to me. If you're not gluten-free, all of the other options looked really good too.
Wailea Restaurants – Even if you're not staying at Wailea, you can still enjoy many of their restaurant options. We stopped at Bistro Molokini for drinks and some snacks one afternoon and everything was amazing. We were sad that we'd just eaten so we couldn't enjoy their pizza or other main courses. The pool and beach views were also a nice touch.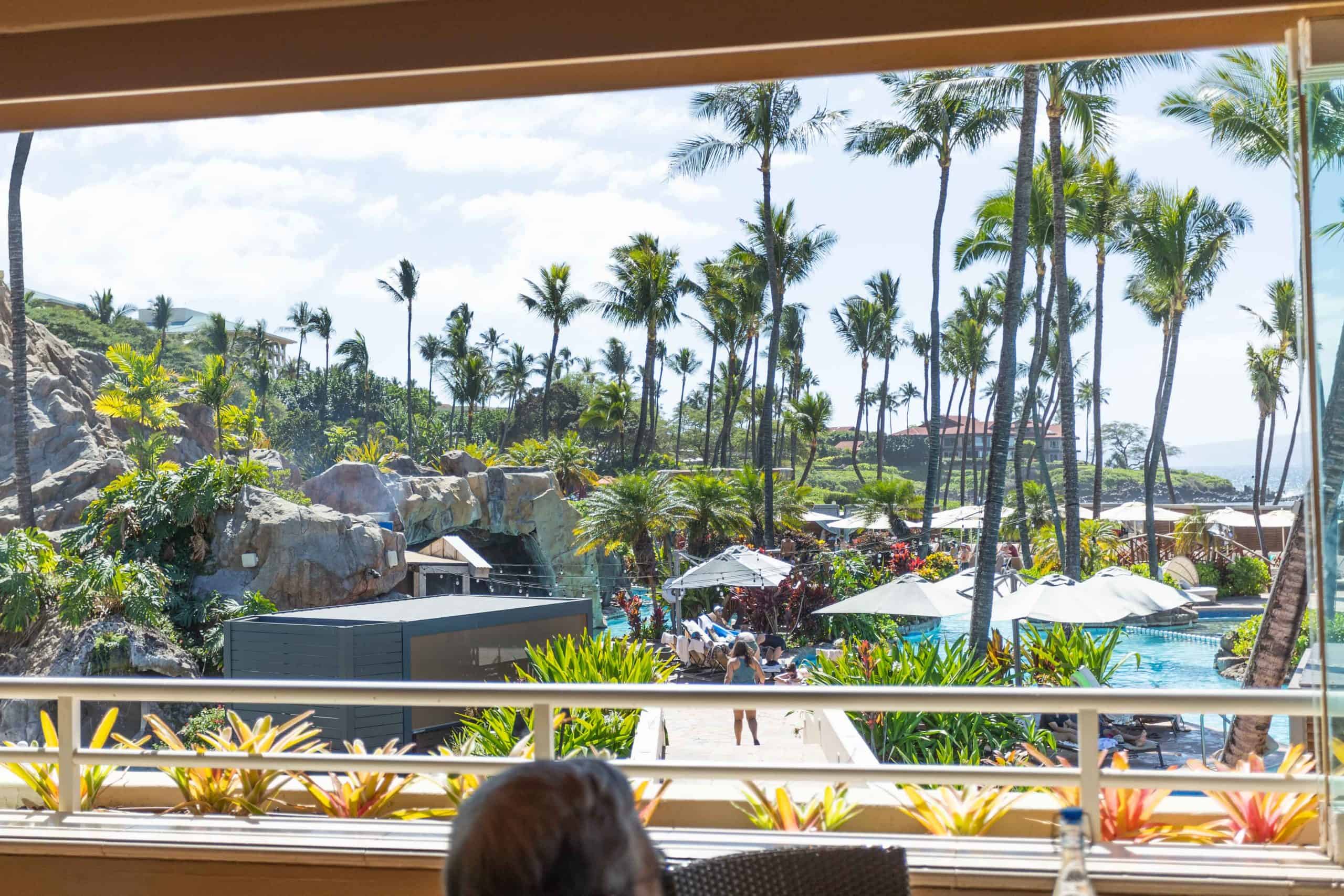 Humuhumunukunukuapua'a is set in a lagoon and is an upscale dinner spot (be sure to make a reservation) at the Wailea resort. A manmade stunning resort lagoon but still, a lagoon! We didn't eat there but wow does the food look amazing. And they have many gluten free options too.
Food Trucks – There are food trucks all over Kihei. And many of them deliver too (which is a lifesaver at night with a tired 5-year old). Outrigger Pizza Company is fantastic. Piska serves up delicious Equadorian style ceviche and is the first of its kind on the island. There are many food trucks at Kalama Market and there are also pockets with food trucks such as the food truck area on Piikea Avenue (just past Azeka Shopping Center).
Bar Scene
The first time I went to Hawaii I was really surprised to learn that bars don't stay open late. Many close at 10pm with some open until midnight. In Lahaina, there are a few that stay open a bit later, but for the most part, expect bars and restaurants to shut down early.
There are a lot of places with happy hour around the island, and this is also true in Kihei. There's a fun restaurant/shopping center called Kihei Kalama Village. The bar scene is cleverly known as the BARmuda triangle and is home to Maui's oldest dive bar! There are 9 bars to choose from in total and almost all have a fantastic happy hour.
Outside of there, there are many other bars and restaurants in Kihei (and many have a great happy hour).
Best Beaches in Kihei
During the winter months, we found the mornings to be the best time to visit the beaches in Kihei. This is because the afternoon often brings in winds. It's not uncommon to have your umbrella go for a ride or the sand whip up in your face.
If you're planning your day, I recommend checking the weather to see if it will be windy in the afternoon.
Kamaole Beach III (great for kids)
I may be partial to this beach since it was right across the street from our condo, but even if we hadn't stayed there, it was still our favorite beach of this trip. It's not crowded and is a decent size beach. Unlike many other beaches on the island, I loved that it was flat and not angled down into the water. This made it great for kids and I didn't have to worry about the waves coming in so quick and pulling my son in.
It's also shallow for quite a ways in, which is another plus with a younger child.
Even with this, there are still some good waves here that are perfect for boogie boarding, so adults can also have fun alongside kids.
We did find that the wind picked up in the afternoons, to the point that it would kick up sand and make the waves pretty rough. So I'd try going in the morning or even late afternoon to avoid the wind.
Kamaole Beach II
This is just next to Kamaole Beach III and is also a great spot for adults and kids.
Wailea Beach
Set against world-class resorts, Wailea Beach is a white sand paradise. The waves can be mellow but sometimes large rip currents create hazardous conditions.
Because the beach is at two of the most popular resorts on the island, it tends to get very busy.
Makena Beach
I'd read this is a great beach for spotting turtles and also a good beach for kids. When we arrived at the Big Beach Parking Lot at 9am, there were only a few cars there. There is also a $10 fee to park (whereas most are free).
We found that this beach was NOT kid-friendly. The currents are strong, the waves are bigger, and as you can see in the photo, the beach angles down greatly toward the water.
Other than that, it is a HUGE beach so you could spend time walking around. There were also many people hiking up the rocky area as shown in the photo.
We didn't see any turtles on the beach, but from past experience I've found that they are everywhere, so we probably weren't looking hard enough.
Makena Landing Park
This honestly isn't the best beach because it's such a small area. The reason I included it is because it's a great spot for multiple activities. Along the lava rocks you can snorkel and often spot turtles. It's easy to walk out and quickly be swimming, but younger kids can still play in the sand. It's also a popular launch point for SUP and kayaking. I think it's worth a stop if you have people wanting to do multiple activities.
Maluaka Beach (Turtle Town)
This is the popular turtle spot known as Turtle Town. While turtle sightings are never guaranteed, it's worth checking out to see if there are any hanging out in the sand. I also always recommend having a snorkel set with flippers on hand. Even if you've never snorkeled, it's so easy to rent a set and head out to see what you can find. You can ask how to use your gear at the rental shop (it's a really easy set up once you know the basics).
There are some areas on the beach with tree cover at the southern end and it's typically not super crowded. There is a lot of parking available and there are showers and restrooms. There aren't big waves here either making it a good spot for everyone.
Things to Do in Kihei
If you like good food (and lots of it) and good beach options, Kihei is a great option. I included the best things to do in Kihei and the surrounding areas.
Explore Kalama Village
This was mentioned in the 'bar scene' area, but it's much more than just bars. This area is full of shops, cafes, food trucks, restaurants, and bars. There are 15 bars/restaurants/cafes to choose from as well as 26 shops all with local items. It's a fun area to explore and grab lunch/dinner. We came here many times during our stay to try out different cafes and restaurants.
Visit Nearby Wailea & The Shops
Visit Grand Wailea – About 5 minutes down the road is the small area of Wailea. Wailea is most known for The Grand Wailea, a massive Hilton resort with a beautiful pool area. Unfortunately, the pool is limited to paying guests, but we enjoyed an afternoon strolling around the large grounds and stopping at an outdoor restaurant near the pool for snacks and drinks. To save money on parking, just park up the road at the Shops at Wailea (it's free) and walk slightly downhill to the Grand Wailea entrance.
The Shops at Wailea is a large outdoor mall just up the road. Parking is ample and free, and this is where you can spend a small fortune on a new Gucci bag or Prada sunglasses. In total there are more than 70 shops and a few restaurants including Waikiki Brewing Company, The Pint and Cork, and Ruth's Chris Steakhouse.
Check out one of the Many Beaches
I listed some of my favorite beaches in the above section, but there are MANY more along the shores of Kihei. You could spend days checking out all the beaches in the area. Just do a quick Google Maps search and plug in 'Kihei Beaches' to find all the options. Some good options include Keawakapu, Wailea, Polo Beach Park, and Po'olenalena Beach.
Watch the Sunset
Be sure to set aside dedicated time to watch the sunset at least once (but every night is ideal!). Every night we would walk down to the beach about 15 minutes before, and people would be sitting out on the grassy areas and at the beach waiting for the sun to set.
One thing I was so surprised by were all of the whale sightings. Each time, we were greeted by whales breaching almost nonstop just as the sun was about to set. I witnessed whales doing synchronized breaching, multiple times, one night. We watched the sunset four nights and for whatever reason, it seems that they get really active right as the sun is setting. If you visit
Humpback National Marine Sanctuary
This humpback marine sanctuary has a visitors center and a traditional native fishing pond. It's not a large building, but there are exhibits, interactive displays, and weekly programs.
It's right off South Kihei Rd. and makes for a fun quick visit (although you could spend plenty of time at the beach area).
Things to Do Near Kihei
This honestly deserves it's own post (I wrote one that you can find here!) because there is so much to do around Maui and honestly you can see everything no matter where you're located. What I liked about Kihei was that it felt much more centrally located than Kaanapali, which required driving south along the water and then passing Kihei to get to the other areas of the island.
Here I'll include some of the closer options, but I recommend checking out my other post for even more ideas around Maui.
Road to Hana
Although it may appear that Hana Rd can be driven from the south side of the island, this isn't actually the case. At the south end of the road is a 5-mile stretch of gravel road with lots of potholes and rough terrain. Most car rental companies prohibit drivers from going on this road, and if you get stuck, it could cost thousands of dollars to get a tow truck to come get you.
To get to Hana, you're really looking at driving north past Paia and Ho'okipa Lookout, then starting the Road to Hana. You'll want to set aside an entire day if you plan to do the drive. There's no cell reception once you get out there which means many places only take cash. So be sure to bring cash.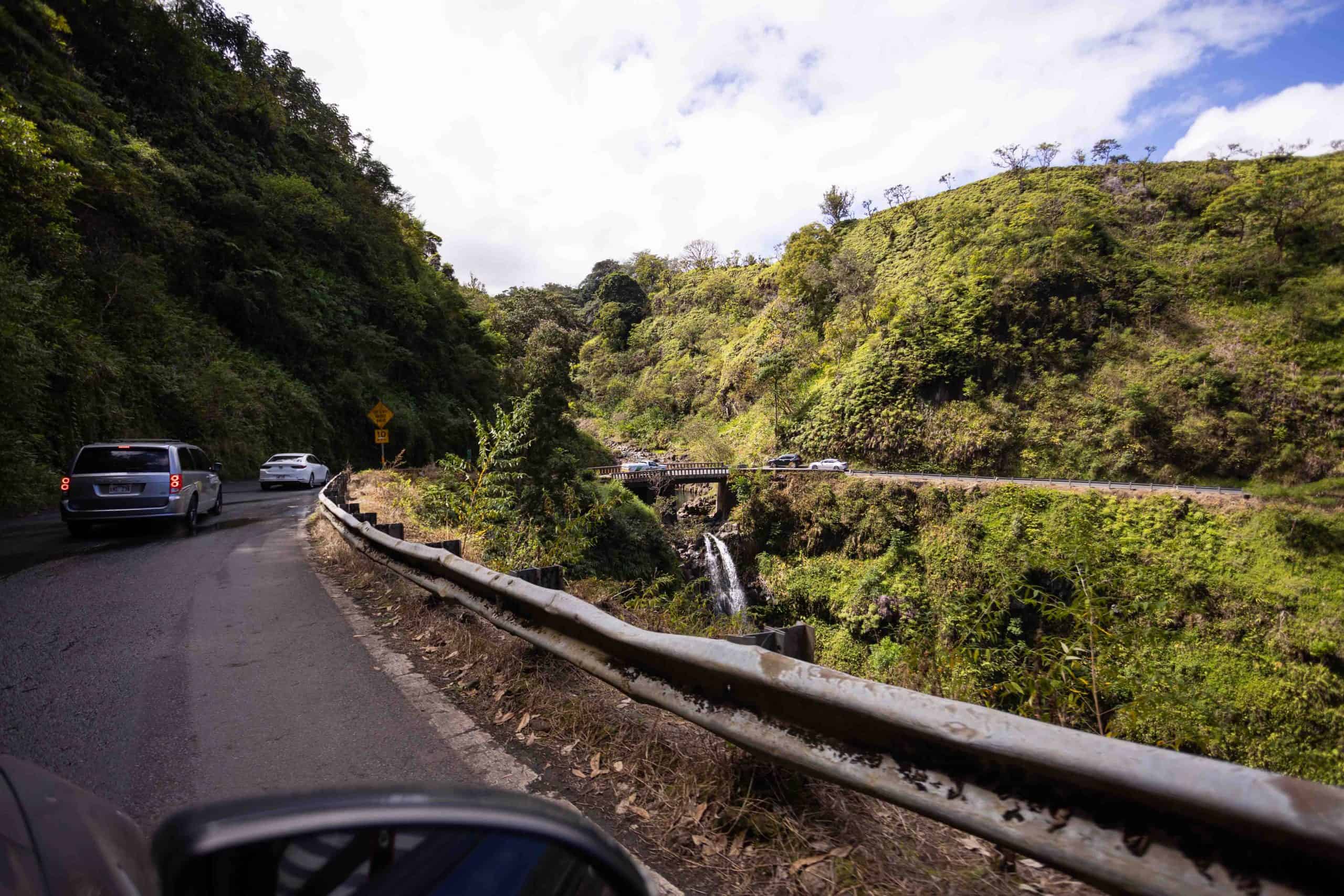 Another thing I strongly recommend doing is buying the App GyPSy Guide. It's connected to GPS so it can pick up where it left off no matter how many stops you take.
I like this guide because it tells you the best places to stop, the not-so-exciting places to skip, and gives you a timeline and history along the way. Without direction, it's very easy to miss cool stops with all the windy twists and turns and random side roads that aren't well-marked.
From Kihei, the road starts about 40 minutes north, although I recommend stopping in Paia for a quick bite and to grab cash. You'll also want to stop at the Ho'okipa Lookout either at the beginning or end of the drive.
Haleakala National Park
Many people visit Haleakala to catch the beautiful sunrise. To do this, you need a reservation ahead of time and you also need to head up very early. You can book it yourself and drive up, or book a tour.
Last time we were here, my husband did a Haleakala Self-Guided Bike Tour and said it was his favorite activity of the trip. With the tour, you get to watch the sunrise at 10,000ft and then bike 23 miles down the volcanic mountain.
If you (like me) are not a morning person, don't fret! You can still drive up Haleakala during the day (anytime after 7am) and you don't need a reservation. There is a fee once you drive up to the park. For veterans and active duty it's free so we were able to save money. They charge per person in the vehicle, so the price changes depending on how many people you have. Here's the link so you can plan your trip.
Both times we visited, we passed the clouds around 5,000 feet and the views just got better and better as we ascended to the top.
At the top, there are a few parking areas. The upper parking area has a few lookout spots and some small trails. The lower, larger parking lot has more information and is the start of the many hikes possible inside the volcano. Since we started so late we skipped hiking, but it looked like a lot of fun. Since it is dried volcanic rock, I'd definitely recommend sturdy close toed shoes to protect your feet.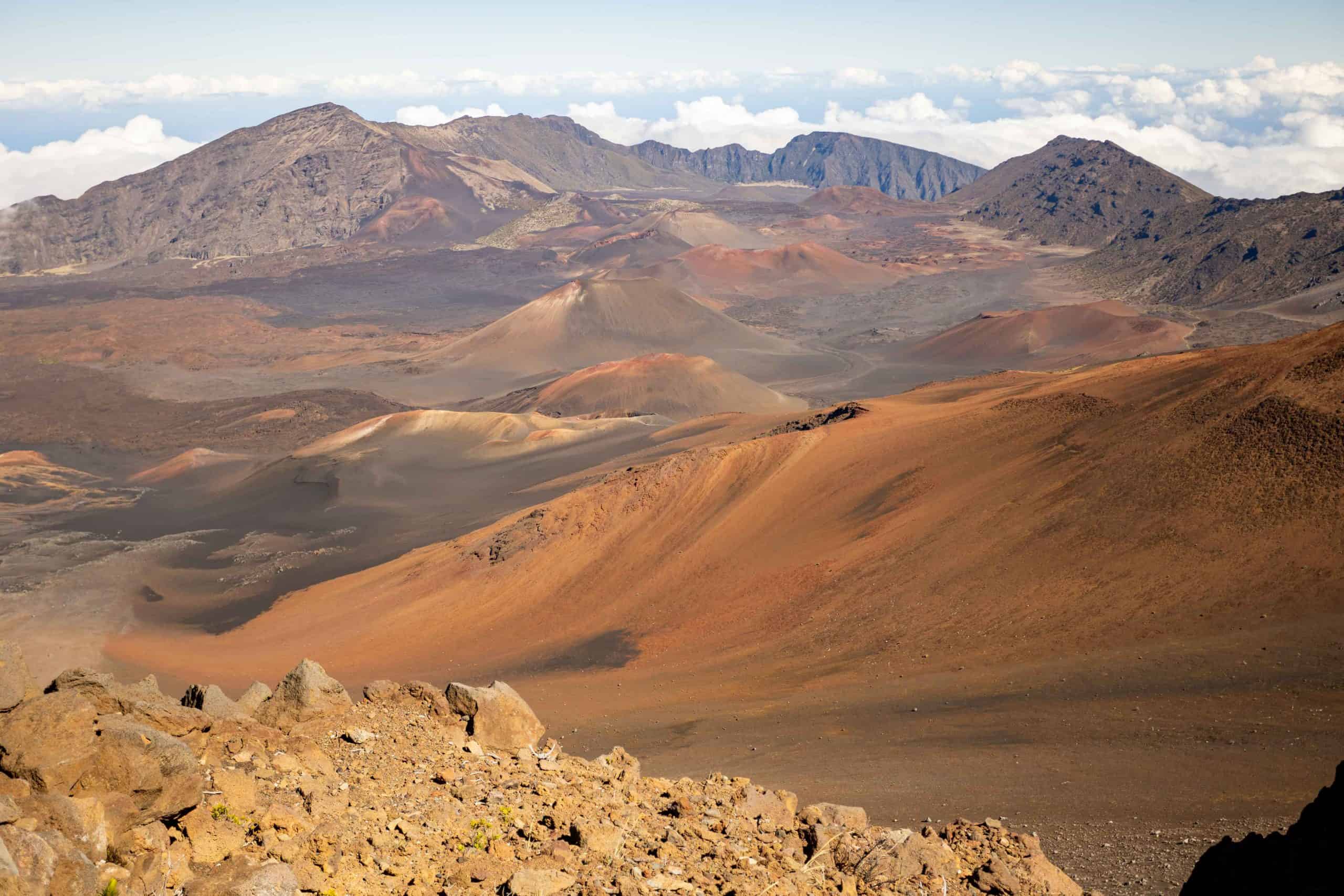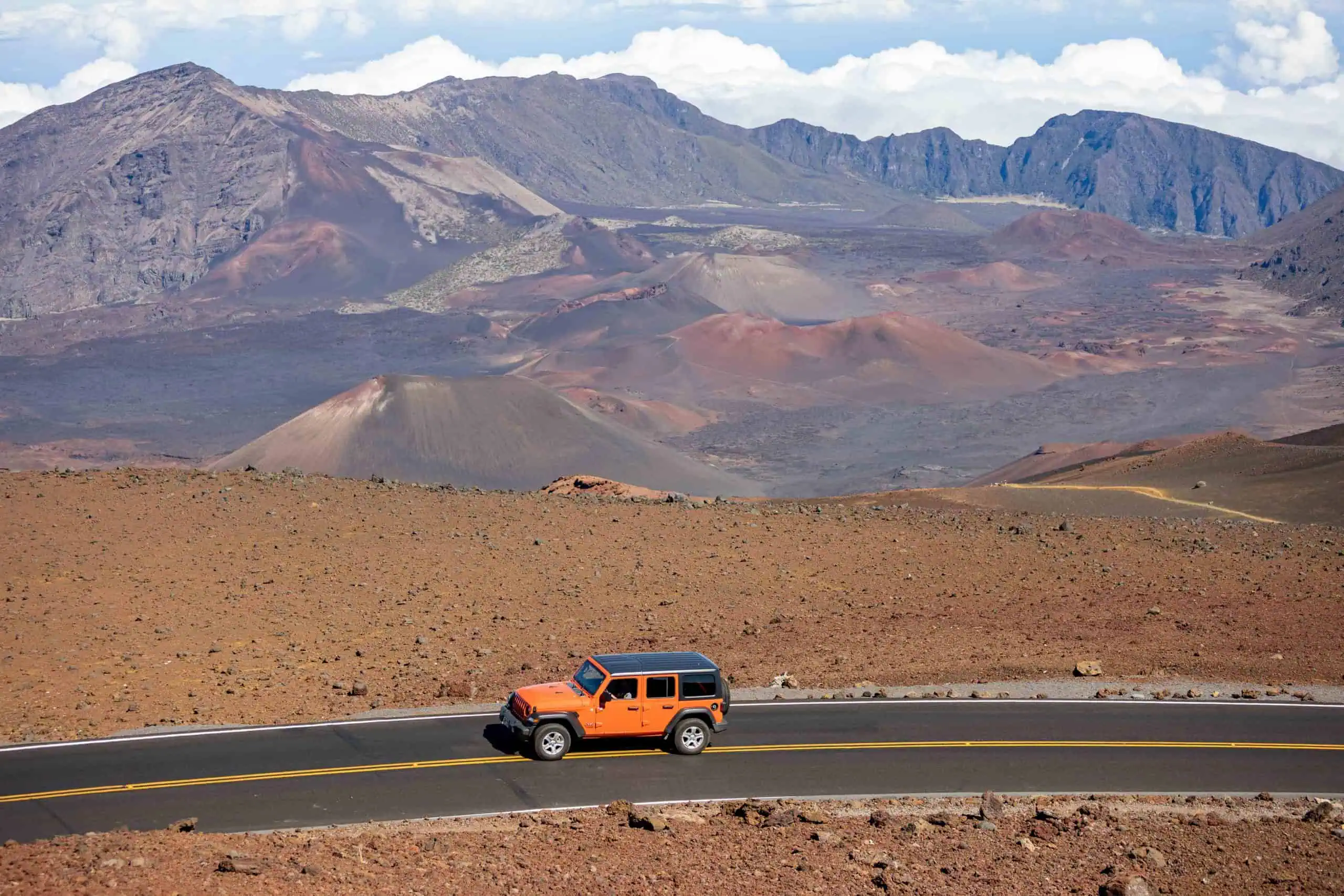 Visit the Maui Tropical Plantation
The Maui Tropical Plantation is a lovely plantation less than 10 miles north of Kihei. The plantation has a large store with tons of food and gift items and a cafe.
Here you can take a ride on their 'train' (it's on wheels but looks like a train) around the plantation. They have a coconut husking demonstration that is informative and fun for kids.
If you want something more thrilling, they also have zip-line tours!
Visit Makawao
Makawao is a more local town in Maui's Upcountry. It's located near the bottom of the drive to Haleakala making it a good add-on to this drive. It's a lush area and has a small downtown with many art shops. The town is full of working artists such as glass blowers and painters, so you may catch art creation in action when you visit.
Where to Stay
I had a hard time finding good information on where exactly to stay in Kihei before our trip, so I wanted to create more of an in-depth informative guide here with nitty-gritty details. If you want to skip the details, I have specific hotel/house recommendations below.
The stretch of South Kihei Rd is full of accommodation options, and this is where I'd recommend looking. It's full of shops, restaurants, and bars. There are also plenty of stores, snorkel rental shops, and really anything you need.
Where exactly to stay will depend on your preferences. If you want to be within walking distance to restaurants, bars, and shops then I'd recommend staying near Kalama Park or between Kamaole Beach I & II.
We were across from Kamaole Beach III which is technically in walking distance to a few places, but it was just a bit too far out to walk to most places in my opinion.
South of Kamaole Beach III on S. Kihei Rd heads toward Wailea, which is actually a separate town. This is where you'll find more upscale resorts and multi-million dollar homes. This area has a dedicated trail near the road that weaves through beautiful grounds. If you plan on running, you may want to consider staying near Kamaole Beach III or south along S. Kihei Rd.
If beach time is a must, I'd stay close to Kamaole Beach II or III. Kamaole Beach I is much smaller so it's not included in my recommendation.
Finding Your Perfect Place
When we were looking for a place to stay, our main criteria included a sea view, a pool, and easy access to a beach. Last year we stayed on the water, but there wasn't a good beach nearby. So I changed my requirements a little bit in this year's search to ensure we could easily get to a beach.
Since we have a 5-year old, I always look for 1-2 bedroom apartments. Staying in a hotel with a small child is not ideal; you essentially either let them stay up late with you, or everyone has to go to bed early. It's not fun being in one small room and having to stay on the same schedule.
My main search engines are VRBO, Airbnb, and Booking.com (they sometimes have apartments for rent). Here are my top recommendations and where we stayed:
My Pick: We stayed at this condo and LOVED it. There is a large pool with a few hot tubs and even a kiddie pool as well. There are BBQs all over and the grounds are beautifully manicured. From our lanai, we could see both the mountains and the ocean (and get the wonderful ocean breeze as well). There's an elevator in each building and there are only four stories.
If that one is booked there's also this one and this one if you prefer the ground level (both are located in the same condo complex).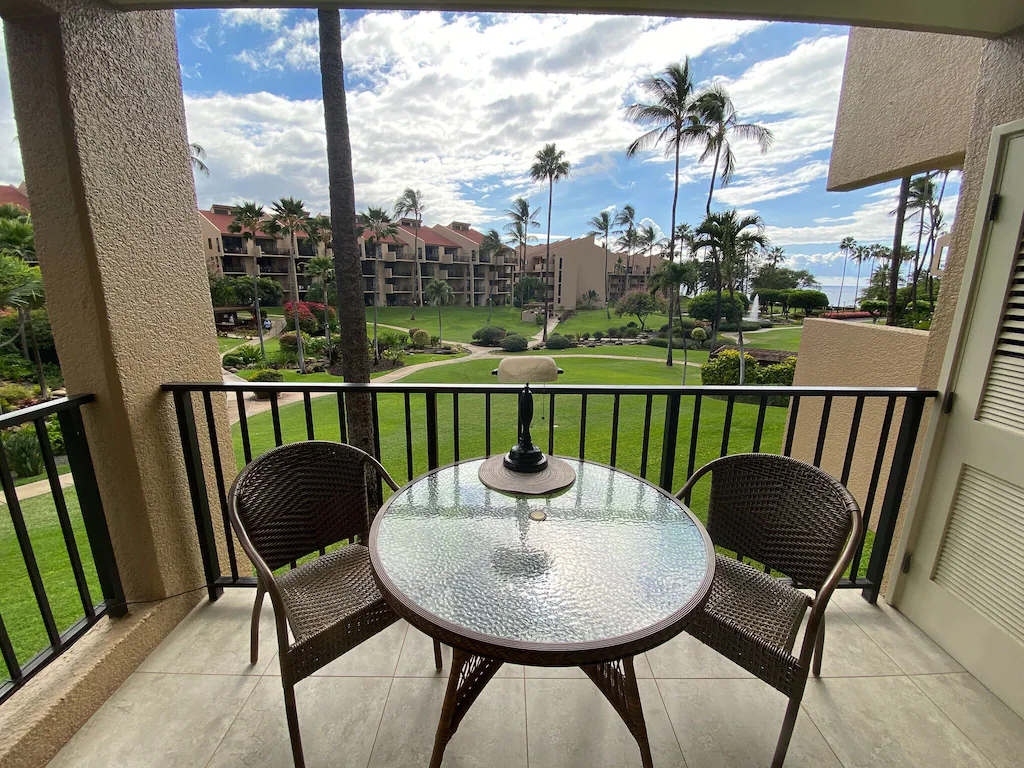 Beachfront: This two-bedroom oceanfront condo was a top contender for us. It's right on the beach, has a pool, and is close to the restaurants/shops. If you stay oceanfront during whale season, you are in for a treat! You will see them breach and do all sorts of things.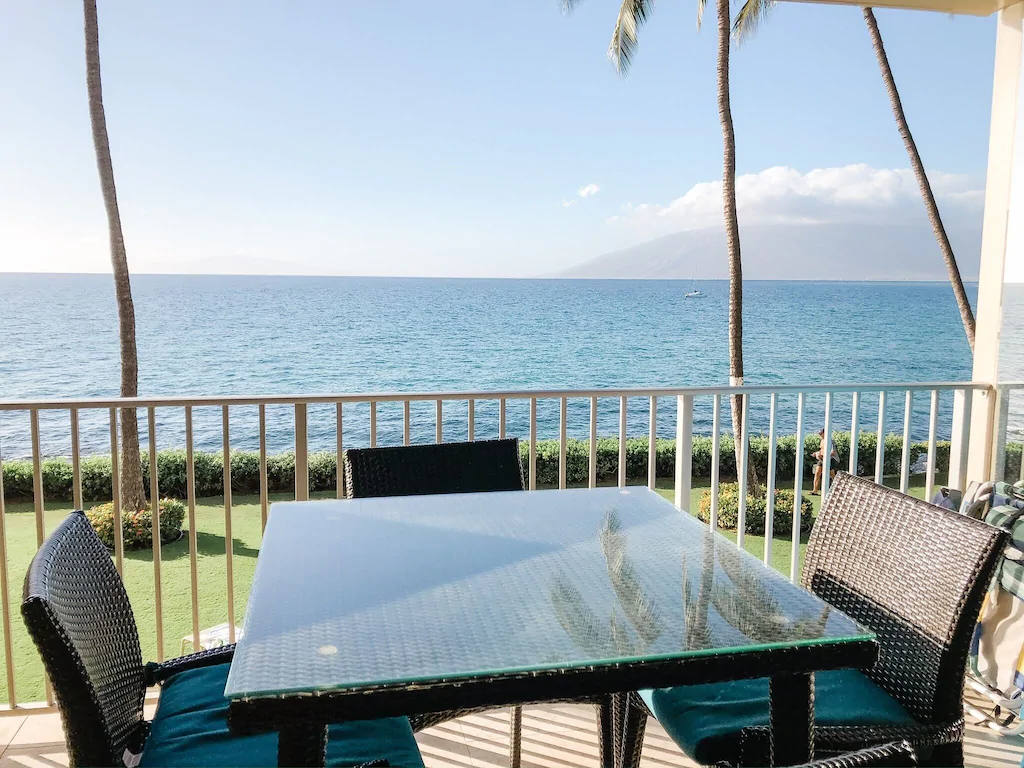 Best on a Budget: This 1-bedroom condo (sleeps 4) is only a few steps from Kamaole Beach II. It's well-equipped and there's a nice pool on-site. This is a great option to not break the bank in Maui (when I looked it was only $110/night).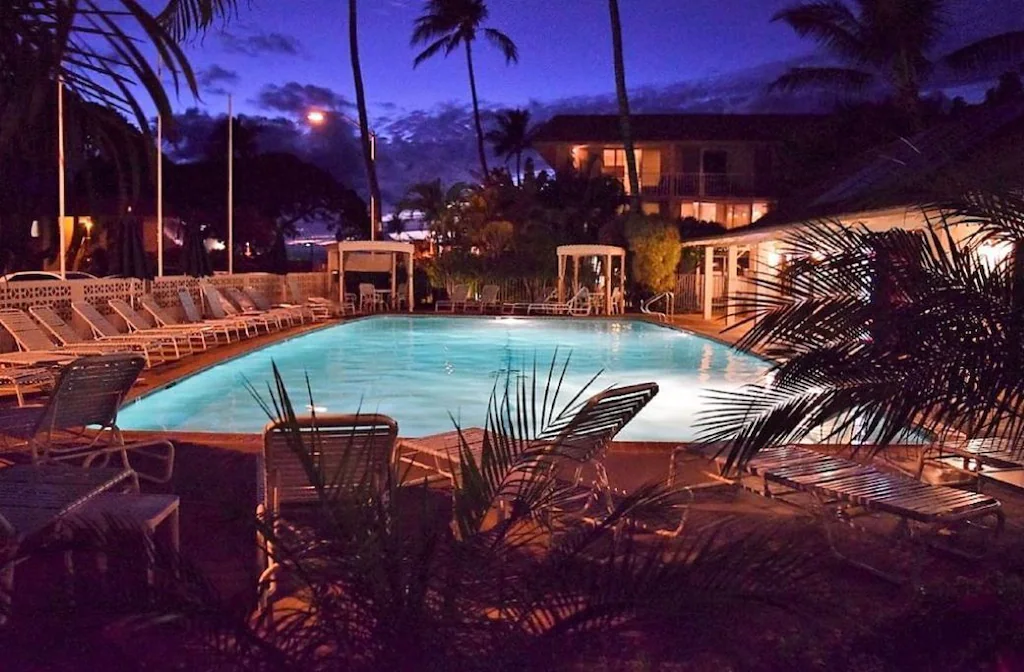 Center of the Action: If you want a place that's a stones throw from Kalama Village and all of the bars/restaurants and happenings, this is the perfect place. It's a top floor unit corner unit and the beach is just across the street. It's really unique in that it has two lanai's; one facing Haleakala and one facing the ocean. They have a 5 star rating and 154 happy reviewers!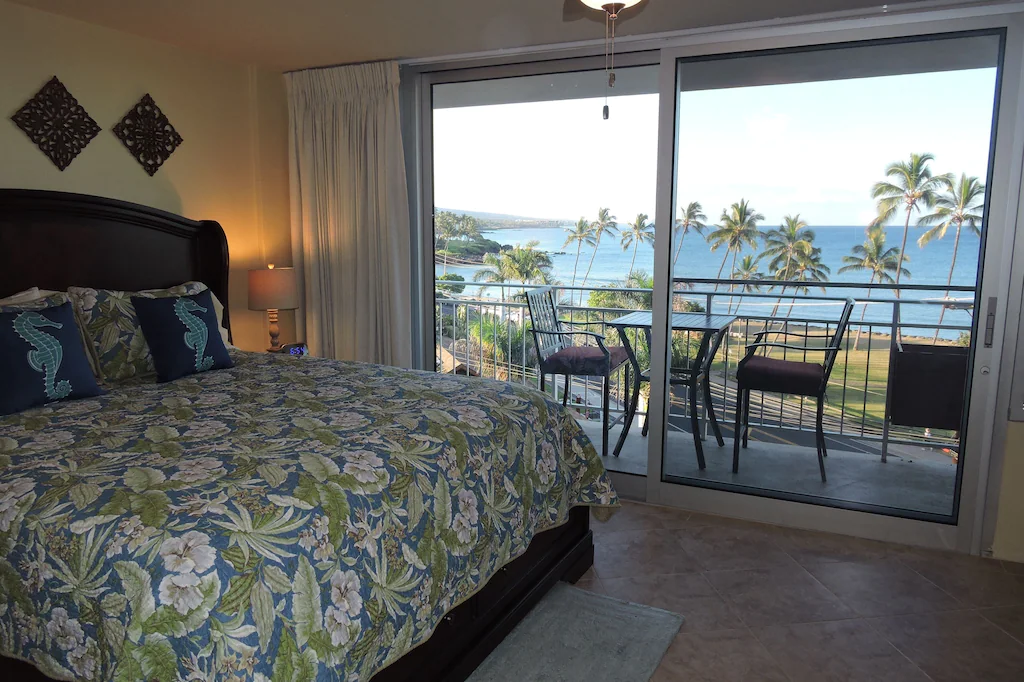 I hope you enjoyed this post on all things Kihei! If you want to read more, I have an Ultimate Guide to Maui with many more ideas.