Your Ultimate Maui Travel Guide 2022
Hey there!
This post may contain affiliate links, meaning I may be compensated if you click on one of my links, at no cost to you. As an Amazon Associate, I earn from qualifying purchases. Read my disclosure policy for more information.
I first visited Maui in 2020 with some girlfriends. And since then I've been back three times…and I'm visiting again in 2023! As someone who loves exploring new places, this says a LOT about how special this place is.
I'd visited Oahu a few times in the past, but I never felt like I needed to return. There's quite a bit of traffic and tons of people everywhere, and to be perfectly honest it just didn't feel very welcoming. So I made the naive assumption that other islands would feel similar.
Well, I was completely wrong. And after just a few hours in Maui I couldn't believe I'd spent my entire life without knowing about this slice of paradise. Compared to Oahu, there's less people, it feels more laid back, and it seems beaches line the entire western shores of the island.
And the whales between December and April are so special. On our last trip, we watched whales breach at sunset. Every single night. We'd walk from our condo to the beach, and along with at least 50 other people, we'd ohhh and ahhh at the whales dancing in the water. Nature is so cool.
---
Planning Your Trip
When we started planning, my main criterion was to stay on a more secluded island. I've visited Oahu a few times and personally wanted to explore a new place.
Maui also had rave reviews from my friends and family. I live in Alaska where it seems half the population normally flies to Hawaii each winter to escape the cold (myself included) so I know many people who travel there somewhat regularly. There are direct flights from Alaska to Oahu, Kauai, and Maui so for us it's an easy flight.
Based on their reviews and my limited research, we decided to visit Maui. And I am SO glad we chose this island. I completely fell in love with Maui and found it a great island with activities for everyone.
Changes for 2023
Price in 2022 were just crazy. I'm happy to report that they've gone down ever so slightly for 2023. But the fact of the matter is that Maui is just a really expensive place to visit.
Each time we look at our Chase points to see where we can stay and it seems one night anywhere near a beach is about 150,000 points per night.
We used miles and points to save on our trip. We were able to save a lot on our car rental by booking with our Alaska Airlines credit card. We also used our Alaska Airlines Companion Fare to get a free ticket, and then used points for one of our stays.
Since we waited so long to book, there was nothing available for more than 5 days in a row. So, we are actually staying at two different places this time.
---
Reasons to Visit Maui
To start, if you love whale watching, Maui is the best spot in the winter months to see whales. Every time I've been I've seen countless whales each day. You can't miss them. They are incredibly active and you can see them breach right from the beach.
Here are the other reasons to love Maui:
The food is fantastic – Truly, every meal we had was great. The food was fresh, the seafood was fantastic, and there was not one meal where I felt I'd fallen into a tourist trap.
The people are friendly – Everyone we met was so kind and genuinely happy we were there. We met people from all over the US while there too.
There's a lot to do – If you want to go on a week-long vacation, Maui is packed with things to do. From the popular Road to Hana, watching a crater at 10,000ft at sunrise, checking out the cute towns around the island, whale watching, seeing green sea turtles come to shore to rest, visiting multiple beaches, going to an outdoor aquarium, walking Front Street, snorkeling all over the island, and hiking, there's something for everyone.
It's Beautiful – Inland are stunning tall mountains that look like something out of Jurassic Park, the shores are packed with sandy beaches, there are lush forests and waterfalls all over, and at least once a day you'll see a rainbow.
It's not too populated – Compared to Oahu, Maui felt much more laid back. There are fewer people meaning fewer cars and traffic. It's also a larger island, so there's more room to move about.
It's Kid-Friendly – Locals welcomed our son and were happy to accommodate us. One server gave our son a stuffed animal, and a hotel provided a goodie bag just for him. It seems children are welcome everywhere. It's wonderful.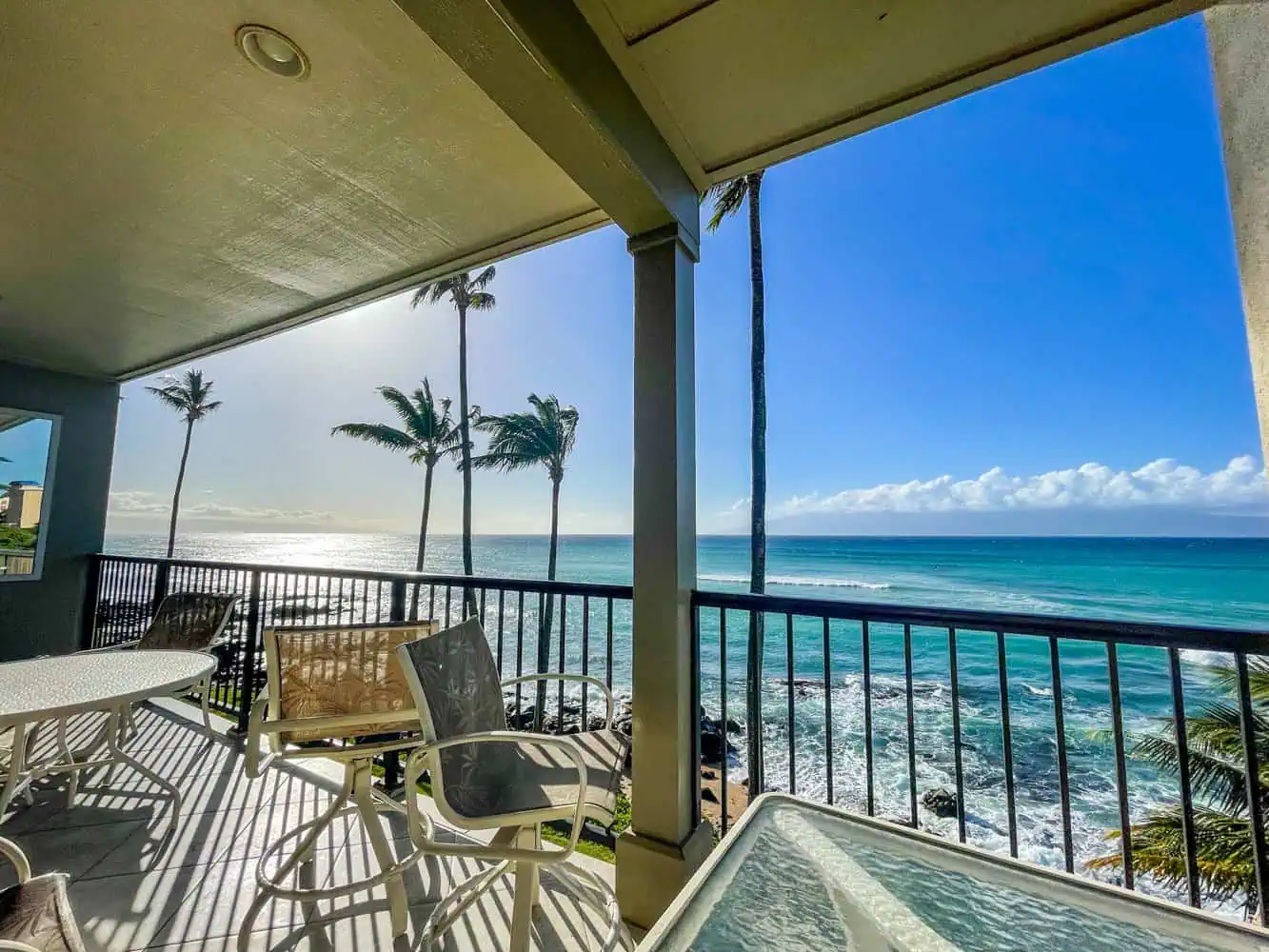 ---
Costs
Costs are always relative, so relatively speaking, Hawaii is an expensive place to visit. Lodging will be your greatest expense. Food can be inexpensive or Michelin star expensive.
To save on food costs, I'd recommend checking out the local restaurants, food trucks, and fresh stands on the side of the road. Another way to save is to purchase from the deli inside grocery stores. Often there's fresh food for much less than you'll pay elsewhere.
Avoiding beachfront restaurants will save money. There are also many happy hours around the island, with many offering discounts on food as well.
Getting breakfast and the basics at the store will save you a lot, although you will find that groceries are more pricey in Maui. It is an island after all.
There are plenty of free activities and also excursions you can book. Free activities include beach time, sneaking into a pool at a resort (kidding!..), hiking, searching for waterfalls, whale watching, watching sea turtles, driving Hana (except gas), driving to Haleakala (also need gas), and really any outdoor activity.
This was our cost breakdown:
Lodging: This year for 2023 we are spending nearly $500 a night for a 2-bedroom condo via Airbnb. If you wanted a 1-bedroom place costs were about $250-350/night. This is insanely expensive if you ask me, but this is about what you'd spend in Alaska so comparatively it's not bad for us. Some places provide discounts if you book 5+ days in a row.
In general, you can expect to spend $200+ a night unless you can couch surf, rent a room, or camp somewhere.
Food: Since we hadn't vacationed in a year, we wanted to enjoy ourselves. Lunch was typically $50-65 for the three of us and dinner was $60-90. You can spend much less than that. The taco place down the street from us served loaded pork tacos for $4.95 a piece, and there are food trucks and inexpensive meals everywhere. Since we sat down at a restaurant for most meals, we paid more.
Car Rental: In 2021 I was able to snag a full-size sedan at Budget for $340 for 8 days, which was a good price. In 2022 we paid $130 per day, a huge increase from last year. And in 2023 we are paying around $130 a day again (which is such a ridiculous amount of money in my opinion). I've used my Alaska Airlines credit card to book, and this year we're using Chase points so we don't have to pay. If you have a credit card, you likely have car rental insurance which will also save you money.
Flights: We used one of our companion fares with Alaska Airlines, so essentially one flight was free. From Alaska flights typically range from $500 – $1000 per person, but sometimes there are last minute deals for under $200.
If you are new to travel or want to find a better deal, it's always better if you are flexible with your dates, can avoid weekend travel, and have multiple airlines to choose from.
Skyscanner is the best option when searching for flights. It easily allows you to compare multiple airlines and flights. Google flights can also be a helpful tool too.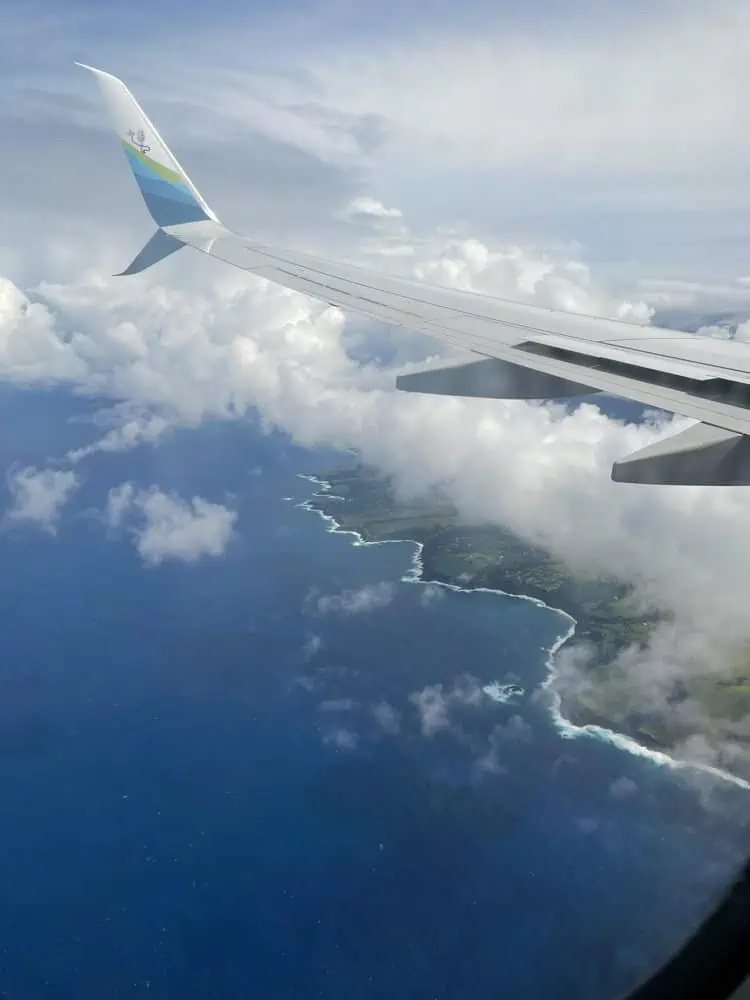 ---
Best Time of Year to Visit Maui
The temperature year-round doesn't change too much. It's about a 10-degree difference in January vs July (an average high of 80 vs 89).
December to March is rainier with lower temperatures. I do not like hot weather (oh hi…Alaskan here) so the winter months are perfect for me. I also don't mind the occasional rain throughout the day. Winter is also when the whales are in Hawaii. For that reason, it's personally my favorite time to visit.
No matter when you plan your trip though, there's really no bad time to visit Maui!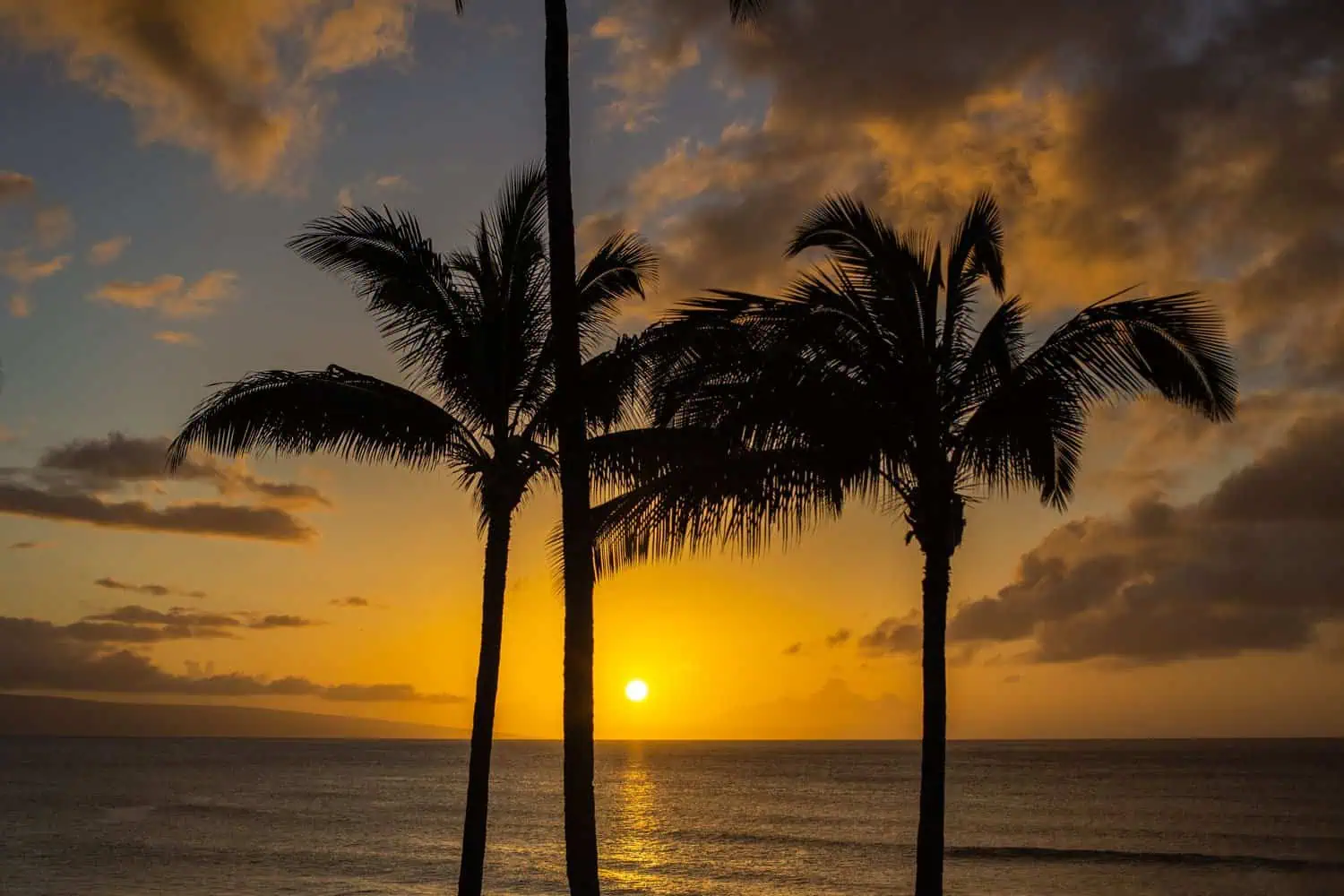 ---
Know Before You Go
Book Your Excursions Ahead of Time
Maui is a popular vacation destination, so things can book up pretty quickly.
I've found that Luau's, some tours, and popular restaurants book out well in advance.
The same goes for the Maui Ocean Center (Aquarium) – tickets must be purchased ahead of time and capacity is currently limited. When we arrived we watched a family with small children make that realization once they got there, so plan ahead! They recommend reserving your tickets about 2-weeks in advance.
Book Restaurants Ahead of Time
Fleetwood's on Front Streeet and Mama's Fish House are arguably the most popular high-end restaurants in Maui. And they book out MONTHS in advance.
And somehow each year I forget this and miss out. Even in 2023 I looked up Fleetwood's but forgot to add a reminder on my phone (they accept bookings 30-days in advance). I missed booking by a day and everything was already booked up.
If good food is on your list, visit their websites right away and book your spot asap.
Packing List for Maui
Here is your packing list for Maui. Many snorkels and fins can be rented while there. I bought a snorkel set for $16 at the local ABC store, then rented fins. I found that to be less expensive than renting the entire snorkel set, but if you don't plan to use snorkel gear again, renting may be a better option. Shops are all over the island.
I would also suggest checking with your hotel or Airbnb to see if they offer beach gear as part of your stay. Our condo came with lounge chairs, kids' beach toys, and a snorkel set. It was missing an umbrella though, which is nice on a long beach day.
---
Accommodations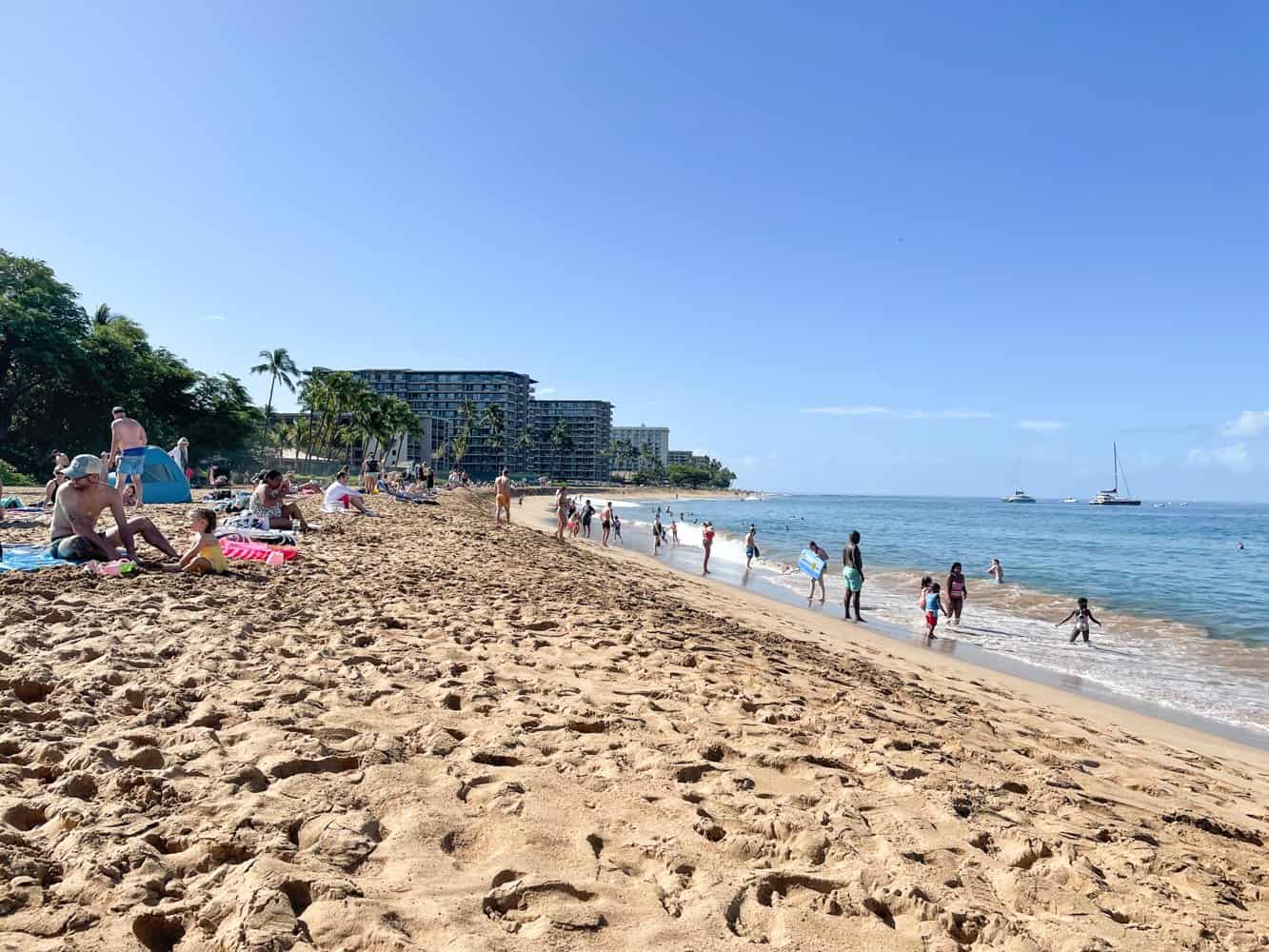 Maui is known as the resort island. After visiting many times, I can see why. It seems every large hotel has a resort beachside in Maui.
Resorts
If you want a floating river, large pools, and tons of amenities, there's a resort for you. Most of the resorts are located in two locations; South between Kihei and Wailea, or West starting in Lahaina and going north along the beach.
The Grand Wailea, a Waldorf Astoria Resort, tops the list with 9 pools on 6 levels, 5 slides, 6 waterfalls, caves, 3 jacuzzi's….and that's the just pool area. You have to be a guest to enjoy these amenities, so it may be worth it to splurge for a night (or two). Now that I'm not there I regret not staying for at least one night.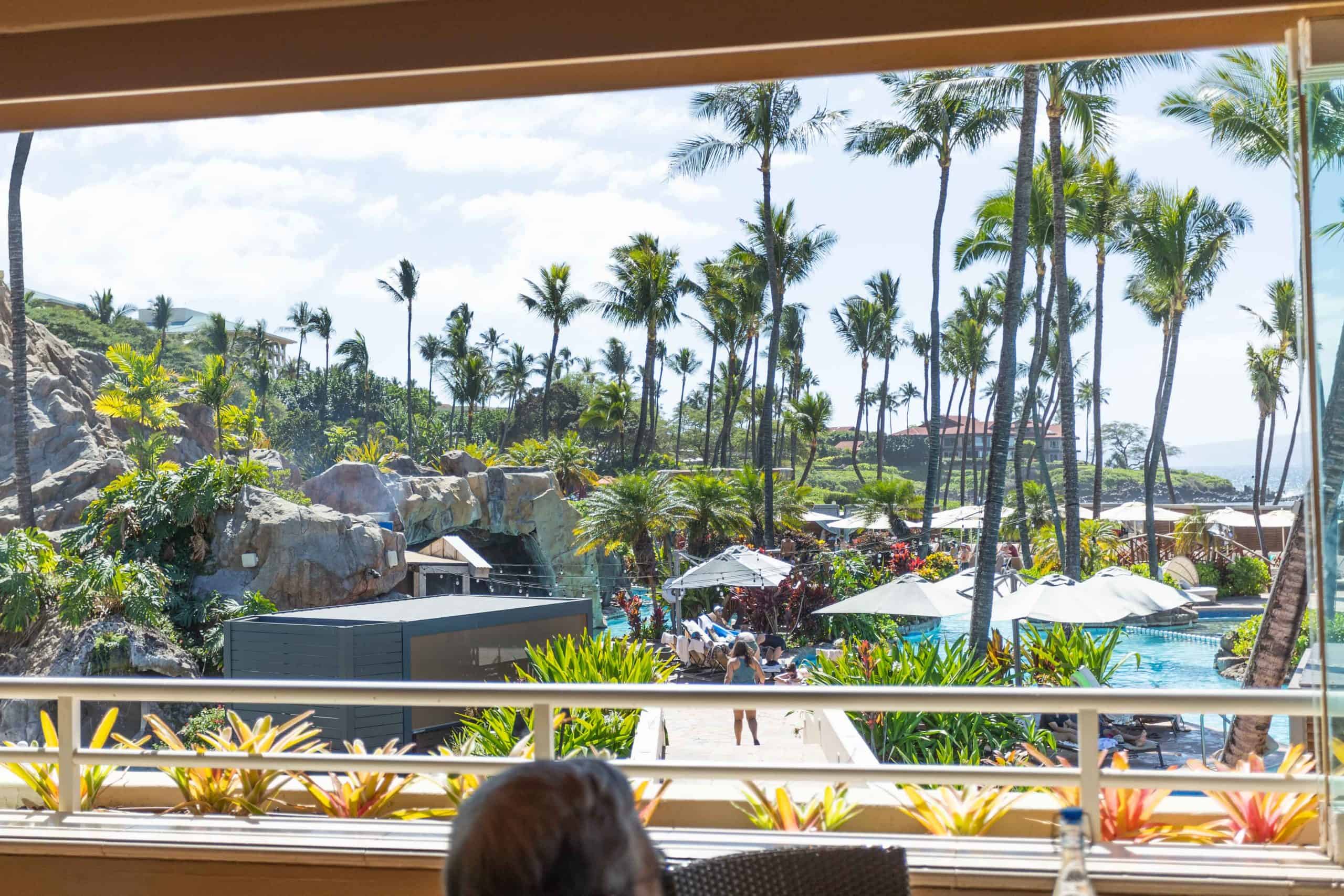 If dropping $800 a night on a room doesn't sound appealing, there are more affordable options. The Westin Maui is on Ka'anapali Beach in West Maui and offers rates around $400-600.
Further north there are smaller resorts such as Valley Isle. You can book studio, 1-bedroom, or 2-bedroom condos. The website is a bit clunky, so I'd recommend booking via booking.com which has free cancellation on most properties. The rates are also really good ($150+/night).
Condo Rentals
We've stayed at many condos over the years. Near Ka'anapali, I loved our stay at the Noelani Condos (West Maui on Lower Honoapi'ilani Rd). Our unit (310) had two beds, two baths and was a corner unit. This meant we had ocean views and views of the pool and mountains to the northwest. I loved it.
In Kihei, we booked a 1-bedroom condo at Kamaole Sands. There are plenty of condos here that are rented out. It's just across the street from Kamaole Beach III, which I found to be the perfect beach for our son.
But there are MANY choices. I also looked at this one in Kihei and this one in Lahaina. I like the second option because it has a free beach shuttle and is within walking distance of Whalers Village. Booking.com has free cancellation on most properties so I typically book with them for flexibility.
Here are a few others that I highly recommend:
Napili Shores Maui is North of Lahaina and offers spacious condos with fantastic beachfront views.
Iao Valley Inn is a unique stay away from the ocean in the Iao Valley.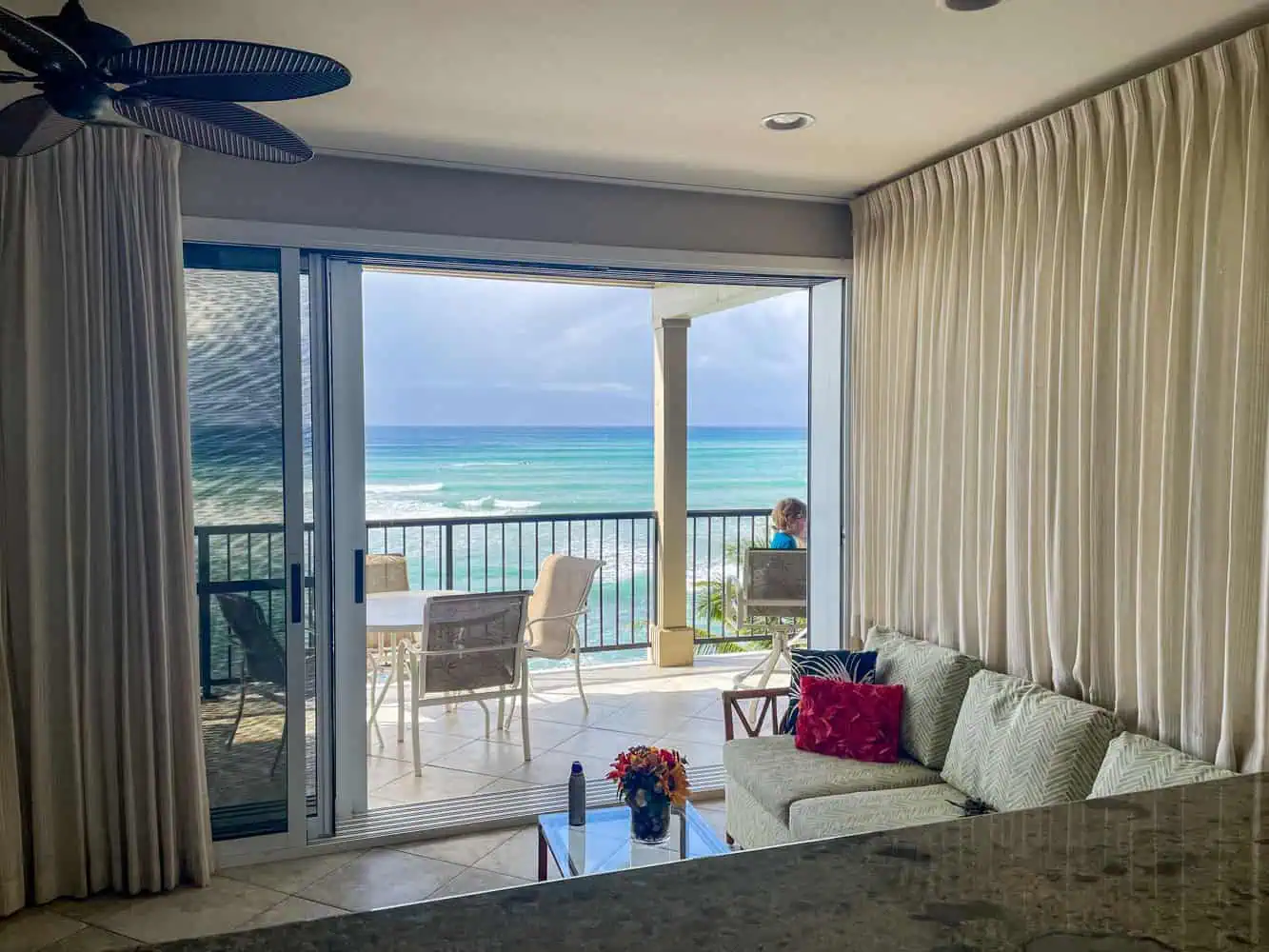 ---
Things Not to miss in Maui
Sunset at Papawai Scenic Lookout (Whale Lookout Point)
We stopped here MANY times. People would bring camping chairs to sit and watch the sunset. This small parking lot gets packed fast, so arrive early to secure your spot!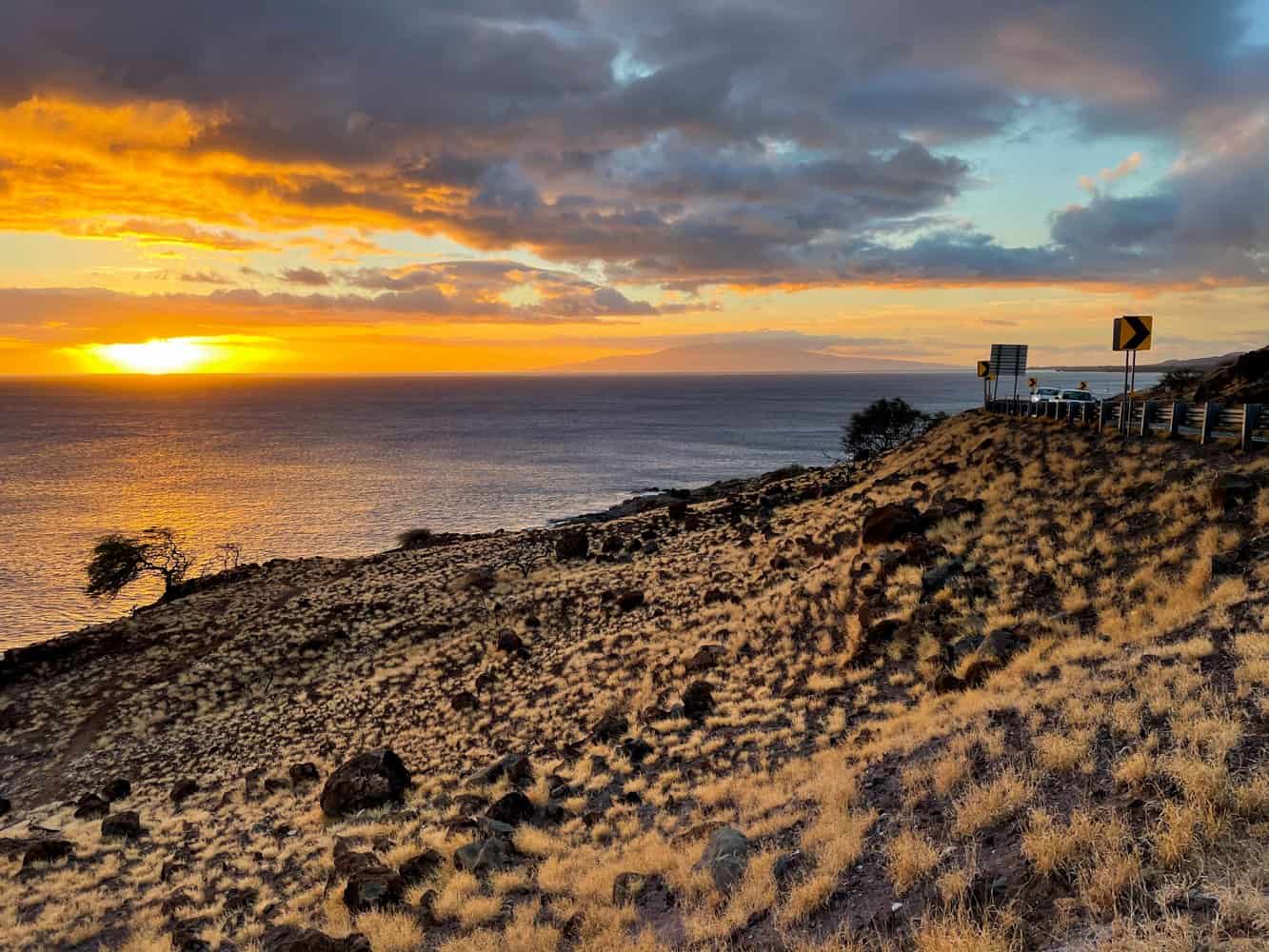 Traditional Luau
We didn't do a luau, and I know it's touristy, but it would have been so fun for our son. These book up weeks in advance, so start looking now. They are all over the island, with many located right at the resorts.
Top Luau's Maui:
Road to Hana
This is pretty much THE thing to do in Maui. There's an app called GyPSy Guide that will, well, guide you along the road. It ties to your GPS so it's always up to speed. This is important, as cell reception becomes non-existent in many areas, so don't skip this step!
This trip could cover an entire post in itself. The main points are that it's meant to be enjoyed and multiple stops are encouraged. Stop at the waterfalls, stop at the small coffee shop, go to the parks, etc. Plan to spend at least 10-12 hours enjoying the Road to Hana.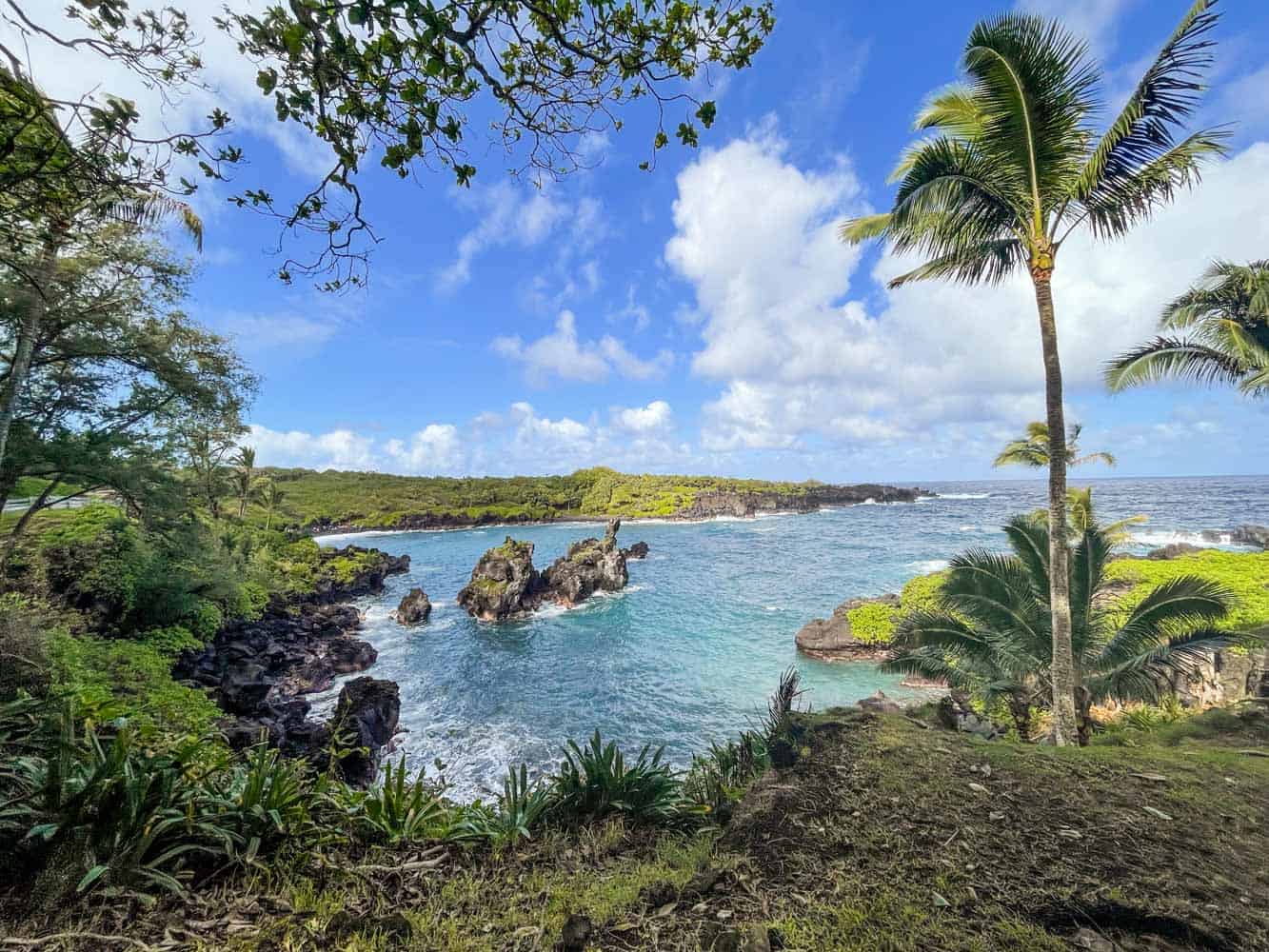 Consider your vehicle; a more narrow car will be able to pass more easily. But a Jeep or even sedan can maneuver some of the off road stuff (which isn't required).
Also note that most people enter from the North and head south, and then go back. At the bottom is about a 5 mile stretch of gravel road, and most car rentals will tell you it's off limits because of all the potholes and gravel.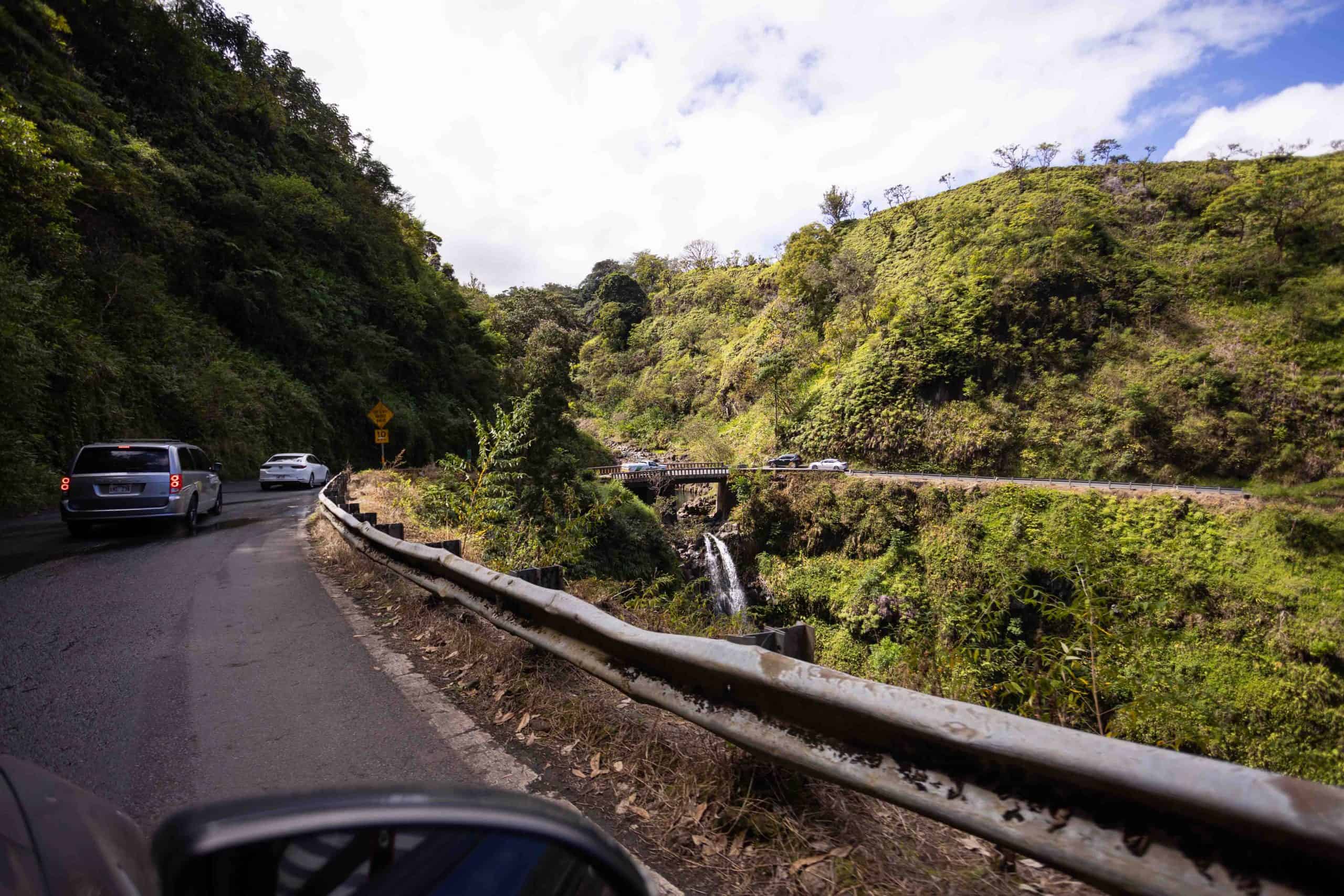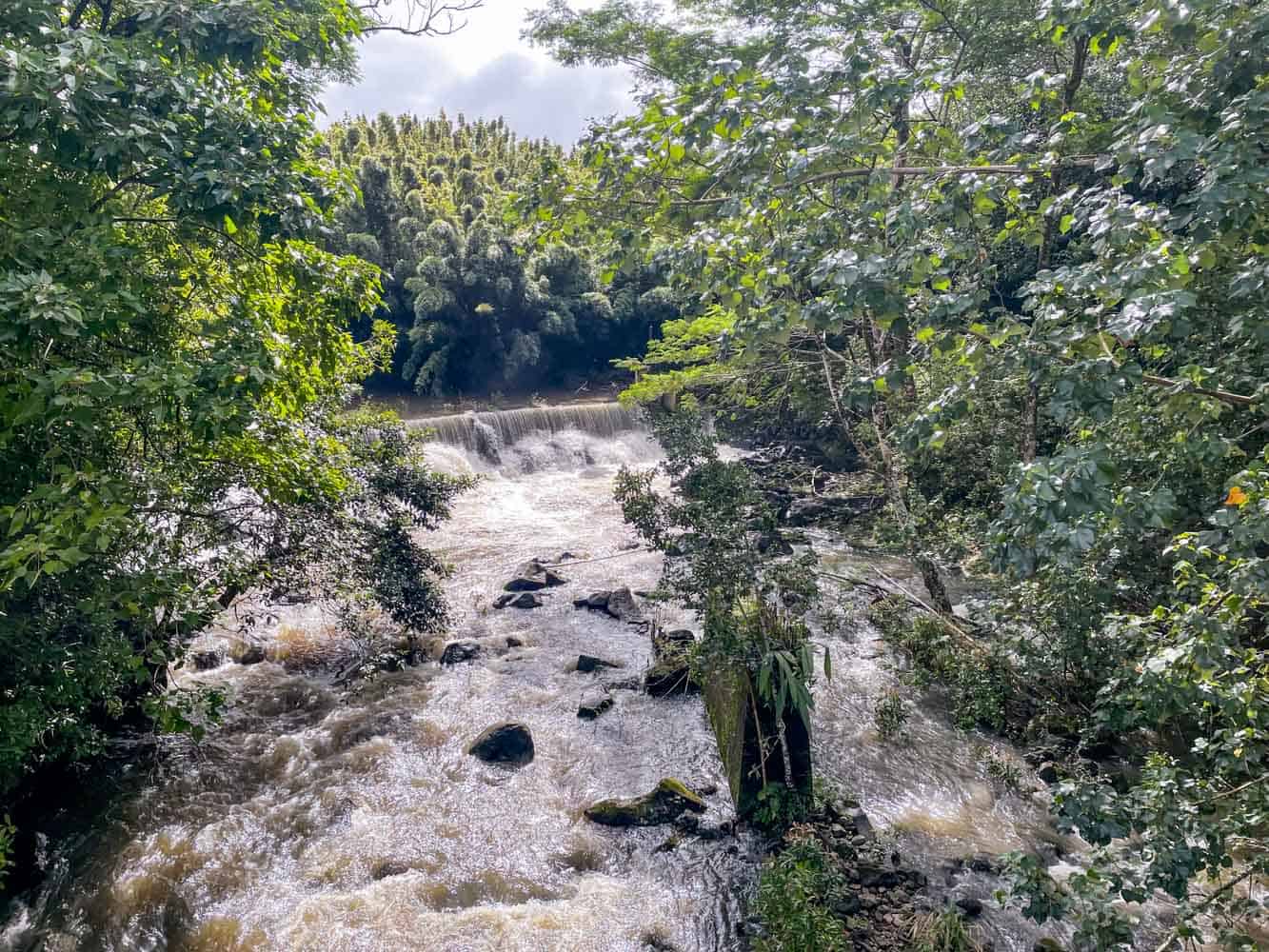 Huge Waves in North Maui
North Maui is a famous surf spot for seeing surfers on big waves. Located just before starting the Road to Hana, there are a few good spots to stop. Ho'okipa Lookout has a large parking area and there's also Peahi, which is known as "Jaws". This is an easy stop after breakfast in Paia and on the way to Hana.
Front Street – Lahaina
If you want to see beautiful art and do some shopping, you have to visit Front Street. It's located adjacent to the water and there are many oceanfront restaurants with 180 views. Our 4 year old loved looking at the various art galleries.
Along Front Street is also the largest tree in the US. This Banyan Tree, gifted from India in the 1800's, covers almost 2 acres and takes up an entire block. The tree is made up of multiple tree trunks that formed from the roots over the years.
It's definitely worth a stop.
There is free parking behind Waikiki Brewing and the shops. At the other end of Front Street there's a large gravel parking lot that's free for 3 hours.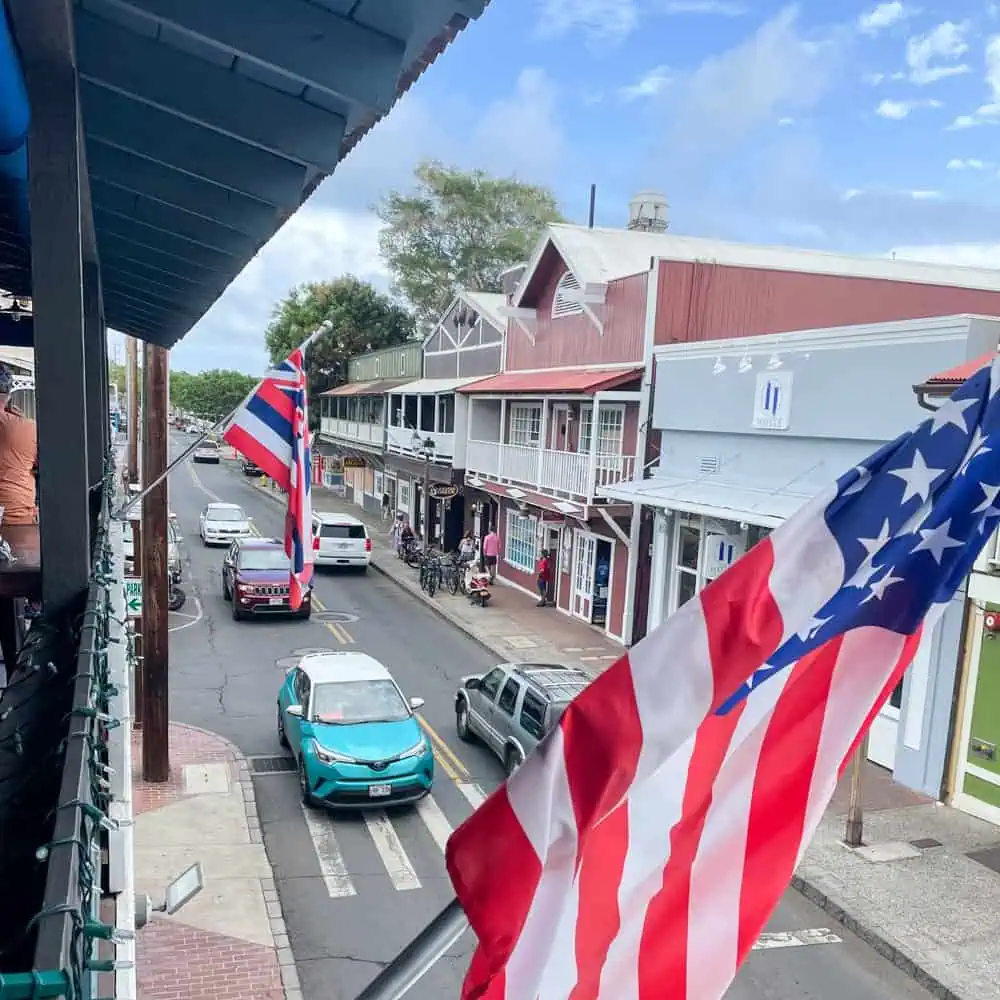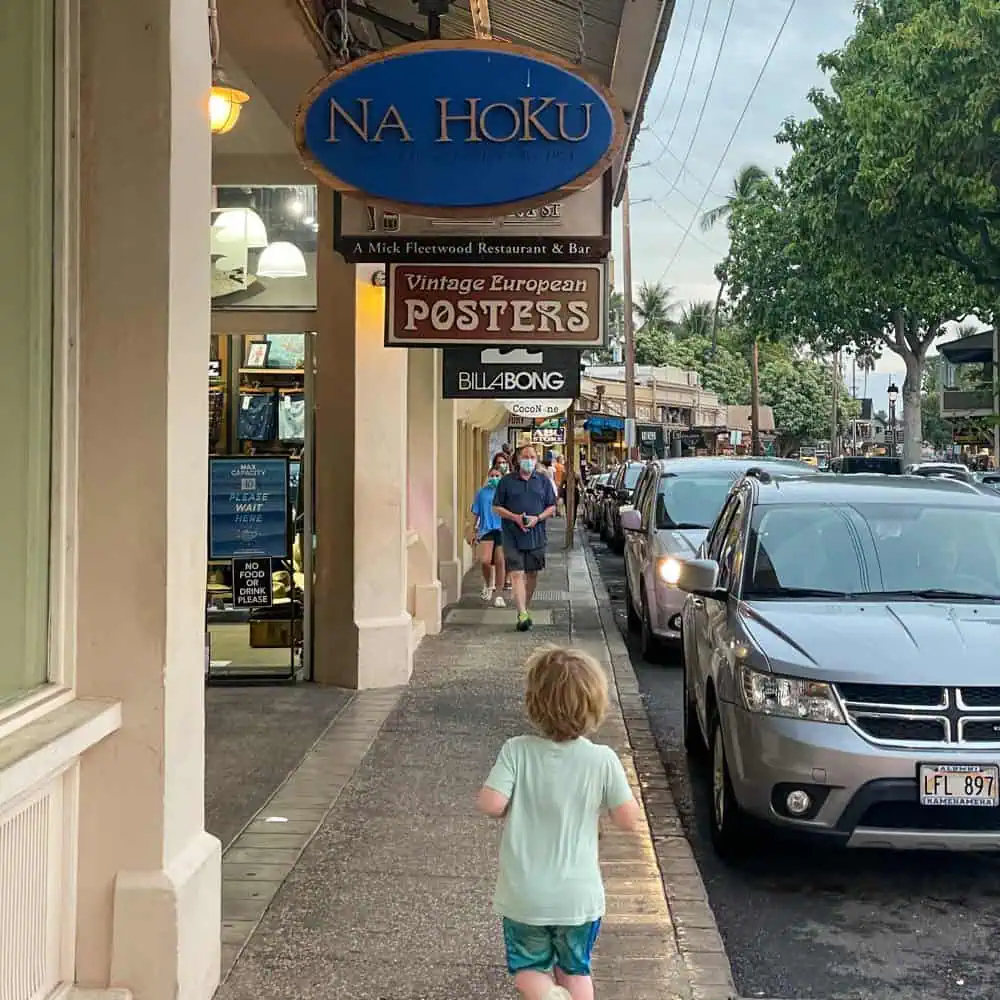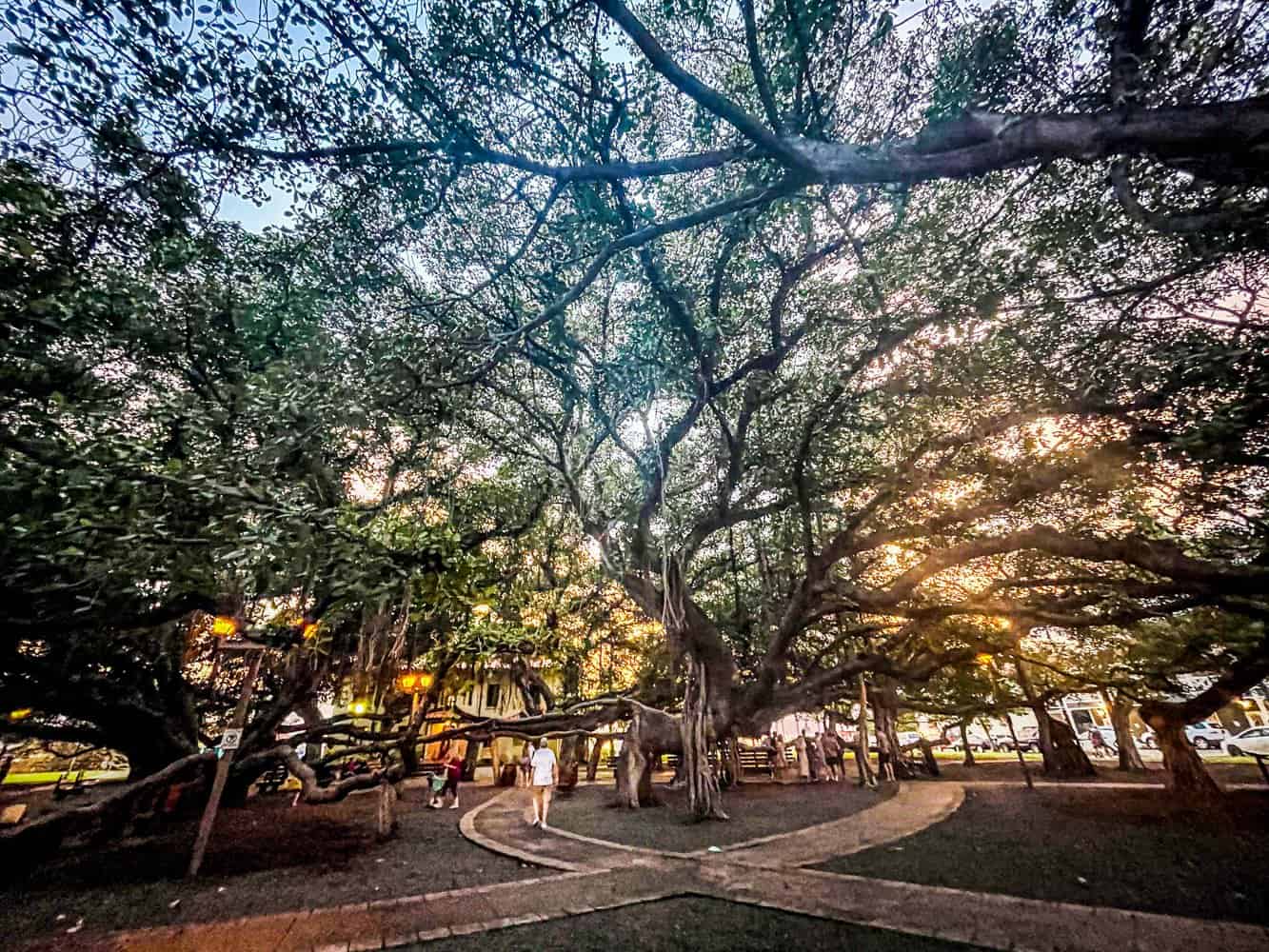 Hike Iao Valley State Park
The Iao Valley is beautiful and a short 30-minute drive from Paia. The highlight of the park is the Iao Needle. It's not a long trip as the 'hike' is .6 miles and beyond that there's a trail that leads to the river. An hour is plenty of time to explore, although parking is limited to it may take some extra time if you need to wait.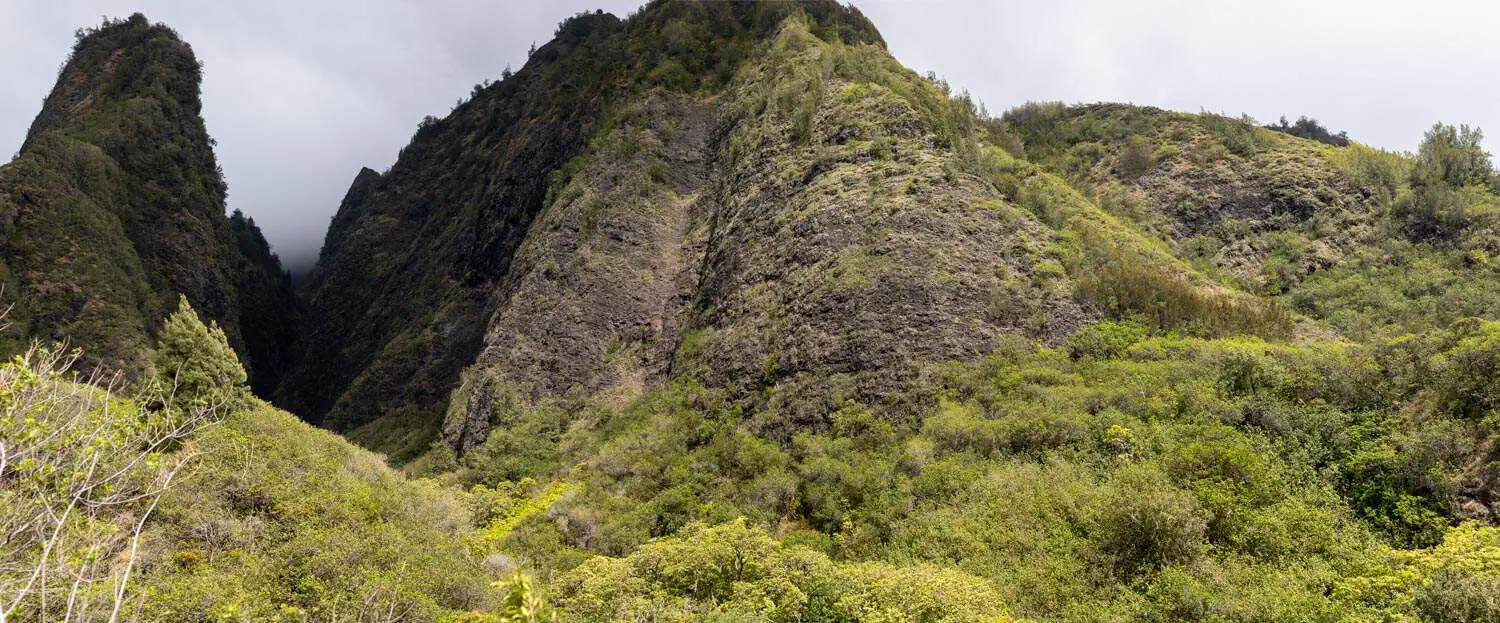 Paia
Paia is a cute town with a lot of shops, artwork, and restaurants. We went twice and ate at Milagro's and Cafe des Amis. We were really impressed with the food at both restaurants.
Paia can easily be combined with waves in North Maui, Iao Valley, and Road to Hana (depending on when you leave).
Parking fills quickly along the street, but there are a few paid parking lots to choose from.
Honolua Bay and Trail
This beautiful area is on West Maui as you head north on Honoapi'ilani Hwy. The trail is short, but the massive trees lining the trail are something you won't want to miss. At the end of the trail is access to Honolua Bay, a popular snorkeling spot on the island.
If you just walk the trail, this trip will only take about 20-30 minutes. Parking is extremely limited; you can park along the narrow street in a few areas, and there's a small gravel parking lot at the bottom of the hill, just past the bridge.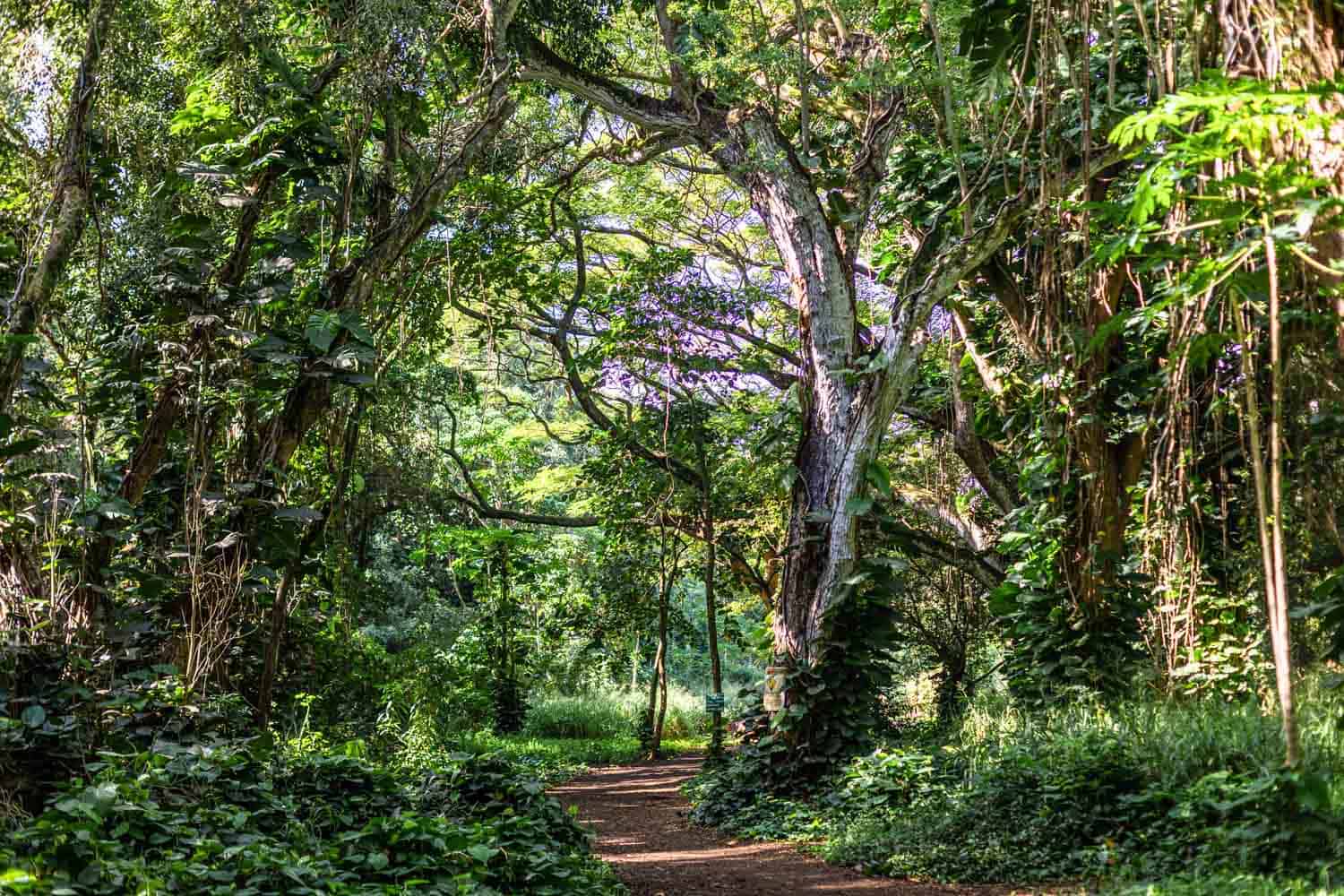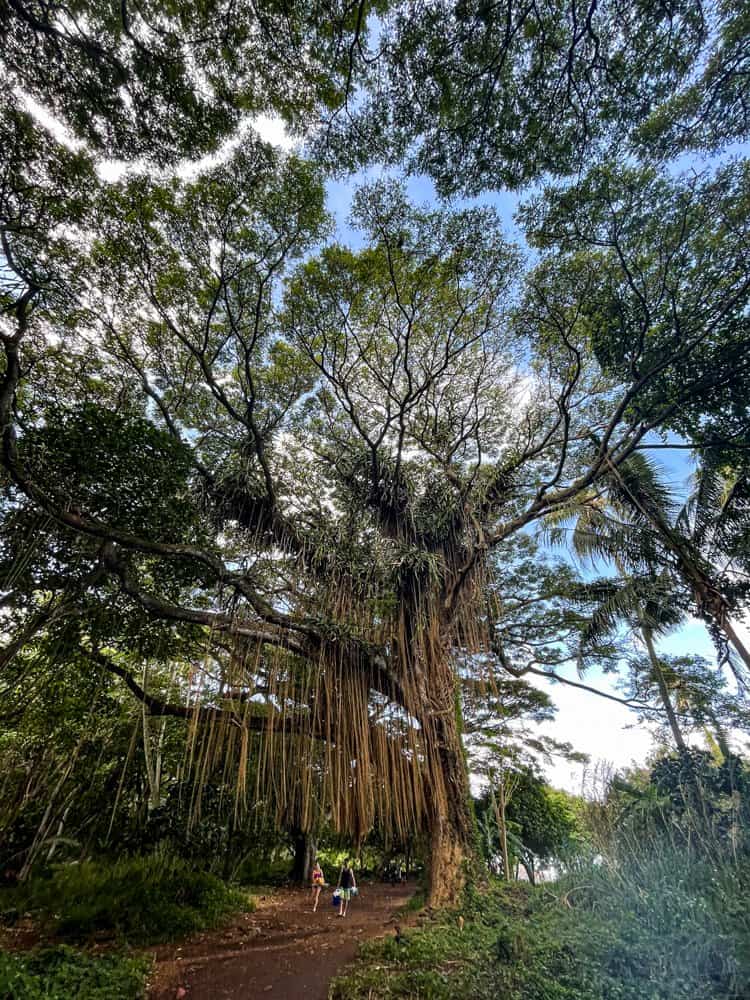 Turtle Town or Sea Turtle Viewing
If you visit Maui, sea turtles should be at the top of your list. Maluaka Beach is in the area known as Turtle Town, and a popular spot for snorkeling and viewing sea turtles. It's south of Wailea, so if you aren't in the area, there are MANY other places where you can find sea turtles.
On West Maui, we swam with sea turtles at Baby Beach, which isn't known for sea turtles. When we went in March, the turtles would climb to shore and eat the algae right in front of our condo (Noelani).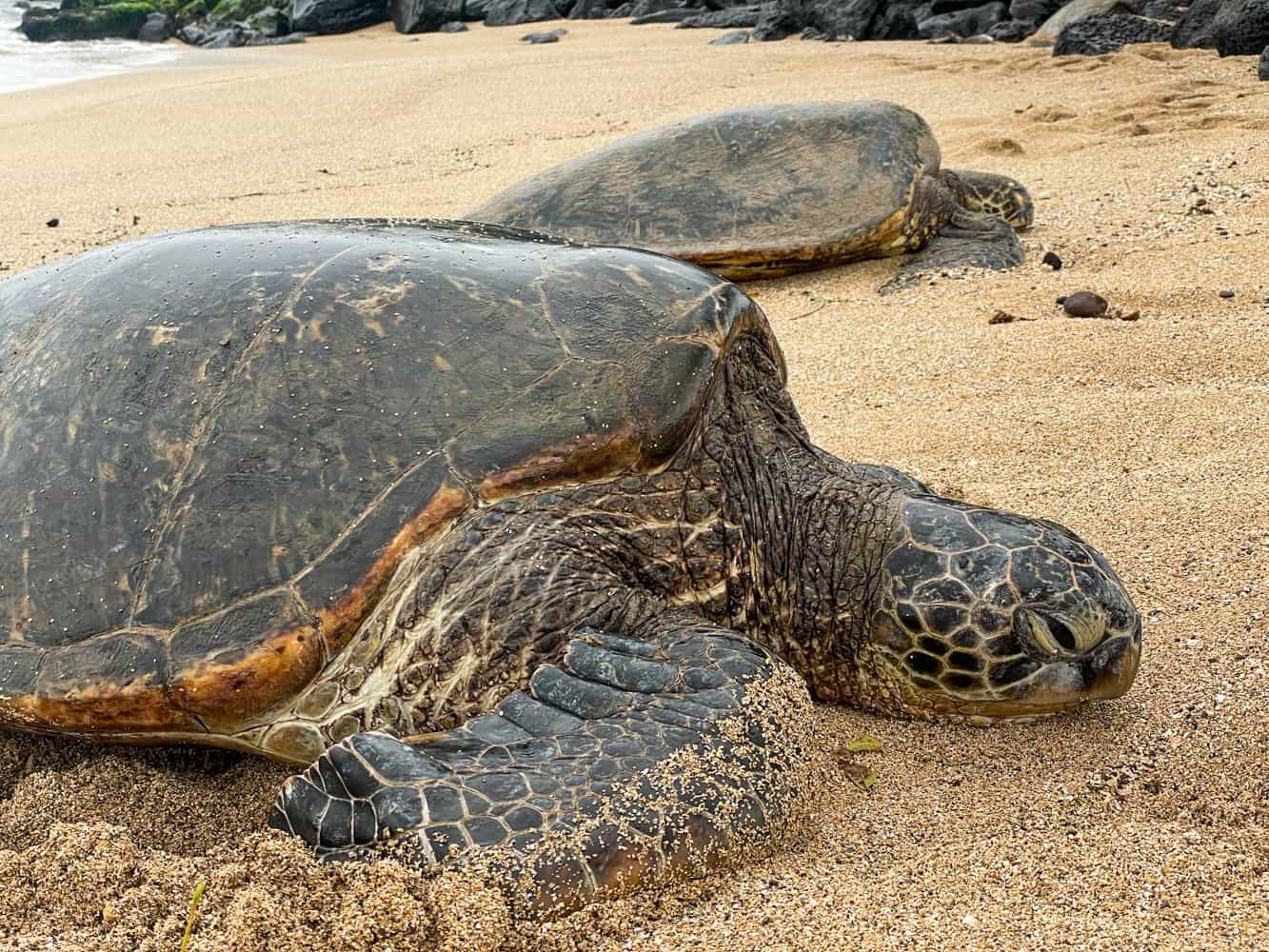 ---
Excursions in Maui
Bike Down Haleakala Volcano
When traveling with a 4-year old you're a bit limited with really active activities. So I sat this one out and my husband booked the bike trip. He didn't do the sunrise tour as they were all booked. But, he was able to find one with the same company that started at 7am.
He said it was one of his favorite things from the trip.
They drove him up near the top of Haleakala and he rode all the way down. Because there was recent flooding, he wasn't able to start at the top but near the top. So they drove him up twice so he could ride longer.
Snorkel Molokini Crater
Molokini crater is about a 5-6 hour trip. The crater is popular for its crystal clear water and great sea life viewing. We decided on a FourWinds snorkel tour because it's highly rated for families. The boat had a sea glass bottom and they had all the gear you could need, including Snuba gear.
For our 4-year old, they had plastic floating boats (about the size of a boogie board) with plexiglass to see the fish while floating. Unfortunately, he was not into it, so he stayed on the boat for the most part.
If you prefer to swim with turtles, skip Molokini and book a sea turtle tour with Sea Maui (my favorite day cruise company in Maui).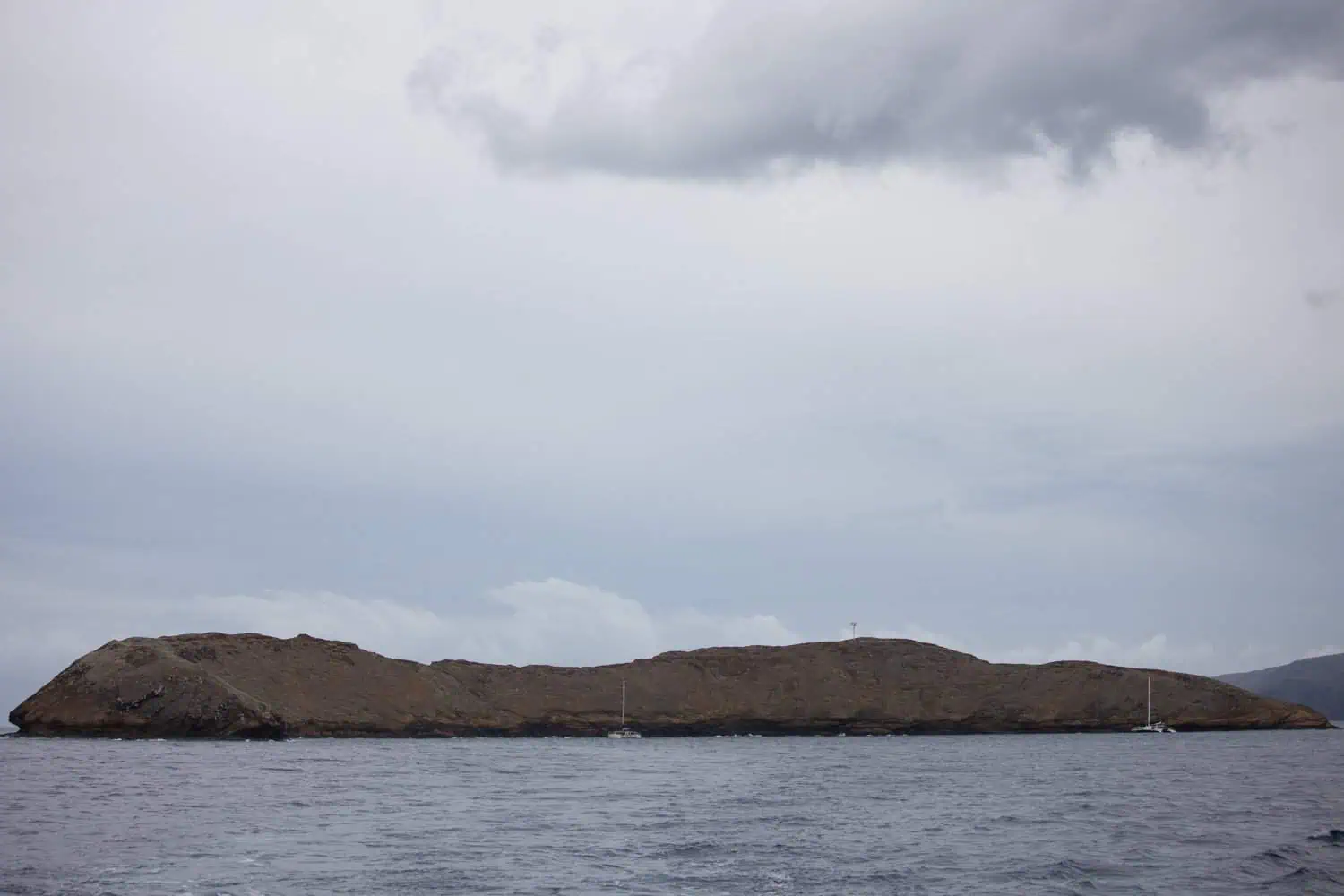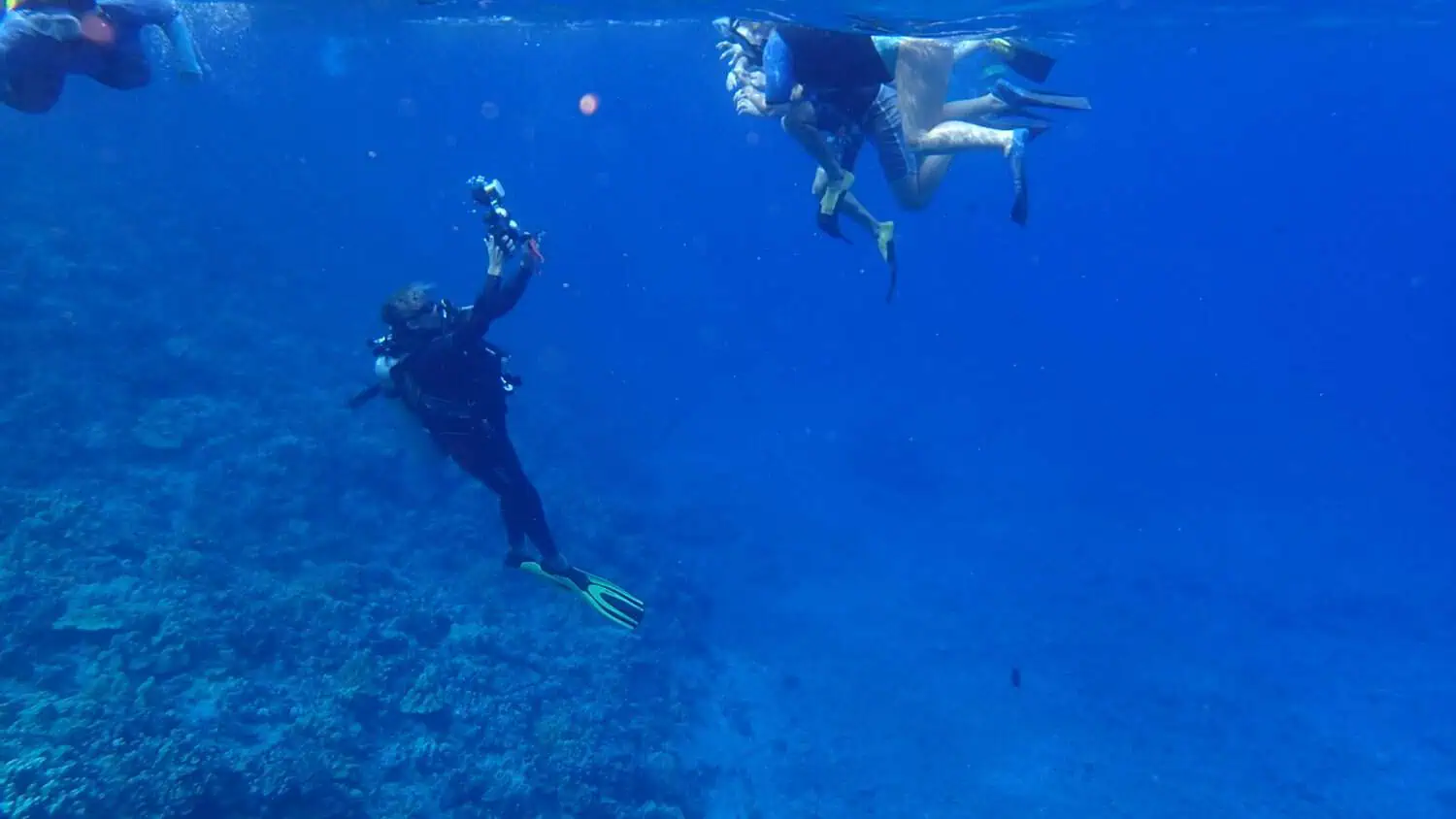 Go on a Whale Watching Cruise
If you visit between December and April, whale watching is a MUST. There are a bunch of different tours that run daily. We went with SeaMaui and had such a great experience our friend booked another tour with them.
We did this 2-hour tour with SeaMaui. I really liked the boat; it's a catamaran with a large netting area right above the water. Not all tours have nice boats, so it's important to take a look at the layout and details of the tour.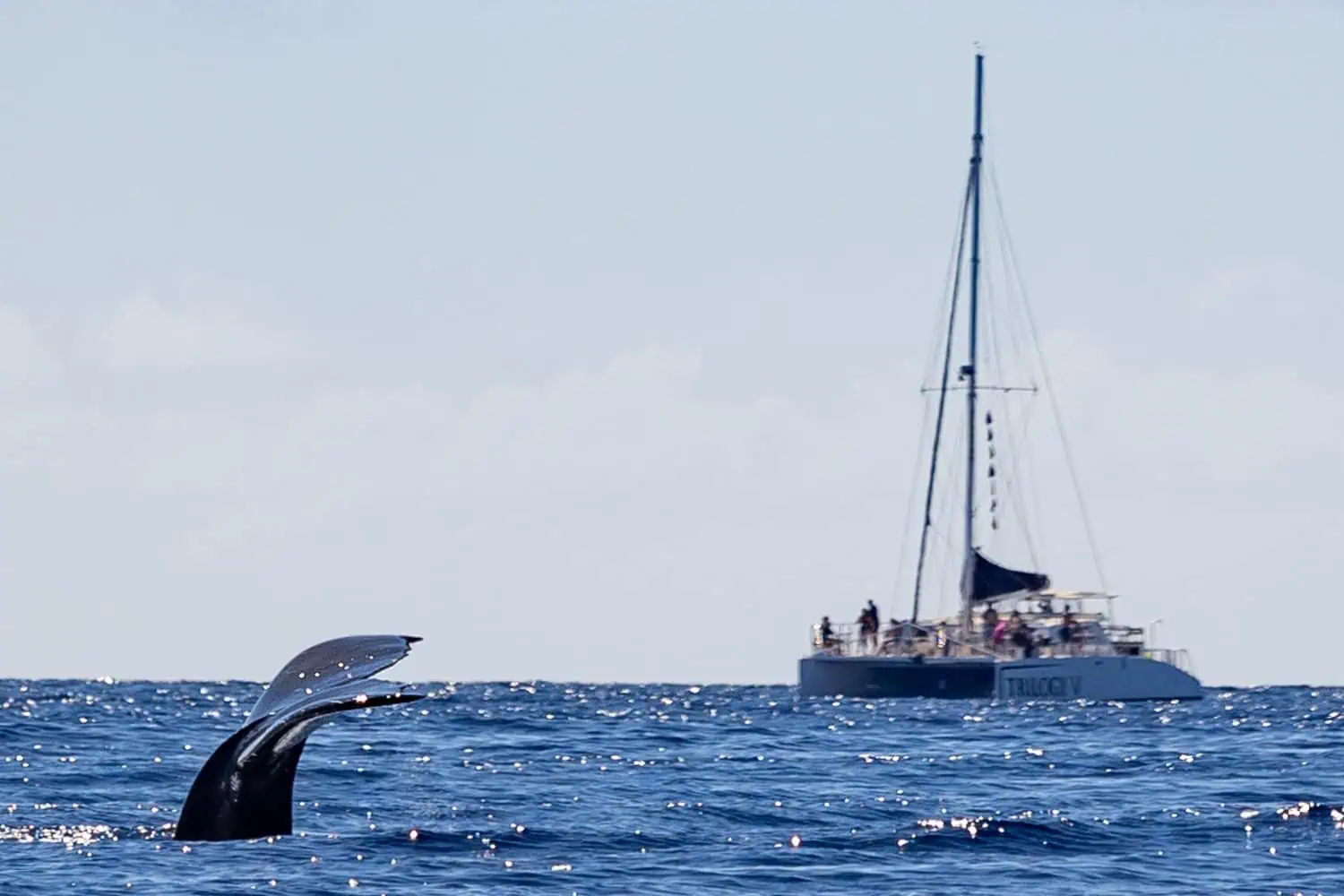 ---
Best Restaurants in Maui
You know a place you visited had good food when you're reminiscing about your favorite dishes weeks later.
Most of our meals were great, and some were REALLY great.
My husband and I like eating good food, and nothing is more frustrating than spending $80 on something you could have cooked better at home. So, I don't make my recommendations lightly.
I also try to avoid heavy and deep-fried food, and prefer places with fresh ingredients whenever possible.
The high-end restaurants in Maui almost always require a reservation, often booked at least a week in advance. So if food is at the top of your travel list, be sure to do your research beforehand and book accordingly.
Here were some of our favorites:
Fish Market Maui – Located in West Maui on Lower Honoapiilani Rd, this place serves up fantastic fresh Poke and fish, among other things. Fish is caught daily, and once it's out, it's out. It's not really a restaurant but a pick up place. If you are nearby, it's definitely worth a stop!
Miso Phat Sushi- Just up the road is Miso Phat. If you're craving sushi this will hit the spot. Admittedly, there's a local place in Alaska that I prefer, but I would not be upset eating here daily!
Cafe Des Amis – Referred to as soul food, we found this little spot to really hit the spot (heh..). If Mediterranean vegetables, feta & pesto crepe or Maui Grass Fed Beef Curry sounds good, then this is the place to be.
Milagro's Food Co – I thought this place would be a bit touristy with all the signs and too perfect location in Paia. But their margaritas really were the best on the island, and the food was delicious. The chicken caesar salad was the best I've ever had (and the portion was huge). My husband ordered the shrimp fajitas, a dish he orders quite a bit, and said it was the best shrimp fajitas he'd ever had.
Leilani's on the Beach – This was another place where I didn't have high expectations. I assumed the food would be subpar since it was in a prime location. Luckily, I was completely wrong. This restaurant at Whaler's Village in West Maui had delicious and fresh food.
Monkeypod Kitchen by Merriman – Also located in Whaler's Village (and another in Kihei), this place has fantastic fare. Their fish is caught fresh daily and the pizza was the best we tried on the island. Their mai tai's have a whipped pineapple cream on top and were some of the best we tried.
Waikiki Brewing Company – Located on Front Street, this place has some delicious options. The brisket, wings, and sliders were all delicious.
Grand Wailea – There are multiple restaurants here. We enjoyed Wailea Surf Haus. Humuhumunukunukuāpuaʻa (known as Humu Humu) is their beachfront upscale restaurant that requires reservations.
Fat Daddy's Smokehouse – Featured on Diners, Dives, and Drive-Ins. For the best bbq on the island, this is the spot.
Three's Bar & Grill – This indoor/outdoor restaurant has a great selection of food/drink and a fantastic happy hour as well! If you're in Kihei, I definitely recommend going here.
Some of the best restaurants on the island include Mama's Fish House and Fleetwood's (owned by famous Mick Fleetwood). These both require reservations at least a week ahead of time. Tin Roof, located in Kahului, was a favorite on Top Chef. They serve up fresh bowls and also sandwiches and noodles.
If you stay in West Maui, many restaurants are at the resorts. If you're not staying at a resort, just know this can be a little annoying since you have to find parking then walk a bit to find the restaurant.
We stopped by Duke's one day and found the drinks and food to be really good, albeit a bit pricey.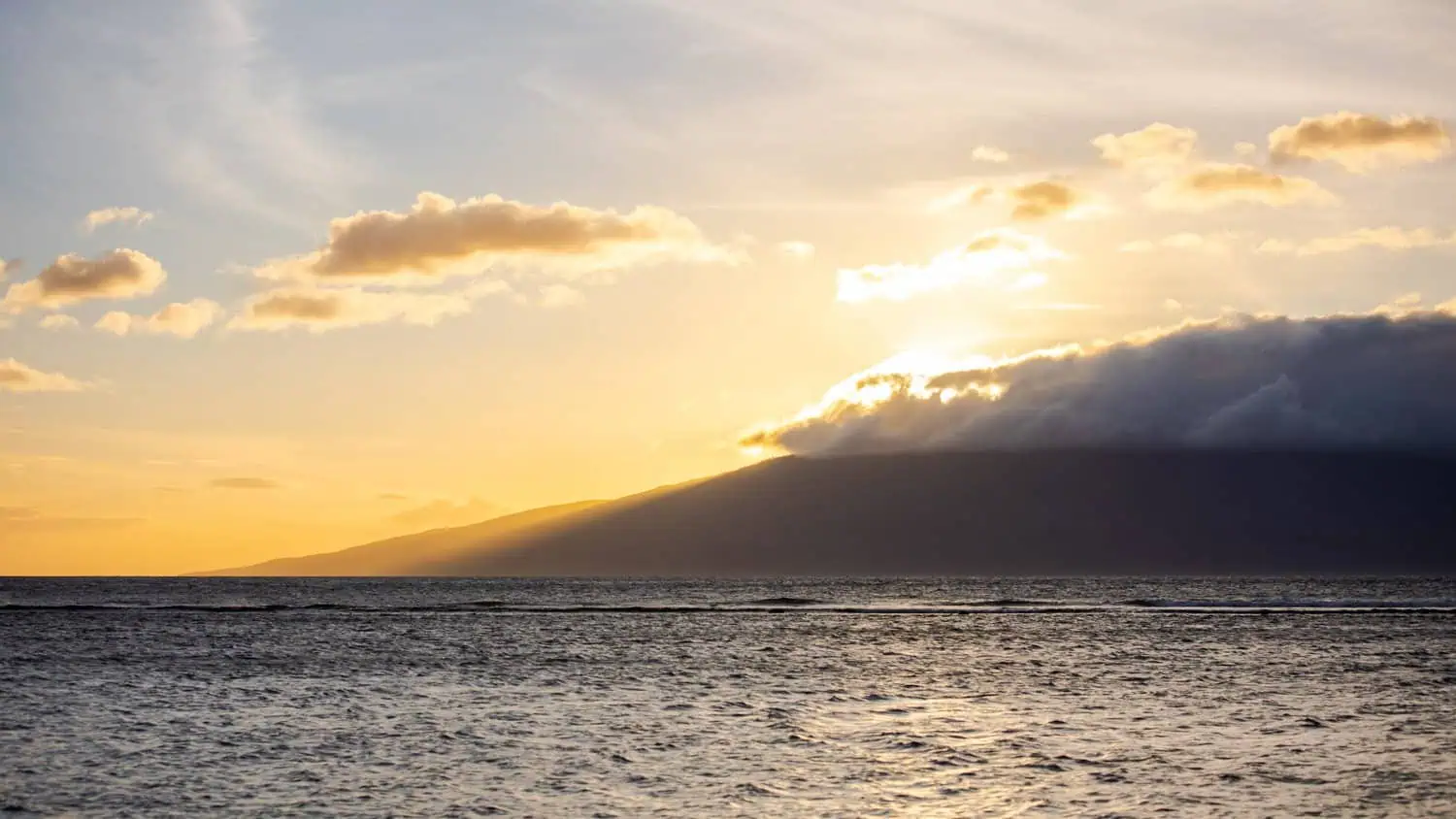 ---
Best Beaches in Maui
In Maui, I was surprised to find that white, sandy beaches are everywhere. You don't have to drive very far to find a good spot. So whether you're near Kihei, Kaanapali, or Paia, you'll be able to find a beach within a short distance.
Best for Families
Baby Beach is a nice little local spot in Lahaina on the West side of the island. Plug in "Baby Beach" and you'll be brought right to it. When you make your final turn, there are two roads that split. Google told us to go right, but if you curve left there is parking by the cemetery. There are usually spots available in the morning and throughout the day.
I love it for small children because there are no waves and the water doesn't get higher than your knees/mid-thigh. We could sit in the sand while our 4 year old ran in and out of the water. It's also not a super busy beach.
Kamaole Beach III was also perfect for our son. The afternoons can get fairly windy so I recommend going in the morning. Nearby Sugar Beach is also a great option too.
Best for Swimming in the Water
If you want to get a nice swim (and snorkel), I'd recommend Ka'anapali Beach. This beach is in front of all of the resorts in West Maui, so if you're not staying at one of these resorts you will need to find parking.
The resorts make this a popular beach and the most crowded one we visited. But there are miles of sand to spread out, so you should be able to find a spot. It's also nice for people watching. There is a large parking garage at The Whalers Village, and it fills early. We went at 9am and there were plenty of spots, but by the time we left at 11:30 it was packed.
Ka'anapali is the same place where you'll find Black Rock Beach and cliff jumping.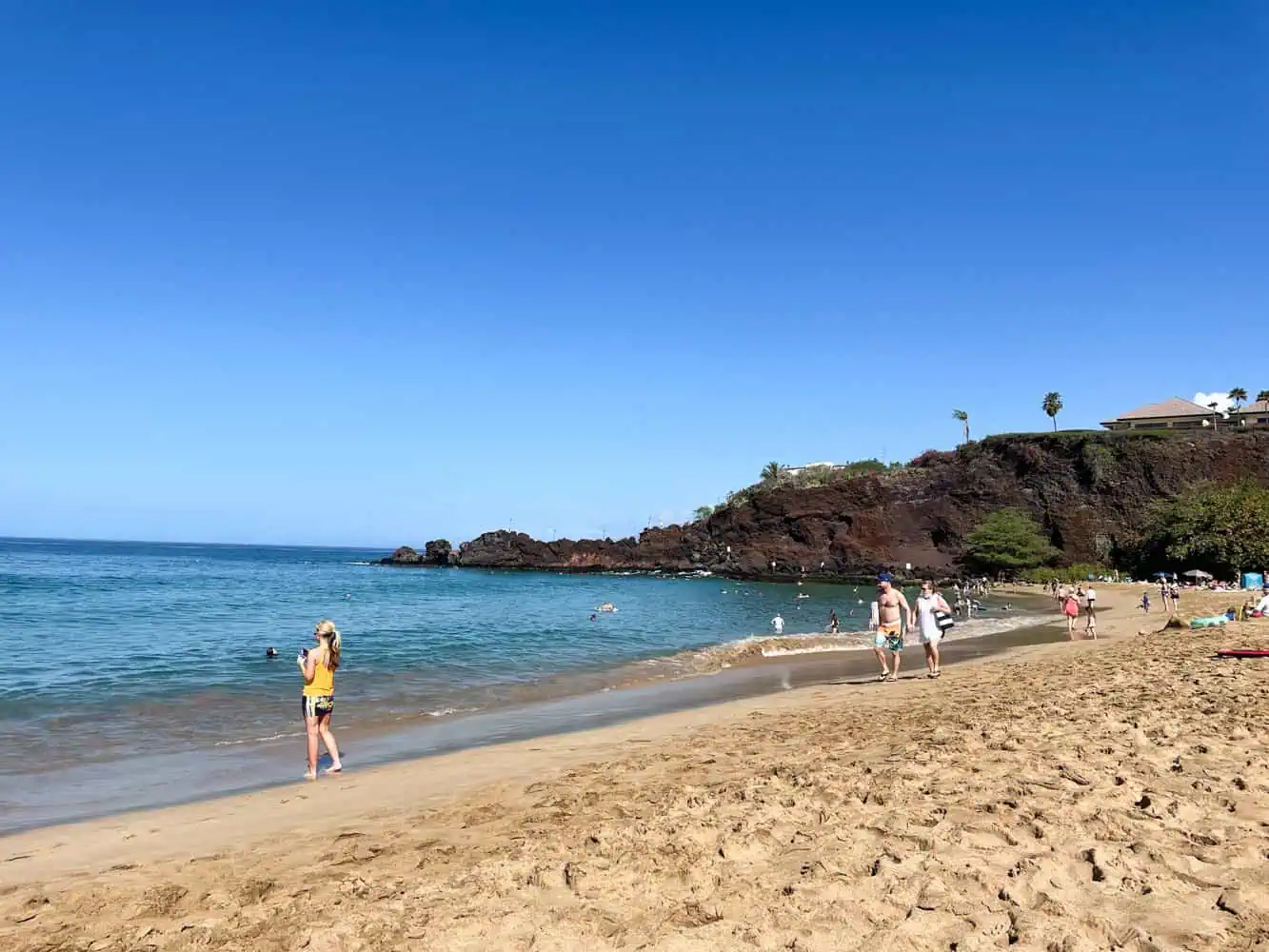 Best for Snorkeling
Snorkeling is pretty good all over the island. At baby beach, I swam with sea turtles for hours with my girlfriends. Ka'anapali has a large reef area. Up North, Honolua is known for snorkeling (it's called 'Snorkel Honolua' on Google Maps). It's a nice bay but parking is limited – there are small spots off Honoapiilani Hwy to get to the access trail.
There are also many beaches near Kihei with great snorkeling. Maluaka and Makana Beach Park are good places to start, but really you can snorkel anywhere you have your gear!
Best for Whale Watching
The whales can be best viewed almost anywhere from the West and Southern areas of Maui. We were further North but watched them breach from our balcony daily. But the BEST spot for seeing whales was near the Ukumehame Beach Park.
The stretch of Honoapiilani Hwy near Ukumehame beach park is great for seeing whales up close. We drove by the area on three different days in the morning and there were whales really close to the beach. South of there is Papawai Scenic Lookout, or Whale Lookout Point, and you are guaranteed to see whales (but there's not much for a beach there).
In Kihei, the whales can be seen offshore but are usually a bit further away. We watched them breaching many times at sunset, leading me to believe that sunset is a great time to see them breach.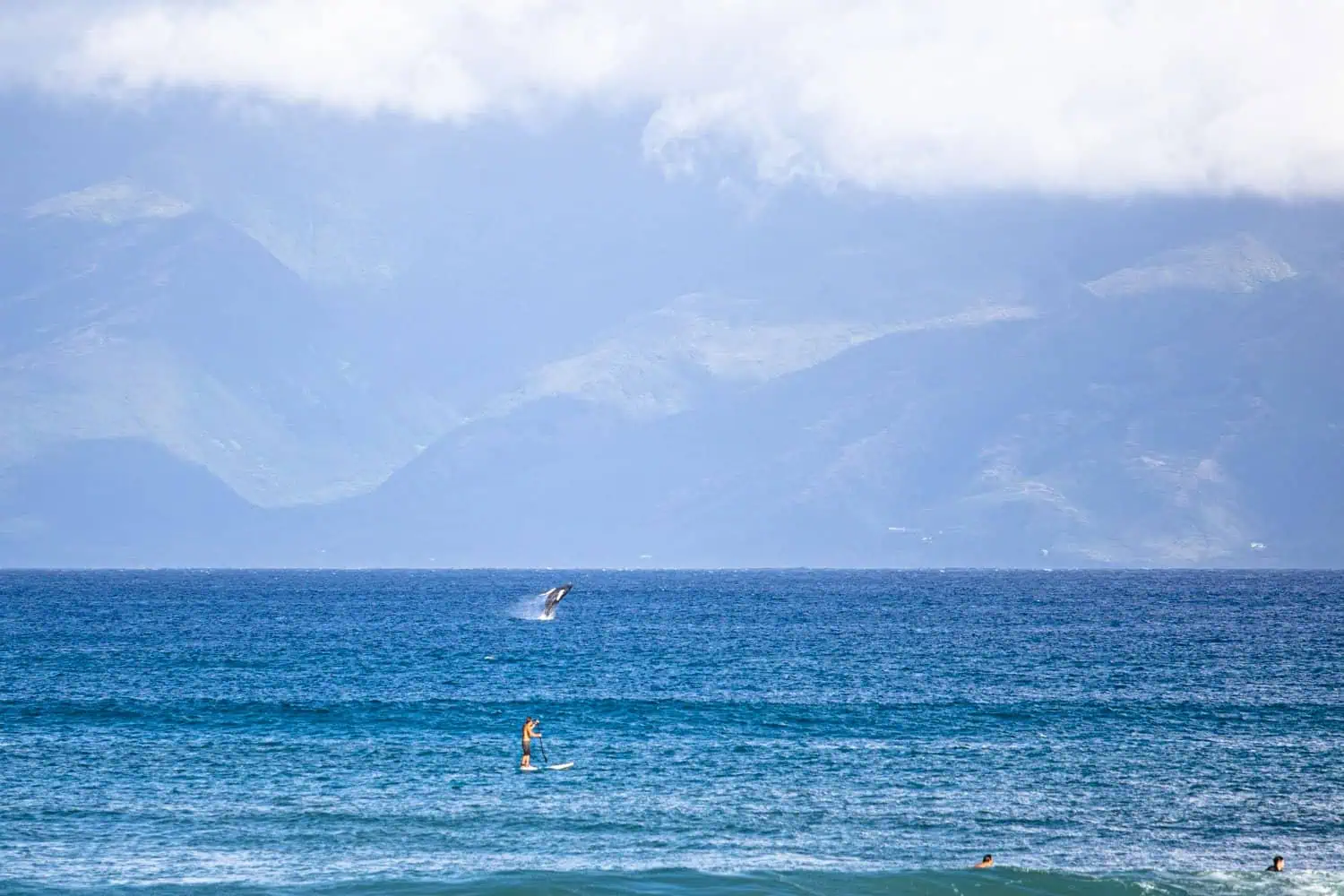 ---
Best Family Activities in Maui
Our 4-year-old had a blast in Maui, although if you ask him about his favorite activity, he will tell you all about the whale movie at the aquarium sphere. I highlighted some of these above as well, but these activities were fun for both him and us.
He even surprised us a few times with what he enjoyed doing, including Front Street in Lahaina. So really, I'd say almost anything can be fun for kids, but these are more family-oriented.
Boat Tour – We did a boat tour to Molokini Crater. Since our son is 4 and hasn't learned to swim here in Alaska (thanks pandemic), the snorkeling was too much for him. But he loved the boat ride and seeing whales breach and swim right next to us. If you have young kids who don't (won't) snorkel, I'd recommend skipping the crater and doing a shorter boat tour.
Beach & Snorkel Time – Baby beach in West Maui was the perfect family beach for us. T loved it because there were no waves so he could walk in and out of the water by himself. We loved it because we didn't have to follow his every move and ensure the ocean didn't eat him up. It also isn't as popular so it's less likely to get crowded. Another good option further north is Napili Bay.
Ka'anapali Beach is a really popular beach. It has big waves and the beach is angled down toward the water. Even though it's popular, I didn't think it was great for younger children.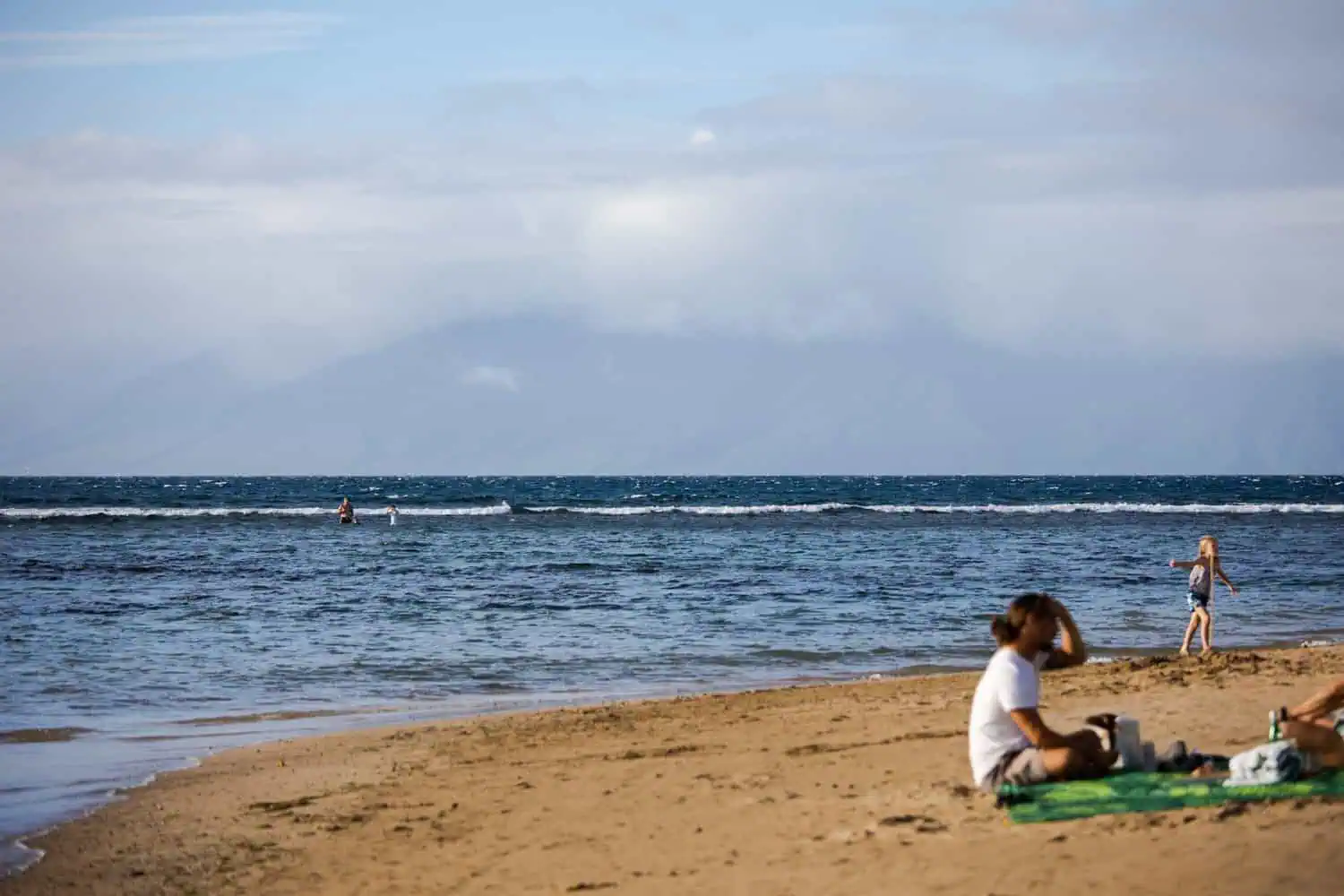 Maui Ocean Center – The aquarium was a big hit. There is a 3-d sphere experience with a pretty cool whale movie. He loved it…so much that he said it was the best part of Maui. The open ocean exhibit is really cool. When we walked through the tunnel the stingrays were swimming above our heads.
The ocean center has a lot of educational information. The aquarium is outdoors with many different buildings and exhibits. So if you go on a rainy day just know you will be in and out.
Reservations are required, so be sure to book your day and time before you go to Maui.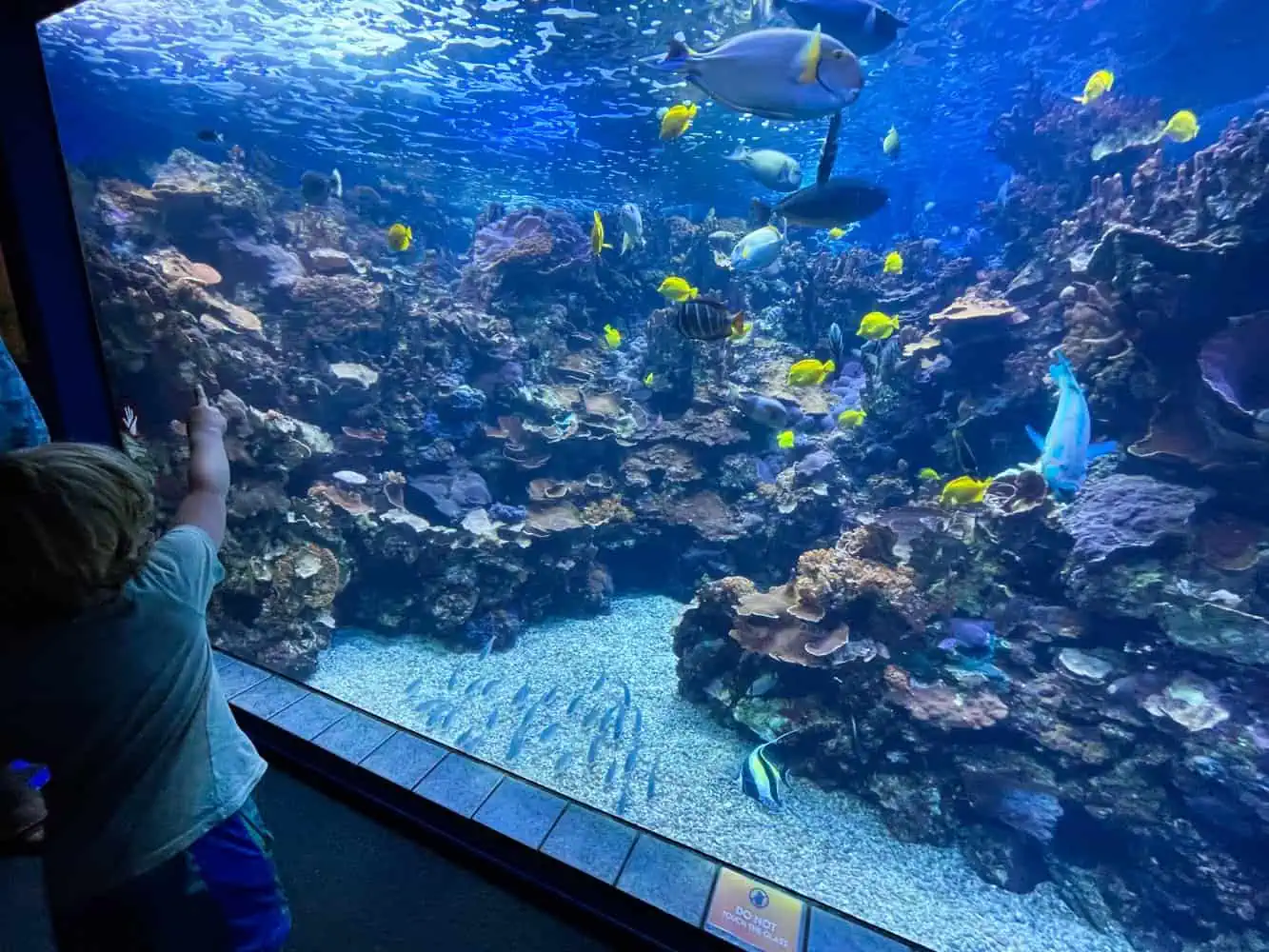 Ulupalakua Ranch Store – If you head south, you will slowly climb the mountain to 2,000ft. As you twist and turn, the foliage becomes greener and it almost feels like you're on a different island. Soon, you'll arrive at the famous elk farm in Maui. Here, you can try one of their famous grass-fed elk burgers. Seating is all outdoors, and alcohol consumption isn't allowed on the premises.
Up here, the air is a bit cooler and crisp, and the views of Molokini Crater and Maui are beautiful. Even if elk isn't your thing (there are other options), it's worth a few hours to head up here and enjoy the views and jungle-like scenery.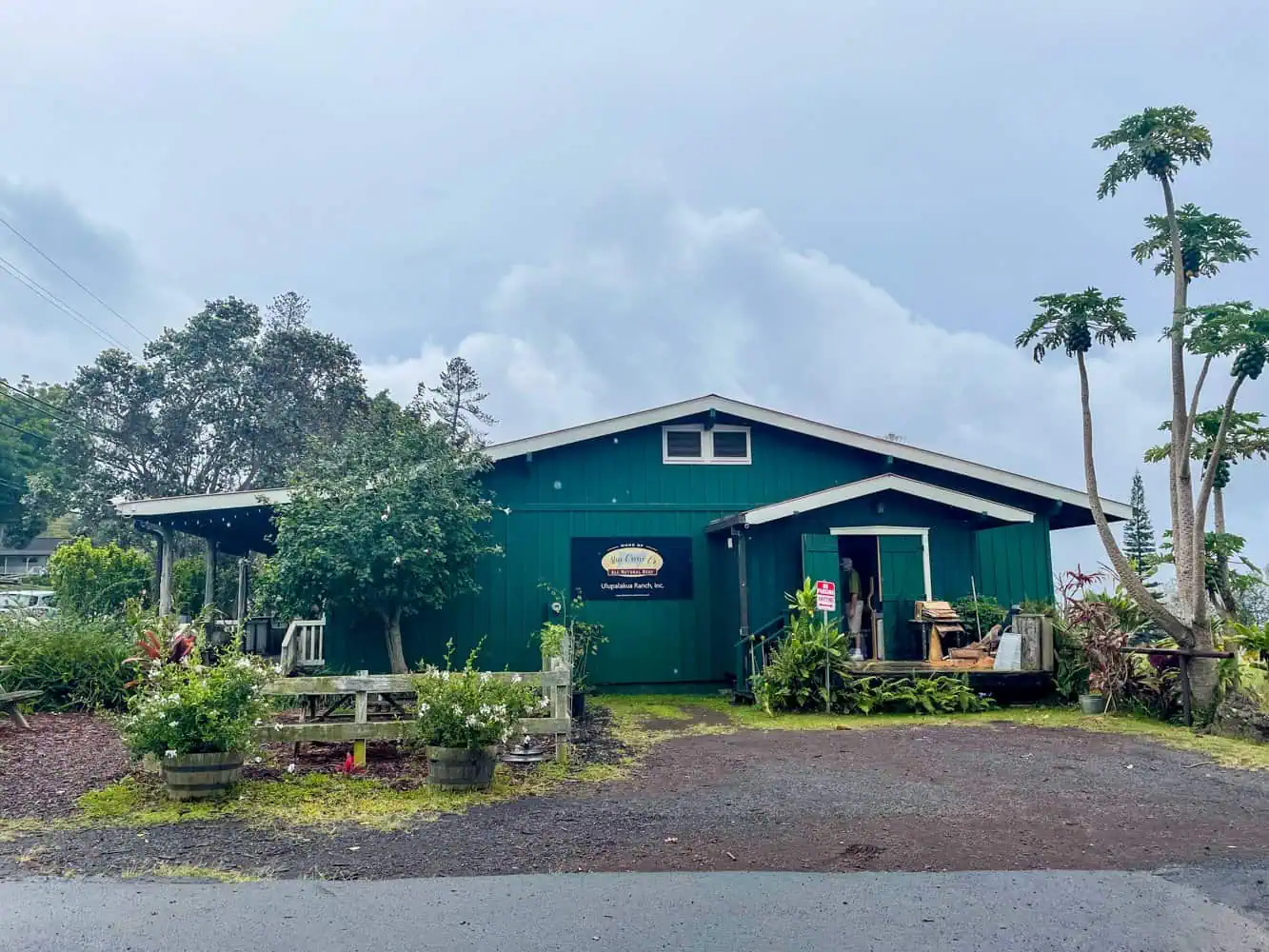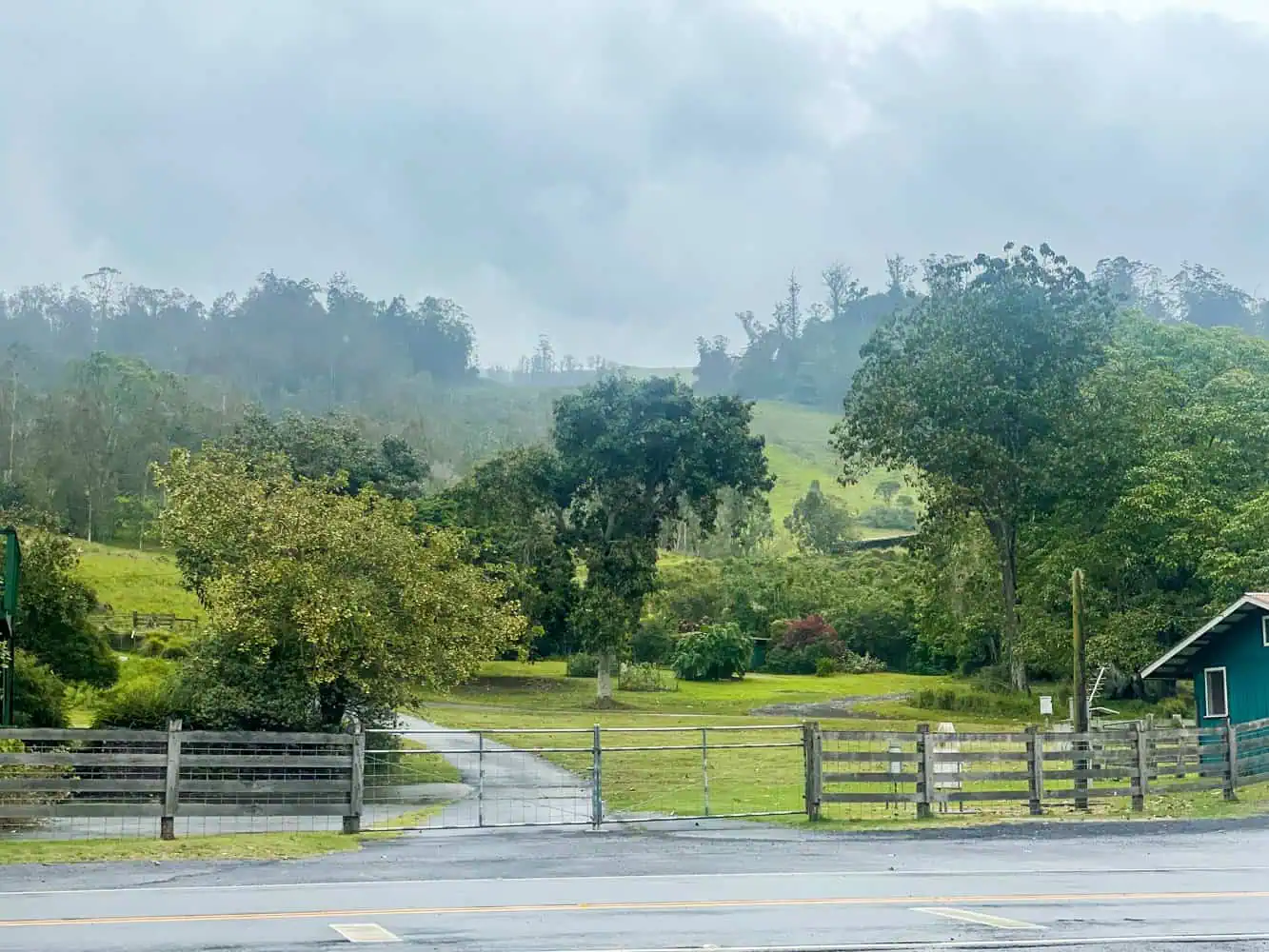 Maui Tropical Plantation Tour – We booked this on a whim one morning as we were looking for something new to do. I'm really glad we booked the tour, they take you on a small 'train' (on wheels, not a track) that weaves it's way through the plantation. They talk about everything they grow on the farm (macadamia nuts, avocados, pineapple, mango, coconut, etc) and stop for a coconut husking demonstration.
I was surprised at how informative this tour was and how much we enjoyed it. It also wasn't terribly long, which is a good thing with a 5-year old.
If you don't want to do the tour, I still recommend stopping by for a visit as there's a huge store called The Country Market. They sell a lot of their locally grown items and many local stuff from around the island.
---
More Maui Articles
Book Your Next Trip!
I am a born and raised Alaskan with a passion for travel. I've visited over 20 countries and lived in Europe for over 6 years. I have tried many different companies over the years and these are the ones I highly recommend.
Booking.com has not only hotels but also apartments and guest homes for rent. And, you can cancel most bookings close to your trip. Viator and GetYourGuide offer a wide range of tours and have flexible options as well.