20 Unforgettable Experiences in Alaska
Hey there!
This post may contain affiliate links, meaning I may be compensated if you click on one of my links, at no cost to you. As an Amazon Associate, I earn from qualifying purchases. Read my disclosure policy for more information.
Experiences in Alaska are like none other. In one day you can fly over the tallest mountain in North America, go dog mushing on a glacier, and eat a reindeer hot dog.
Many things are also larger than life, and I should warn you now that it's hard not to fall in love with Alaska. Many people come back to visit multiple times or even decide to move here right away (it happens more than you think!).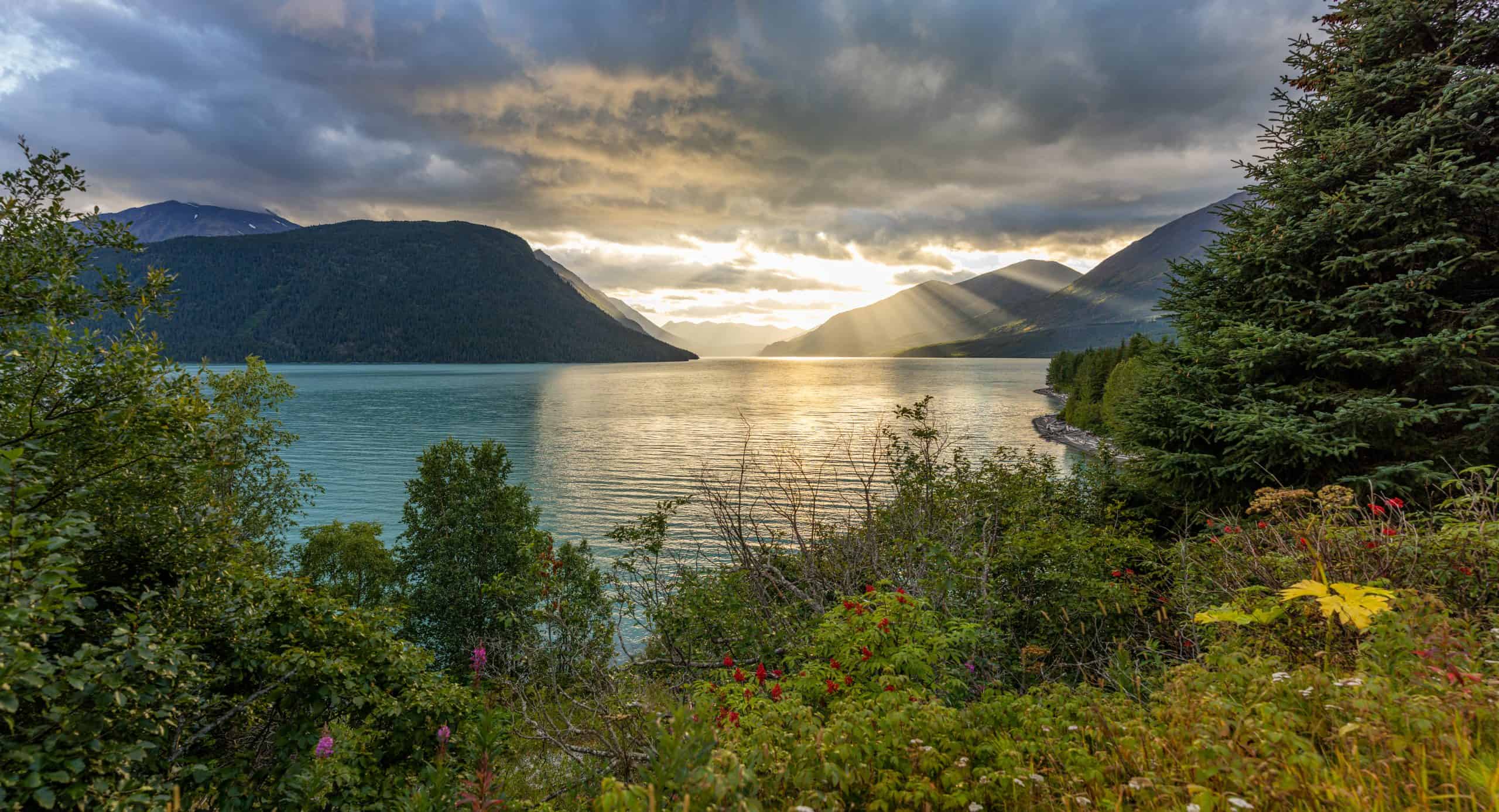 And with all these cool experiences, it's easy to see why.
Read on to find out twenty amazing and truly unforgettable experiences you can have in Alaska.
1. Dog mushing on a glacier
Dog mushing is a unique experience. Stepping on a glacier is a bucket list experience. So why not combine them for an ultimate once-in-a-lifetime adventure?!
There are quite a few places around Alaska where you can do this. The most popular spots are Palmer (Knik Glacier), Seward, Skagway, and Juneau.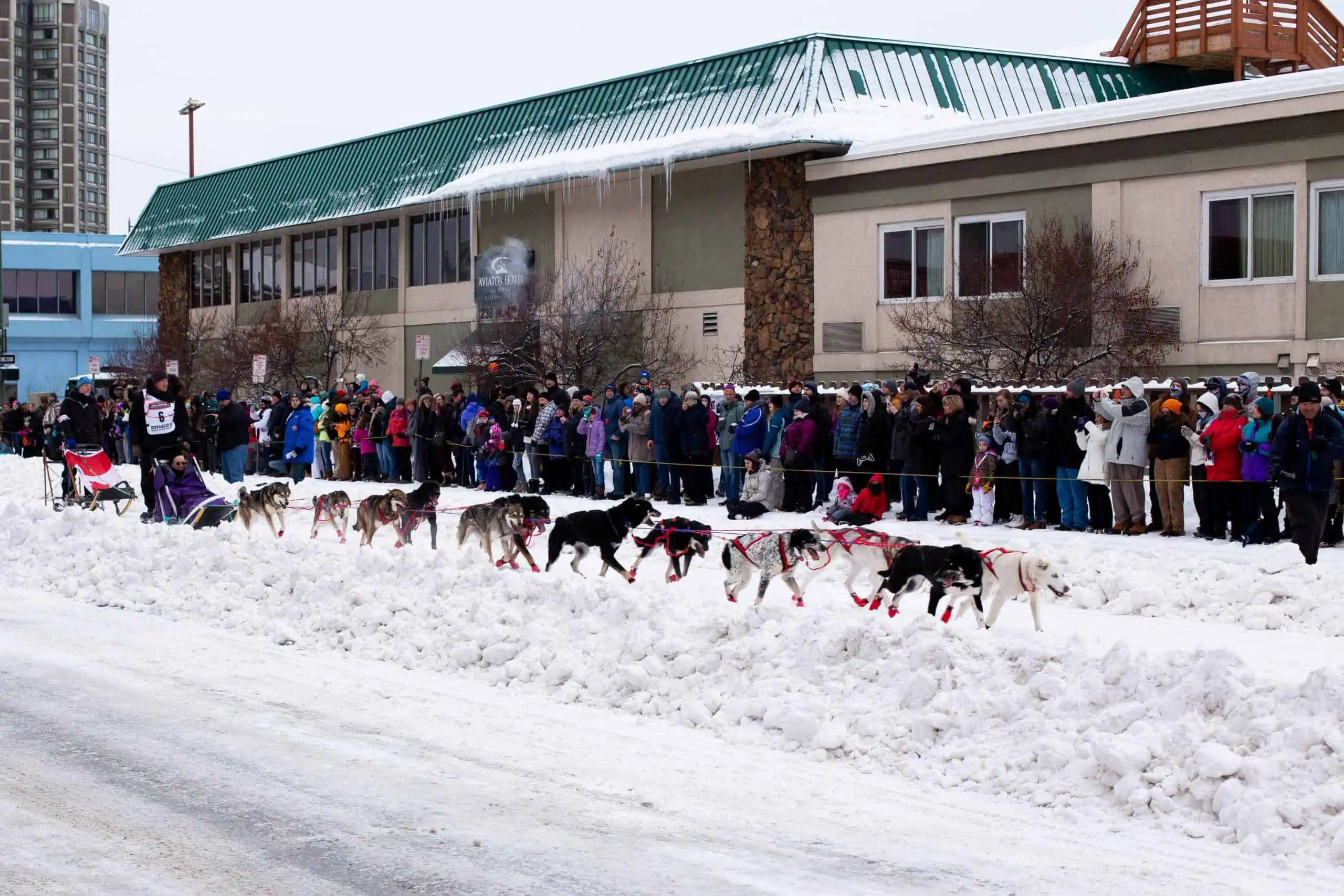 2. Whale watching in a fjord
If you've read any of my other articles, you'll know a whale watching cruise is my top-rated Alaska excursion.
And here's why.
It's typically not too expensive, especially for what you get. In Seward, for example, you can book a 5-6 hour boat cruise for $100-200. Children and active duty military typically have lower rates.
If you cruise from Seward or Whittier, you are bound to see plenty of other wildlife such as sea otters, puffins, seals, sea lions, eagles, and more.
You'll also likely see a few glaciers as well.
If you decide to book a glacier cruise, then you will likely spot whales and other wildlife on the way.
So really, whether you book a glacier cruise or whale watching cruise, you will get much more than you paid for.
I love the Major Marine tours from Seward. If it's mid-May to mid-June, they offer a limited time 5hr Orca Quest Cruise for about $100.
Last year the curious orcas were circling our boat and one young one decided to swim aside us for a few minutes. It was incredible! We also spotted humpback whales and visited a rocky area full of large sea lions.
But don't worry, if you miss this tour, the others are just as fantastic. I have also been on the Kenai Fjords National Park & Glacier Cruise, which is a fantastic 6-hour cruise with lunch included. They take you to see Holgate and Aialik Glaciers and stop at a few spots for wildlife viewing along the way.
The reason I love Major Marine is that they are fun yet professional. They're always working hard to ensure everyone has a chance to see wildlife and they go out of their way to find them. On board, there are snacks and drinks available for purchase. Be sure to try the glacier margarita, made with real glacier ice, if you get the chance!
3. Hike Inside a Glacial Ice Cave
Have you ever seen those really cool photos of people standing inside really large ice caves? Well, there is one spot in Alaska that's accessible by car and a short hike.
A quick safety note about ice caves – Ice caves are inherently dangerous; glaciers shift (glacial calving), ice moves, rocks, and debris fall, so please know that it is dangerous. I'd recommend sticking to the outside of the ice cave area and not going in too far. But things can happen anywhere inside and near an ice cave.
Late winter is typically a better time to visit as things are well frozen over and less likely to shift. However, many people visit these caves in the summer as well.
Also note that these ice caves move, collapse, and change from year to year. So what may be there now could change in a few years.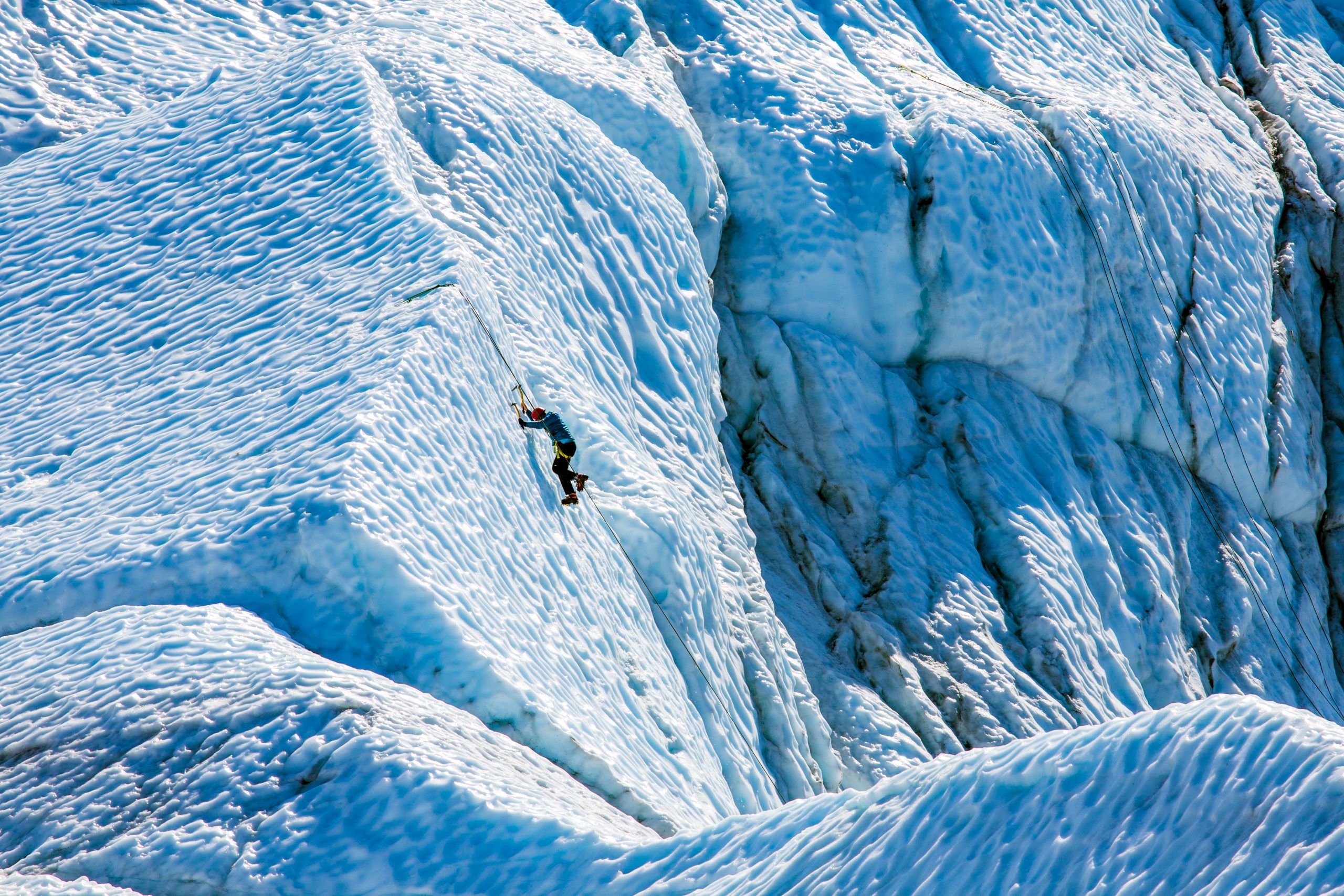 Okay, enough of the safety briefing.
The main ice cave you can drive to is the Castner Ice Cave. It's about a 2 1/2 – 3 hour drive one way from Fairbanks. You can also drive up from Anchorage. The drive is absolutely beautiful, but it takes about 5 hours to get there.
The closest town is Delta Junction, it's about an hour away and has a population of about 950. So, plan your food, gas, etc accordingly. Here is the AllTrails link to the 2.6-mile out and back hike to the Castner Ice Caves.
You don't need a guide to visit the ice cave.
There used to be a popular ice cave at Byron Glacier (near Anchorage), but it collapsed recently.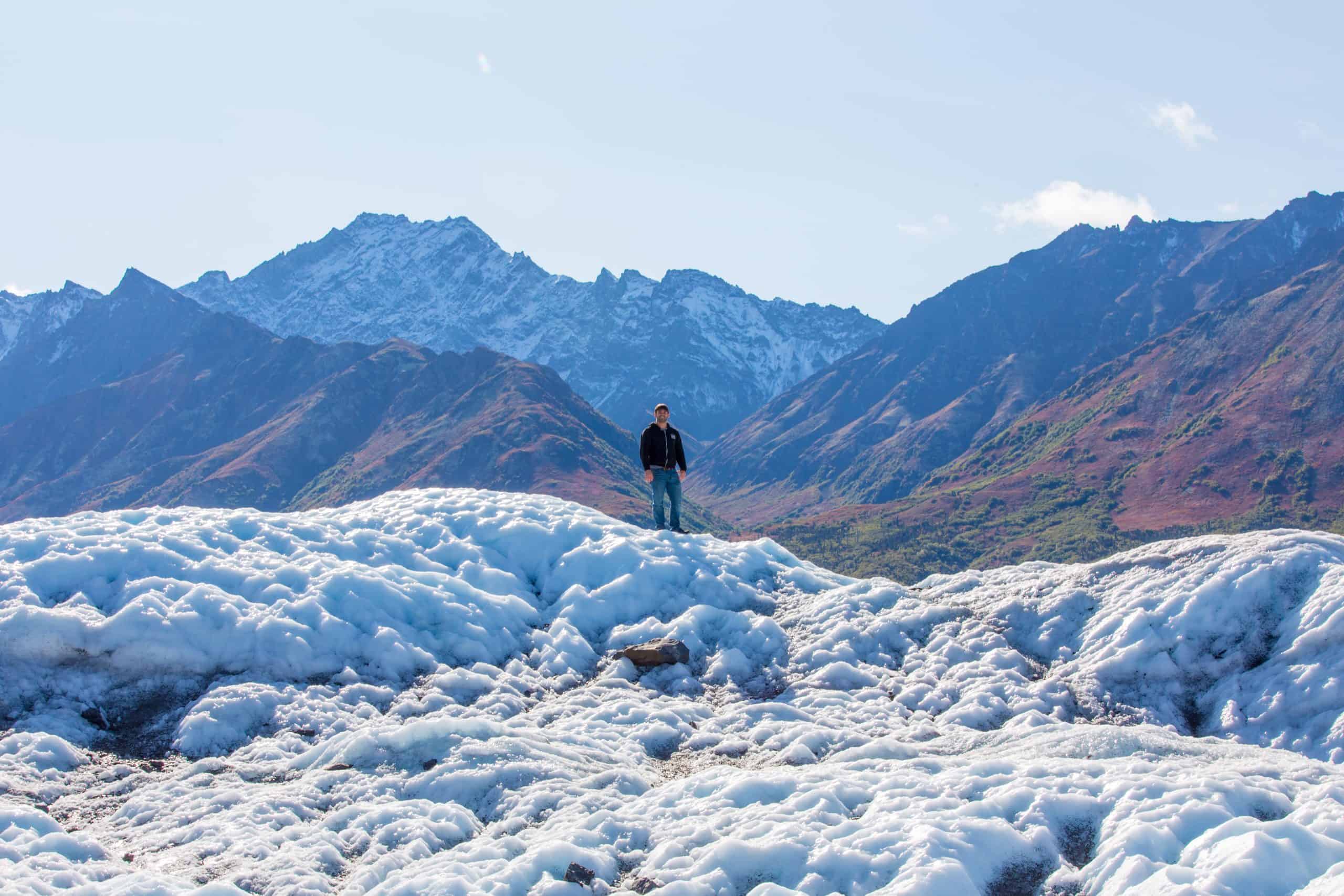 4. Fly over the Tallest Mountain in North America
Many people visit Alaska to see the almighty Denali (formerly Mt. McKinley). This is the tallest mountain in North America that sits over 20,000ft high. It's an incredible sight to see.
The mountain is so large that it has its own weather system. Because of this, the mountain is visible from the ground only about 30% of the time.
To better your chances, I recommend booking a flightseeing tour over Denali. You also have the option to land on a glacier. These tours depart from Talkeetna which is a cute and historic town about two hours north of Anchorage.
I recommend booking with K2 Aviation. They have been in service for years and have a fantastic reputation for safety and service.
If you plan to visit Denali National Park, you can take a flightseeing tour from here as well. This one is highly rated and operated by Denali Air.
5. Catch Larger-than-Life Fish
The largest pacific halibut ever caught was in Seward, Alaska. Homer is known as the halibut capital of the world, and all along the Kenai Peninsula, there are fantastic fishing opportunities. There are many charters and the most popular spots are Homer, Ninilchik, Deep Creek, and Seward.
The Kenai River is famous for salmon fishing but you can also catch salmon at the spots listed above. I recommend booking a charter for the best chances of catching fish.
6. Experience Running with the Reindeer
At the end of February, Alaska has a large winter festival in Anchorage called Fur Rendezvous. When Anchorage was just a tiny population of 3,000 in the 1930's, they decided to have a festival that would coincide with the miners and trappers that would bring fur to town. There were sporting events and the whole town turned out for the event.
Fast forward to today and it's grown into a large winter carnival with many events. It's a nice way to break up the dark and cold winter days.
A few newer events have gained a lot of popularity over the years. This includes the outhouse races and the running of the reindeer.
The running of the reindeer is simply as it sounds; people race alongside reindeer in downtown Anchorage. Consider it Alaska's version of running with the bulls.
7. Drive through the Longest Railroad-Highway Tunnel in North America
If you want to visit the town of Whittier, the only way to get there with a vehicle is through a 2.7-mile-long tunnel. While not the longest tunnel in North America, it does hold the title of the longest railroad-highway tunnel. This means that it shares the tunnel with the Alaska Railroad.
It's a one-way tunnel and runs on a schedule, which is typically every hour from either side. So to get to Whittier you'll need to get there a few minutes early and wait your turn to go through the tunnel. Here's the schedule to plan your trip.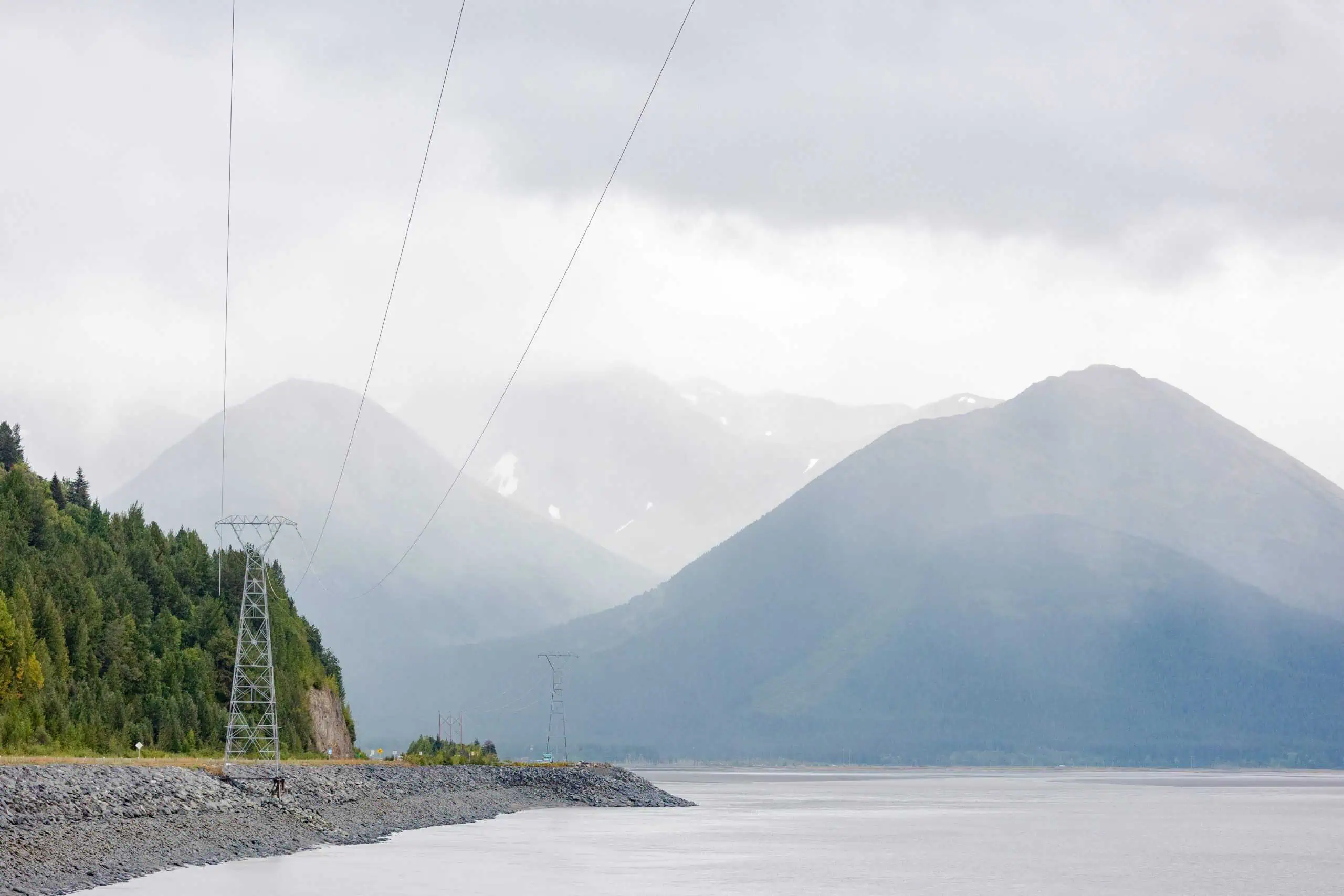 8. Hike the Northernmost Rainforest in the US
Alaska is home to many things, but one that many people may not realize is that it's also home to the largest temperate rainforest in the world. Most of Southeast Alaska is surrounded by the Tongass National Forest.
So if you visit any of the Southeast towns – Juneau, Skagway, Yakutat, Ketchikan – then you will be surrounded by this lush forest!
The other national forest (which is the second largest in the US next to the Tongass) is the Chugach National Forest. It starts just south of Anchorage and extends down to Seward and east to Cordova. If you hike Tonsina Trail you'll see why it's such a pretty forest to explore.
9. Kiss a Moose
Yes, you read that right, you can kiss a moose while you're here! If you fly into Anchorage, drive about an hour north to Palmer. There's a Reindeer Farm that does tours by reservation. You also have the chance to kiss a moose at the farm.
Please don't try this in the wild…it will not end well.
10. See one of the Seven Natural Wonders of the World
The Northern Lights, or Aurora Borealis, are something to be witnessed in person. It's a phenomenon that occurs due to the sun releasing charged particles that collide with Earth's atmosphere.
There are two things that are really necessary to see the northern lights; 1. Clear Skies and 2. Dark skies meaning little to no light pollution.
In Alaska and much of the northern hemisphere, the lights can be seen from October to April.
The best places to see northern lights in Alaska is between Talkeetna and Fairbanks. You can see the lights around many other areas of the state, but the further south you go, the less likely you are to see them.
Chena Hot Springs and Borealis Base Camp run popular tours near Fairbanks. There are also many other local companies running private and group tours.
Near Anchorage, you can book a tour with Greatland Adventures or Alaska Photo Treks. They'll take you away from the city lights and know the best spots to go to.
While the photos look amazing, it's something you need to see in real life!
11. Experience the Arctic Circle
There are only 8 countries with land in the Arctic circle, and Alaska is the only place in the U.S. you can go for this unique experience. The Arctic Circle is an imaginary circle that forms the line where the sun doesn't rise on Winter Solstice (Dec 21) and doesn't set on Summer Solstice (June 21).
For Alaska, this line starts about 115 miles north of Fairbanks. I recommend this tour with Northern Alaska Tour Company to check this off your bucket list and get your Arctic Circle Certificate!
12. Go on a Snowmobile Tour
If you are brave enough to visit Alaska in the winter, I highly recommend a snowmobile tour (it's called a snowmachine or sled in Alaska). Snowmachines are a fun way to get some adrenaline going and see a lot of landscapes in a short time. Riders can comfortably go 45-55mph on a flat area.
Anchorage and Fairbanks offer many tours in the area. I like this one near Anchorage with Snowhook Adventures as it combines dog sledding with snowmachining.
If you are heading to Fairbanks, I would do this one-hour tour with Alaska Wildlife Guides.
There are many other options as well and I recommend a Google search of the area you plan to visit.
If you already know how to ride, you can rent snowmachines and head to Petersville (about 2 1/2hrs north of Anchorage). There's a parking area where you can unload your machine and head out on the miles of groomed trails for a fun day of riding. In this area, north of Talkeetna, you can take in wonderful views of Denali on a clear day (see below). I only recommend this if you know what you're doing and have safety equipment such as shovels, a GPS, and extra equipment in case you can't get back.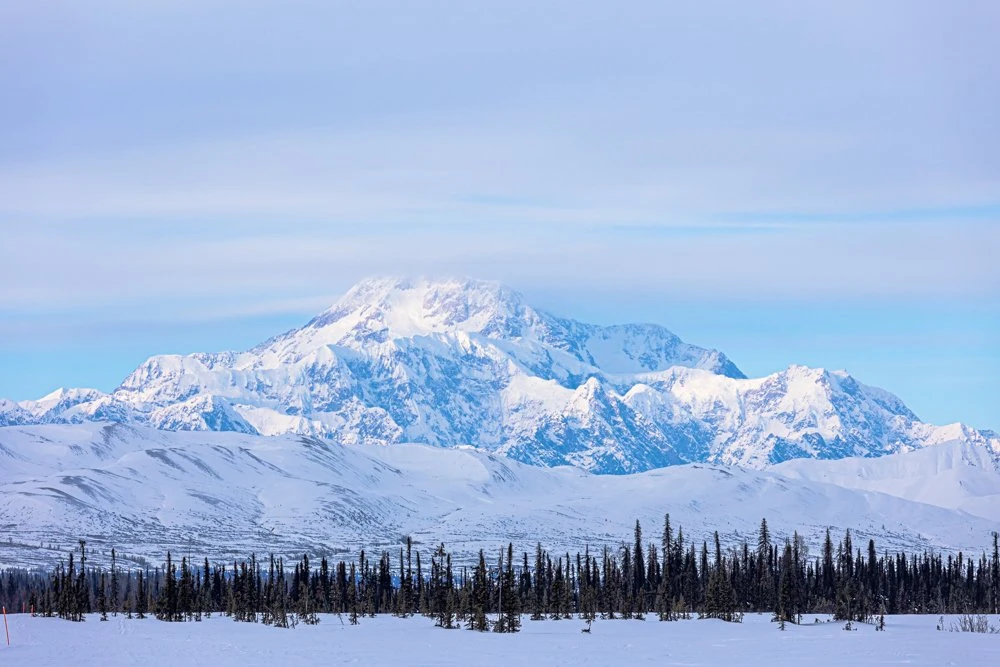 13. Take an ATV to a glacier
About an hour north of Anchorage lies the 25-mile-long Knik Glacier. It isn't accessible by car, but you can take an ATV or jeep to get there. Alaska Backcountry Adventure Tours runs an ATV day trip and will pick you up in Anchorage.
14. Heli-ski in Alaska's Backcountry
For the more extreme sport-minded, book a heli-skiing (or snowboarding) trip. There are many tour outfitters in and around the Anchorage area. If you have a lot of money to budget, you could look at the exclusive Tordrillo Mountain Lodge.
15. Eat at a luxury restaurant on an Alaskan island
Halibut Cove is a small island located across Kachemak Bay in Homer. Here you'll spot all sorts of wildlife including sea otters, porpoises, and even whales. The cove has a small boardwalk with a few shops and a cafe.
Also here you'll find The Saltry, a fine dining restaurant with stunning views of the bay. It's open seasonally in the summer and the only way to get there is by boat. Seating is all outside so be prepared for rain or shine!
You can book everything directly through the restaurant website itself, and you can even add a tour of Gull Island as well.
16. Kayak alongside whales and other larger than life animals
Alaska is a fantastic place for sea kayaking. In Seward, there are a few cabins and lodges in nearby coves across the bay that makes for a unique experience.
Kayaker's Cove is just a short boat ride away and they provide all the kayaks and gear during your stay.
It's also easy to book a kayak trip from the shores as well. This kayak tour with Sunny Cove Kayaking leaves from Seward and you are guaranteed to see some wildlife such as sea lions, seals, and whales.
But Seward isn't the only place to kayak. Homer, Whittier, Valdez, Kechikan, and Juneau are also great spots to get out on the water.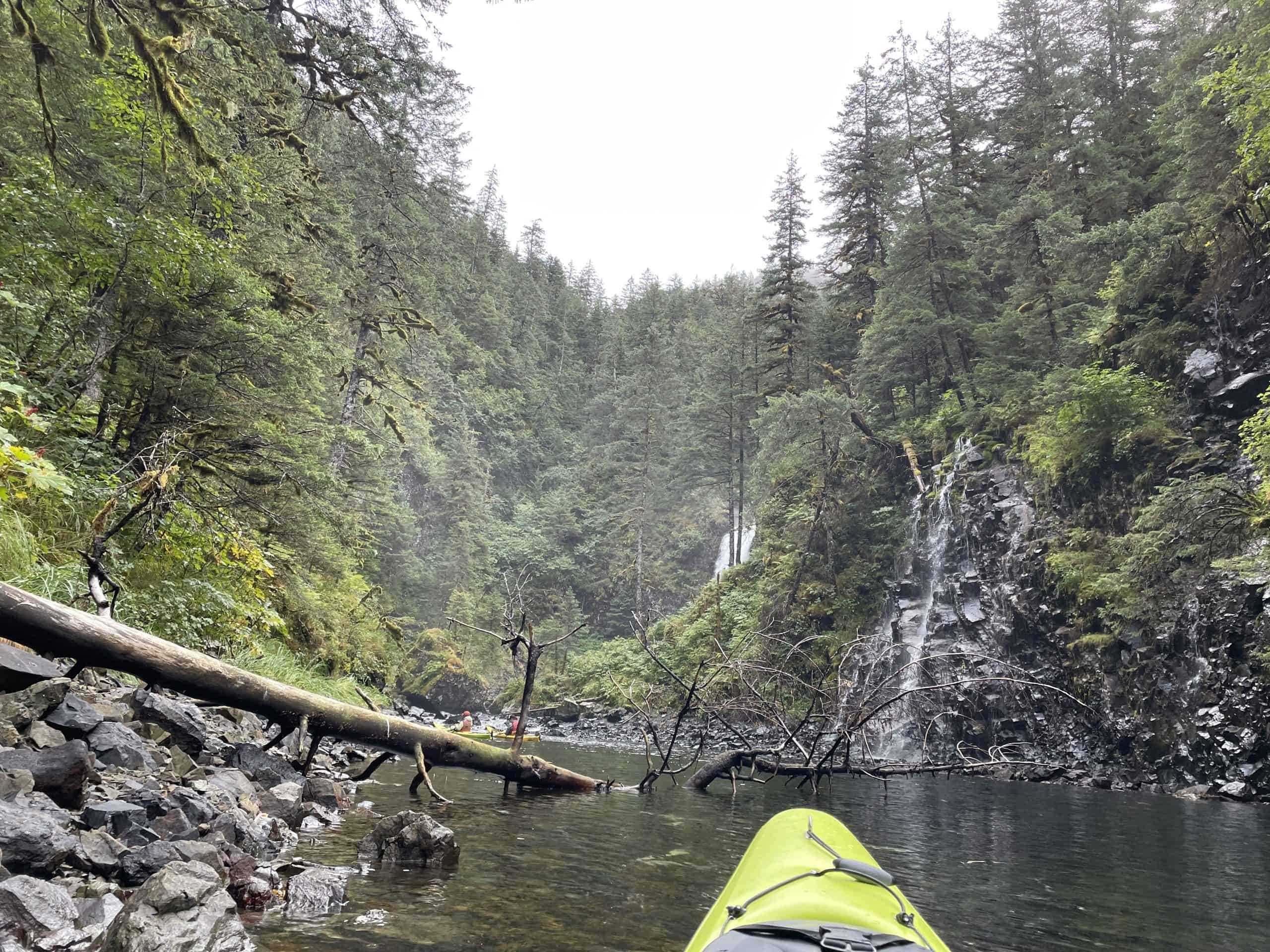 17. See Kodiak Brown Bears, the largest bears in the world
Just a quick plane ride from Anchorage or Homer will bring you to some of the best bear viewings in the world. Katmai National Park is home to Brooks Falls, the famous spot where you can watch brown bears catch fish heading upriver.
There are other fantastic bear viewing activities around Katmai and also at the nearby Lake Clark National Park. To see the largest bears in the world, head to Kodiak Island to see the massive Kodiak Bears, a unique subspecies of brown bears.
18. Watch the Last Great Race on Earth
The Iditarod is Alaska's famous sled dog race.
Dog sledding has deep roots in Alaska and has been a means of transportation for over a hundred years. The Iditarod Race was inspired by the 1925 diphtheria outbreak in the small village of Nome. Dog mushers raced the 1,049 miles from Anchorage to Nome and ultimately saved thousands of children.
The official Iditarod was established in 1973, in large part to preserve Alaska's history of sled dogs and dog mushing as a means of transport.
The Iditarod is the last event of Fur Rendezvous, a large winter carnival held every year that kicks off at the end of February.
19. Strike it Rich with Gold
Much of Alaska's infrastructure can be attributed to the famous Gold Rush in the late 1800's. Today, there are still many places where you can try your hand at gold panning. Near Anchorage, you can visit Crow Creek Mine or Indian Valley Mine, and there are many other mines around the state.
20. Ride the Alaska Railroad
The Alaska Railroad is the only railroad that operates in the state. They offer unique tours including the Aurora Winter Train between Anchorage to Fairbanks.
The Coastal Classic Train was named one of the top ten train rides by National Geographic. This train runs during the summer running from Anchorage to Seward. Once in Seward, you have about 6 hours to either take a whale watching & glacier tour or spend the day exploring the town and trying new foods.
From shore, you'll likely still be able to spot some wildlife such as sea lions, sea otters, seals, and even whales.
Read More Alaska Articles