The Top Things to Do in Esslingen am Neckar [Germany] & Why You Should Visit
Hey there!
This post may contain affiliate links, meaning I may be compensated if you click on one of my links, at no cost to you. As an Amazon Associate, I earn from qualifying purchases. Read my disclosure policy for more information.
Before I ever visited Germany, Esslingen am Neckar wasn't on my radar. Not remotely. But once we moved to Stuttgart I quickly realized how unique this historic town really is.
It is so quintessential Germany that it's easy to feel like you're in a German fairytale. The large old town is lined with half-timbered homes, many so old that they are often leaning on one another (if it appears they're leaning…they're actually leaning!).
And this town is steeped in history. It's believed that people inhabited this area in the Neolithic age.
Esslingen was first mentioned back in 777. It was an important trade route during the Holy Roman Empire, and many battles were fought to maintain its independence.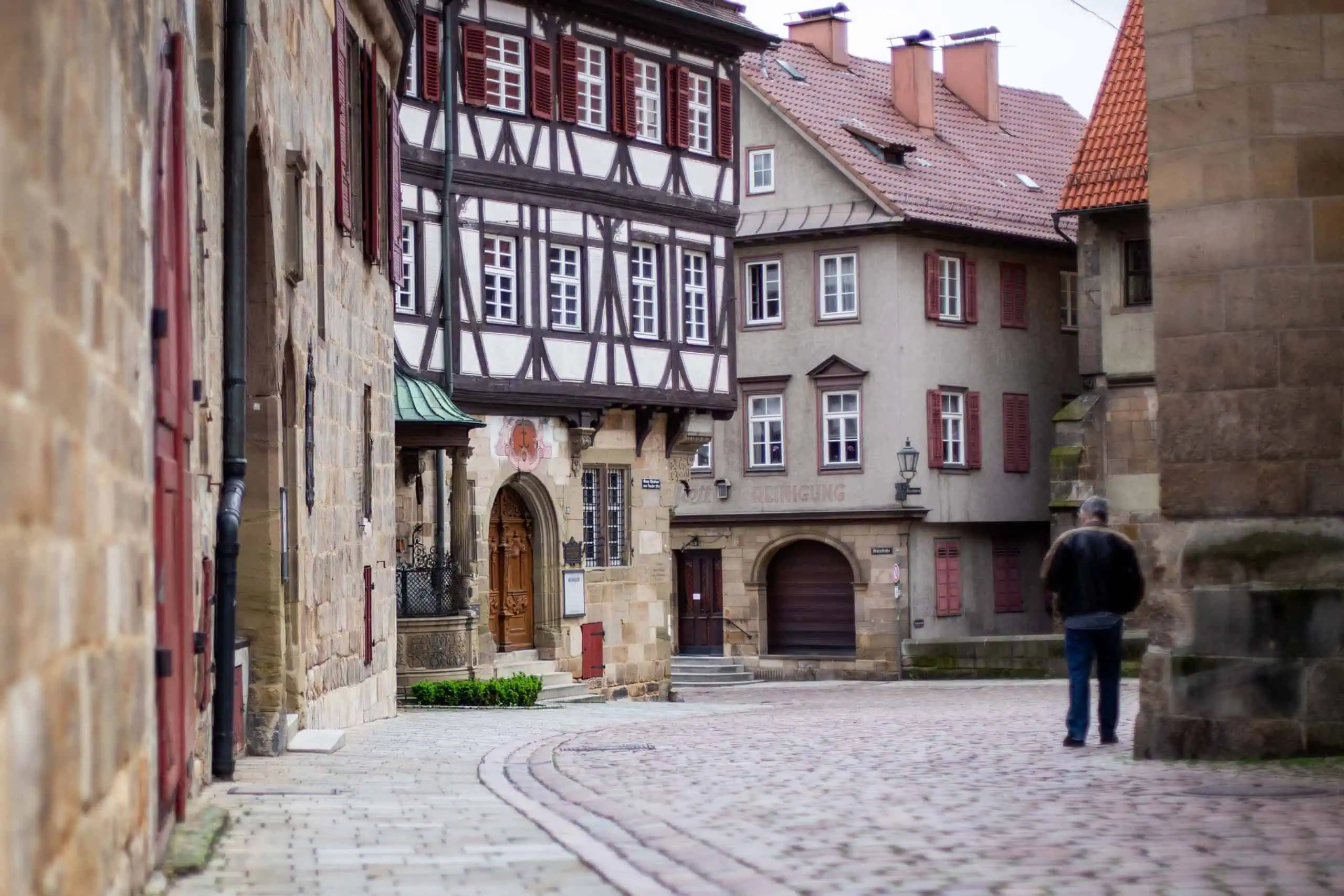 Surrounding the town are hilly vineyards with steep castle wall steps leading you to the Esslinger Burg (castle) overlooking the town below.
And throughout the vineyards are walking trails and many different types of wine.
Prices around town are reasonable due to the large student population here.
I visited Esslingen often over my six years living there. I had friends who lived directly in the old town (Altstadt) on the fourth floor overlooking the streets below, so we were always making the short drive there.
How Long Do You Need in Esslingen?
The top things to do are condensed around the Altstadt (old town). If you decide to do all the activities in the area, at least a half-day is needed to really explore the town.
If you love small towns and enjoy taking your time, you could spend a night or two here.
Esslingen also makes a great base for Stuttgart. The town is well away from the city bustle but is still on the S-Bahn and only 6 stops from the main train station (Hauptbahnhof) in Stuttgart.
Best Things to Do in Esslingen am Neckar
Visit the Kessler Sekt
Sekt in Germany means champagne, or sparkling wine, since technically champagne is only produced in the Champagne region of France.
The building itself is worth checking out (it's near the Rathaus or city hall in the center). You can walk in and purchase sekt.
This particular producer happens to be the oldest in Germany. I've tried many of their sparkling wines and can verify that they make some damn good sekt.
There are also tours available by appointment. I believe they're all in German, but I've heard they sometimes offer them in English. You can check their site here to see the tour options and contact information.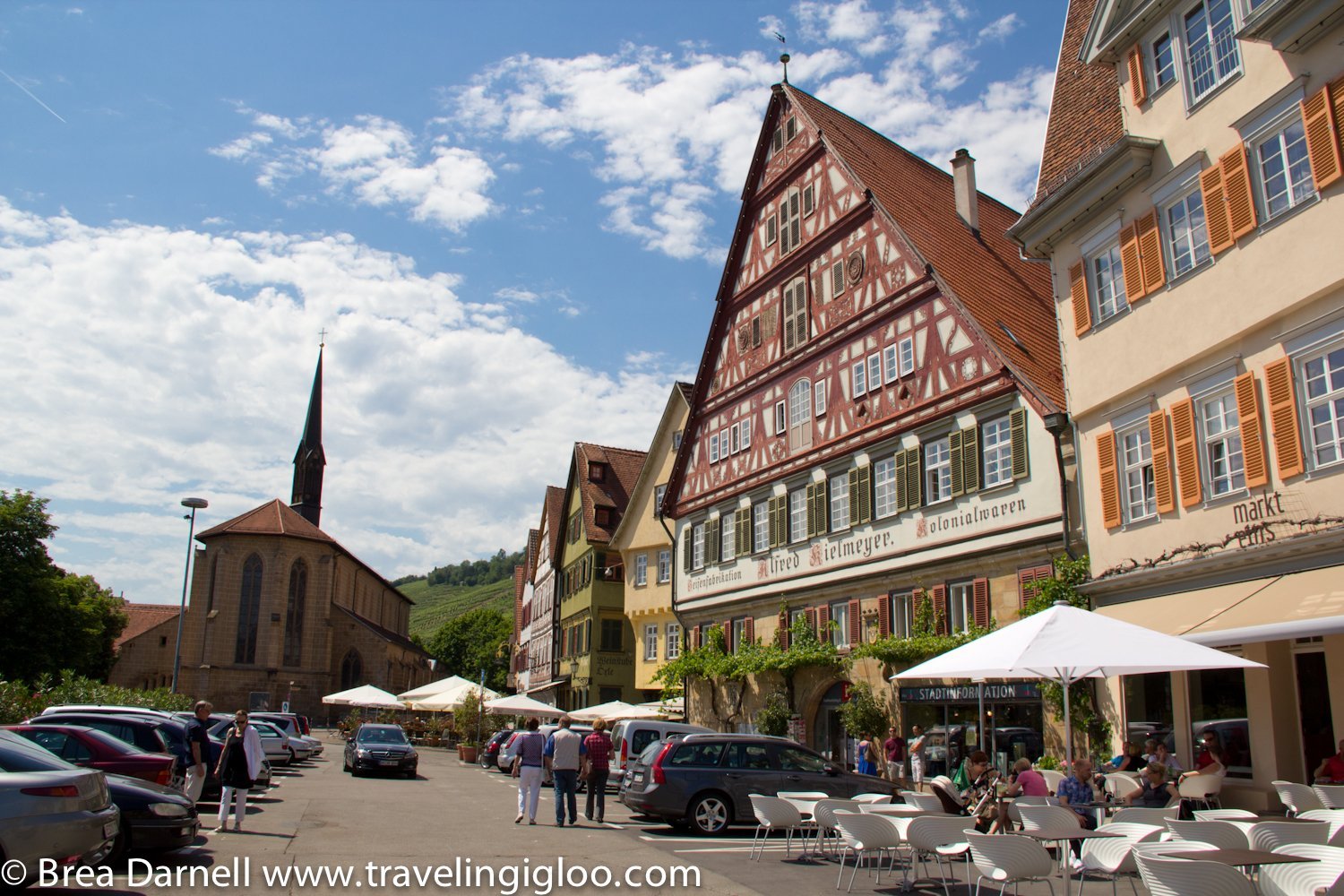 Walk to the Castle (Esslinger Burg)
Esslinger Burg sits prominently above the town of Esslingen am Neckar. It serves as part of the skyline of this beautiful town.
Much of the castle is still original, and once you reach the castle area you are rewarded with beautiful views below.
From the Rathaus, walk under Augustiner Str. and head right up the hill. There are many covered steps as you make your way along the wall.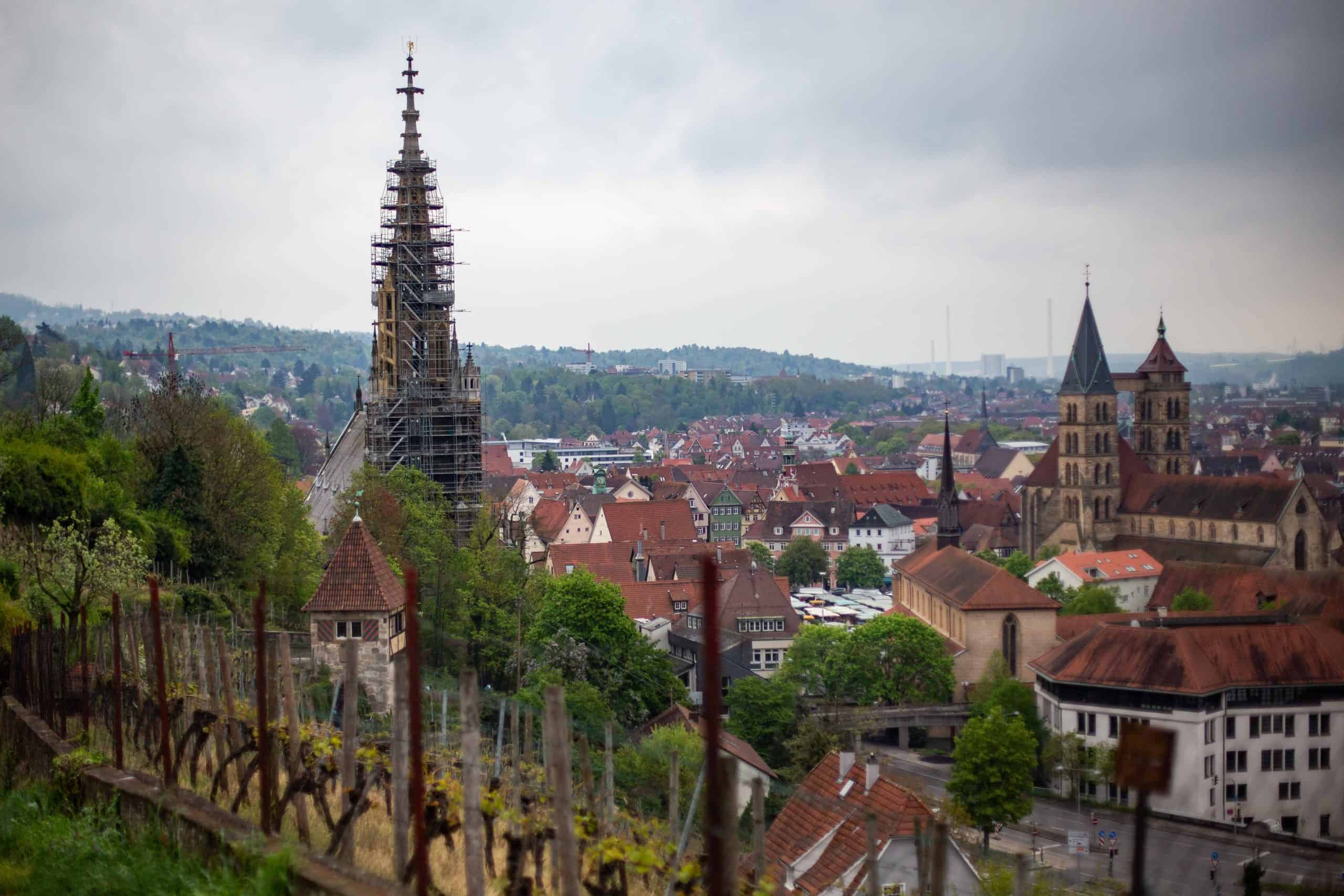 Explore the Altstadt
Most towns in Germany have an Altstadt, or old town. Some are small, some are larger, and some are so pretty you find yourself visiting again and again. Esslingen is most certainly the latter.
The Neckar River runs through Esslingen, and through the old town, smaller canals from the river weave their way through. It even has a name, Klein Venedig (little Venice). There are even some homes only accessible by a bridge over these canals.
There are centuries-old water mills and fountains in the area.
Throughout the old town, you'll see the typical cobblestone streets. There are many interesting shops, college bars, a large park in the center, and many original half-timber homes.
Half-Timbered Homes
Esslingen was spared during WWI and WWII, so these homes are original, dating back to the 13th century. The oldest building in Esslingen is Webergasse 8, in the Altstadt.
In fact, Esslingen has the oldest surviving row of half-timbered homes in Germany (found at Hafenmarkt 4-10) which were built between 1328-1331.
These buildings are so old that they lean on one another for support. So if they don't quite appear level, there's a good chance they're not.
Important Buildings in the Altstadt
Don't miss these other stunning structures in the Altstadt:
Altes Rathaus
This former Rathaus, or town hall, is the most impressive I've ever seen. It was built in 1422. The front facade was redesigned in the Renaissance style, and the surrounding sides are the typical half-timbered style you see elsewhere.
Frauenkirche
This 'Church of our Lady' is one of the most impressive Gothic-style churches in the region.
Stadtkirche St. Diony's
Dating back to the 14th century, this is one of the oldest churches in the area. It's nearly next to the Altes Rathaus, in the town square, and has a bridge high up connecting the two towers.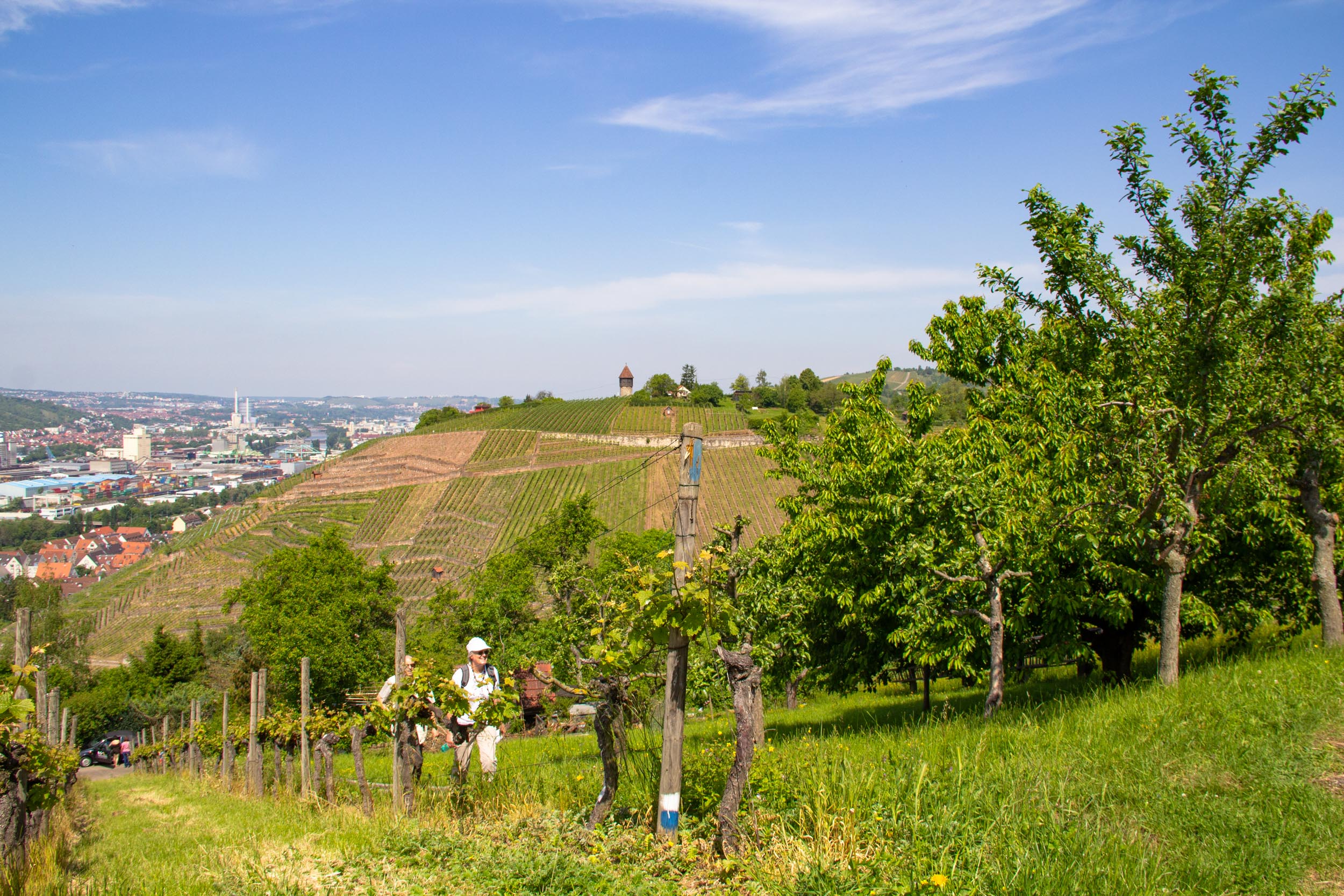 Tierpark Nymphaea
There's a small animal park (tierpark) in Esslingen that's fun for the kids. The entire park is less than 8 acres on an island between the winding Neckar. There are four lakes and many beautiful trees inside.
There are ponies, an outdoor terrarium, and many small animals throughout the park. If you have children, it's a great way to spend a morning or afternoon.
And of course, there's a biergarten here too.
Top Festivals & Events in Esslingen
If you're curious about all the best festivals around Stuttgart, you can read all about them here.
Esslingein Wine Walk (Weinwanderweg)
Every May, Esslingen has a large wine walk throughout the hilly vineyards surrounding the town.
I've been on this wine walk five times, so I'm basically a pro at this point (not sure what this says about me – I like wine?). Wine walks are pretty popular all around Stuttgart, and this one is the largest.
This wine walk has become hugely popular, so it gets really crowded. If you can, I recommend taking the S-Bahn as the train station stops near the start of the wine walk. If you decide to drive, leave early to find parking.
The wine walk takes a few hours, so I recommend bringing a backpack with water, snacks, sunscreen, a light rain jacket, sunglasses, a hat, and any other essentials you might want to have on hand.
There are a few bands throughout the vineyards and lots and lots of wine tastings. At the end, there's a building with even more wine and food as well.
Erdbeer (Strawberry) Festival
The Annual Strawberry Festival is held the last weekend of May each year. It's a small festival celebrating everything strawberries. It lines just a few streets and can get pretty busy in the afternoon. Although it's a small festival (just a few streets lined with vendors), I have visited many times over the years.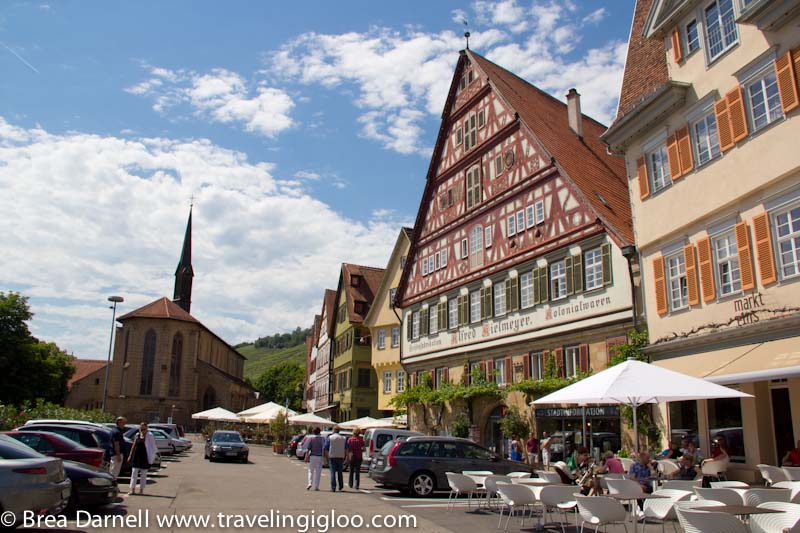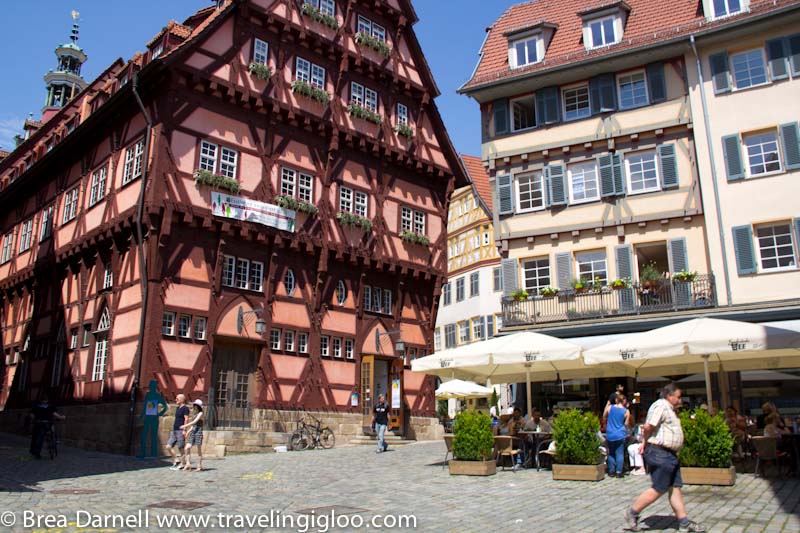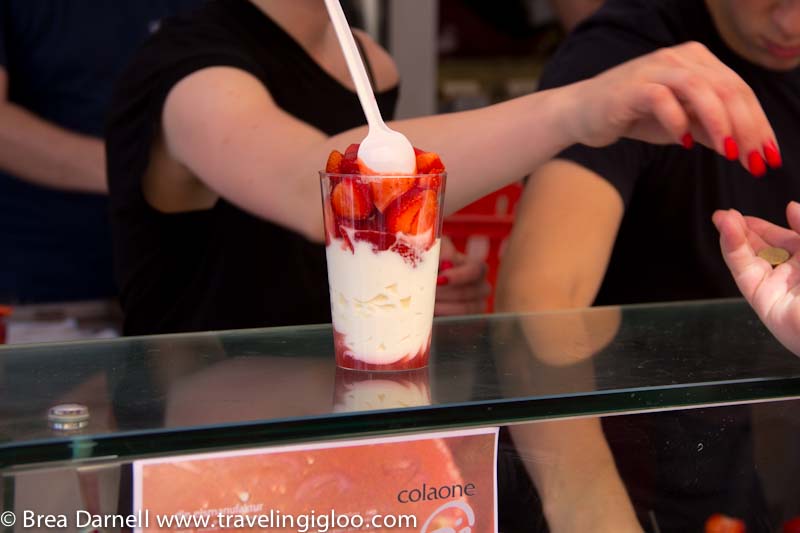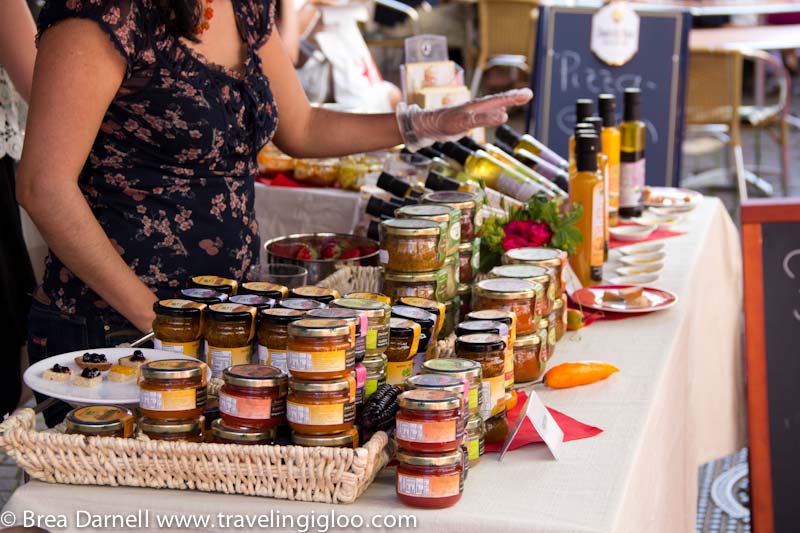 Esslingen Zwiebelfest (Onion Festival)
The Zwiebelfest is another small food festival held annually in Esslingen. This time the celebration is for everything onion.
The tale goes that many years ago a woman drove the devil out of town by giving him an onion instead of an apple.
Esslingen Mittelaltermarkt (Medieval) Christmas Market
There are so many hyperbole I want to use to describe this market, but I think the best way to sum it up is that this is the best Christmas market in Germany.
There's no way around it.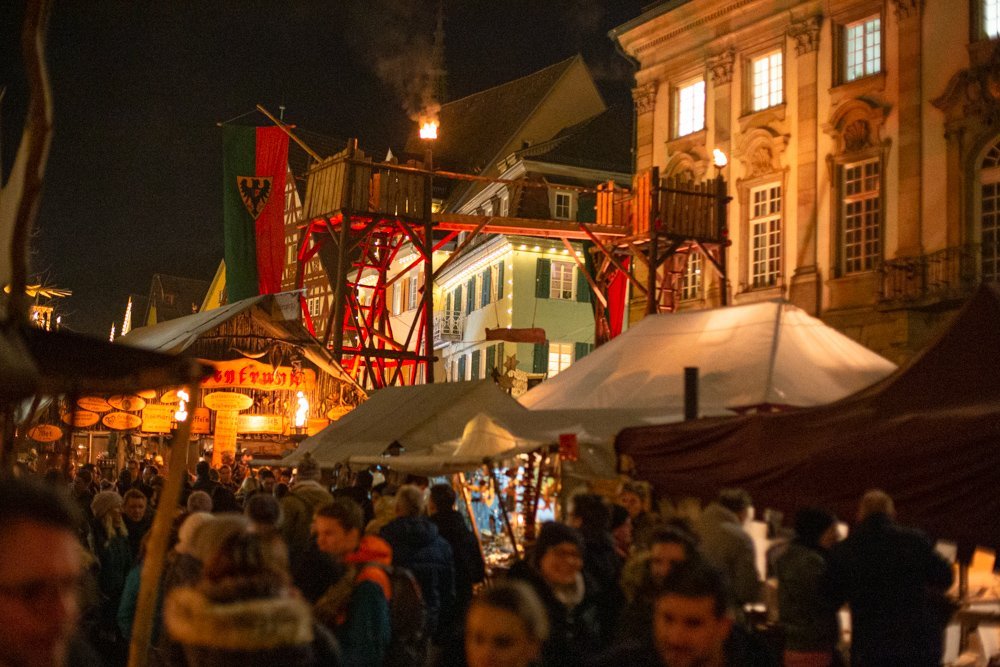 I've been to my fair share of markets over the years. I am absolutely in love with Christmas markets in Germany, almost to an obsession.
I've been to a Christmas market in a castle (Hohenzollern), the Heidelberg Christmas market, nearly every market in the French Alsace region, the Dresden Christmas market, the Stuttgart Christmas market more times than I can count, and many other around Germany.
And Esslingen has the best.
There's a medieval twist to the market that makes it incredibly unique. Every detail is thought out. There are actors dressed in medieval attire, walking the streets (some barefoot! In December!). There's a hand turned ferris wheel. There are fire shows. There's barrel saunas with naked people getting in and out.
It's all awesome. It's amazing. You have to go.
Where to Stay in Esslingen am Neckar
I recommend staying right in the Altstadt (old town). This is my personal pick for Esslingen; it's centrally located and check-in is simple.
If you want something a bit bigger and more modern, these apartments are highly rated and just outside the Altstadt. They have a/c, it's close to the train station, and also near a grocery store.