Should I Visit Seward or Homer Alaska (or both)?
Hey there!
This post may contain affiliate links, meaning I may be compensated if you click on one of my links, at no cost to you. As an Amazon Associate, I earn from qualifying purchases. Read my disclosure policy for more information.
A question I get quite often is whether to focus your time on Seward or Homer. It's a valid question as they share quite a few similarities, but when you look closely, they are quite different.
In this article, I've answered every question to guide your decision.
Seward vs Homer: Overall Impressions
When looking at the general information, both Homer and Seward share a lot of similarities. They're both set on large bodies of water, they're both small towns, fishing is a popular sport, and they're both beautiful. But once you look a little closer you can see that they're actually much different.
Although it's called Resurrection Bay, Seward is actually set in a deep fjord that tops out at 942 feet! It is surrounded by mountains giving the scenery a more dramatic feel. The town is small and compact and is mostly walkable.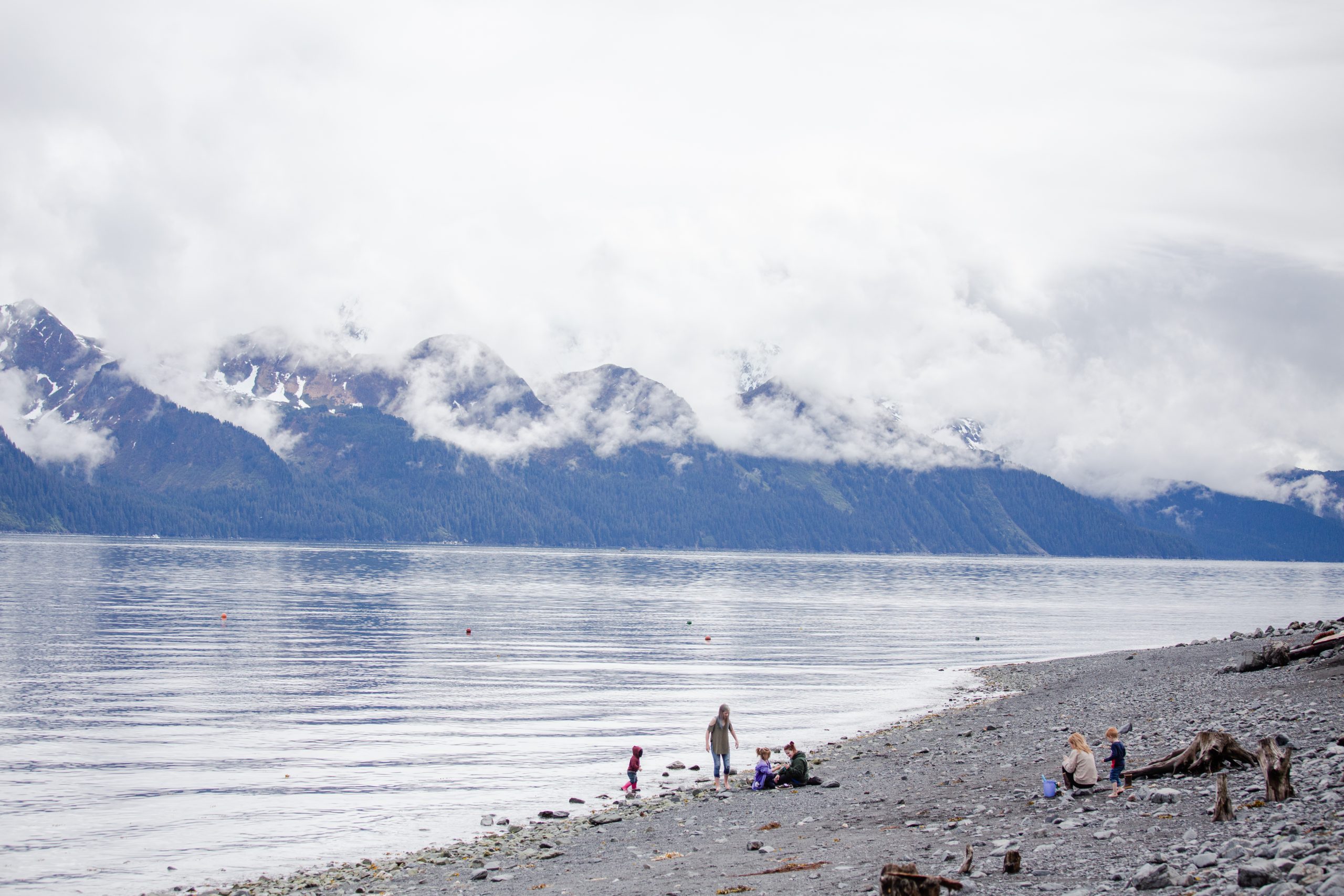 Fjord: Definition

"A long, narrow, deep inlet of the sea between high cliffs, as in Norway and Iceland, typically formed by submergence of a glaciated valley."
– Oxford Dictionary
Seward is somewhat protected by wind so you'll find much larger and taller trees here than in Homer. Homer feels a bit more exposed and most of the campgrounds are on the beach areas.
The town of Homer is not set against a large mountainous backdrop. Instead, it's built on many bluffs and quite spread out. Across the bay (called Kachemak Bay) are layers of mountains and islands and a few glaciers.
It's less dramatic than Seward but offers some unique aspects. Many people live on the neighboring islands and there is a popular village about 45 minutes away called Seldovia. Seward also has many islands off its coast, but there aren't any towns.
Homer is famous for the Homer Spit, a narrow 4.5-mile stretch of land that juts out into the ocean and over halfway across the bay.
Because there aren't large mountains surrounding the town, there's more sunlight throughout the year (although this doesn't matter much in the high summer months).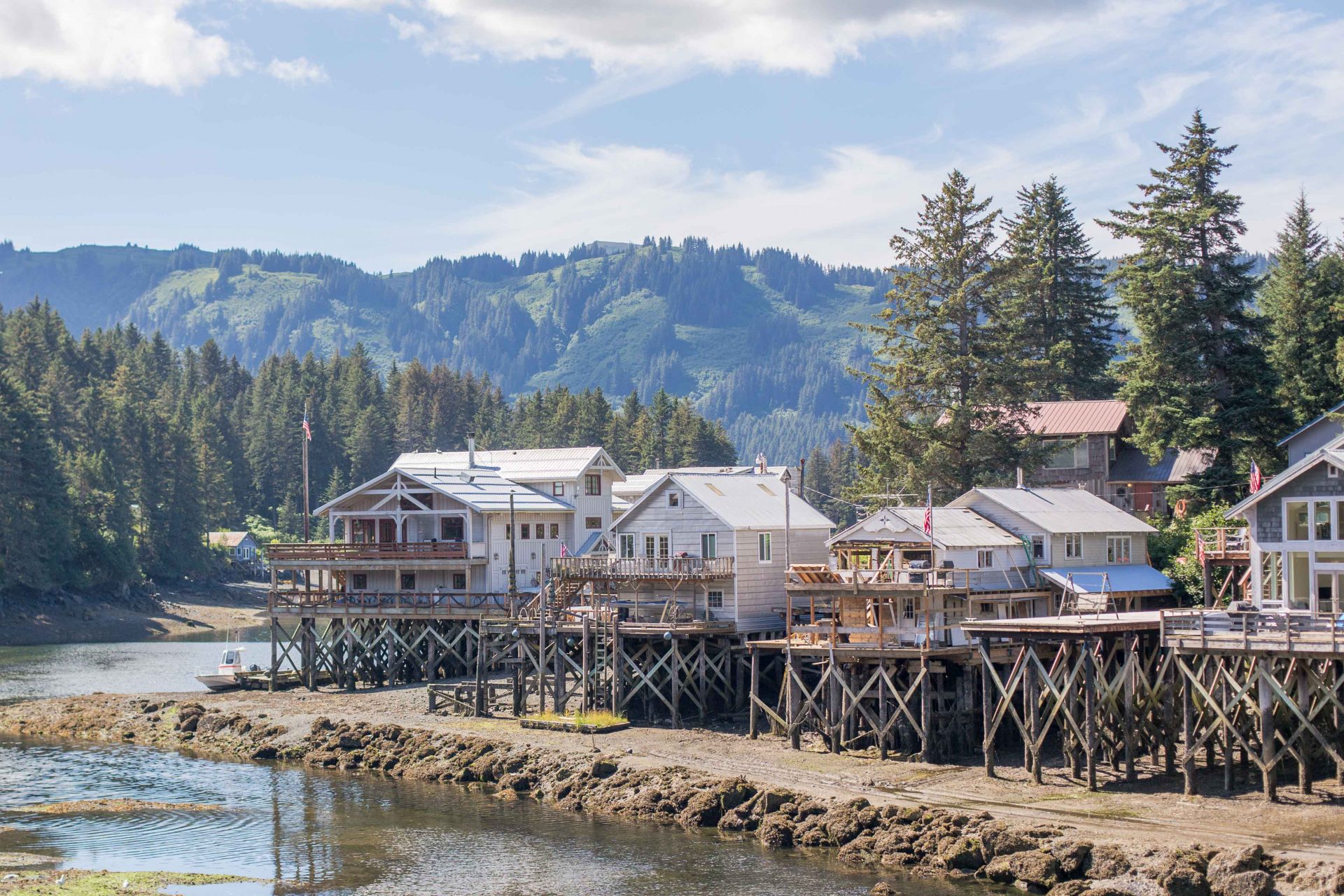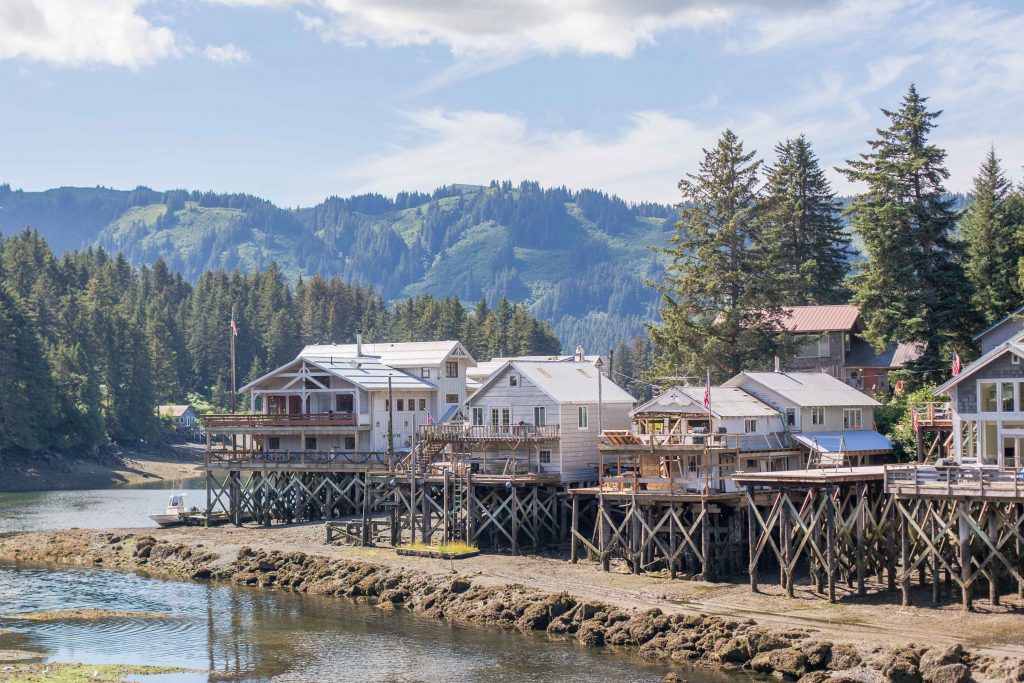 Homer has a large sandy beach. Seward does not have any sandy beaches, they're all rocky. Both have large tidal differences that make for fun tide-pooling. Homer has some of the largest tidal differences in the world with an average of 15ft (that's a change of 15 vertical feet!).
Since Seward is set in a deep fjord, when the tide comes in during whale season, so do the whales. I've watched them breach 100ft from shore. It's incredible.
Seward vs Homer: Population Differences
Homer: Roughly 5,000 residents (more than doubles in the summer with seasonal workers)
Seward: Roughly 3,000 residents (double in the summer due to seasonal workers)
Seward vs Homer: Which one is More Walkable?
Winner: Seward
Seward is much more compact and walkable. If you stay right in town you could theoretically leave your car and walk everywhere.
Homer is much more spread out. Along the spit, there are areas with many shops and restaurants, so if you're camping nearby you could get away with staying in one spot. But you'd be doing yourself a disservice as there are so many great restaurants in town.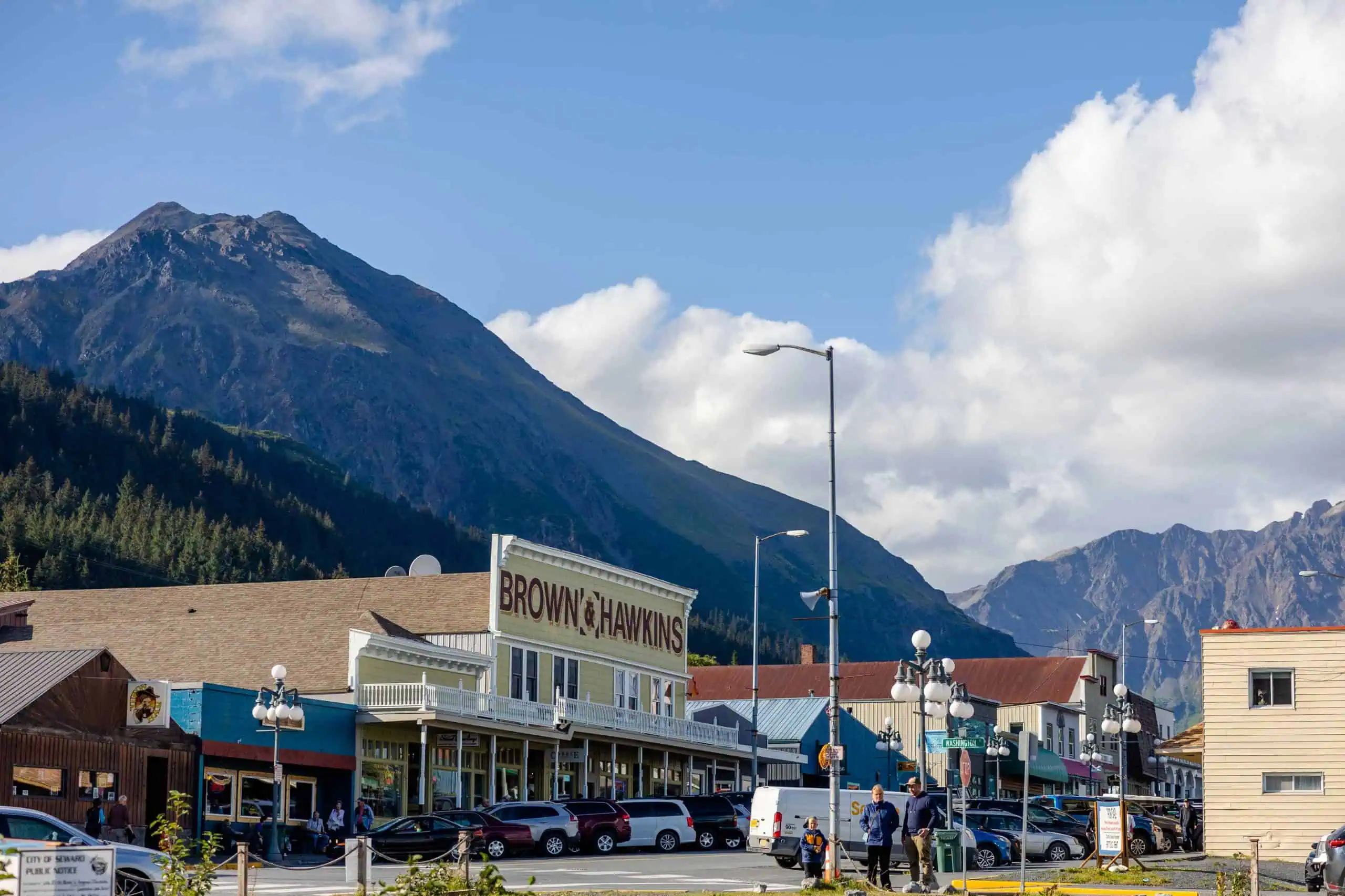 Seward vs Homer: Unique Aspects
Seward
Alaska SeaLife Center – Set on the waters of Resurrection Bay, this is the only aquarium in Alaska. It's not a large facility but there are many exhibits and a variety of animals. This includes seals, sea otters, a bird sanctuary, many crustaceans, and more. With or without kids, it's definitely worth a step. I'd set aside an hour or so to explore everything.
Mt Marathon Race – Every Fourth of July, people travel to the tiny town of Seward from all over the world to watch people race the grueling Mt Marathon at record speeds. It's considered one of the hardest short-distance mountain races in the world and is a fun event to watch. The town gets absolutely packed, though, so if crowds aren't your thing then you might want to skip it. Prices also double during the holiday weekend for the event. In my opinion, it's worth it to watch these incredible athletes climb over 3,000ft and cover 3.2 miles in under 45 minutes.
Homer
Homer Spit – A narrow, 4.5-mile long piece of land that juts out into the water. There are shops, restaurants, the boat harbor, and accommodations. Here you'll find the famous Salty Dawg Saloon, a bar famous for its thousands of signed dollar bills covering every bit of wall. There's also the locally famous Land's End Resort that overlooks Kachemak Bay at the very end of the spit.
Bear Viewing at Katmai National Park – Experience one of the most densely populated brown bear areas in the world. Brooks Falls is a popular spot in Katmai to watch the bears swat at salmon. It's just a short 1.5-hour flight and worth the splurge. I recommend this tour with the bear whisperer :).
The Saltry – For a touch of rustic luxury, book reservations at the Saltry Restaurant. Located on a private island called Halibut Cove, it's a short ferry ride to get across. The restaurant has mostly outdoor seating, rain or shine, so dress for the weather and not for date night. One of the ferry options includes a visit to Gull Island which is full of all sorts of birds, including puffins. You'll also likely see porpoises, sea otters, and even whales on your journey.
Seward vs Homer: Beaches
Winner: Homer
Homer has a long stretch of sandy beach at Bishop's Beach. It's such a large beach area that you'll often see people 4-wheeling in the distance near the cliffs. You could spend hours here walking around and exploring, and there's the Beluga Slough Trail which can be fun for bird watching (it gets washed out if it's too rainy).
Seward doesn't have much for beach areas. In town, it's all large rocks with one small 'beachy' area near the Harborside Campground.
Otherwise, you need to head down the dirt road south of Seward to Lowell Point. Plugin Lowell Point State Recreation Area Lower Parking Lot.
You'll pass a waterfall then drive 2-miles along the water until you reach the area known as Lowell Point. It's not part of Seward and is a small area comprised of cabins, b&b's, Miller's Landing, and a lot of beach areas. The parking lot is at the end of the road and has a large beach area. Although there are many cabins and rentals, you can walk all along the beach.
Lowell Point is a secret escape and it's always where we stay when we visit Seward.
Seward vs Homer: Activities & Excursions
Take a look at the activities offered in each town to better gauge where you should spend your time. I added a handy table below for quick reading.
Boat Cruises
Winner: Seward
Seward: This is the place to be when it comes to boat cruises. Multiple tour companies run daily trips from Seward. Some focus on whales and some take you right up to a glacier. Most combine both.
Seward is at the entrance of the Kenai Fjords National Park and is surrounded by glaciers. Orcas, humpbacks, fin, and gray whales make their way here each year. The best time to spot orca whales is from mid-May to mid-June, and you can spot all whales anytime from May to September.
If you visit from mid-May to mid-June, this is one of the best tours for whales. Major Marine Tours is one of the best operators in Seward. The best part is it's only about $100 for a 5-hour tour and focuses on orcas. You will also see glaciers, sea lions, sea otters, and other wildlife.
*If you use my links I will receive a small commission. This helps support my site and allow me to publish free content.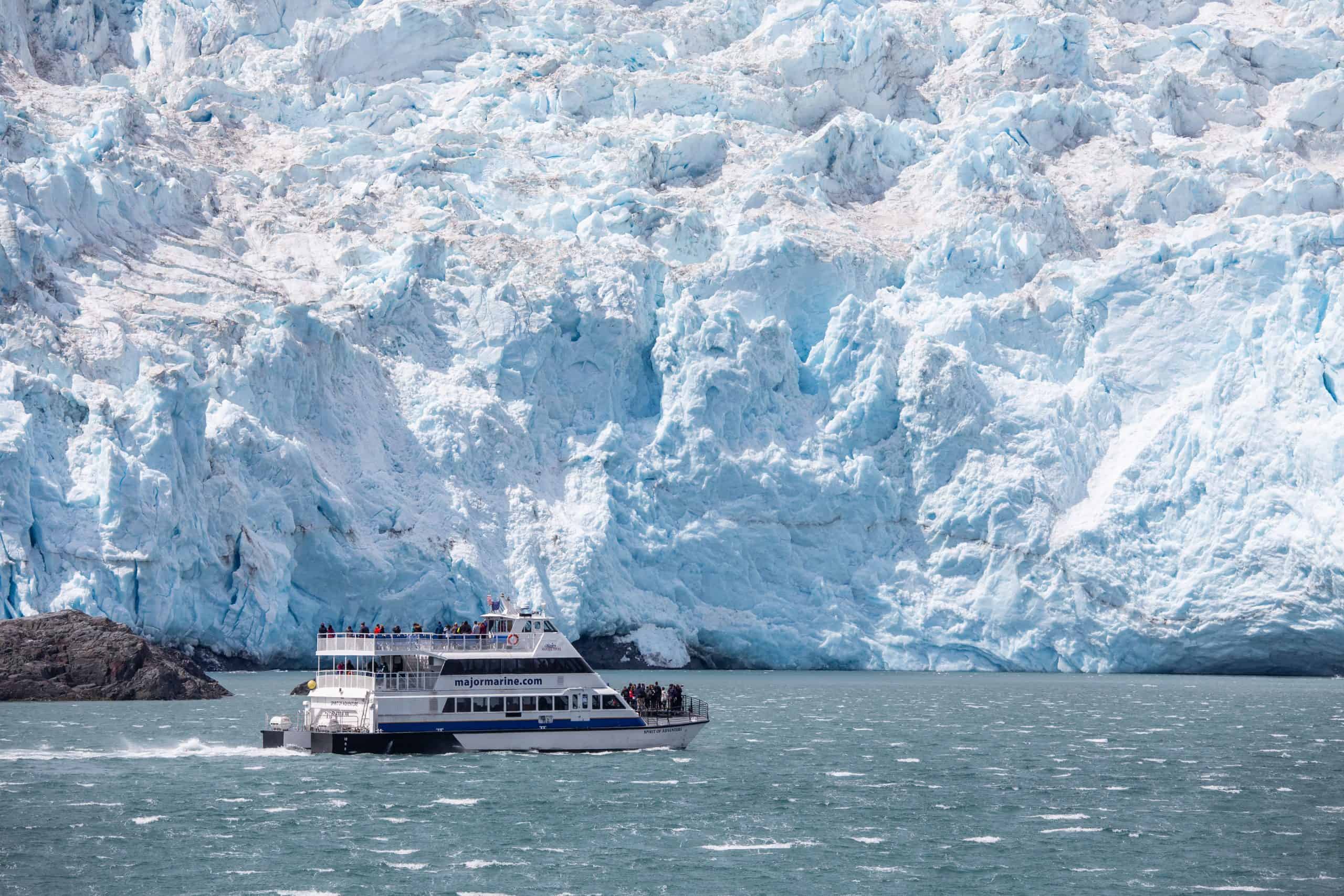 There are tours that stop at islands (such as lunch at Fox Island). You'll also see more variety of wildlife in Seward such as sea otters, seals, sea lions, puffins, and whales.
The largest companies and boats are Kenai Fjords and Major Marine Tours. There are many smaller charters as well.
Each year, we book a day cruise from Seward. And it never gets less magical. On all the cruises you're bound to see at least one glacier up close, and on most cruises, you can spot whales and other wildlife.
Homer: In Homer, the boat charters are mostly for fishing or to get you from point A to B. Homer is famous for its world-class halibut fishing.
There is a ferry that stops at popular places such as Seldovia, and there are local boat taxis to get you across the water.
That's not to say you can't get out on the water and see some wildlife, but it's just not as common. There also aren't any large boats here (except for the ferry).
We've taken a local boat charter out and have seen porpoises and many sea otters. They're still plentiful in Homer, but typically you can more easily spot them in Seward.
Glaciers
Winner: Seward
If glacier viewing and glacier hiking are on your bucket list, head to Seward. The Harding Icefield surrounds Seward and covers 700 square miles. There are over 30 glaciers that flow out from this massive Icefield including Aialik, Holgate, and Exit Glacier.
To see these glaciers up close you can do a boat tour or drive to a glacier. The glacier with road access is called Exit Glacier and is an easy 1-mile loop to get a view of the glacier. For a closer look at the glacier, you can continue .6-miles on to the Exit Glacier Overlook.
Beyond Exit Glacier is a strenuous 8-mile roundtrip hike that leads you to Harding Icefield. While this would take the better part of a day, the views are absolutely phenomenal and worth the hike.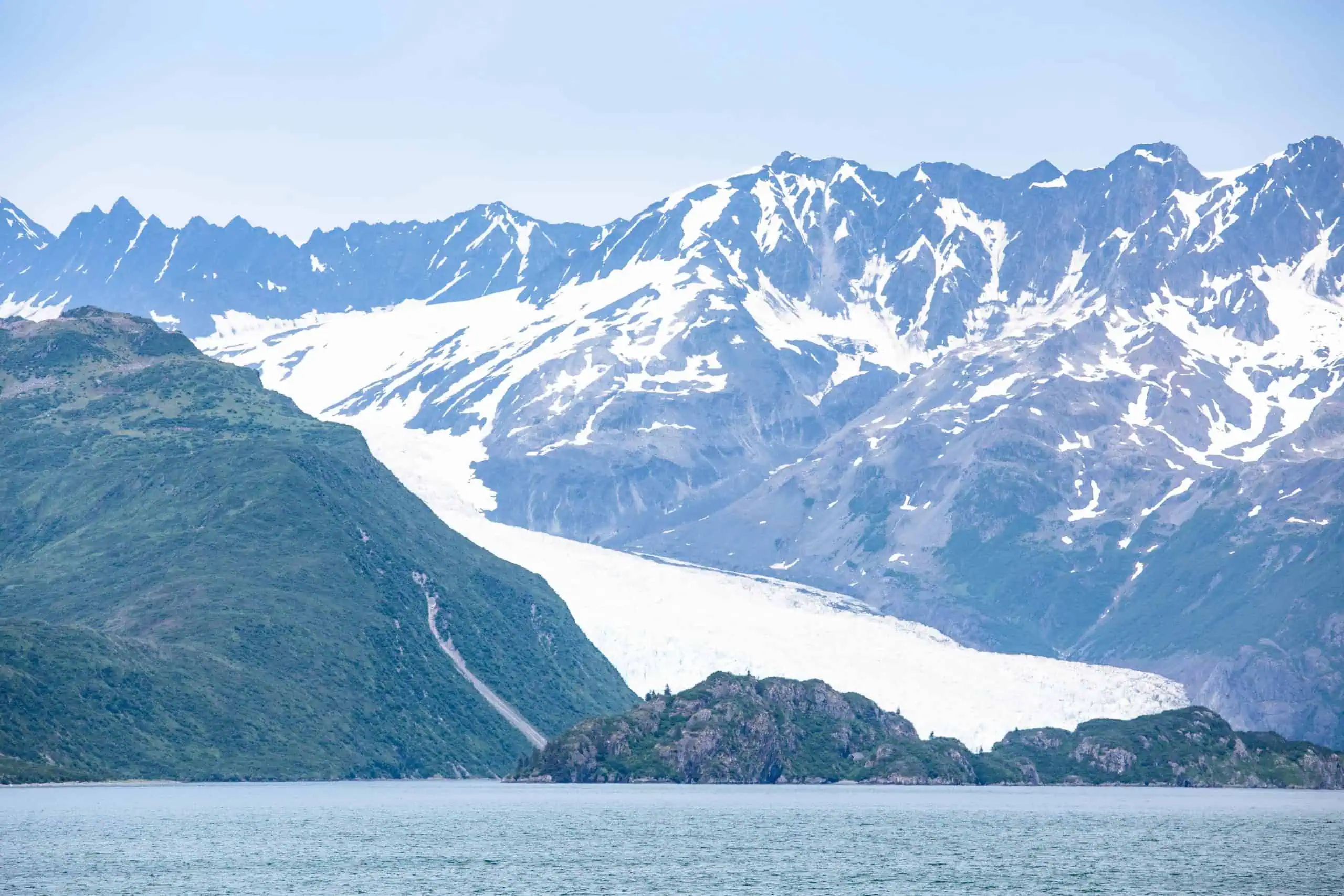 As you descend down the hill to Homer, the first thing you'll see on a clear day is the large mountain range and Grewingk Glacier. This is a popular place for hiking and the main glacier in the area. But otherwise, there aren't many glacier viewing or hiking opportunities in the area.
Hiking
Winner: Seward
Both Homer and Seward offer excellent hikes. I'm giving Seward the edge on this one because many hikes lead to magnificent viewpoints and they're easy to access.
Homer still has many great hiking options. Most of the better hikes require a boat taxi across the bay in Homer which is why I'm giving Seward the win.
Access to hiking trails in Seward is convenient. There are many trails heading up Mt Marathon right from town (I prefer the Jeep Trail). Then just a few miles past town you can find Tonsina Trail and Caines Head which are wildly popular (wild…see what I did there, heh).
Just outside of Seward you can hike to Exit Glacier and the Harding Icefield (see the 'Glaciers' section for more info). Further outside of town, Bear Lake and Lost Lake Trails are popular hikes.
From Homer, you can take a water taxi (Maco's is popular) to Grewingk Glacier Lake Trail (there are many trails that shoot off from here) and Saddle Trail. In town, there are a few flat trails including the Homer Spit Trail and Beluga Wetlands Overlook. If you head to Seldovia be sure to hike the Otterbahn, a beautiful trail that leads you through tall trees, over a few boardwalks, and ends at Outside Beach.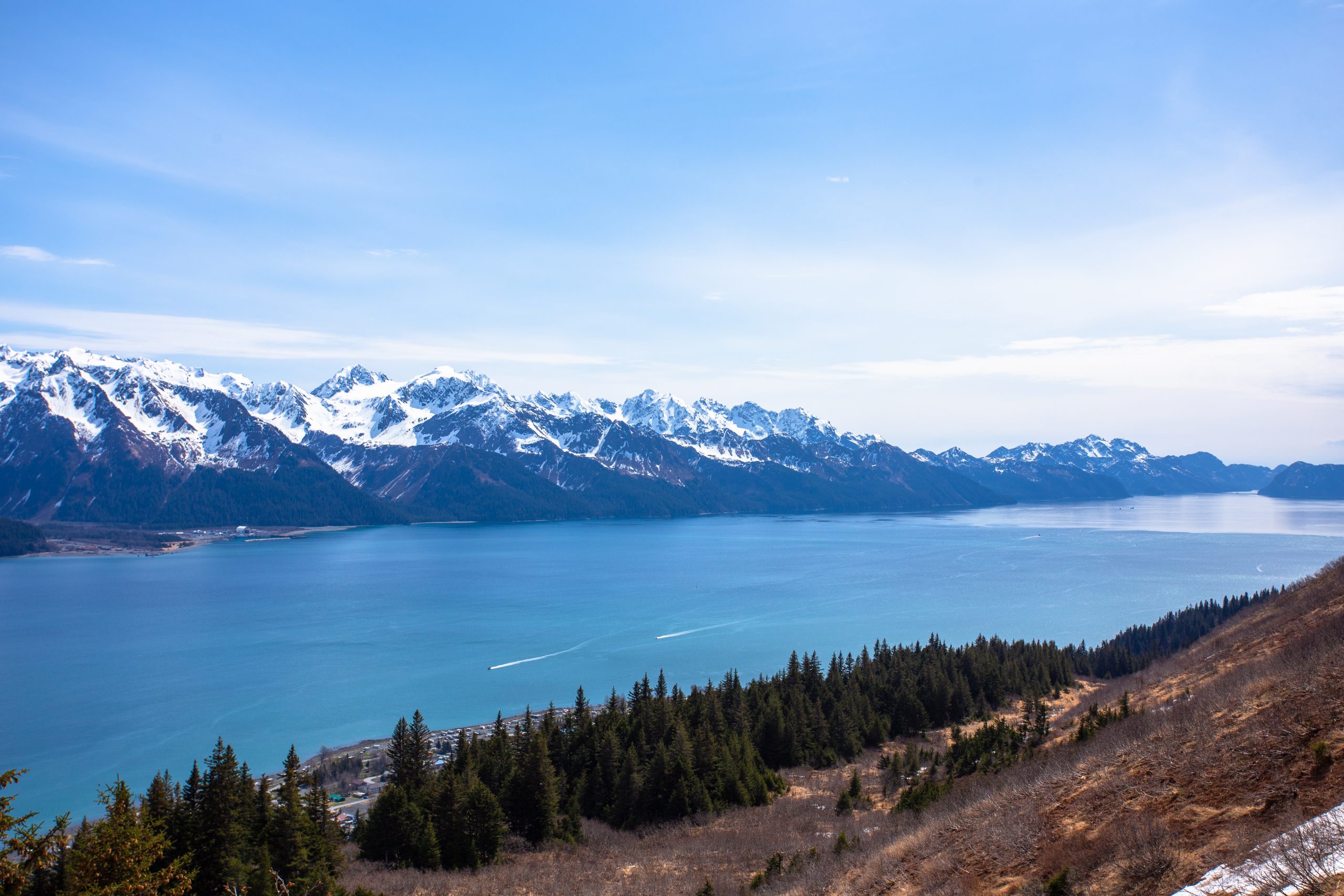 Fishing
Winner: Homer
Homer is known as the halibut capital of the world. But don't let that fool you, Seward is also a fantastic spot for fishing. Homer only wins because halibut fishing is world-class here. About an hour outside of Homer is Deep Creek and Ninilchik which are also famous for fishing. The Kenai River is on the way to Homer and is world-famous for large salmon and all sorts of other fishing as well.
So if fishing is at the top of your list, make your way to Homer and be sure to look at the Kenai River, Ninilchik, and Deep Creek for fishing charter options.
Seward is nothing to scoff at, though. Here you'll also find larger-than-life halibut as well as salmon and rockfish. You'll likely see much more wildlife and you're almost certain to see whales on a summer day. The boat ride is typically longer from Seward to get to the better fishing spots.
Kayaking
Winner: Tie
There are fantastic kayaking options from both Seward and Homer, so this one gets a tie. There are also some really unique experiences for kayaking in Seward:
Kayaker's Cove in Seward – This is a wilderness lodge located 12 water miles from Seward (meaning you need to take a water taxi to get there). It's rustic and affordable, and the most popular things to do are kayaking and hiking. All kayaking gear is available on-site but there's no food available so you need to bring it all yourself.
Kayak & Hike Caines Head (Seward) – This unique kayak trip not only takes you out on Resurrection Bay but also has a hike to a historic abandoned WWII military fort.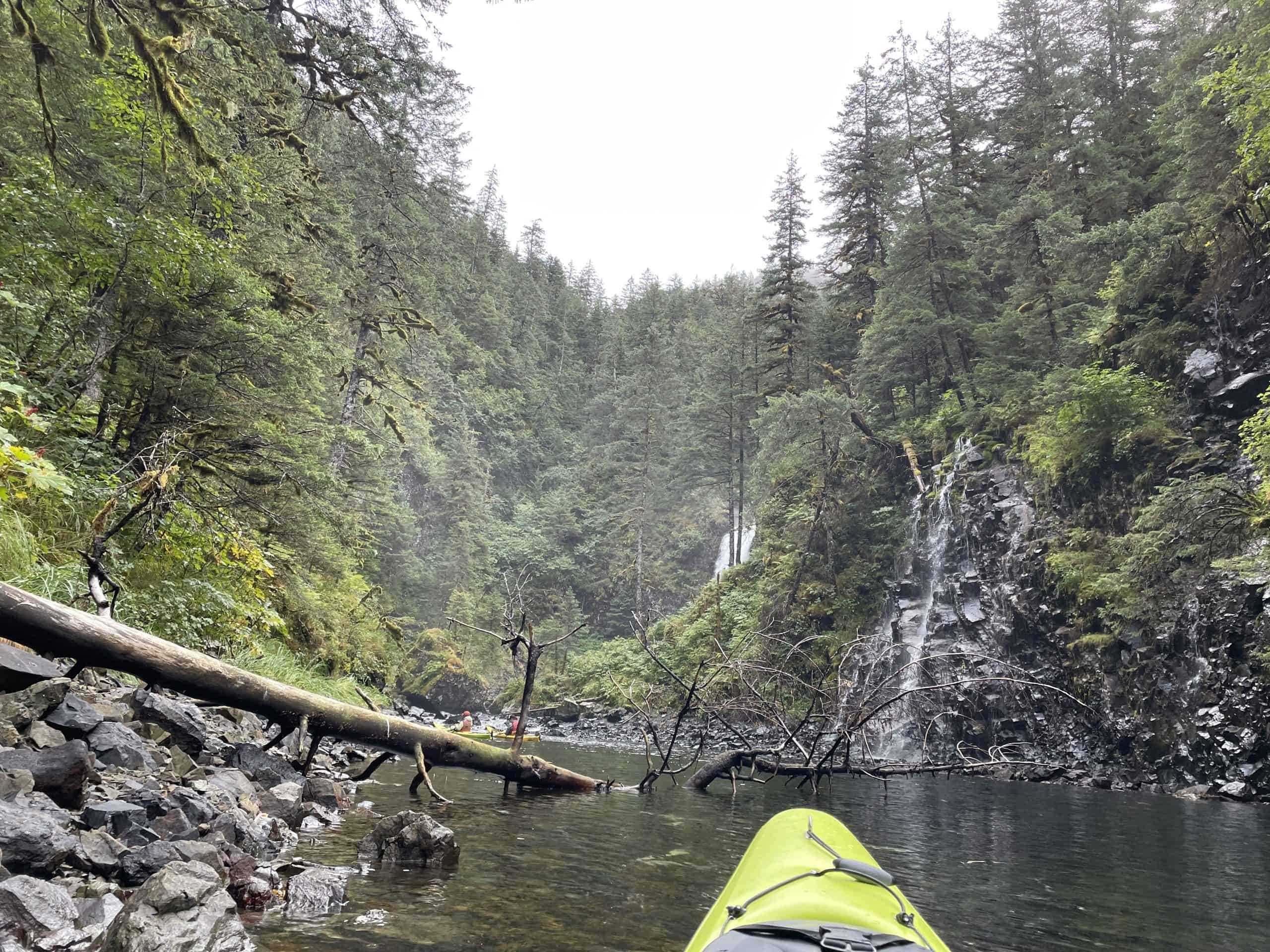 Seward vs Homer: Food & Bar Scene
Winner: Homer
Food is always very subjective, but in my opinion, the food scene overall is better in Homer. A big reason is that Homer has more options, and since Homer isn't on the cruise route, there are fewer people fighting for a table. But I also think the food quality is better at more places in Homer vs Seward.
In addition to the daily fresh catch, Homer has many local gardens and a bi-weekly farmer's market bringing fresh items to their restaurants.
The best restaurants in Homer are Little Mermaid, Fat Olives, Thai Cosmic Kitchen, AJ's Steakhouse and Tavern, Wild Honey Bistro, La Baleine Café, and The Chartroom (at Land's End).
There are many other options along the Spit and also in town. You can also find many food trucks. The Saltry is a rustic upscale experience located in Halibut Cove, a private island across the bay (see unique aspects for more information).
Seward has some great food options including the Cookery, Woody's Thai Kitchen, The Highliner, Mermaid Grotto Cafe, and the Seward Brewing Company. There are definitely some restaurants that are tourist traps so read the Google reviews carefully before going.
Both places have many bar options. Seward is fun because you can bar hop in the small downtown area (the bars are very local). Homer has the famous Salty Dawg Saloon.
Homer also has the Homer Brewing Company, Sweetgale Meadworks & Cider House, and even a winery. The Bear Creek Winery not only does wine tastings but also has an apartment and suites for overnight stays.
| Item | Seward | Homer |
| --- | --- | --- |
| Population | ~3,000 | ~5,000 |
| Walkability | Winner | |
| Beaches | | Winner |
| Boat Cruises | Winner | |
| Glaciers | Winner | |
| Hiking | Winner | |
| Fishing | | Winner |
| Kayaking | Tie | Tie |
| Food & Bar Scene | | Winner |
| Distance from Anchorage | 3 hours | 5 hours |
| Days Needed | 2 | 2-3 |
How Far is Homer from Seward? How Far Are Both from Anchorage?
To get to either Homer or Seward, you head south from Anchorage and drive along the beautiful Turnagain Arm. This is one of the most scenic drives in the state.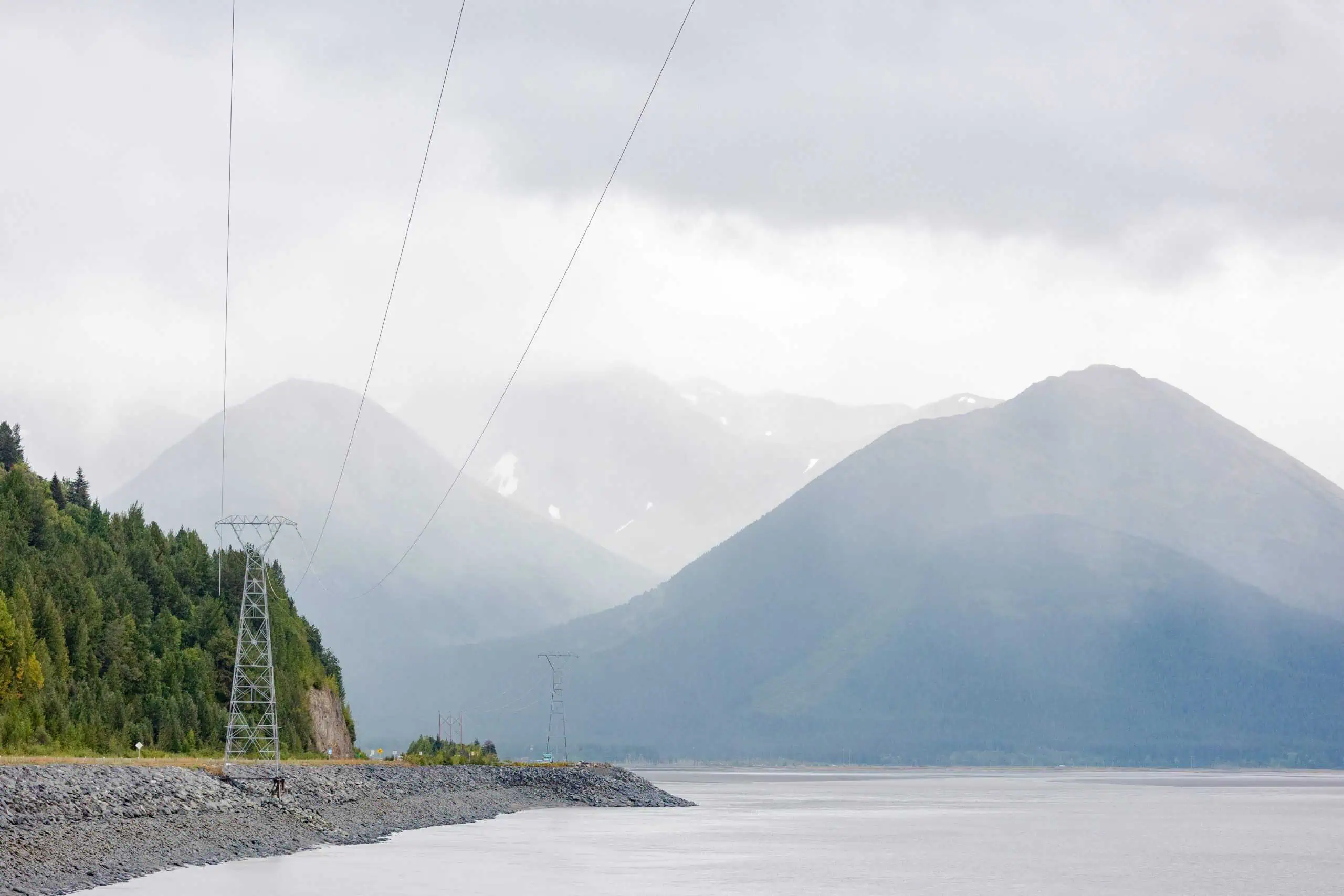 Then you head up into the mountains to a higher elevation. The snow sticks around longer up in this pass so you may be able to walk on some snow at one of the rest stops.
Seward is closest to Anchorage and is about a 3-hour drive without stops. Don't trust an online map's drive times. They are wrong and always list a shorter time than the actual drive time. This is because there will be road construction (there's only a few months for construction in Alaska!), slow motorhomes, and many people slowing down to take pictures or simply take in the view.
Then from Seward to Homer, you're looking at around 4 hours without stops. This part of the drive is scenic at first, but also has long stretches of wilderness valleys and not too many views until you get closer to Homer.
The drive from Homer back to Anchorage takes about 5 hours of solid driving.
Be sure to consider these drive times when planning your trip.
How Many Days are Needed?
Two days in each town is enough time to get a taste of them. If you want to do many excursions then you might want to add some days. If you plan to stay at Orca Island or Kayaker's Cove near Seward, then I'd include at least one day in Seward to explore, hike, and try some of their restaurants.
If you spend a night in Seldovia, I'd be sure to have at least one overnight in Homer.
Which is the Better Option?
As with most things that are subjective, there's no clear-cut answer here. If you want to see glaciers, head to Seward. If you want to go halibut fishing, I'd recommend Homer. If bear viewing is a must, Homer wins. If you don't want to drive as far, Seward is the better option. If you want better hiking, go to Seward. For whale watching and wildlife tours, Seward also wins.
Homer has a better food scene. There are more restaurants and different types of options. Homer is more artsy and has a more hippy vibe.
Here's my personal answer: Visit both! Decide what's the most important to you and divide up your days. I'd set aside 5 days between Homer and Seward. This will allow for driving, excursions & activities, and some time to unwind in each place.
For me personally, I love the smaller and cozier feel of Seward. About 2 miles past the town is an area called Lowell Point. To get there, you need to head down a gravel road that runs along the bay. There are many b&b's, cabins, and apartments for rent here. It's small, quiet, and the views are breathtaking. A long beach runs up and down the area which is perfect for exploring. It has a touch of magic I can't describe and is the perfect place to build a fire and watch the tide go in and out.